There are bigger fish to fry, but two anglers proved this month size does not necessarily bring home the gold in the Quad-City Times' Best Fish Photo Contest.
It is, after all, the Best Fish Photo Contest, not the Biggest Fish Photo Contest.
The public voted for their favorite photos in the youth and adult fields, so promotion, plus the tale behind the catch, definitely played a role.
"That was the biggest fish I ever caught," 5-year-old Lucy Morales said this week of the rock bass she reeled in and released at Lake of the Hills in Scott County's West Lake Park.
It also was the first fish the young angler ever caught. "It looked slimy, but I was too scared to touch it," said Lucy, who was fishing alongside her paternal grandfather, Pat Vaughn, of Davenport.
Submitted by her paternal grandmother, Lisa Vaughn, Lucy's photo gained 169 votes, beating out 38 other entries to win the contest sponsored by K&K True Value Hardware and R&R Sports.
Cindi DeWitt, 48, of Davenport, caught and released a crappie from her boyfriend's 16-foot boat during the couple's first fishing date at Lost Grove Lake in northern Scott County. It marked DeWitt's first catch in about 10 years, and it earned her first place in the adult division. She received 29 votes, beating out 16 other participants.
"I took my fish off the hook by myself, so I was pretty proud of that," said DeWitt, a beverage server at Rhythm City Casino in Davenport. She credited her boyfriend, Jerry Petersen, for providing her gear and locating the hotspot. "He's my mentor."
Petersen, an avid angler who prefers fishing to dressing up and going out for dinner and a movie, was in heaven as they fished until dark. "We caught crappies hand over fist," he said.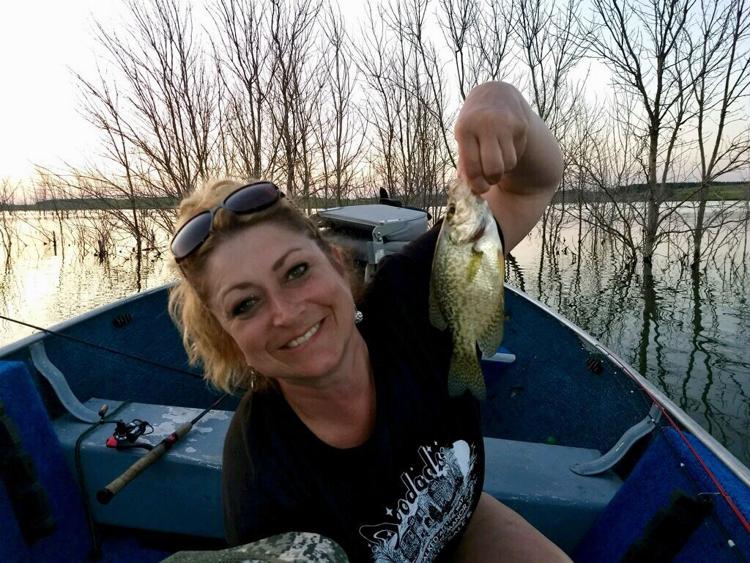 The contests drew a total of 623 votes. Lucy and DeWitt each will get a prize valued at $100.
Round three runs now through Aug. 20, and voting will take place Aug. 21-27. Successful youth (17 and younger) and adult (18 and older) anglers in Iowa and Illinois may submit their photos at qctimes.com/bestfish for a chance to win $100 prizes from the pair of Bettendorf businesses.
The winners will be featured in the Sept. 1 edition of the Outdoors section. Entrants must comply with state fishing regulations, and only fish caught during the 2018 season will be eligible. Contestants may submit multiple entries, but they are limited to fish taken in Iowa and Illinois.
At the end of the summer contest series, a grand prize valued at $200 will be awarded to each of the two anglers (one youth, one adult) who garnered the most votes. In June, 4-year-old Kale Eaton of Geneseo received 97 votes, beating out 72 other entries, to win the youth division. Matt Baeder, 29, of Davenport, won the adult division with 137 votes, beating out 42 other entries.
If Lucy holds on to her lead, she may be investing in some new equipment. At the beginning of the outing, she was using a "Frozen"-themed pole her grandfather purchased her. When the line got tangled, Pat, or papa as his grandchildren call him, handed her his pole, baited with a wax worm.
"I let her fish with that as I was untangling hers, and that's when she caught it," Pat said. "I was surprised how good she could cast; I was showing her how to do it, and she caught on fast."
After fighting the rock bass to shore, Lucy, who lives with her family on a farm in Hillsdale, Illinois, ran back and forth on the dock at Lake of the Hills, celebrating her feat. 
"She wasn't getting bored with it," Lisa said of her granddaughter. "She actually likes fishing."
Pat called it good, clean fun. "You don't really see little kids fishing anymore hardly," he said. 
When he heard his daughter took home the grand prize, an ecstatic Jason Morales praised the power of social media, particularly Facebook. People could vote once a day July 18-24. 
"My mom posted it, she tagged me and my wife (Nicole) and it just took off from there," Morales said. "I voted every morning before going to work, and on the last day, I reshared it and asked people for a last-minute push."
The strategy worked for them, and the same can be said for DeWitt's victory in the adult division.
"Even though that wasn't the biggest fish, it still did well, thanks to getting the word out on social media," said Petersen, DeWitt's boyfriend, who snapped the photo and handled the rest. "You've gotta get your friends and family involved."
One of the adult division entries was Davenport angler Donald Goering, who caught a 55-pound, 45-inch flathead catfish that blew DeWitt's crappie out of the water, judging by mere bulk. 
"That's a dream fish for me," Petersen said of the monster haul. "I've been trying to catch something that big for years."
If he does, Petersen may enter the final round of the Best Fish Photo Contest, which went live Friday.