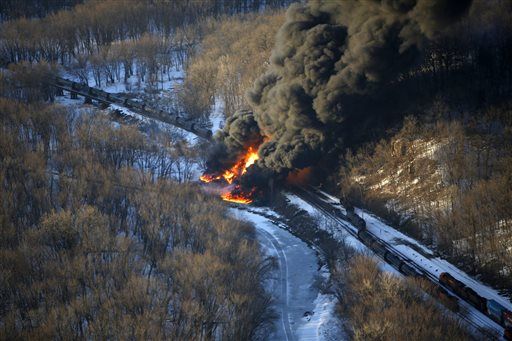 GALENA, Ill. — Recovery efforts at the scene of Thursday's train derailment south of Galena are nearly complete, and BNSF Railway expected to resume rail operations in the area Sunday night, according to an update from the Federal Railroad Administration.
Kevin F. Thompson, associate administrator for the federal agency, said in a release Sunday morning that all fires had been extinguished and one remaining car will be moved off to the side of the tracks for transloading.
The railway began repairing tracks at the location in anticipation of the resumption of rail operations.
"We will continue our investigation into the probable cause of the derailment," Thompson stated in the release.
The completed investigation results will be posted on www.fra.dot.gov, Thompson stated.
The train contained 630,000 gallons of Bakken crude from North Dakota.
The U.S. Environmental Protection Agency continues monitoring air and water quality at the site, according to Paul Ruesch, deputy incident commander for the EPA's Region 5, which includes Illinois.
"We are out on the ice right now and have seen no visible sheen on the water," Ruesch said at noon Sunday.
An EPA report released Saturday cited an "imminent and substantial danger" of spilled oil contaminating the Mississippi River at the Galena derailment site, but Ruesch said the term "imminent and substantial danger" amounts to regulatory language giving the agency the ability to access public funds to respond to an oil spill or pollution incident.
"We determined there is a potential threat to human health and the environment, so we can use public resources, but there is no evidence there has been a release," Ruesch said.
The derailment of 21 cars of the 105-car BNSF Railway train occurred near the confluence of the Galena River and the Mississippi River, but Ruesch said the two waterways aren't directly linked.
"The Galena River actually empties into what is locally called 'Harris slough,' which is a low- lying area that is not out where barges would move on the river," Ruesch said.
Ruesch said oil had contaminated the tracks and nearby soil.
He said crews were excavating and removing contaminated soil.
"There will be a temporary track constructed to get trains through that corridor," he said.
Recent derailments have cast doubt on the effectiveness of safety efforts and suggest that no tank car in service on the North American rail system is tough enough to resist damage in relatively low-speed derailments.
According to the Federal Railroad Administration, the train south of Galena was traveling at 23 mph when it derailed, well below the maximum speed allowed. The damaged tank cars were newer CPC-1232 tank cars, which have failed in at least four derailments this year and at least two in 2014.