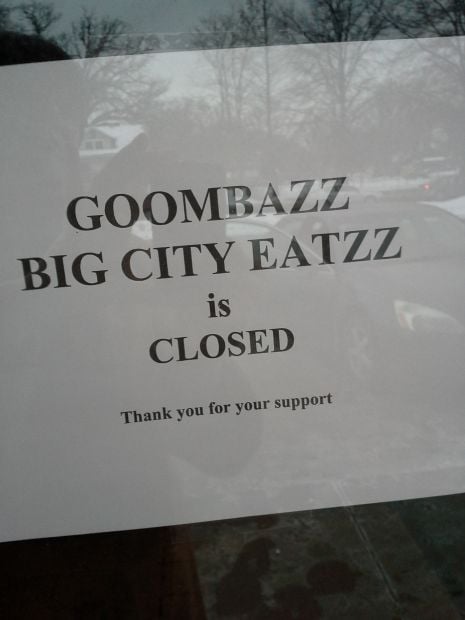 The mayor of Rock Island says the city tried to help the owner of Goombazz Big City Eatzz succeed but bad timing may have delivered the restaurant's fatal blow.
"The last few months have been awfully hard on businesses because of the cold," Mayor Dennis Pauley said Thursday. "It was especially hard on restaurants and bars. It's so cold, people haven't wanted to go out at night."
Although the owners have not commented, Goombazz appears to have closed. The doors have been locked at least since Tuesday, and a sign placed on the entrance Wednesday said, "Goombazz Big City Eatzz is closed. Thank you for your support."
Owner Brenda Brewer has said she had high hopes the publicity resulting from the Goombazz episode of "Restaurant Impossible" on the Food Network would help her dig out of more than $300,000 in restaurant debt. Although it was shot in October, the episode did not air until December, and the mayor said restaurant and bar business plummeted that month and has not bounced back.
"Restaurant Impossible" invested $10,000 in a Goombazz renovation during the taping in the fall. By that time, Brewer said, the restaurant already was losing $10,000 a month.
Part of the Goombazz debt includes more than a year of food and beverage taxes to the city and a city loan.
Brewer is in arrears by about $6,000 in sales taxes, Pauley said. She also has failed to make monthly payments on a $25,000 city loan.
"(The) loan started on July 1, 2013, and one payment has been made to date," Jeff Eder, Rock Island's economic development director and assistant city manager, said in an email Thursday. "The loan was secured by the business and personal guarantees.
"In time, the city will pursue repayment through all methods of collections. The City has reached out and is waiting to hear back from the owners."
Brewer also was granted a rebate in the amount of $3,839.85 through the city's facade improvement program, related to the improvements she made to the former Godfather's Pizza.
The Goombazz building, 2704 18th Ave., is owned by Lohman Companies, county records show. The $16,134.96 annual property tax bill has been paid on time, the records indicate.
Shortly after the "Restaurant Impossible" taping, Brewer said she took comfort in a comment made by the show's host, Chef Robert Irvine.
"One thing he said to me I probably needed to hear — the most personal thing he said — was this: He said, 'If Brenda fails, he fails, because now this place has his name on it.'"
John Williams, associate producer of the Goombazz episode of "Restaurant Impossible," did not respond to requests for comment.
Get local news delivered to your inbox!
Subscribe to our Daily Headlines newsletter.