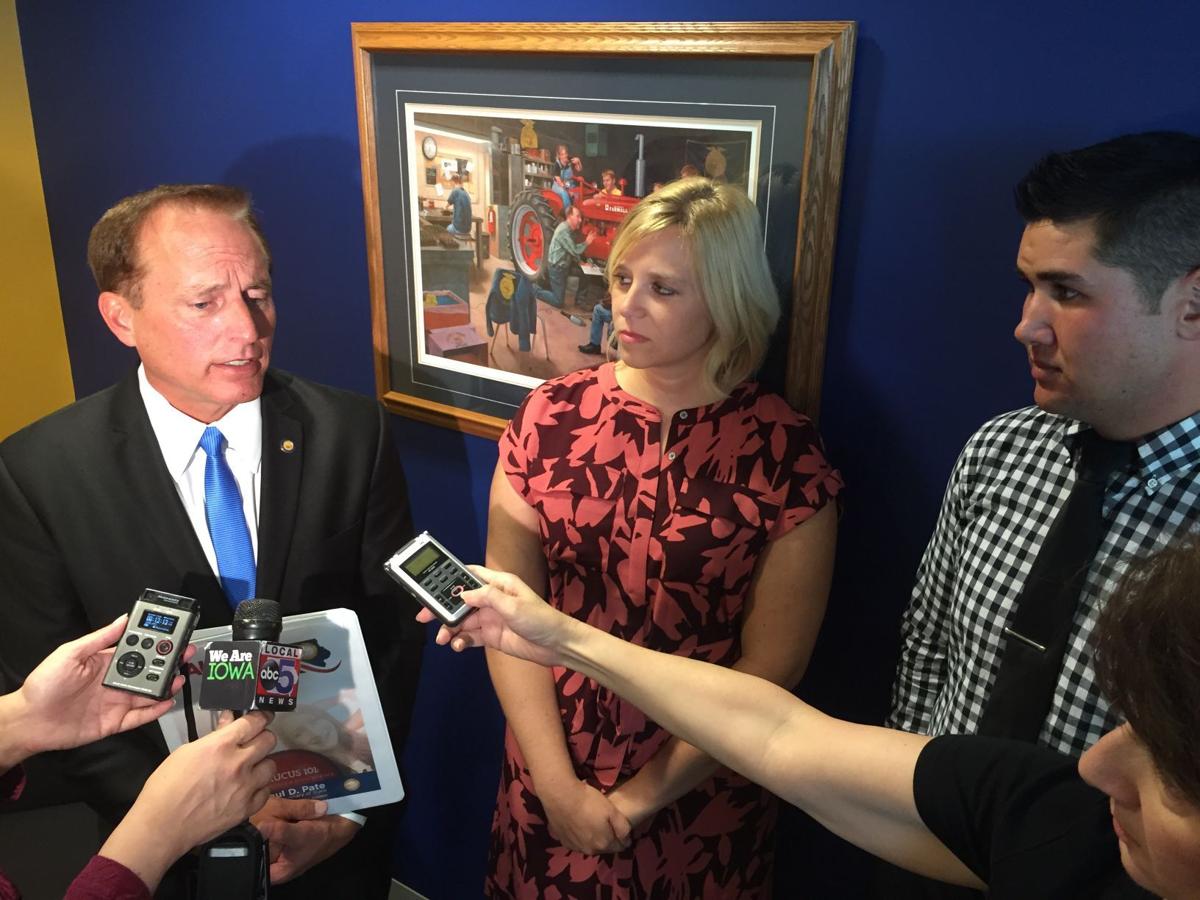 ANKENY — In an effort to inform young Iowans about the state's first-in-the-nation caucuses and, he hopes, strengthen them for the future, Iowa Secretary of State Paul Pate on Tuesday unveiled curriculum on the presidential nominating events that high school teachers can use in their classrooms.
Caucus 101 updates a similar program Pate introduced roughly 20 years ago during his first stint as Secretary of State. The new curriculum provides guidance for teachers to instruct students about the history of the caucuses, how they are conducted and their impact on presidential elections.
"I hope this is one more key resource you can use to reach out to those students, because the nation is watching us," Pate said Tuesday at a gathering of the Iowa Council for the Social Studies, an education group. "Our young people obviously are going to be a key part of that."
Pate said the content was developed for Iowa students in conjunction with Iowa educators. He said the content is nonpartisan and has the approval of both of the state's political parties.
The curriculum can be downloaded free at Caucus101.com and is broken into seven steps, each with 30-, 60- or 90-minute plans, giving teachers flexibility. It includes lessons on:
• The history of the caucuses and Iowa's leadoff status in the country's presidential selection process.
• The roles of the political parties, special interest groups and the media.
• The differences between how the Democratic and Republican caucuses operate.
• How to conduct a mock caucus.
• The impact of the caucuses on presidential elections.
The program also will include videos recorded by the campaigns of some of the 2016 presidential candidates. Pate said a handful of candidates already have submitted videos — which his office plans to release in the next week — and he is encouraging other campaigns to do the same.
Pate said he hopes the lessons not only inform young Iowans about the caucuses but encourage participation.
"It's more than selecting the next president of the United States," Pate said. "It's about setting the issues and letting (candidates) know the priorities we have as Americans."
Adam Arthur, who teaches government at Des Moines Lincoln High School, said one goal of the program is to make the caucuses "more real" for high school students.
Canada Snyder, a teacher at Des Moines Center Academy, said she hopes Caucus 101 sparks student interest in the process.
"I hope they learn the history and the background concerning Iowa's important status as first in the nation and that teachers utilize this in a variety of different ways and that students become more involved and civically engaged," Snyder said. "Even though a lot of our students won't be 18 yet, at least they can start thinking about it. They can even talk to their parents, their grandparents (and) people they know about the process of caucusing and how important it is."