With Iowa's new voter ID law in effect, Election Day was all about "doing more with less," according to Scott County Auditor Roxanna Moritz. 
"There were definite struggles with understanding the law and what the processes were, from both the poll worker and voter aspect. I think there was some confusion," Moritz said Thursday. "It was a record-high midterm turnout for us, and we had to facilitate more ballots in less time. I don't know how that hurt or affected individuals. But that affects our manpower and stress. It was a 19-hour day."
The work didn't stop when the election results were reported. Thursday afternoon, Moritz joined three poll workers to recount, by hand, ballots cast at one Scott County precinct. For the first time, counties across Iowa are required to conduct a post-election audit, with the Iowa secretary of state choosing one precinct to audit from each county.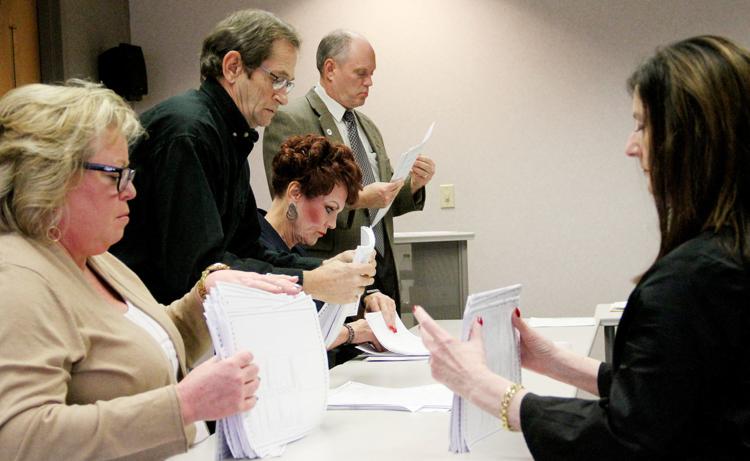 The group counted, then recounted, then recounted again 375 ballots cast at the Pleasant Valley precinct. By the end of the exercise, Scott County auditor's office operations manager Roland Caldwell said the electronic voting numbers matched with the hand-count.
"We're confident the machines get it right the first time," Caldwell said. "But it's important to do this. It gives us more confidence in the system, and shows the public they can be more confident in it."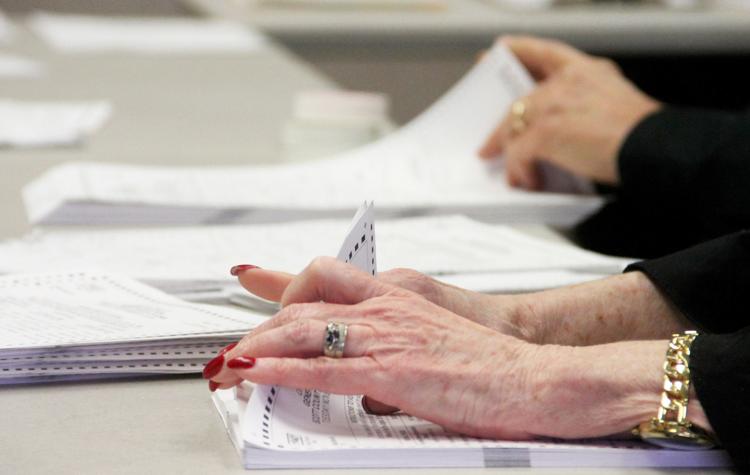 Voter rights became a major talking point in the midterm election, with some people across the country, including in Georgia, arguing voter suppression tactics were used on Election Day. While Moritz doesn't agree with every new policy laid out in Iowa's voter ID law, she said the post-election audit is necessary.
"My perspective is I want as many people at the polls as possible, and to give them as many ways as possible to vote. That's a fundamentally important aspect of the right to vote," she said. "I think the audit is great for transparency, which I think is important. It shows to the community that is paying for the equipment that it works. It affirms we have a good voting system and people can know we have integrity in the voting process in Iowa."
Other aspects of Iowa's voter ID law, adopted in 2017, have been controversial, including requiring voters to show identification before voting. The legislature planned a "soft roll-out," and this year, voters who didn't have identification were asked to sign an oath of identity to cast a regular ballot.
"I think that was a big part of the confusion," Moritz said. "Do I have to show ID? I don't, but I have to sign something? People didn't know the law."
Some groups, including the Iowa ACLU, have opposed the law, arguing it could exclude thousands of Iowans. There were some reports of people being denied the right to vote because of the new law, including by a Washington County woman without an ID, who was denied the right to vote in a school board election this past summer.
The Des Moines Register reported on Tuesday there were at least two instances where voters were wrongly told they were convicted felons so could not vote.
The auditor's office was especially strained with the implementation of the new law, Moritz said, as it shortens the state's early voting period from 40 days to 29. She added, "longer lines, a longer time to vote and no straight-party ticketing," made Election Day especially challenging.
"I think the important thing for people to understand with the new law is that we processed more people with less time," she said.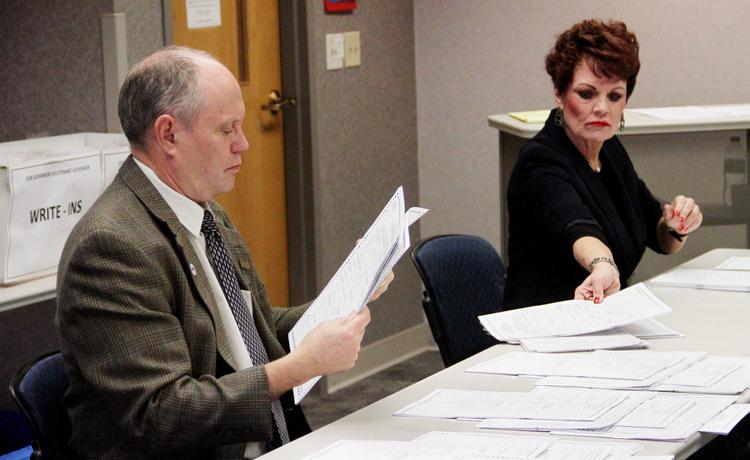 The midterm was the first election since the Republican-controlled legislature eliminated straight-party voting, which allowed voters to fill in a single oval on the ballot to vote for candidates within the same party.
"I really don't understand the no straight-party voting," Moritz said. "I can understand requiring showing photo ID because not everyone is standing in my office. But I can't understand why they took away our straight-party voting and lessened early absentee voting for us. That has nothing to do with photo ID. Nothing."
While some speculated the new law would stop some voters from turning out to the polls, Moritz said the high turnout proved that largely wasn't the case. She argued misinformation spread on social media hurt the process more than anything.
"What affected the voters the most is social media," Moritz said. "For example, a Facebook group was using my name and telling people the affidavit was illegal, and we know it's not. We're in the second year of a three-year roll-out of the law, and that causes disruption. And people don't go the extra mile to find out the truth. That causes disruption with them and then they don't go to the polls. Maybe they don't vote. Maybe that's the intent of what's being put out there. I don't know."
Next year, the voter ID law goes into full effect. As of Jan. 1, 2019, all Iowa voters will be required to show ID before casting ballots.