Another large residential development project is on Bettendorf's horizon.
The Bettendorf City Council approved a site development plan Tuesday, submitted by McNamara Family Development, to build a number of townhouses on 4.25 acres along the 4700 block of Middle Road.
In total, the development, which will be marketed as the Middle Road Town Homes, includes 69 units, 24 with three bedrooms and 45 with two bedrooms. The original proposal included 89 units.
"We talked about densities and space and he did curtail that back by 20 units," Community Development Director Bill Connors said during Monday's committee-of-the-whole meeting. "When we do our unit-to-land ratio, this basically works out pretty good."
The townhouse development is one of a few large developments proposed near the quiet confines of Middle Road and 53rd Avenue.
Surrounding the development are areas designated as Shops of the Woodlands and Village of the Woodlands, which are separate from the McNamara Family project.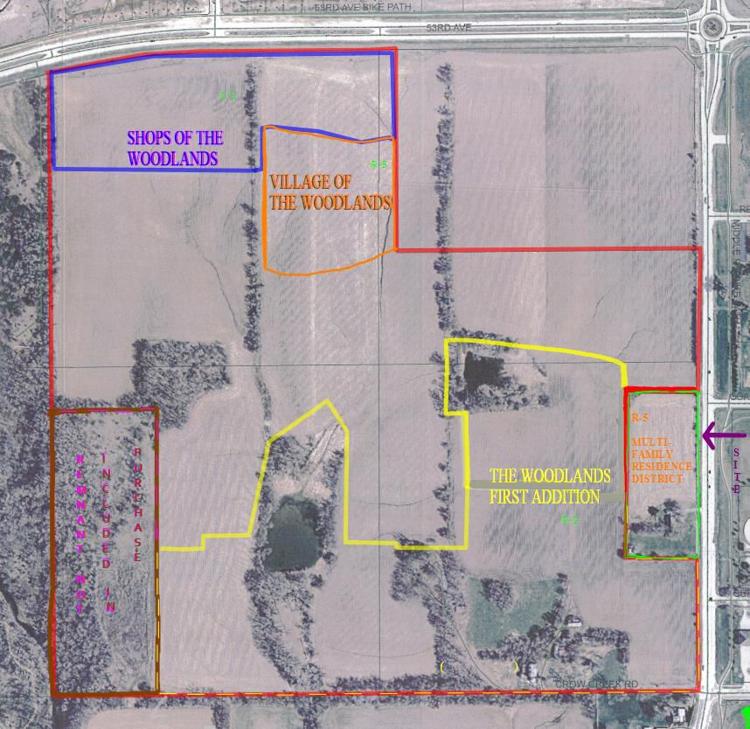 Windmiller Development, which is moving forward with the projects at the Woodlands, has already gained approval for rezoning those properties and final plats. The Woodlands projects could bring office and retail opportunities as well as single and multi-family homes in the future.
With the reduction of units, Connors said the McNamaras have added additional visitor parking to the residential district.
All units have two-car garages with two spaces available to park on the driveways as well.
The Planning and Zoning Commission had recommended the site plan by a 4-1 vote at its Oct. 18 meeting.
Commissioner Paul Rafferty cast the lone dissenting vote during that meeting in which he said the site was too dense based on the number of units and parking availability.
As part of the conditions, a 6-foot wide sidewalk will be required on Middle Road.
The residential development will not have a homeowners association, which means McNamara Family Development will maintain the private drives when they deteriorate.
Upon hearing Dick McNamara confirm that they will maintain the streets during Monday's meeting, 3rd Ward Alderwoman Debe LaMar let out a "Hallelujah."