As he sought to explain the sort of "growth mindset" the city and the region should strive toward, Davenport Mayor Frank Klipsch ended his State of the City address with a joke about a boy playing baseball.
The joke went like this: A kid is alone in his yard with a bat and a ball. He tosses the ball up in the air, swings, misses. Strike one. Undeterred, the kid repeatedly tells himself "I'm a champion" — even through strikes two and three.
Later, when the kid's mom asks how he did, he replies: "I didn't realize how good a pitcher I was."
After the joke landed, the mayor paused momentarily for a round of chuckles from those gathered at Rhythm City Casino, adding: "That's a growth mindset. We are gonna have challenges and opportunities, but a community like Davenport — vibrant, thriving and strong — works through those and continues to prosper as we move forward."
Klipsch's optimistic end-of-speech quip was preceded by an hour-long recap on Monday afternoon of last year's high points and this year's goals as City Hall sets its sights on a new wave of projects. Speaking to area business leaders, philanthropists, community organizers and elected officials from both sides of the Mississippi, the mayor stressed a strategy of continued collaboration within the bi-state community to drive economic development, improve public services and make good use of taxpayer dollars.
"This city is a can-do city," the mayor said. "We have a mindset of making things happen."
The mayor's speech comes two days before Davenport officials are set to vote on the city's $227 million budget for the upcoming fiscal year. It also comes as Klipsch, who announced he would not seek another term in office, heads into his final year as the city's top elected official.
The mayor pointed to the city's credit rating and available fund balance as a testament of a bright financial future for the city.
Last week, city leaders met in Chicago with officials of credit rating agencies Standard & Poor's and Moody's, an encounter Klipsch described as positive. That'll be important, he said, to demonstrate to investors that the city's financial outlook is sound. It also keeps the door open for the sort of public-private partnerships that the mayor has long been a very vocal fan of.
One of those partnerships lies in the future of developing the city's riverfront. Earlier this month, the Figge and a downtown business group unveiled updated design concepts for the under-construction city-owned property along the riverfront known as Main Street Landing.
Klipsch brought up the new design Monday, outlining its positive attributes while saying "the council still has to vet" the plan. The mayor has so far been highly supportive of that refined plan and was a main speaker when it was first publicly shared during an event in the Figge.
Recently approved tech upgrades for the city's police department to better track illegally used firearms was one example of the city's recent investment in public safety that Klipsch touted Monday.
Others included the addition of four positions for Davenport's police department, changes to how emergency calls are handled regionally, and the creation of a special gun task force in Davenport.
Klipsch also resurfaced his call for a regional juvenile assessment center, a key policy goal to come out of a monthslong study earlier this year aimed at reducing youth violence and illegal activity.
Calling it "one of the city's highest priorities," Klipsch said city officials have heard the concerns from residents about the city's aging roads and sewer systems, highlighting money in the city's proposed capital budget to pay for improvements this year.
Klispch pointed to a $34 million budget line for building up the city's sewers as an example of commitment to work on that front. The mayor also praised an agreement struck last year with high-speed internet service provider MetroNet for a network buildout of Davenport and Bettendorf over the next three years.
The high-speed internet option was described by Klipsch as the first of its kind in Iowa. City officials have long sought for the higher-capability internet service, saying such access is necessary for economic development because of its propensity to keep businesses and residents happy.
When he was first running for mayor, Klipsch said, several people came up to him with one directive: Get us a Costco and a Portillo's. 
"Well, here they are," Klipsch said, referencing the Costco that opened its doors last year and the Portillo's restaurant set to open in the months to come.
Those are just a pair of businesses the mayor mentioned as a successful step forward. Other achievements he highlighted included the massive development of the city's downtown that is "becoming the place to be" and the addition of more manufacturing centers on the city's northern end. 
022619-qct-qca-stateofthecity-003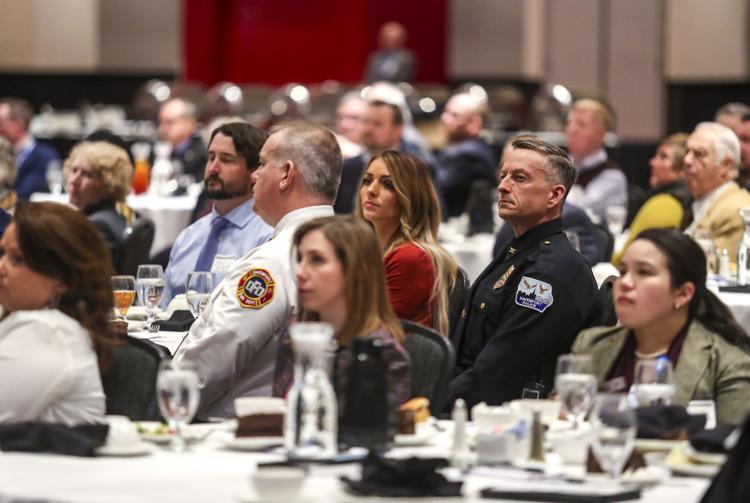 022619-qct-qca-stateofthecity-004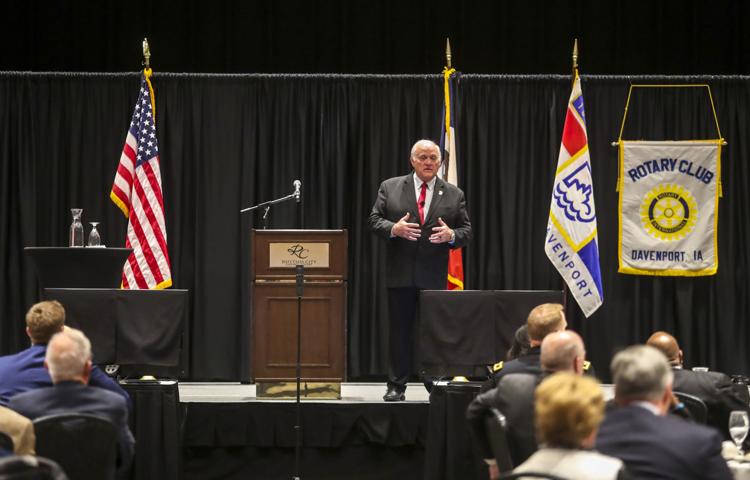 022619-qct-qca-stateofthecity-005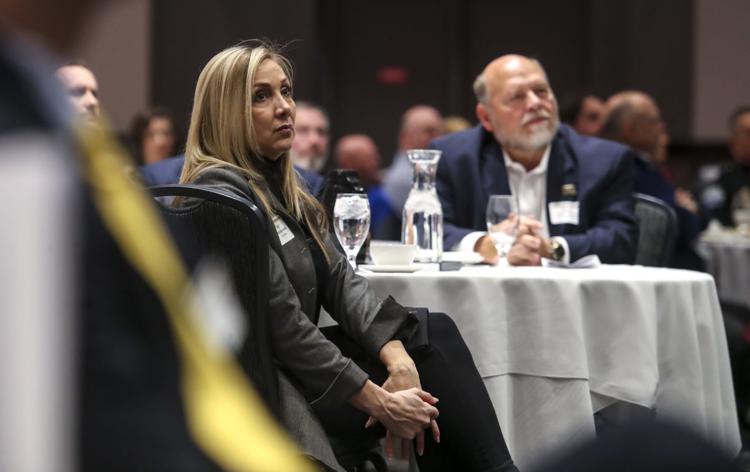 022619-qct-qca-stateofthecity-006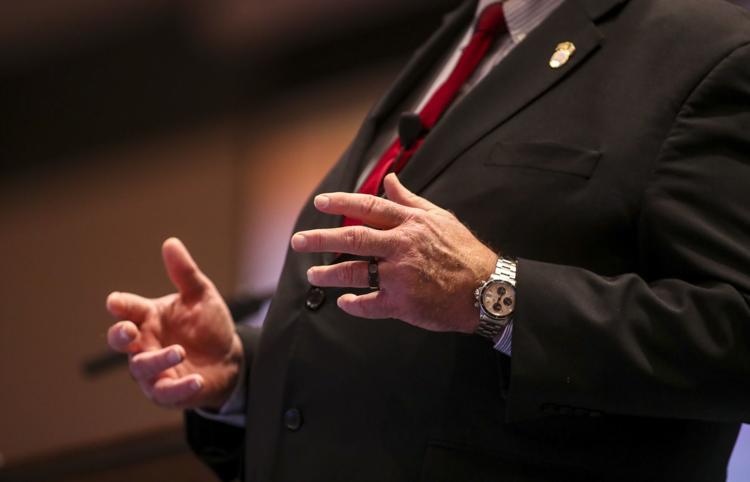 022619-qct-qca-stateofthecity-007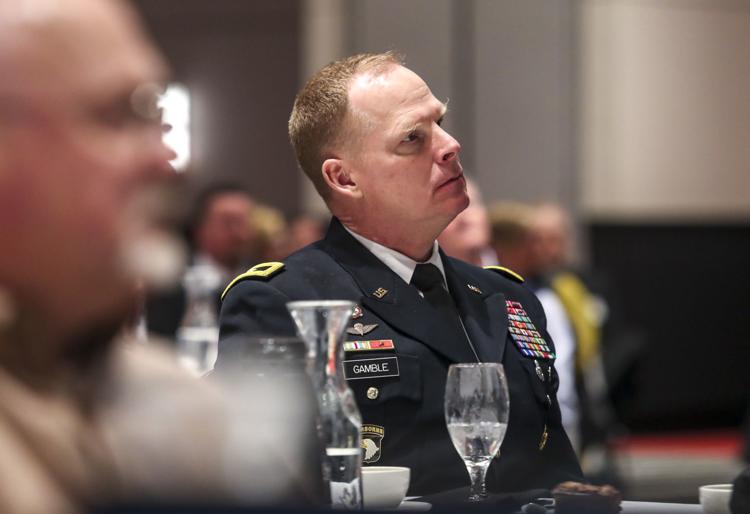 022619-qct-qca-stateofthecity-008
022619-qct-qca-stateofthecity-009
022619-qct-qca-stateofthecity-010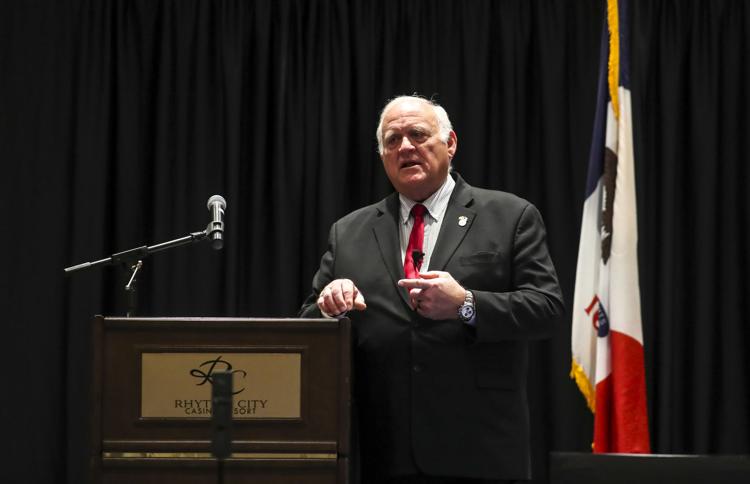 022619-qct-qca-stateofthecity-001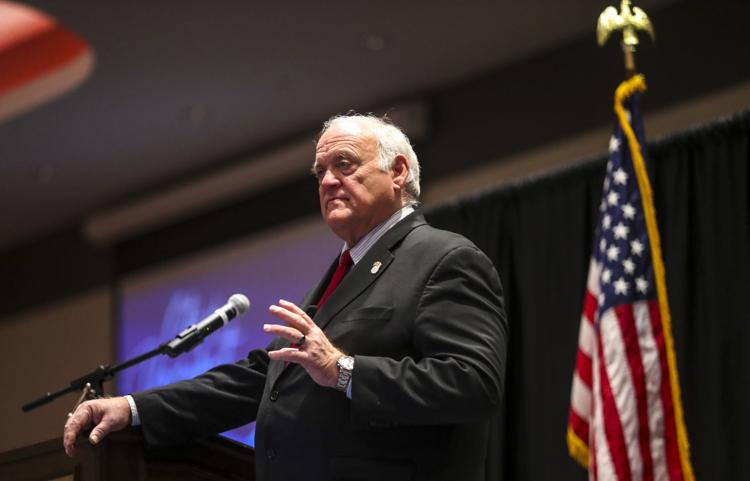 022619-qct-qca-stateofthecity-002