Jan Logan made up his mind long before Joe Biden's 2020 campaign made its first trip to Des Moines County last week.
He wanted Biden to be the Democratic nominee four years ago to save him from voting for Hillary Clinton, a ballot choice he does not wear with pride. But Biden excites the 77-year-old retiree. He thinks the former vice president is just a regular Joe. And he considers him the only candidate who can defeat President Donald Trump next year.
"I think he'll win," said Logan, one of a few hundred people who packed into a crowded, barn-style venue earlier this month in Burlington — the largest city in Des Moines County — to see Biden speak. "I just would hope that some of the other candidates would realize that and get out."
But that level of optimism and loyalty is not universally shared throughout Des Moines County, one of the traditionally Democratic strongholds bordering the Mississippi River that reversed course in 2016 by helping put Trump in the White House.
Even Logan's wife, Donna Logan, is still considering other options, including U.S. Sen. Kamala Harris of California and former Texas Congressman Beto O'Rourke. She says it's too early to decide, though she's leaning toward whoever becomes the Democratic nominee.
"That's where I stand," she said. "As of today."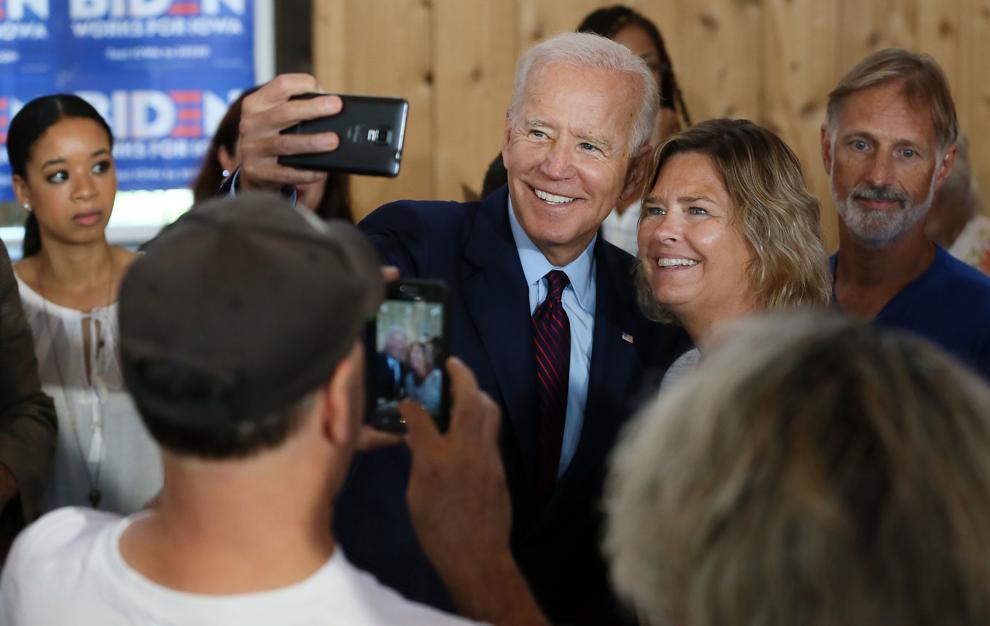 Before Trump, Des Moines County had not chosen a Republican since Richard Nixon was re-elected in 1972. Only Dubuque County had a longer streak of picking Democratic presidents among the Mississippi River counties, choosing Trump as its first Republican commander-in-chief since President Dwight Eisenhower was re-elected in 1956.
Now, as Democrats eying the White House crisscross the first-in-the-nation caucus state, political experts are pointing to those blue-collar counties in southeastern Iowa that Trump famously won as a critical battleground to which candidates should pay close attention.
"That is exactly the group that Trump targeted in 2016," said Jeff Link, a well-known Democratic strategist who directed former Vice President Al Gore's Iowa campaign in 2000. "He pulled a lot of those traditional Democratic voters to his side. (Republican Iowa Gov. Kim) Reynolds was able to keep a lot of them — not all of them, but a lot of them — in the gubernatorial race in 2018. And I think it's a real open question on whether the Democrats can win those voters back or if Trump has kind of realigned the voters along the river."
Third time's the charm?
Biden has been tested in Iowa twice before. He ran briefly in 1987 but dropped out ahead of the caucuses. In 2008, he shuttered his presidential campaign shortly after a poor showing on Caucus Day.
But this time around, Biden enjoys front-runner status.
National polls have kept the former vice president at the top of the nearly two dozen Democratic candidates since he announced his candidacy in April. But as Biden's campaign has gotten off to a slower start on the ground in Iowa, some of his Democratic have gained some advantages in recent months.
A Focus on Rural America poll conducted in July showed support for Biden among Iowans beginning to falter. That survey, which came out right after the first round of nationally-televised debates, showed U.S. Sen. Elizabeth Warren in the lead, followed closely by Harris and Biden.
"I think the measure that a lot of caucus-goers are making right now is that they want to support the candidate who can best go toe-to-toe with Trump, and for a lot of folks right now that's Joe Biden," said Link, who works for A Focus on Rural America, an organization that seeks to connect progressive causes with rural Americans. "That certainly could change. But I think that's why he's in the position that he is."
'The Trump debacle'
Heading into Election Day nearly three years ago, the word on the street was that Tom Courtney would handily win a fourth term in the Iowa Senate.
Then everything changed overnight.
Courtney wound up losing his seat by 1410 votes, or 5.4 percentage points. He calls that year "the Trump debacle" because it led to a major shift of power in the Iowa Legislature, which today is controlled by Republicans in both chambers. Now the chairman of the Des Moines County Democrats, Courtney shares his story as a cautionary tale for Democratic office-seekers.
In its heyday, Burlington was a booming manufacturing town occupied by thousands of United Auto Workers Union members. Over the years, though, much of the industry has up and left, those blue-collar jobs have moved elsewhere and the county's population has steadily declined.
Between 2010 and 2018 the Des Moines County lost an estimated 1,187 residents, nearly 3% of its total population, according to U.S. Census data. Similarly, more rural Mississippi River communities have shrunk while bigger Iowa population centers in Scott and Dubuque counties have experienced modest growth.
Courtney partially attributes the diminished level of Democratic power and influence in his backyard directly to that waning demographic and disaffected Democratic voters, though he is starting to see a lot of new faces at rallies around town when the presidential candidates come through. But Courtney says the Democratic Party still needs to learn from what he describes as the chief mistake made in 2016: too much focus on social issues and not enough attention on "bread-and-butter" issues southeast Iowans care about.
"I think they cared about whether they were making enough money to live on," said Courtney, 71. "I think they cared about whether they were making enough money to buy the groceries. And somehow, we lost that. Somehow we let the Republican Party take over that, claim that from us."
"What we're doing now is trying to go forward and change some of that. I don't know if Joe Biden can do it. I don't know."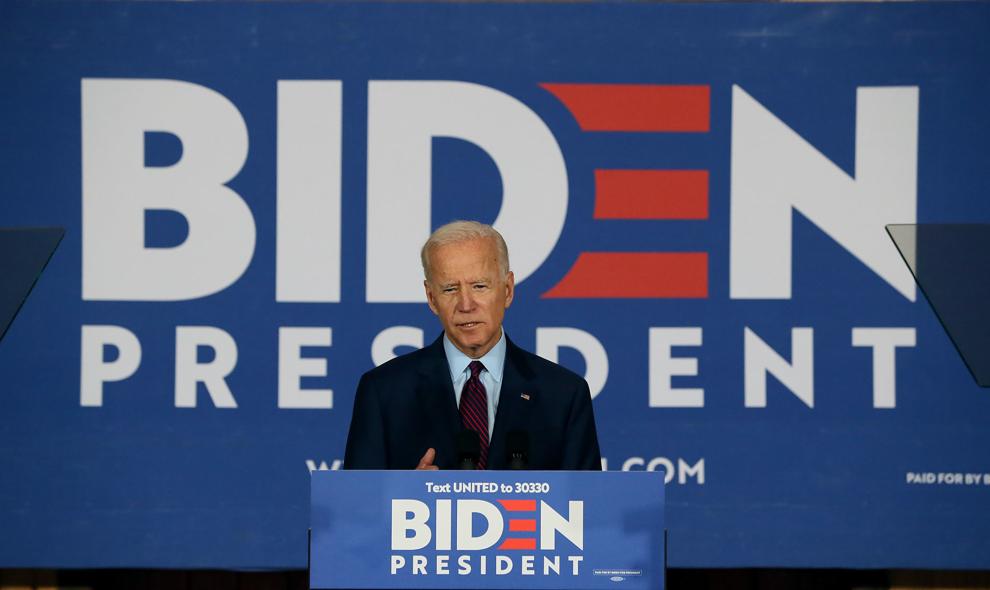 Meanwhile, Clinton County Democratic Party Chairman Bill Jacobs, whose community lies about 120 miles upriver from Burlington, was around when the Republican wave hit home. Much of the noise he heard back then struck a negative tone about Clinton's candidacy. He even encountered one of the oft-described Obama-Trump voters who stopped in the campaign office one day and grabbed a sign for Iowa Rep. Mary Wolfe but declined a Clinton campaign sign.
"He said, 'No, no, no, I'm gonna go for Trump," Jacobs said.
Jacobs says net population loss, economic downturn, and loss of good-paying jobs are major issues for folks in his orbit too. And as Democratic caucus-goers size up the presidential candidates rolling through Clinton, he says the No. 1 issue on everyone's mind is beating Trump.
"There are some really die-hard supporters of (Biden) in the county," Jacobs said. "But we have die-hard supporters for just about every candidate you can mention, really. So it's really hard to tell."
A 'wake-up call' for Democrats
Like the rest of the pack, the Biden campaign spent time all over the state during the past week, hitting the big-ticket events like the Iowa State Fair and offering the kind of face time Iowa caucus-goers expect. But the role Mississippi River Iowa counties will play on the night of the caucuses is not lost on the Biden campaign.
Biden for President Iowa Senior Advisor Jesse Harris, who worked on former President Barack Obama's winning Iowa campaign in 2008, said the 2016 election was a "wake-up call" for the Democratic Party. He noted that Lee County, the southernmost piece of the Mississippi River corridor, was carried by Trump by nearly 17 percentage points.
"We're very mindful of the fact that there's certain constituencies across the state but particularly working-class, blue-collar Democrats who have historically voted for Democrats — they voted for Tom Vilsack and they voted for Tom Harkin and they voted for Barack Obama," Harris said. "And I think for us, it's going to be really important for us to be able to engage them in a meaningful way and try to bring them into the fold."
So far the campaign has 75 full-time staffers, 60 of which are in the field. Twelve campaign offices have opened across the state, including one in Davenport and another in Dubuque, and the campaign plans to have a total of 25 opened by Caucus Day on Feb. 3.
More 'middle-class Joe'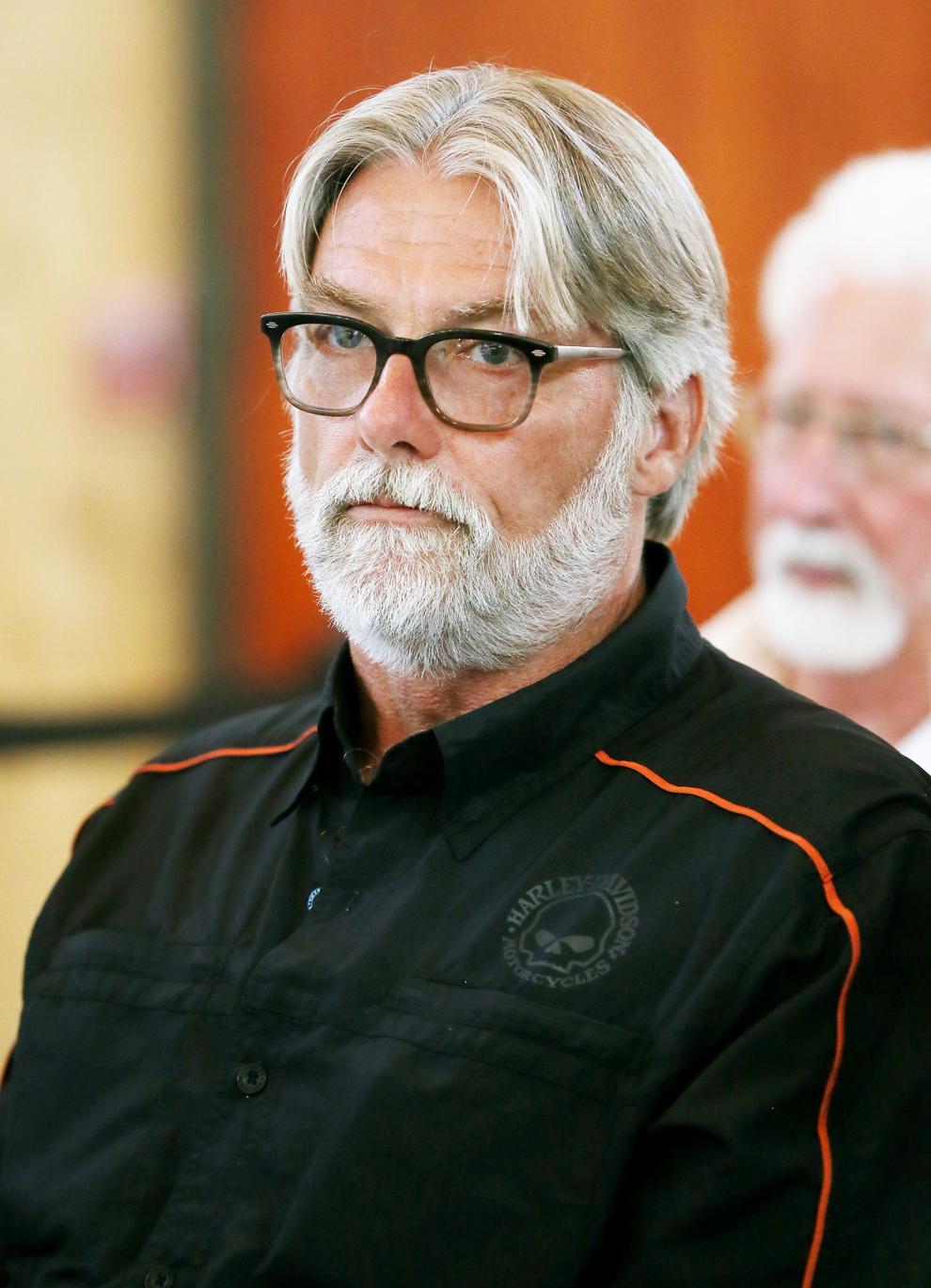 The last time Mike Edwards paid attention to Biden was during his brief 1987 presidential campaign. Edwards was 30 at the time. Biden was 42.
A union-card-carrying Democrat and member of the United Auto Workers Union from Burlington, Edwards says he still likes the message Biden is giving for the most part. But he'd like to hear more about building up the middle class and support for organized labor.
"I'd like to see him address those issues a little more strongly," said Edwards. "I think Elizabeth Warren has, which is one of the reasons I've tuned in to her more closely. In '16, I caucused and actually ran my caucus for Bernie Sanders. But I still voted for Hillary (Clinton) when the dust settled – I don't regret that either. I didn't like her, personally. I didn't care for her."
Elizabeth Warren picking up steam?
During the 2016 Iowa Democratic caucuses, Clinton beat U.S. Sen. Bernie Sanders by a razor-thin margin, marking the closest contest since the first-in-the-nation nominating tradition began in 1972. Sanders took half of the 10 Mississippi River counties: Clayton, Clinton, Scott, Muscatine and Des Moines.
But if there's a rival Biden should worry about in southeastern Iowa, some Democratic Party leaders say it's probably U.S. Sen. Elizabeth Warren of Massachusetts.
"She has had an incredible ground game," said Steven Drahozal, chairman of the Dubuque County Democrats. "She was the first announced presidential candidate to come to Dubuque … She's got a good organization but she's doing a lot of things very similarly to what I saw Barack Obama do in 2008, which is build local relationships, work with local activists and draw in people.
"If I were running for president right now, I'd like to be in Elizabeth Warren's position where I'm not the front-runner. Because when you're the front-runner, everybody's aiming at you."
Scott County Democratic Party Chairwoman Elesha Gayman has a similar view. She says Warren is making gains on the ground and through key campaign hiring decisions that likely make her the most formidable opponent for Biden at the moment.
"She by far has the best staff that she could have possibly hired," Gayman said.
Biden says he plans to be in Iowa. A lot
As Biden's campaign is fanning out across Iowa, the former vice president considers his organization "first-rate" and says he plans to spend a lot of time giving Iowans his attention.
During a recent interview with Erin Murphy, the Des Moines bureau chief for the Quad-City Times, Biden pointed to his campaign speech in Burlington, where he delivered a stinging rebuke of the Trump administration for "fanning the flames" of white nationalism among the examples of where he thinks his message is resonating with voters.
"I think there's a real interest," he said. "I think people are going to keep their powder dry until they get a good look at everybody. That's the thing about Iowa that's so special. And so I'm looking forward to it. I'm going to be here a lot and no one's going to work harder to win their votes than I am."
But as he faces criticisms having a too-moderate policy platform to excite the folks who're eyeing candidates on his left, Biden challenges that notion entirely.
He pointed to his $400 billion climate change plan, building on public options through Obamacare and rolling back a majority of the Trump administration's federal tax cuts as part of a platform he considers progressive – and one he says is sold as advertised. And he thinks the vast majority of the Democratic Party is looking for someone who is going to "completely level with them."
"They're looking for authenticity, and they're looking for being able to get things done," Biden said. "And so, we'll soon find out whether I'm right or wrong.