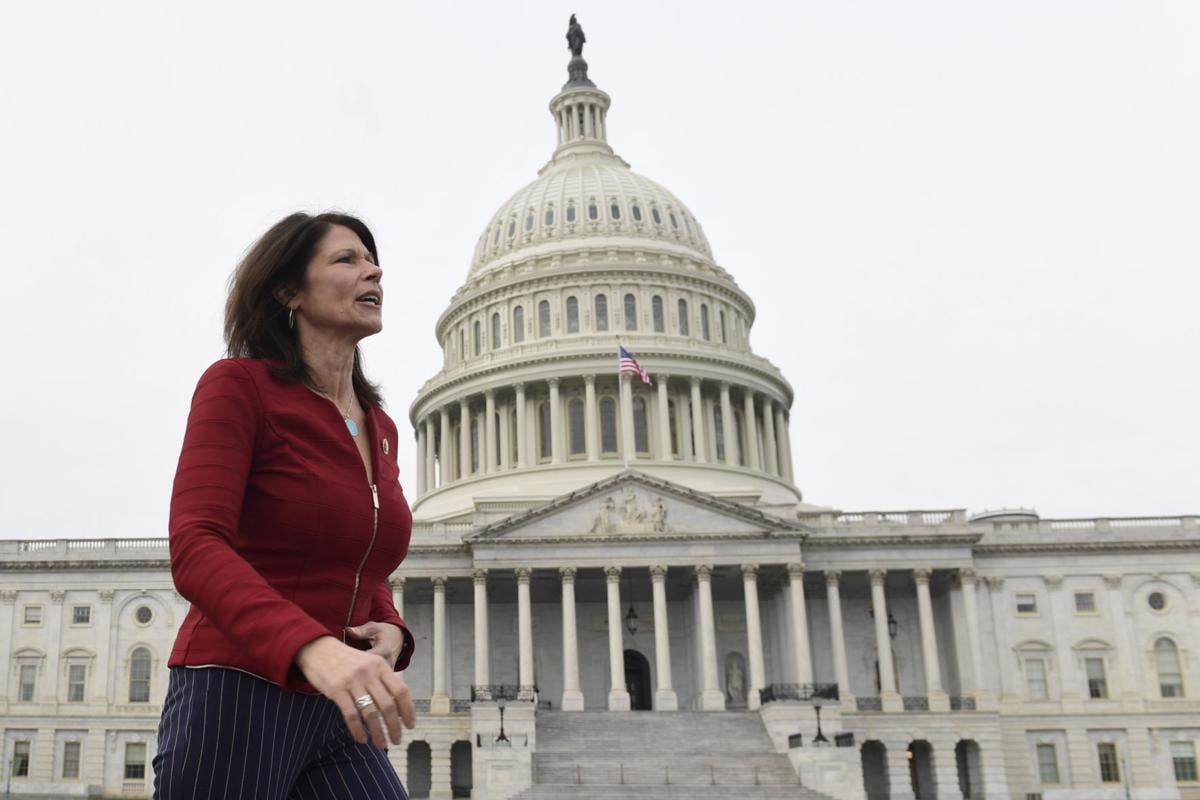 U.S. Rep. Cheri Bustos, D-Ill., won't run for re-election next year. The five-term congresswoman made a public announcement Friday that she will end her run in the House after her term ends.
Bustos said her decision came after a periodic assessment of her career, something she says she's done every 10 years. The Moline Democrat said her health is good and that she has no future job lined up, other than to continue representing the 17th District.
"I have no plans over these next 20 months to do anything but great work for this congressional district," Bustos said in a telephone interview. "I'll be able to figure this out. I always have big dreams and big hopes, and so I'm confident that whatever the next chapter is, it will be something where I'll be in a position to help make a difference.
"I feel like I'm a big thinker, and I think everything will turn out OK," she added.
Bustos said announcing her decision now gives potential successors time to line up their own campaigns.
"I'm not running from anything. I'm proud. I'm holding my head high. I believe it's time for a new voice, and I'll do everything I can to make sure that we elect somebody who's great," she said.
Bustos was first elected to Congress in 2012, after having worked as a journalist at the Quad-City Times, and later, as a hospital executive and member of the East Moline City Council. She proved herself to be a prolific fundraiser and tireless worker, winning in a district that was a mix of urban areas, including the Quad-Cities and parts of Peoria and Rockford, as well as large swaths of rural farmland.
Over the years, though, the district has turned redder, and in 2016, even though Donald Trump won the district by a small margin at the top of the ticket, Bustos also won re-election, a feat that got her national recognition.
Her bid for a 5th term, though, was difficult. Bustos defeated Republican Esther Joy King, a political novice and relative newcomer to the district, but with just 52% of the vote, a departure from double-digit victories in previous contests and her closest election since winning the seat from Bobby Schilling in 2012.
Bustos, though, said she is not leaving for fear of the 2022 election cycle, when it is likely Democrats will face headwinds, a tradition for the party holding the White House. "I've never lost an election in my life," she said.
While the party in power tends to suffer in the midterm after a presidential election, this year also will bring newly drawn district boundaries, which would likely mean friendlier territory, as Democrats control the mapmaking in Illinois.
In Congress, Bustos has been a moderate voice among Democrats, even as some of the more newly prominent members of her caucus have tried to pull the party leftward. On the Agriculture Committee, she worked to help get two farm bills passed. She also sponsored legislation that was passed to help Gold Star families.
At home, Bustos helped secure funding to increase the workload at the Rock Island Arsenal, and she introduced and got passed legislation aimed at filling vacant space there. She also was a leader in the effort to ensure the federal government brought jobs to the prison in Thomson, which was purchased from the state of Illinois in 2012 and is now a federal facility.
In 2016, Bustos also pressured former Illinois Gov. Bruce Rauner to commit to the extension of passenger rail service from Chicago to Moline at a time when continued federal funding for the project was in question. Subsequently, she and other lawmakers got a commitment from the federal government to extend the $177 million set aside for the rail line through 2024.
After entering Congress, Bustos rose quickly in the ranks of House Democrats, eventually becoming chair of the party's campaign arm, the Democratic Congressional Campaign Committee, or DCCC, in 2018. The idea was that as a Democrat who won in a district also won by Donald Trump, she could help her party in these problematic areas. Her name was even mentioned in some circles as a potential future speaker of the House.
However, while the party held on to its majority in the 2020 elections, it ended up losing seats, a disappointment after widespread expectations it would do better. Bustos, who faced criticism over the election results, announced last December that she would not seek another stint as chair.
Asked whether the experience contributed to her decision to leave, Bustos emphasized that the party maintained control of the House, which she said is allowing the passage of President Biden's priorities, like the $1.9 trillion American Rescue Plan.
Bustos, who turns 60 years old this year, didn't say where she'll settle after her term in Congress ends, but called the Quad-Cities her home.
Her husband, Gerry Bustos, is the Rock Island County Sheriff, and she now has three grandchildren. But she left open the idea the future could take her elsewhere, too. "I'm open to what is going to be best for my family, and I'm open to what's going to put me in a position where I can continue to make a difference," she said.
She did say that, at the moment, she can't see herself running for public office again but didn't rule it out, either.
Bustos said that she and her family made the decision for her to leave Congress about a month ago, at a family-only lunch held after the baptism of one of her grandchildren. Shortly after, at Easter, she said, they finalized the decision.