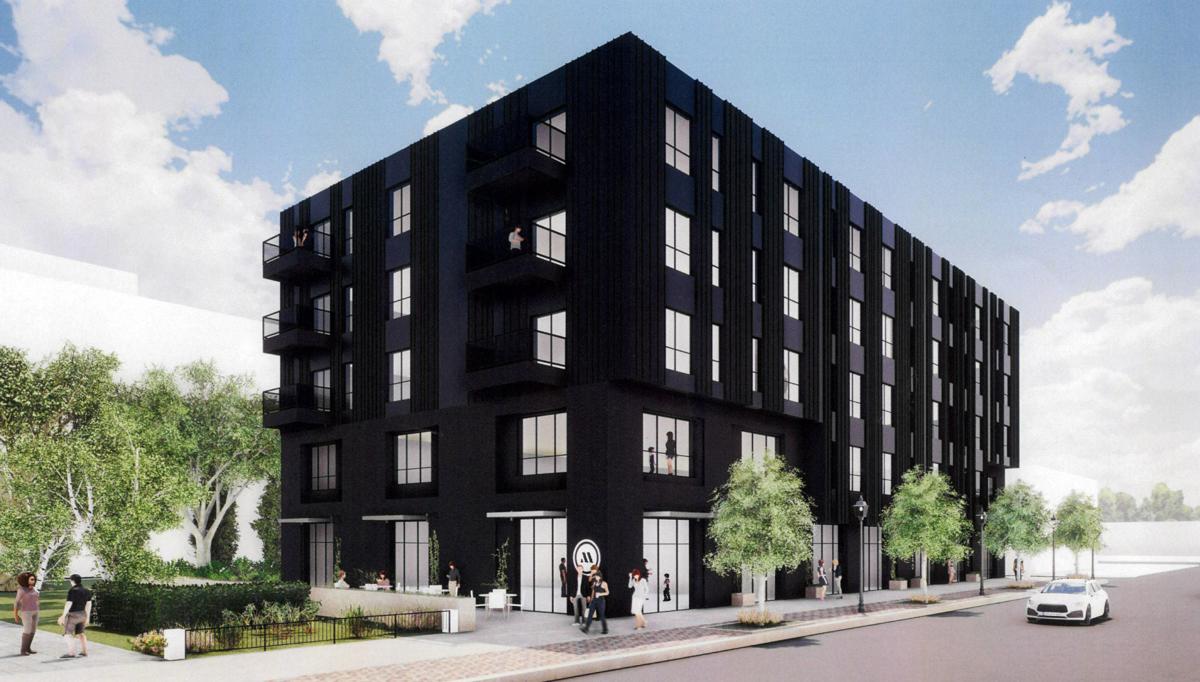 A Cedar Falls-based real estate developer is eyeing a piece of city-owned vacant land for a new commercial building that would house 60 apartments and several small retail spaces in Downtown Davenport.
Early conceptual designs given to the city by the developer, Merge Urban Development, show a five-story, 50,000-square-foot building in the 200 block of East 2nd Street just south of the RiverCenter events venue. The company is offering $250,000 for the land, a deal that'll likely be contingent upon several factors related to construction specifications and securing necessary financing, Economic Development Director Bruce Berger said.
"There's been a long history of folks interested in doing something with (the land) and approaching the city with it. And the city, I would say, has considered all of those offers," Berger said. "It's only until recently that with the development of our downtown that it's penciled out a bit more."
Merge officials declined to be interviewed for this story. In an emailed statement, Merge partner Joy Hannemann said the company "takes both public interest and the city-driven project approval process very seriously."
"For that reason, we prefer to reserve our comments for the public forums facilitated by the City," Hannemann said.
The proposal cleared a minor procedural step on Wednesday night in City Hall. A public hearing on the land sale could be held as soon as Sept. 18. During the council meeting, Alderman Ray Ambrose, 4th Ward, thanked President Donald Trump for a new tax incentive program that the developer plans to use.
Some of the fine details about the proposed building's design have yet to be fully vetted. But city officials and local leaders involved in conversations about the development say it would feature so-called "micro apartments" — minimalist units smaller than the average studio. Design specifications also show space for "micro retail" spanning 6,600 square feet on the ground level.
Alderwoman Marion Meginnis represents the 3rd Ward where the proposed development would take root. She noted Wednesday that she and the council have already demonstrated willingness to sell the land for commercial development.
"I guess for me there's not a question about whether the land should be sold or not because we kind of made that decision," Meginnis said, adding that recent studies have shown room for more downtown housing.
"This certainly brings it," she said.  
The proposed building offers a style of affordable housing and retail space that does not yet exist in Davenport at a time when the downtown could use both of those things, said Kyle Carter, the executive director of Downtown Davenport Partnership, a collective voice of downtown business leaders. A housing study performed by the downtown group in 2017 found that area rental units were within a healthy occupancy range of nearly 97%.
Carter suggested smaller apartments and retail spaces like the one Merge is proposing could open doors for people looking for smaller, affordable downtown living and entrepreneurs who want low-overhead space. He said the addition of "micro retail" could build on what already exists in the downtown's east end and help "really create a retail corridor" there.
"That's what's exciting for me," he said.
The proposal from Merge comes after several other developers approached the city with ideas to build on the open space but failed to reach the finish line. TAG Communications, a Davenport-based marketing and communications firm, previously sought to purchase the land for an expansion of its downtown office building.
In April 2018, the city council approved a resolution allowing City Administrator Corri Spiegel to sell the land for $250,000 if TAG met certain requirements. TAG CEO Mike Vondran said the deal "just didn't come together," but he added that he likes the concept Merge is bringing forward.
Merge specializes in projects bolstered by federal tax incentives reserved for Qualified Opportunity Zones, which include Davenport's downtown. The company has begun similar projects in Waterloo and Cedar Falls.
Opportunity Zones were created with the passage of the Republican-led federal tax cuts of 2017. The program gives investors a tax break on certain capital gains if they put money into economically distressed areas.
Area development experts say Merge's proposal is the first publicly disclosed local project seeking to capitalize on those federal incentives. Berger, the city's economic development director, said there could be more to come.
"This one is asking for city land so we're a little more involved with it," Berger said. "But I think there may be two or three that are percolating that will end up using Opportunity Zone funding too."
Carter, with Downtown Davenport Partnership, also pointed to the potential for more federal incentive-supported projects on the horizon as investors seek to meet an upcoming federal deadline to harness the maximum benefits. He called Merge's proposal a "prime example" of an out-of-town investor building in the community because of the federal program.
Carter also said Merge's proposal is a display of faith among investors to support new construction in the city's downtown despite setbacks from the Flood of 2019. The city's temporary flood barrier failed only a few blocks away in April, sending floodwater through the city's blossoming district and causing a few businesses to shut down for good.
"That's a huge positive boost for our community to show that we're still doing things right and that we have the capacity to not only survive what happened to us but continue to thrive," he said.