DES MOINES — The Latest on the first-in-the-nation Iowa caucuses (all times local):
Results: President Dem - Caucus 1,250 of 1,765 precincts - 71 percent
Pete Buttigieg 419 - 27 percent
Bernie Sanders 394 - 25 percent
Elizabeth Warren 287 - 18 percent
Joe Biden 241 - 15 percent
Amy Klobuchar 197 - 13 percent
Andrew Yang 16 - 1 percent
Uncommitted 3 - 0 percent
Michael Bloomberg 0 - 0 percent
Tulsi Gabbard 0 - 0 percent
Michael Bennet 0 - 0 percent
John Delaney 0 - 0 percent
Deval Patrick 0 - 0 percent
President GOP - Caucus 1,764 of 1,765 precincts - 99 percent
x-Donald Trump (i) 31,422 - 97 percent
Bill Weld 424 - 1 percent
Joe Walsh 348 - 1 percent
President First Alignment First Caucus Alignment Dem - First Alignment Caucus 1,262 of 1,765 precincts - 72 percent
Bernie Sanders 31,428 - 24 percent
Pete Buttigieg 27,515 - 21 percent
Elizabeth Warren 24,175 - 19 percent
Joe Biden 18,902 - 15 percent
Amy Klobuchar 16,474 - 13 percent
Andrew Yang 6,720 - 5 percent
Tom Steyer 2,247 - 2 percent
Uncommitted 703 - 1 percent
Tulsi Gabbard 268 - 0 percent
Michael Bloomberg 157 - 0 percent
Michael Bennet 107 - 0 percent
Deval Patrick 46 - 0 percent
John Delaney 0 - 0 percent
President Final Alignment Final Caucus Alignment Dem - Final Alignment Caucus 1,261 of 1,765 precincts - 71 percent
Bernie Sanders 32,772 - 26 percent
Pete Buttigieg 31,458 - 25 percent
Elizabeth Warren 25,816 - 21 percent
Joe Biden 16,545 - 13 percent
Amy Klobuchar 15,598 - 12 percent
Andrew Yang 1,301 - 1 percent
Uncommitted 1,101 - 1 percent
Tom Steyer 275 - 0 percent
Tulsi Gabbard 14 - 0 percent
Michael Bloomberg 6 - 0 percent
Michael Bennet 1 - 0 percent
John Delaney 0 - 0 percent
Deval Patrick 0 - 0 percent
11:30 p.m.: The Iowa Democratic Party has released additional results from Monday night's presidential caucuses.
After a daylong delay, the party has now made public 71% of results from all 99 Iowa counties.
The new numbers released late Tuesday do not change the state of play for the candidates. Pete Buttigieg, the former mayor of South Bend, Indiana, holds a slight lead over Vermont Sen. Bernie Sanders.
Massachusetts Sen. Elizabeth Warren, former Vice President Joe Biden and Minnesota Sen. Amy Klobuchar trail behind.
It is too early for The Associated Press to declare a winner.
4:10 p.m.: The Associated Press has reviewed the initial results of Iowa's Democratic caucuses and the race is too early to call.
With 62 percent of precincts reporting, former South Bend, Indiana, Mayor Pete Buttigieg has a lead over Vermont Sen. Bernie Sanders of less than 2 percentage points in state delegate equivalents.
Iowa Democrats: Buttigieg leads with 62% of votes counted. Sanders 2nd, followed by Warren and Biden
You have free articles remaining.
4:08 p.m.: Clouded by doubts on a chaotic day-after, the Iowa Democratic Party began releasing partial results of the state's first-in-the-nation presidential caucus on Tuesday.
The data, made public for the first time nearly 24 hours after voting concluded, reflected the results of 62% of precincts in the state.
While campaigns were eager to spin the results to their advantage, there was little immediate indication that the incomplete results eased the confusion and concern that loomed over the opening contest of the Democrats 2020 presidential primary season.
It was unclear when Iowa's full results would be released.
During a private conference call with campaigns earlier in the day, state party chairman Troy Price declined to answer pointed questions about the specific timeline -- even whether it would be a matter of days or weeks.
"We have been working data and night to make sure these results are accurate," Price said at a subsequent press conference.
The leading candidates pressed on in next-up New Hampshire, which votes in just seven days, as billionaire Democrat Michael Bloomberg sensed opportunity, vowing to double his already massive advertising campaign and expand his sprawling staff focused on a series of delegate-rich states voting next month.
The party's caucus crisis was an embarrassing twist after months of promoting the contest as a chance for Democrats to find some clarity in a jumbled field with no clear front-runner. Instead, after a buildup that featured seven rounds of debates, nearly $1 billion spent nationwide and a year of political jockeying, caucus day ended with no winner, no official results and many fresh questions about whether Iowa can retain its coveted "first" status.
Iowa marked the first contest in a primary season that will span all 50 states and several U.S. territories, ending at the party's national convention in mid-July.
Campaigning in New Hampshire on Tuesday, Sen. Elizabeth Warren said she was "feeling good" about her performance in Iowa but questioned the state party's plans to release partial results.
"I just don't understand what that means, at least half of the data. I think they ought to get it together and release all the data," she said.
Vermont Sen. Bernie Sanders' campaign told supporters that its internal monitoring showed him in the lead with nearly half the vote in. Sanders himself said late Monday, "Today marks the beginning of the end for Donald Trump."
Pete Buttigieg, the former mayor of South Bend, Indiana, essentially declared an Iowa victory.
"So we don't know all the results, but we know by the time it's all said and done, Iowa, you have shocked the nation," he said before leaving Iowa. "By all indications, we are going on to New Hampshire victorious."
Former Vice President Joe Biden said he was "feeling good" and predicted the results would be close.
The party told campaigns Tuesday that the problem was a result of a "coding issue in the reporting system" that it said had since been fixed. It said it had verified the accuracy of the collected data and said the problem was not a result of "a hack or an intrusion."
A Biden campaign representative objected to the party's plan to release partial results before checking them against paper records, saying in the conference call that the plan didn't address "growing reports" about problems on caucus night, such as precinct captains unable to get through on the phone to report results.
"The stories and the problems are just multiplying so presumably you're going to have some way of addressing that and explaining to us as you release these partial results why you're comfortable," Biden campaign attorney Dana Remus said. "You need to have enough transparency that other people feel comfortable about it now and we're just not there right now."
Sanders adviser Jeff Weaver thanked party officials, and encouraged other campaigns not to undermine the party.
"Folks who are just trying to delay the return of this because of their relative positioning in the results last night, I think that's a bit disingenuous," Weaver said.
For the first time, the Iowa Democratic Party reported three sets of results: a tally of caucusgoers' initial candidate preference; vote totals from the "final alignment" after supporters of lower-ranking candidates were able to make a second choice, and the total number of State Delegate Equivalents each candidate received.
The Associated Press will declare a winner based on the number of state delegates each candidate wins, which has been the traditional standard.
Early polling had suggested Sanders entered the night with a narrow lead, but any of the top four candidates — Sanders, Biden, Warren and Buttigieg — was positioned to score a victory. Sen. Amy Klobuchar, who represents neighboring Minnesota, was also in the running, while outsider candidates including entrepreneur Andrew Yang, billionaire activist Tom Steyer and Hawaii Rep. Tulsi Gabbard lagged behind.
Sensing opportunity amid the chaos, Bloomberg's campaign announced plans to double its national television advertising spending — which has already exceeded $100 million — as it expands its paid staff to more than 2,000 people.
Bloomberg is looking to next month, having decided to bypass Iowa's contest and the three other states voting this month in favor of the delegate-rich states in March.
"After more than a year of this primary, the field is as unsettled as ever," Bloomberg spokeswoman Sabrina Singh said. "No one has made the sale or even come close to it. Meanwhile, Mike is taking the fight to Trump every day, doubling down on the national campaign strategy we've been running from the beginning."
Beyond 2020, the debacle invited fresh criticism about Iowa caucuses, a complicated set of political meetings staged in a state that is whiter and older than the Democratic Party. Many used the moment to question whether it was a quaint political tradition whose time had passed.
The party has tried to accommodate critics before, this year by promising to report three different data points about voters' preferences, presumably improving transparency. But the new system created new headaches.
"I think Iowa is a dumpster fire," said Dick Harpootlian, a South Carolina state senator and longtime Biden supporter, who served as an Iowa precinct captain for Biden on Monday.
3:58 p.m.: Iowa Democratic Party chairman says delay in caucus reporting results was 'unacceptable'.
11:35 a.m.: The Iowa Democratic Party says it plans to release at least 50% of results from Monday's caucuses on Tuesday afternoon at 4 p.m.
Party chairman Troy Price tells presidential campaigns on a conference call that "we are going to release the majority of results that we have by 4 p.m. today."
Technical problems have delayed the release of results from the first-in-the-nation contest, leaving campaigns and the public in the dark.
Price says the party is collecting paper records from more than 1,600 caucus sites "to make sure we have all of the documented information in place."
Price says results from about 50% of precincts should be released Tuesday. It was not clear when the final results would be available.
11:25 a.m.: New Hampshire's top elections official says the state has "kept it simple" when it comes to elections and that he doesn't expect New Hampshire to encounter problems in its Feb. 11 primary.
He says, "the more moving parts that you have in the election process, the more room there is for something to not function right."
Bill Gardner's remarks Tuesday came as the Iowa Democratic Party still hasn't released the results of its caucuses the night before.
New Hampshire runs a primary, not a caucus. People will vote via paper ballots that about 85 percent of towns will count electronically. Gardner says, "you can't hack a pencil."
Gardner says he's not worried about New Hampshire losing its status as the first primary state despite handwringing about the state's lack of diversity. He says the same conversation happens every four years.
8:45 a.m.: The Iowa Democratic Party says delays in reporting the outcome of Monday's caucuses were due to a coding issue that has been fixed. The party says it hopes to release results "as soon as possible."
In a statement Tuesday, Iowa Democratic Party Chair Troy Price says, "We have every indication that our systems were secure and there was not a cyber security intrusion." Price says independent cybersecurity consultants tested the systems in preparation for the caucuses.
Candidates left Iowa Monday night for New Hampshire without the outcome of the contest being announced, a debacle that renewed criticism of Iowa's first-in-the-nation status and the caucus format.
Price says as results came in Monday night from more than 1,600 caucus sites the state party ran them through "an accuracy and quality check" and "it became clear there were inconsistencies with the reports." Price says it took time to investigate the cause, which was later determined to be a coding issue in the app precinct leaders were using to report some data.
Price says state party staff used "pre-planned measures and entered data manually," which took longer than expected. He says the party has used required back-up paper documentation to verify data recorded in the app was accurate and to calculate delegate counts.
7:30 a.m.: Former Vice President Joe Biden has picked up the endorsement of Caroline Kennedy, daughter of the late John F. Kennedy.
As the Democratic presidential hopefuls turn to New Hampshire, Kennedy called Biden the party's "best bet to win the White House, keep the gains we made in the House, and put the Senate in play."
The former ambassador to Japan announced her decision to endorse Biden in an opinion article Tuesday in the Boston Globe.
The endorsement comes the day after Iowa's caucuses, which ran into technical problems that resulted in delays in results being released. Several Democratic candidates headed to New Hampshire, which holds its presidential primary next week.
7:20 a.m.: Pete Buttigieg is starting his day in New Hampshire visiting with a local mayor and drinking black coffee after an overnight flight from Iowa.
He told Nashua Mayor Jim Donchess, who endorsed him Tuesday morning, that the lack of timely Iowa results was "frustrating."
But he claimed on "CBS This Morning" that his performance in Iowa was "phenomenal," especially given the fact that he had started his presidential campaign with little name recognition.
"They said we shouldn't even be here. And now, here we are, in the position that we are in, coming into New Hampshire for what we think will be another historic night a week from today," he said.
Buttigieg has back-to-back events planned around the state on Tuesday. His supporters, including Donchess, say the New Hampshire primary will matter even more after Iowa was slow to report results.
Activist Dan Weeks told Buttigieg an oft-repeated phrase in the state: "Iowa picks corn. New Hampshire picks presidents."
3:50 a.m.: Massachusetts Sen. Elizabeth Warren says her Democratic presidential campaign is built to compete across the country.
Stepping off a charter flight from Iowa to New Hampshire before dawn Tuesday, Warren said, "Our organizers in Iowa are now leaving there and going to all the other places where we're on the ground."
She says her campaign is active in 31 states and involves 1,000 people nationwide.
Warren says, "This is an organization that is built for the long haul."
She didn't answer a question about other candidates who declared victory in Monday night's Iowa caucuses. Technology problems and reporting "inconsistencies" had kept Iowa Democratic Party officials from releasing results.
She says Iowa "was too close to call and it still is."
12:15 a.m.: The Iowa Democratic Party says it expects to release data from the Iowa caucuses later Tuesday.
Chairman Troy Price says the party is manually verifying its data against paper backups but says systems are taking "longer than expected." He said the delays were the result of a reporting issue, not a hack or intrusion.
Price addressed reporters shortly after the party updated presidential campaigns about the status of the delayed results in the kickoff caucuses. He did not take any questions in the call with reporters.
Even without official results, some candidates have tried to declare victory and claim momentum based on their own internal data. The Associated Press has not called a winner of Monday's caucuses.
APTOPIX Election 2020 Iowa Caucus
APTOPIX Election 2020 Amy Klobuchar
APTOPIX Malaysia China Outbreak
APTOPIX China Outbreak
APTOPIX Election 2020 Pete Buttigieg
APTOPIX China Outbreak
APTOPIX France China Outbreak
APTOPIX China Outbreak
APTOPIX Election 2020 Joe Biden
APTOPIX Election 2020 Bernie Sanders
APTOPIX Colombia U23 South American Soccer
APTOPIX Election 2020 Elizabeth Warren
APTOPIX Election 2020 Iowa Caucus
APTOPIX US Costa Rica Soccer
APTOPIX Israel Daily Life
APTOPIX Philippines China Outbreak
APTOPIX Trump Impeachment
APTOPIX Spain Politics
APTOPIX India Festival
APTOPIX India Migratory Birds
Drake University's fieldhouse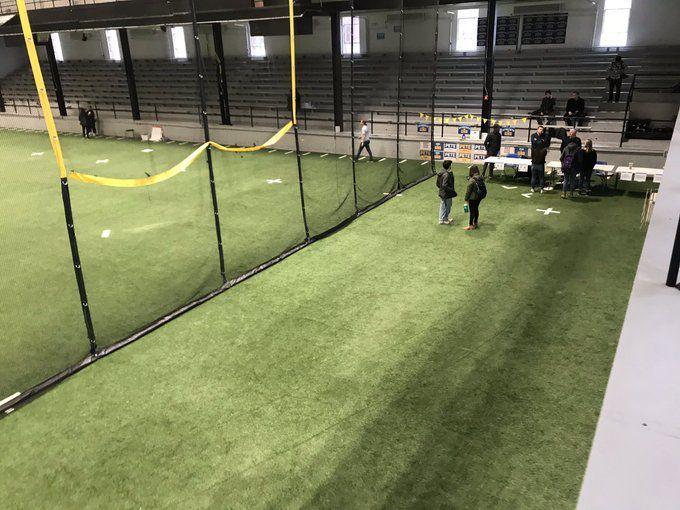 Drake University caucus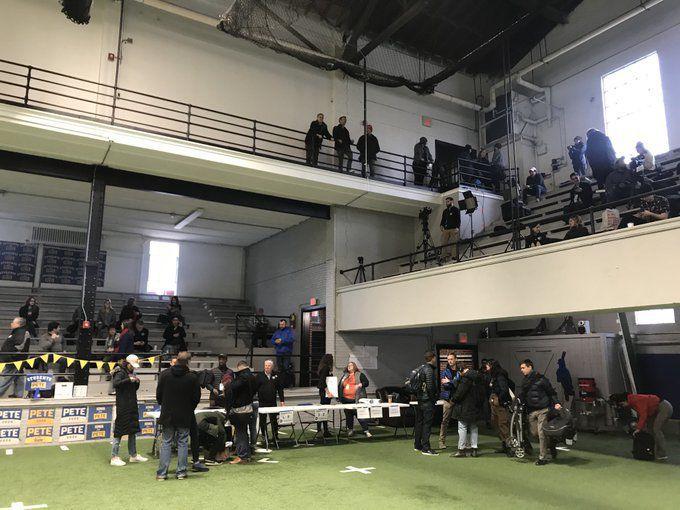 Caucus hurdles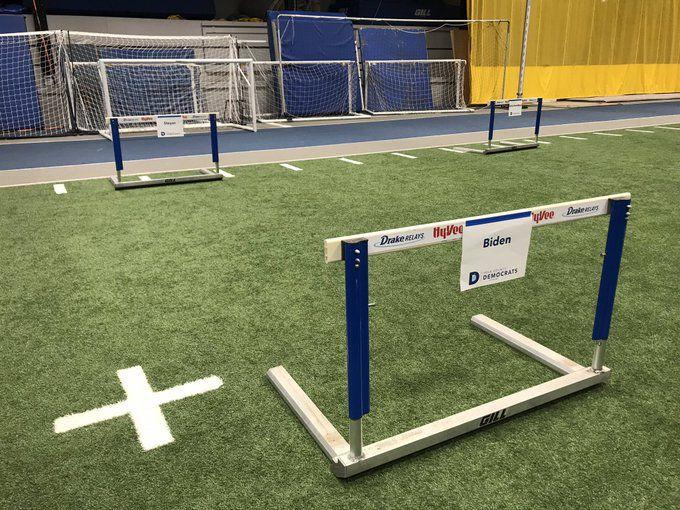 Juan Parsons for Bernie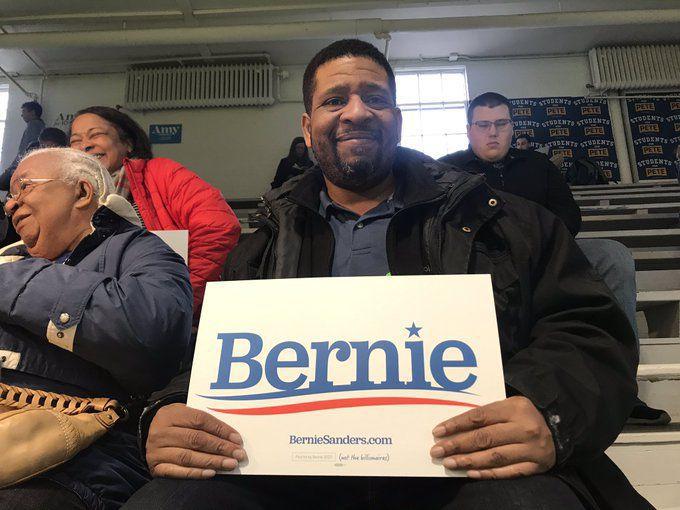 Get ready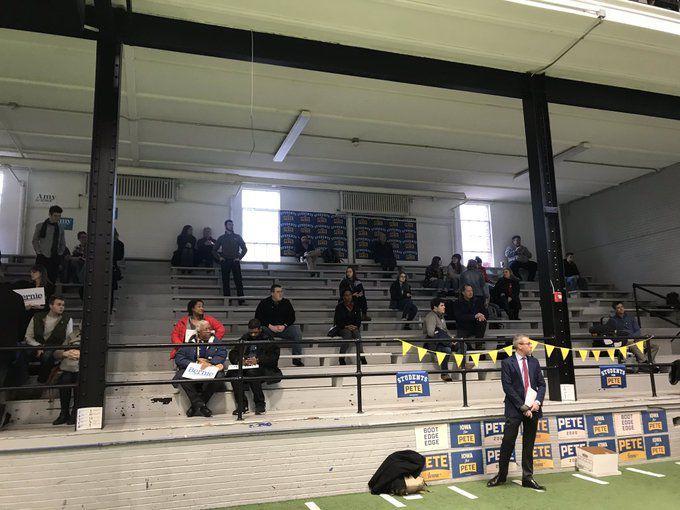 One for Biden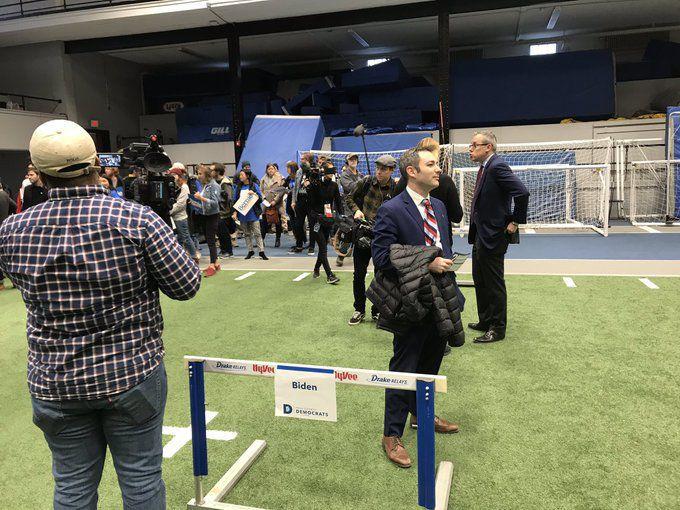 Just one for Biden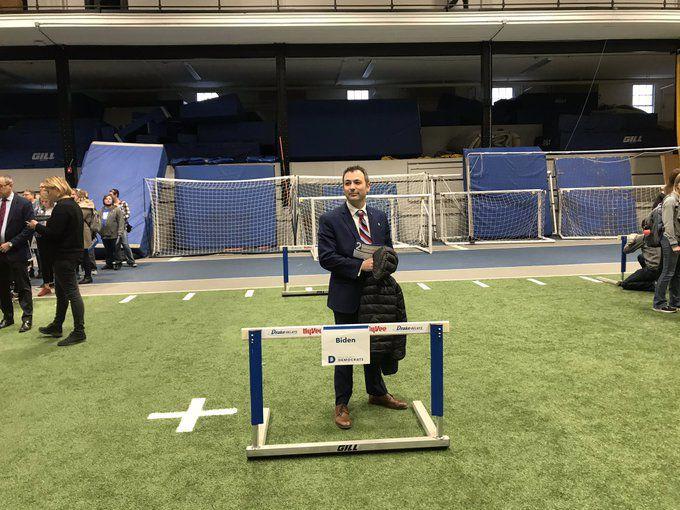 Context at caucus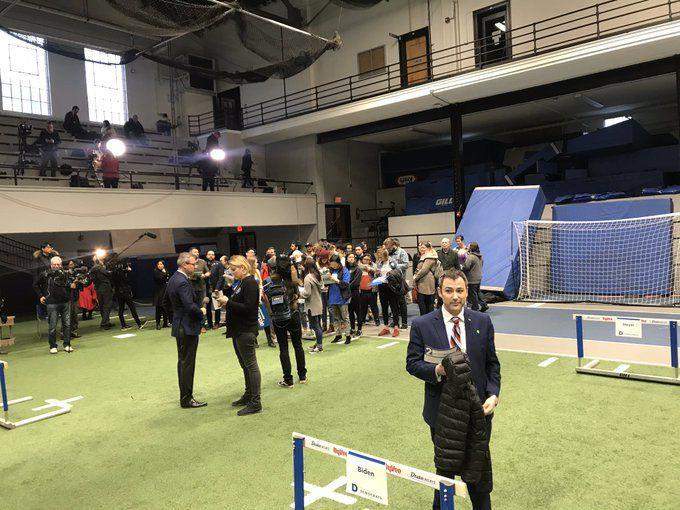 Three for yang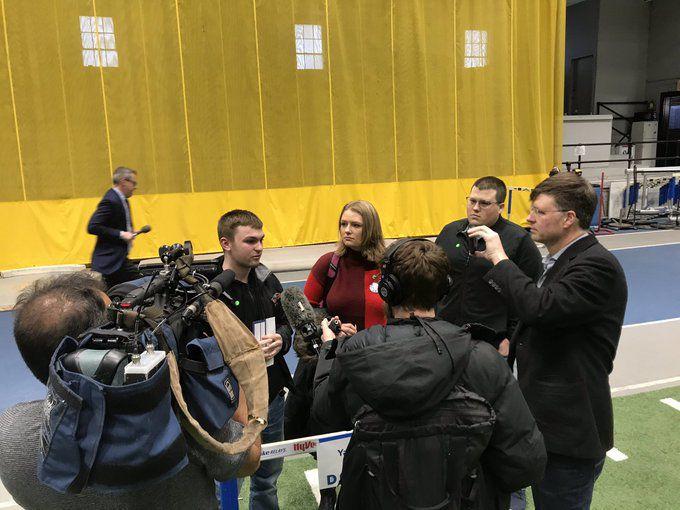 Re-aligned for Warren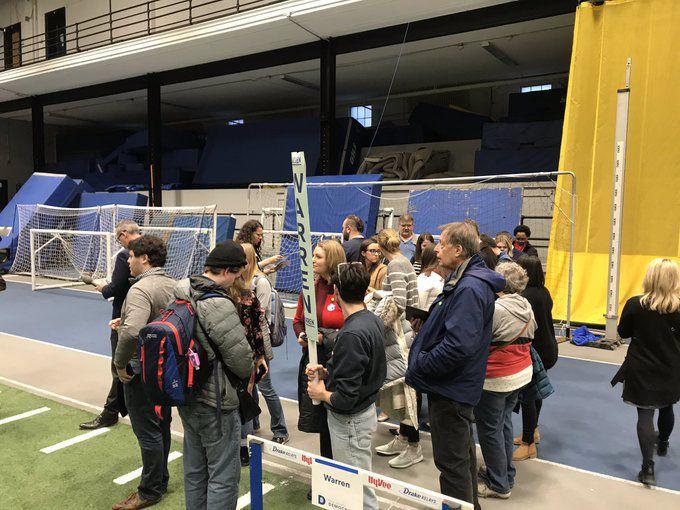 Warren group setting up strong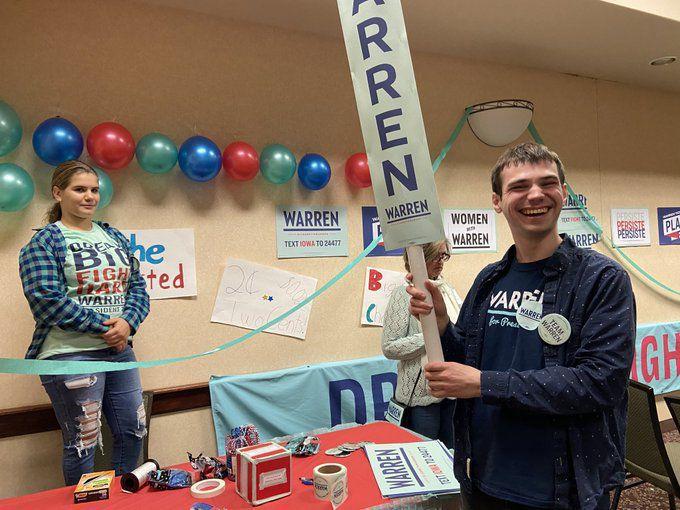 Voters arrive at Waterfront caucus site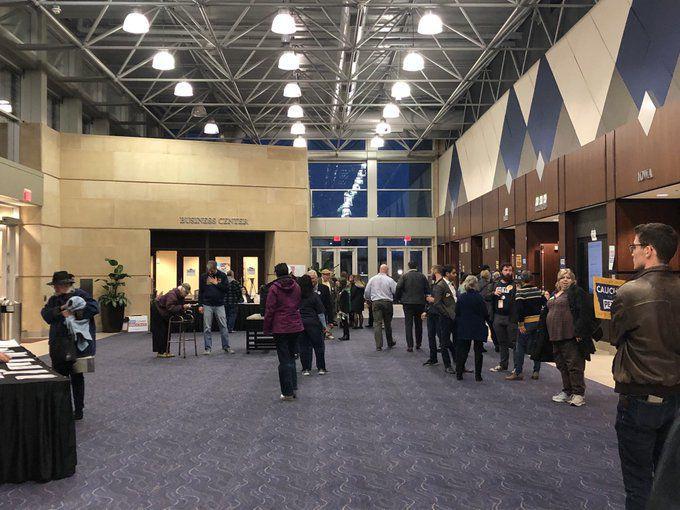 Caucus night at the Waterfront Convention Center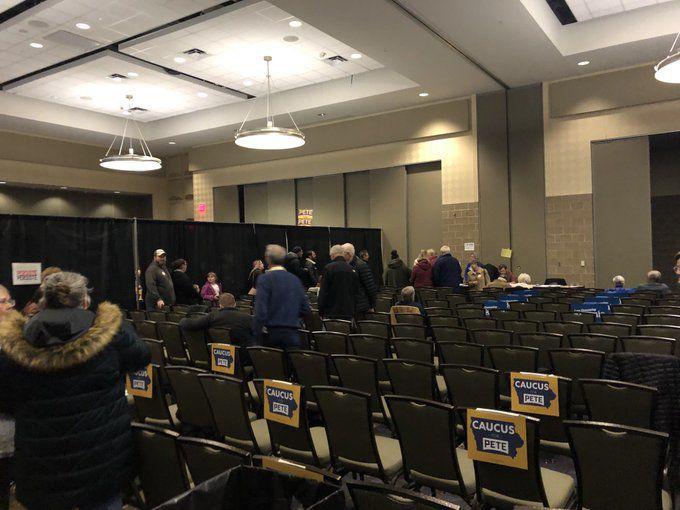 LouAnn Mohr for Biden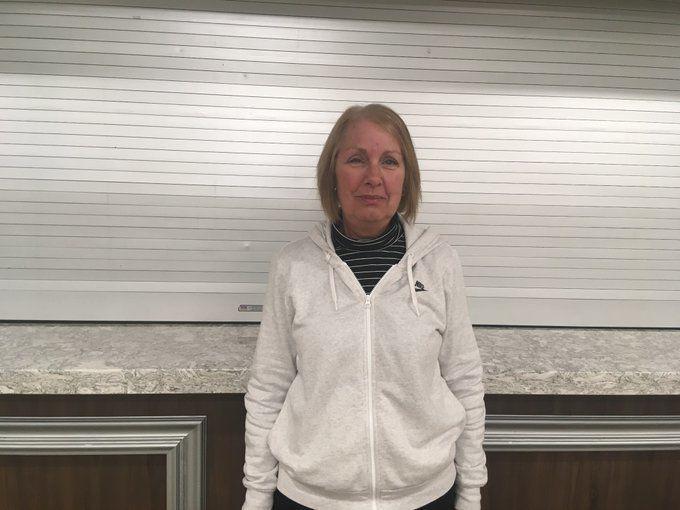 Cindi Davis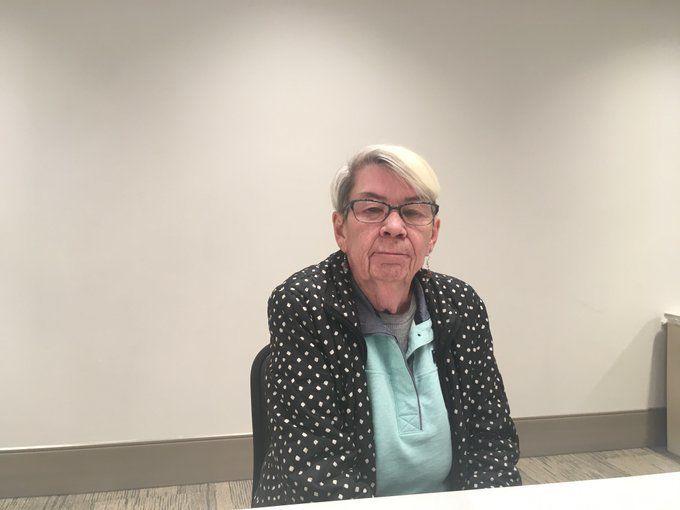 Campaign signs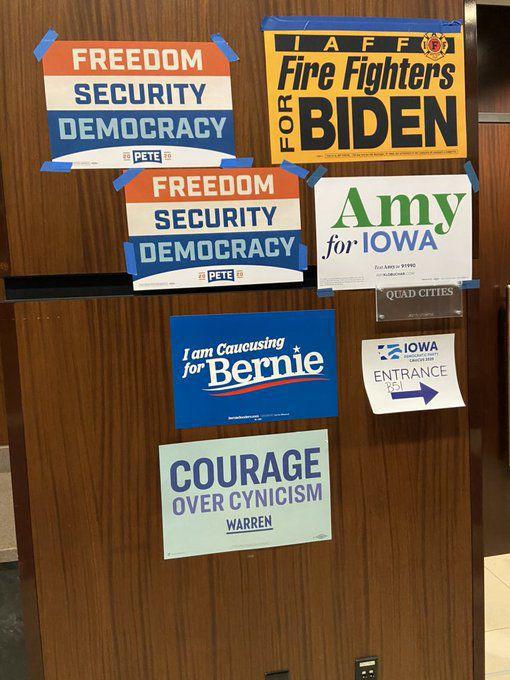 Precinct captain Jeff Schuhrke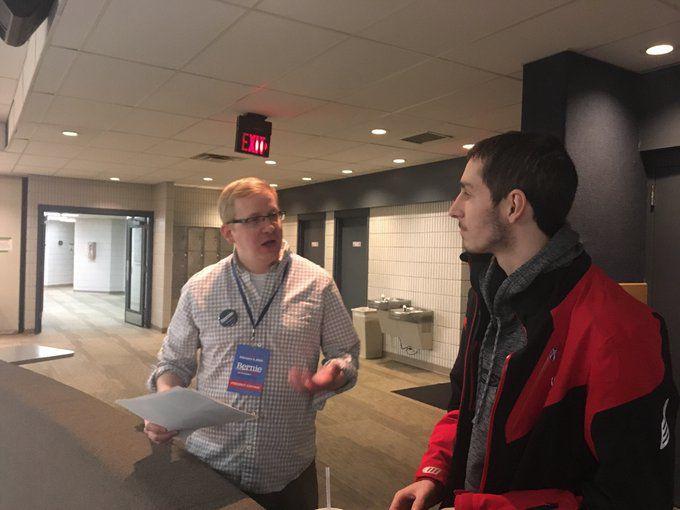 Bosnian Islamic community center caucus site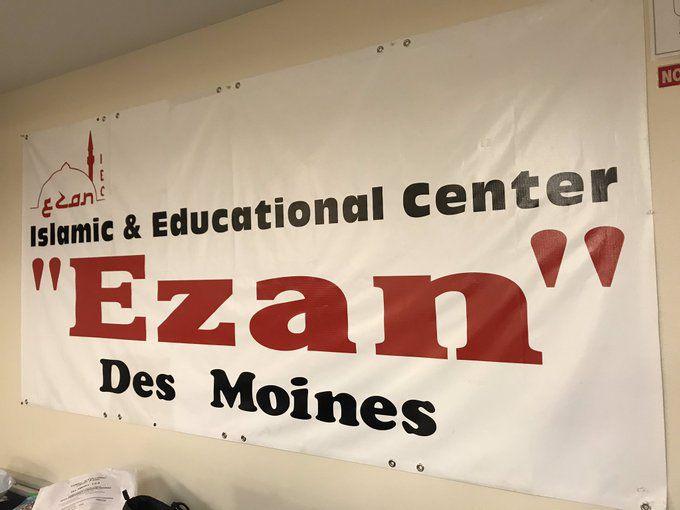 Early Warren supporters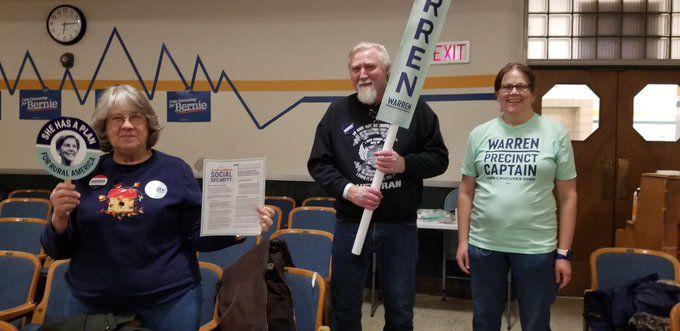 Sherry Carter: 86 45 2020
Signs in Bettendorf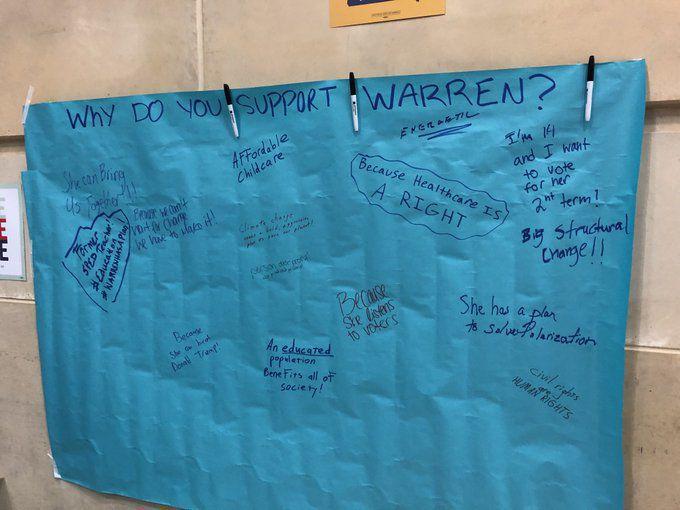 McKeegan Snyder caucuses for the first time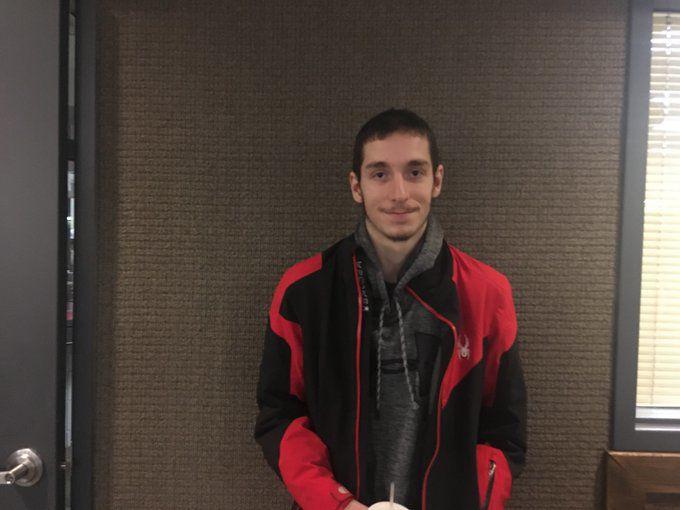 Signs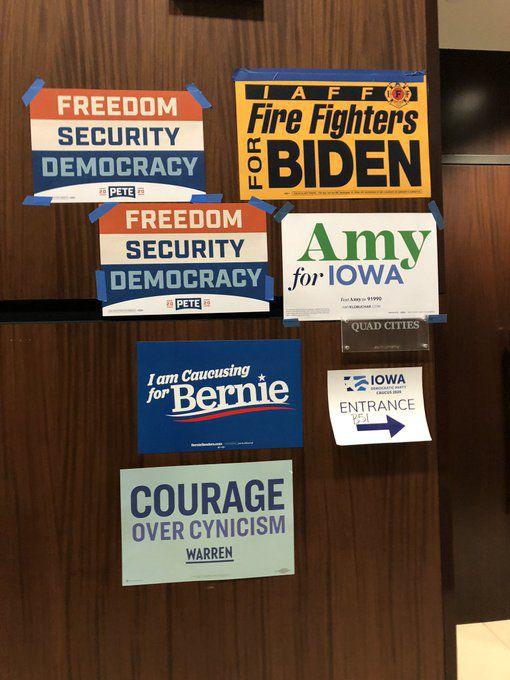 John Degreve for Pete Buttigieg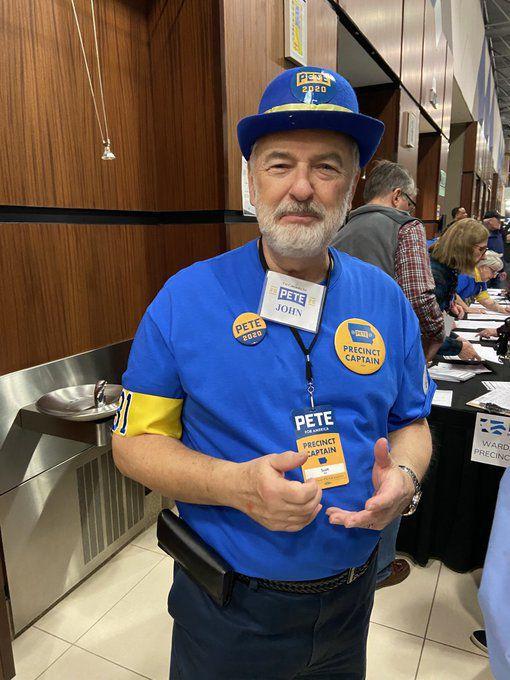 Line forms in Bettendorf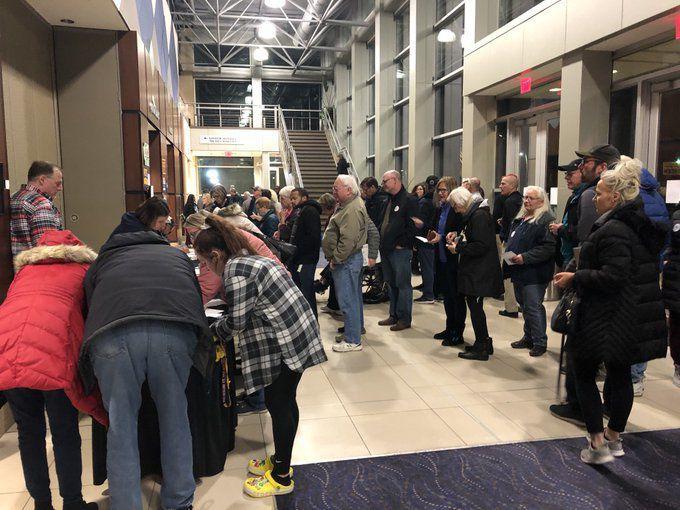 Line forms in Des Moines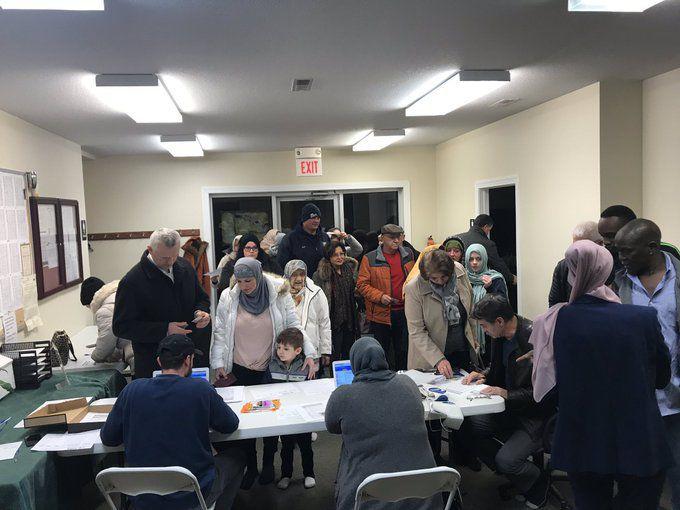 Temp precinct chair at Monroe Elementary Karen Bartel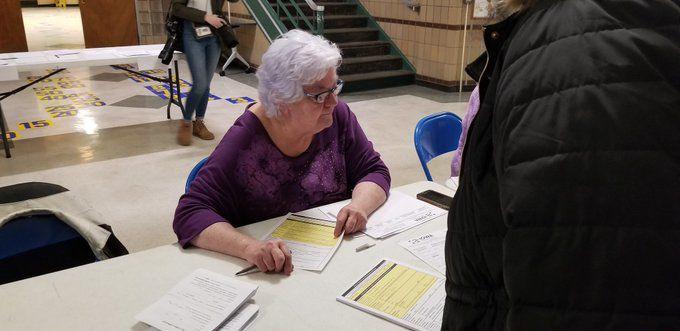 Hallway fills with Bettendorf Democrats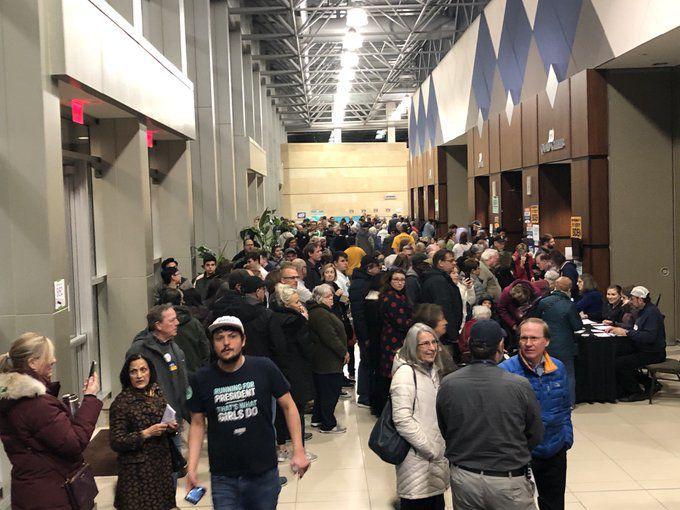 Manageable caucus lines in Davenport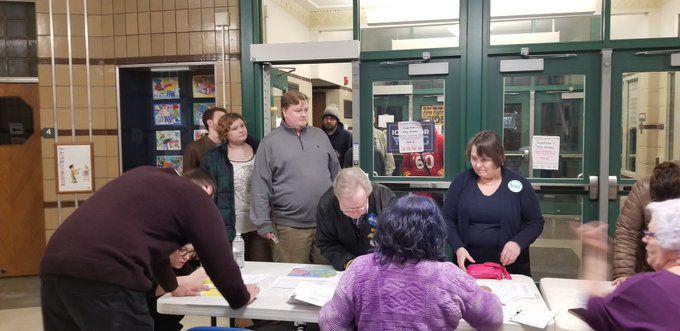 Robin Griebel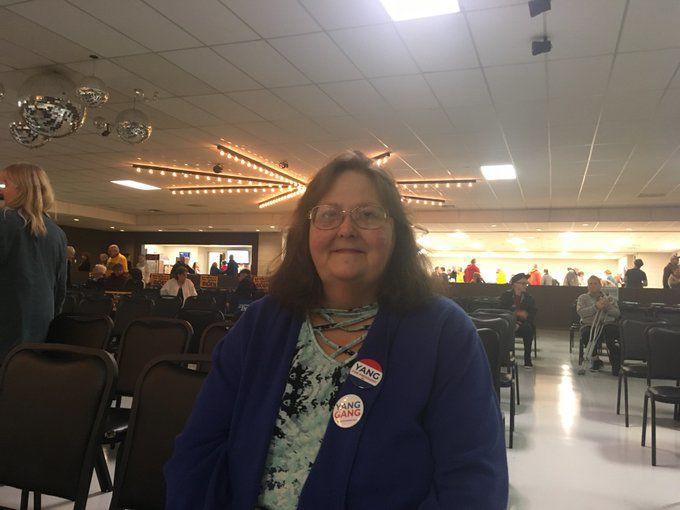 Students at the Waterfront Convention Center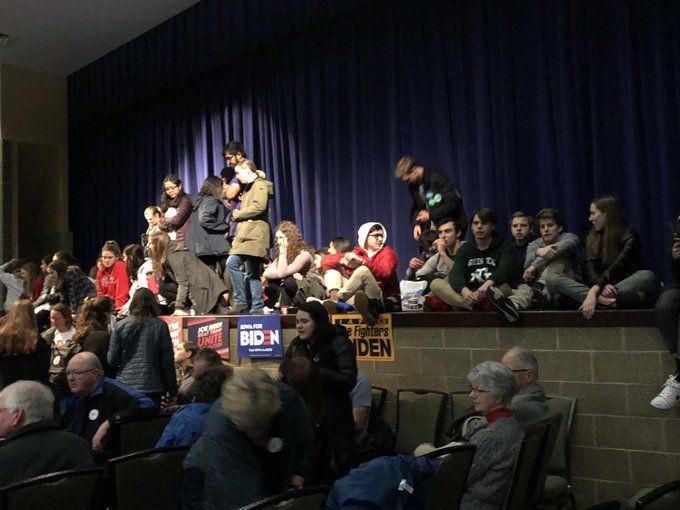 Visiting volunteer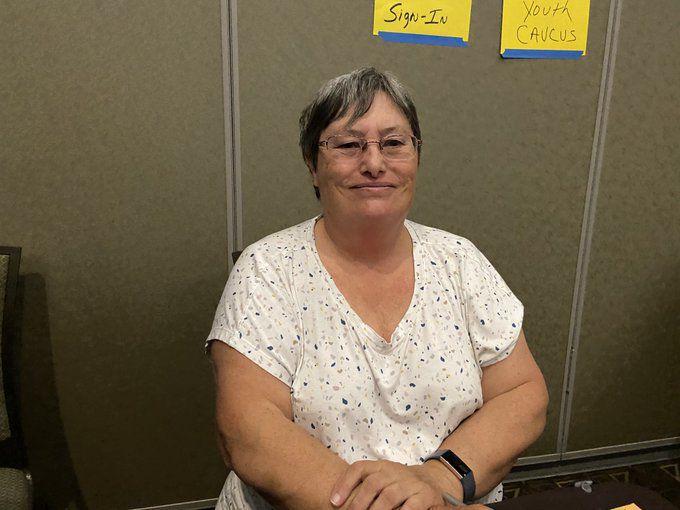 All smiles
Jerry and Cheryl Linn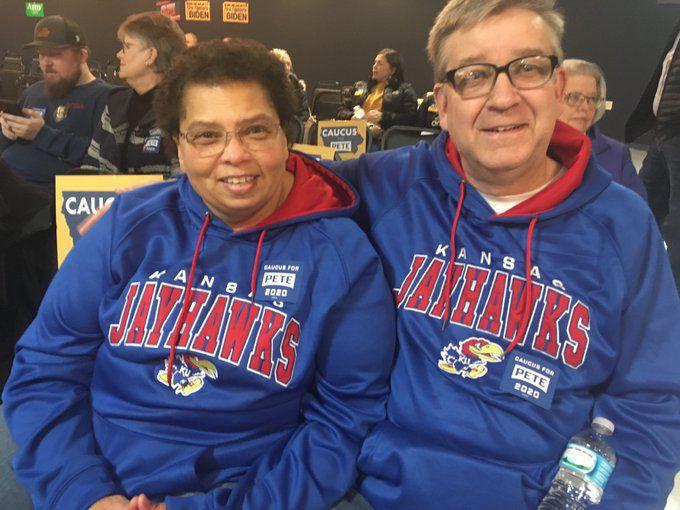 Mosque hosts caucus for the first time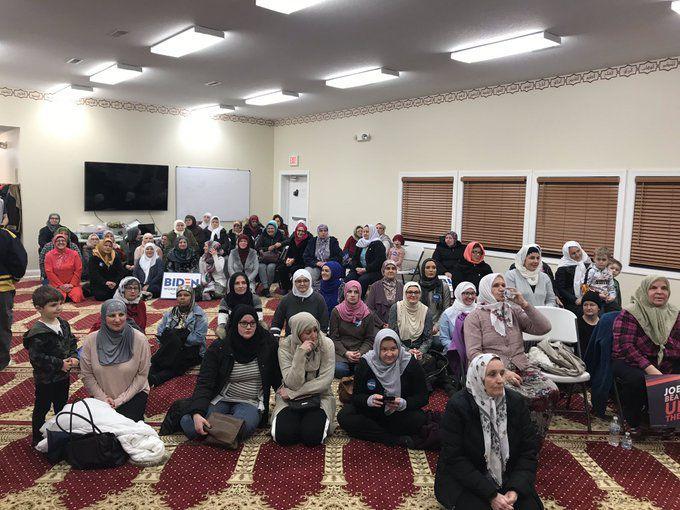 Mosque hosts caucus for the first time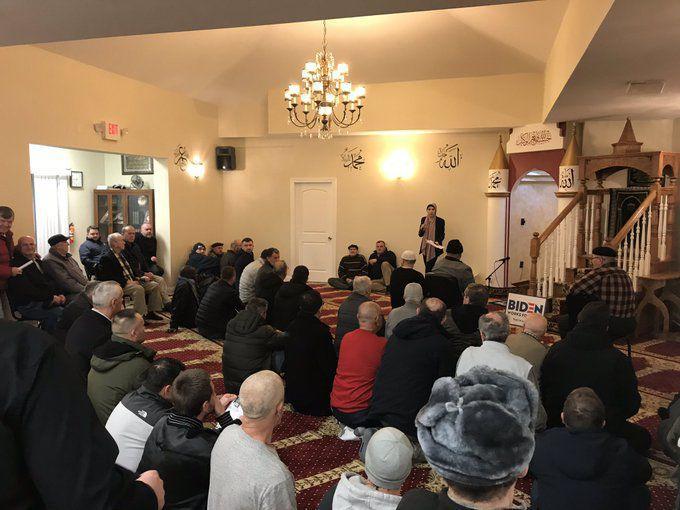 B 12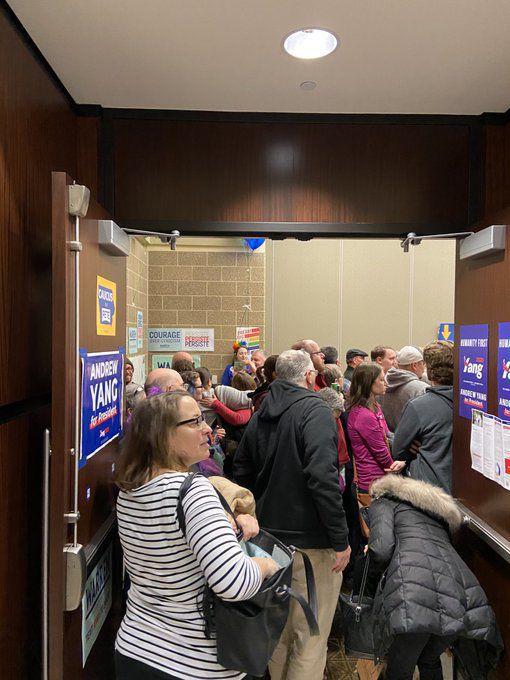 Amir for Biden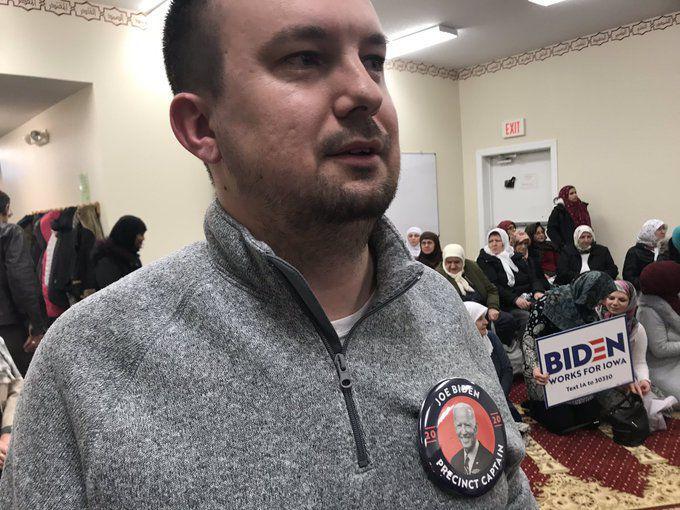 Audrey Malik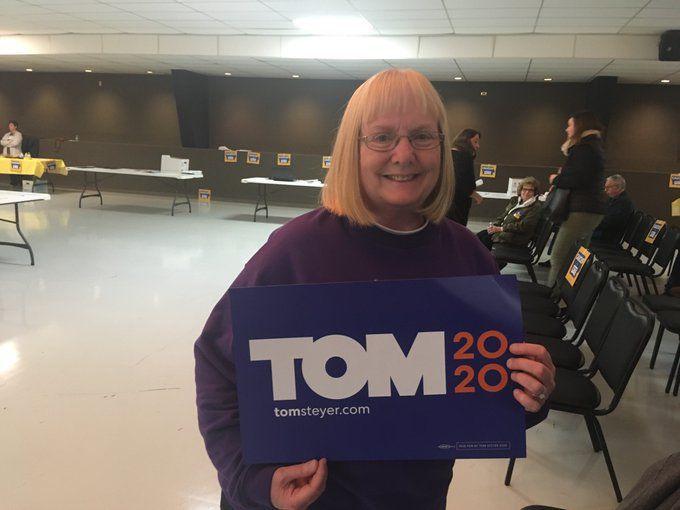 Little Johnnie for Bernie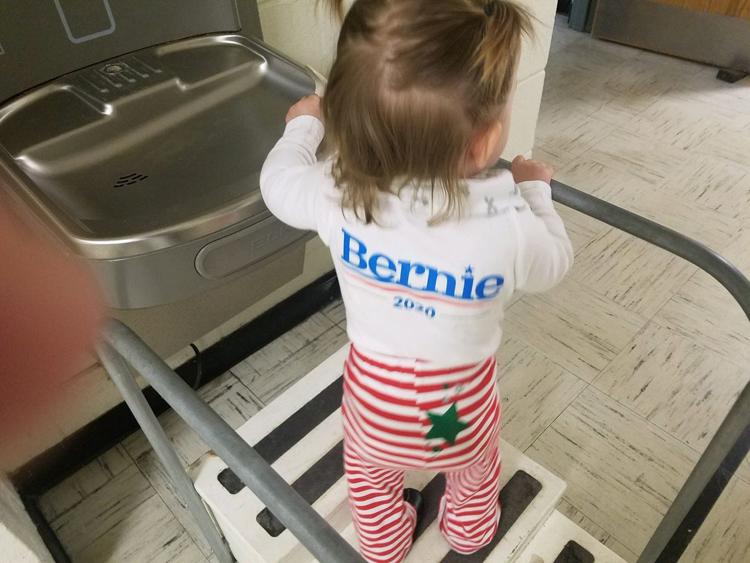 Pam Kaufman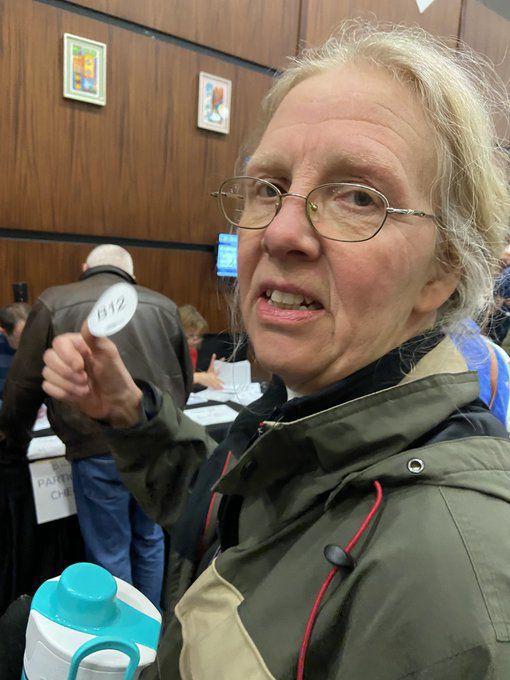 Ermina for Bernie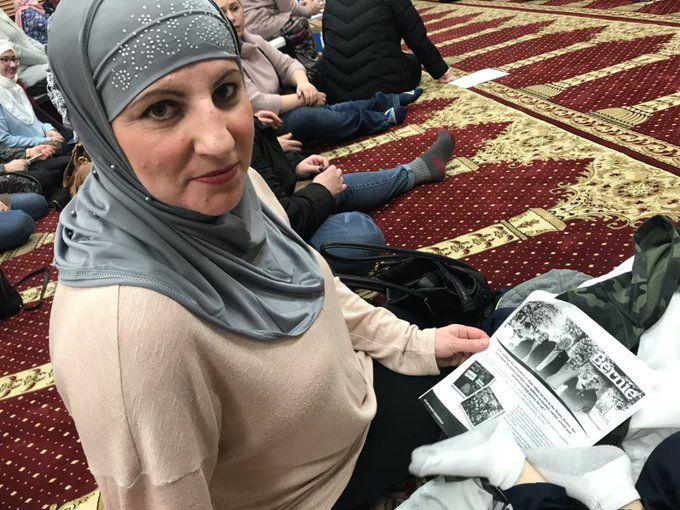 Kiesha McNeal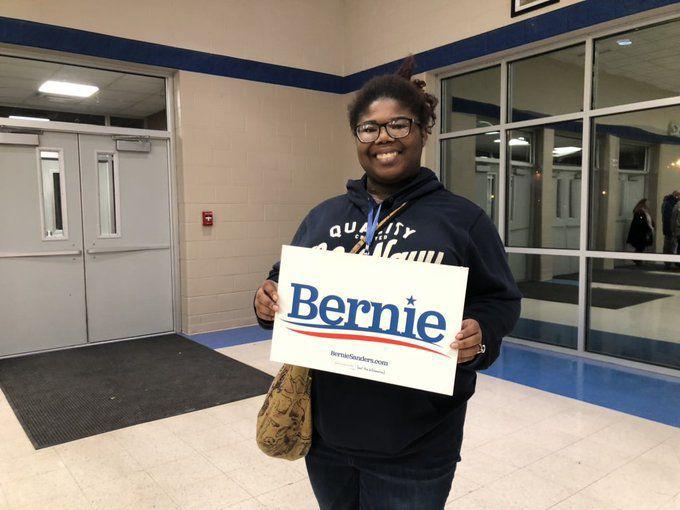 Sulejman for Biden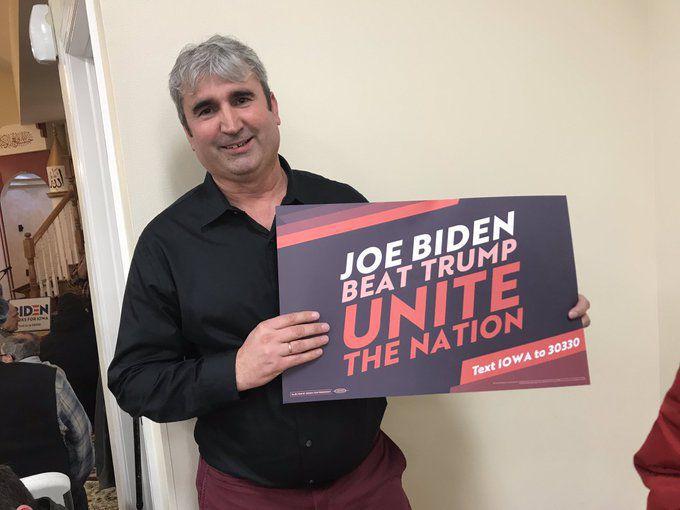 Des Moines mosque packed for caucus
Iowa is patient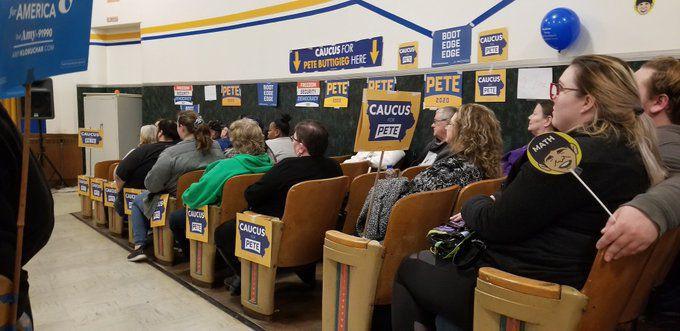 Martin O'Boyle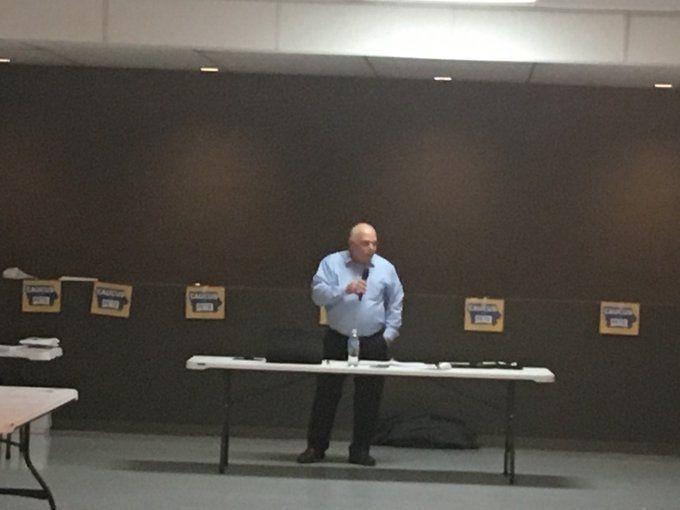 International interest in Iowa caucuses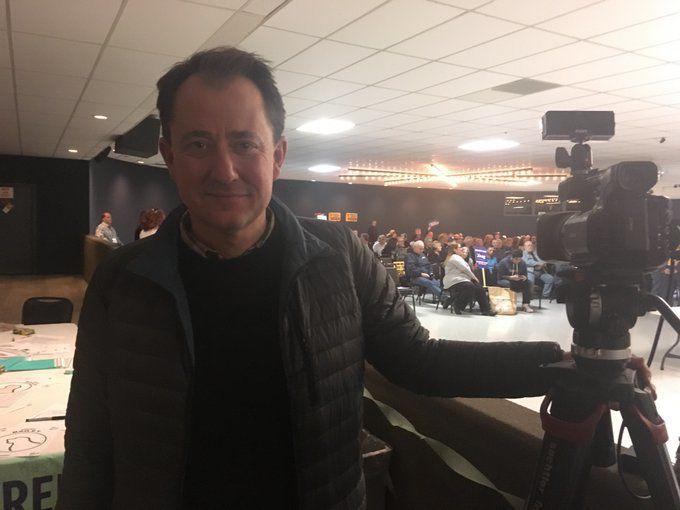 Cindy Winkler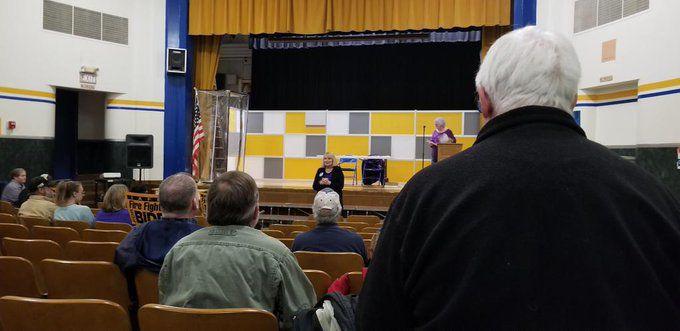 Eldridge caucus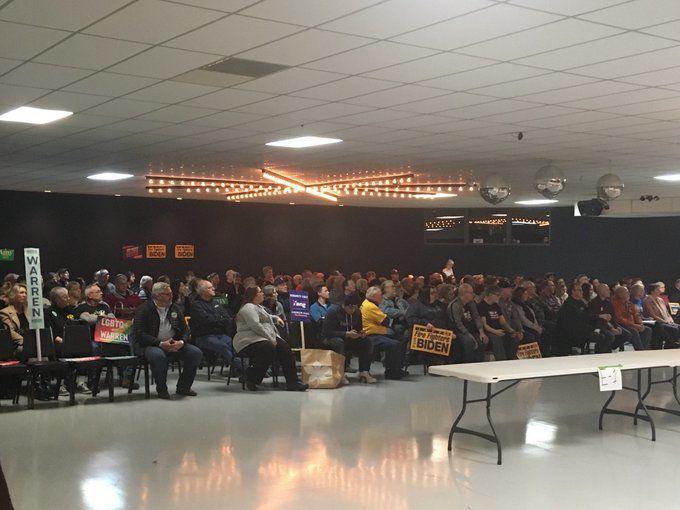 Gerald Krueger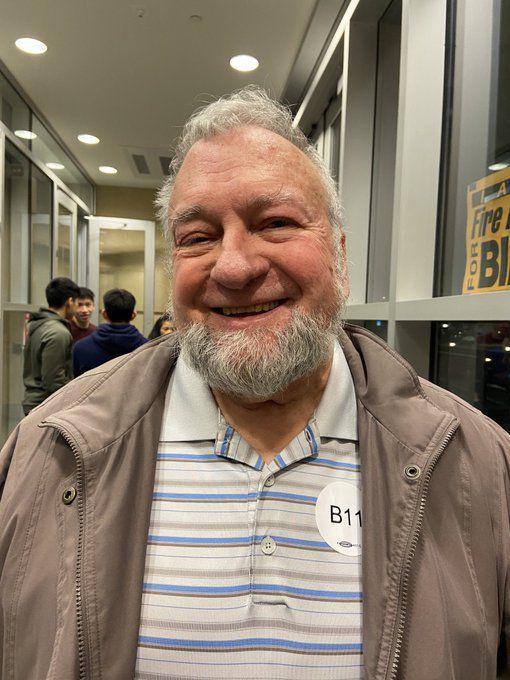 Speaker for Biden caucus goers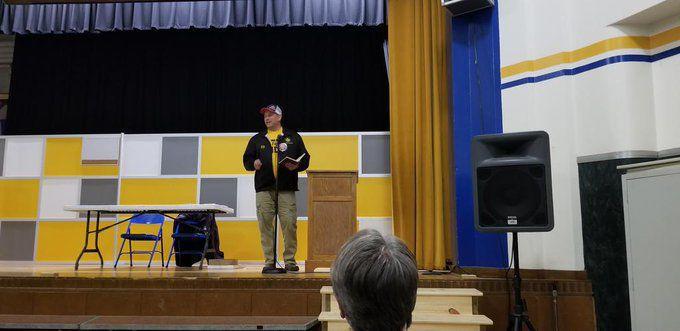 Mayor Mike Matson at Davenport North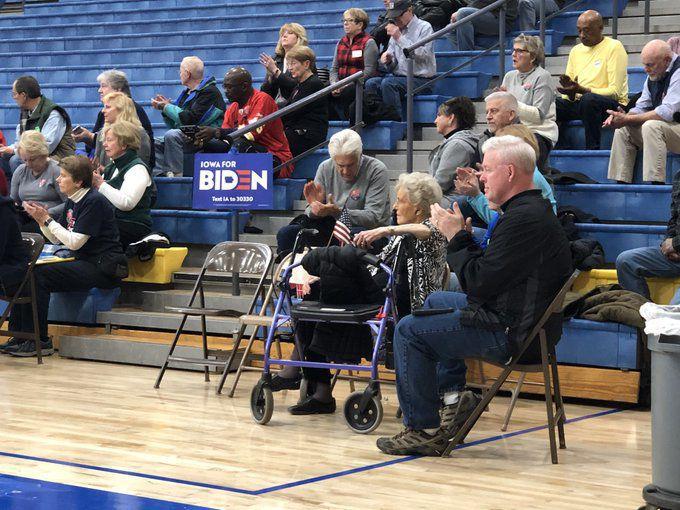 Speaker for Pete Buttigieg at District 31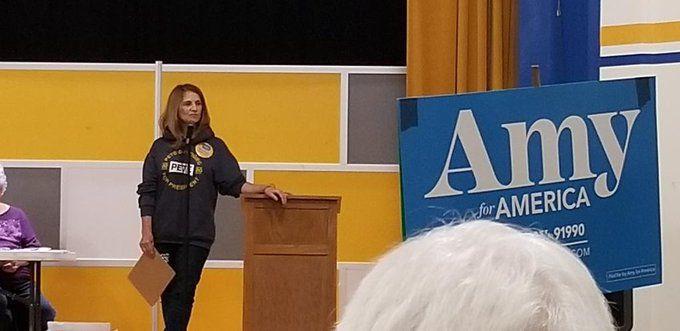 Headcount difficulties in Precinct 42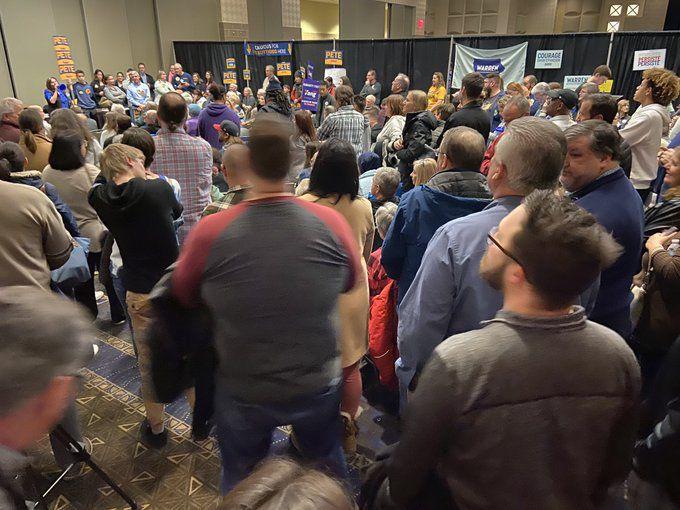 Elizabeth Warren speaks at Monroe Elementary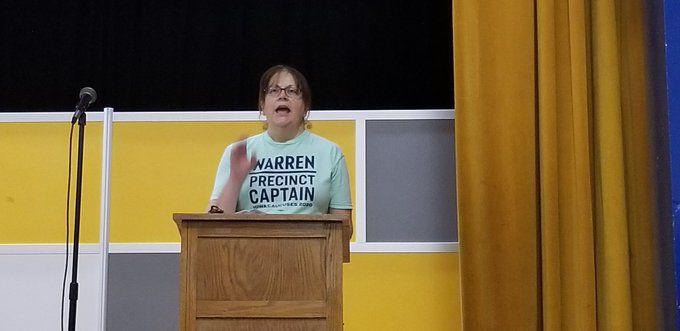 Eldridge Precinct Two Captains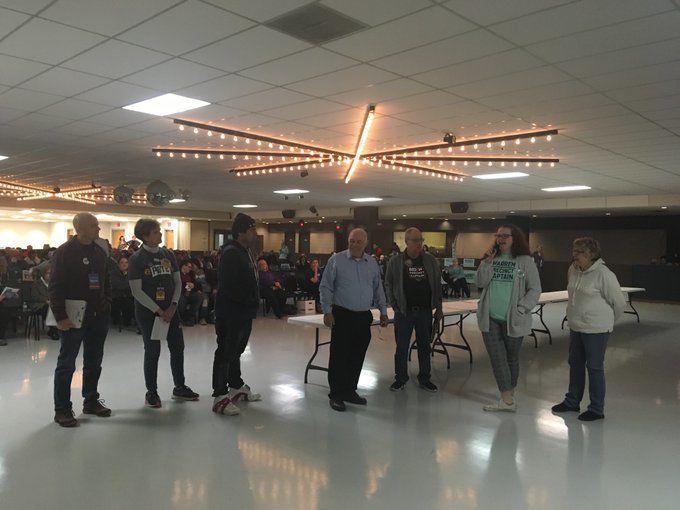 Not everyone is caucusing at caucus site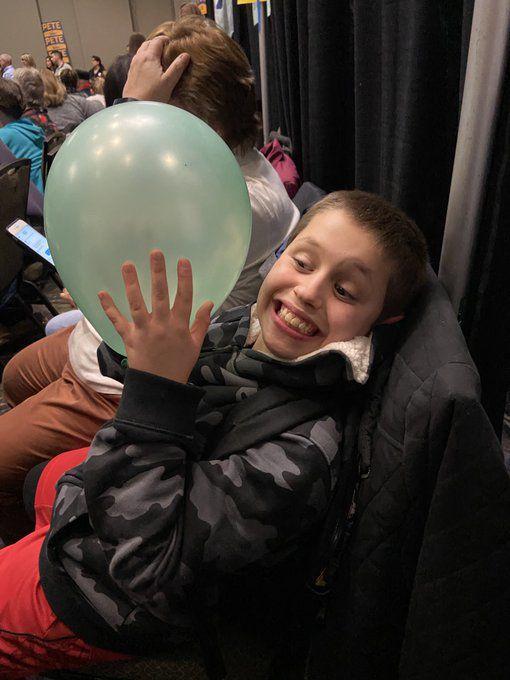 Maria Briebriesco with the megaphone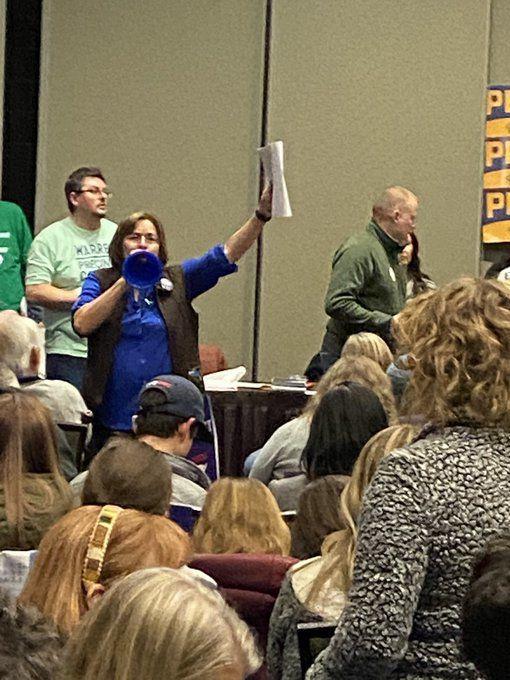 Biden leader counts supporters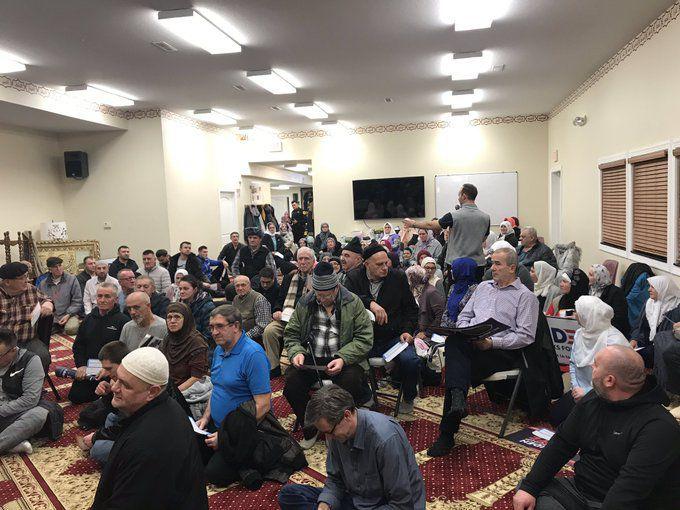 Students watch caucus action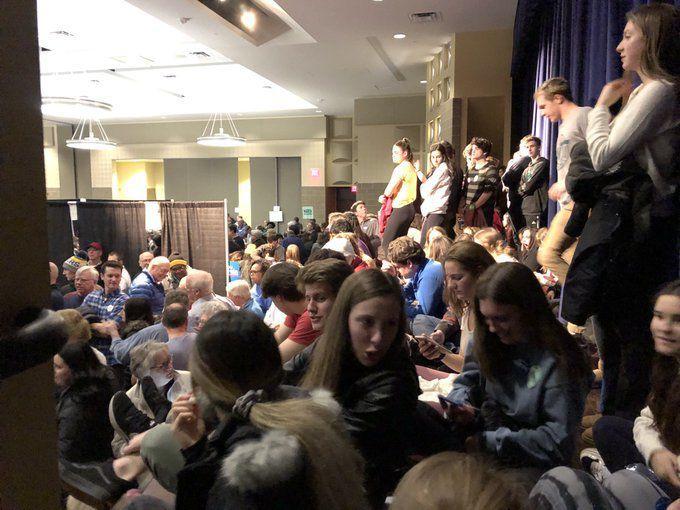 First-alignment math at Monroe Elementary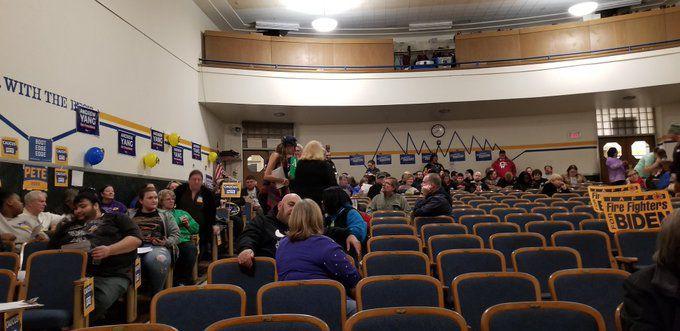 Dream big
Presidential preference cards are handed out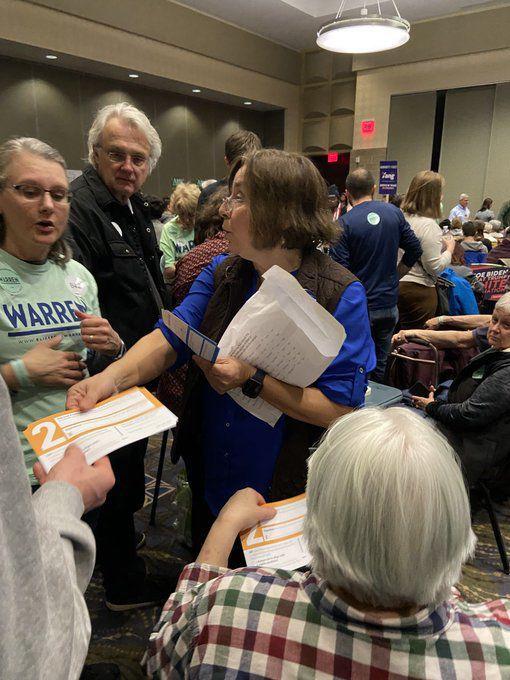 Precinct chairs meet at Davenport North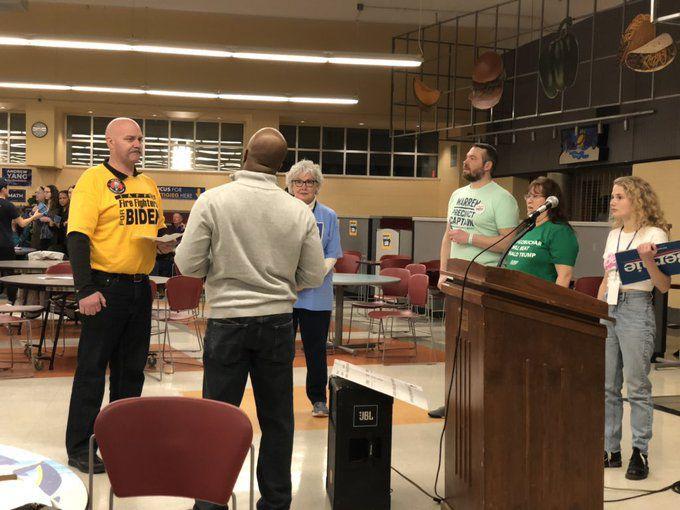 Representatives work to sway caucus goers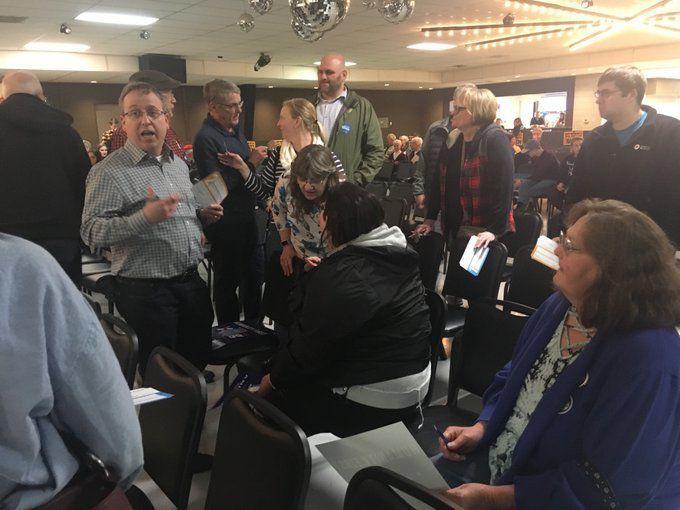 Patrick Peacock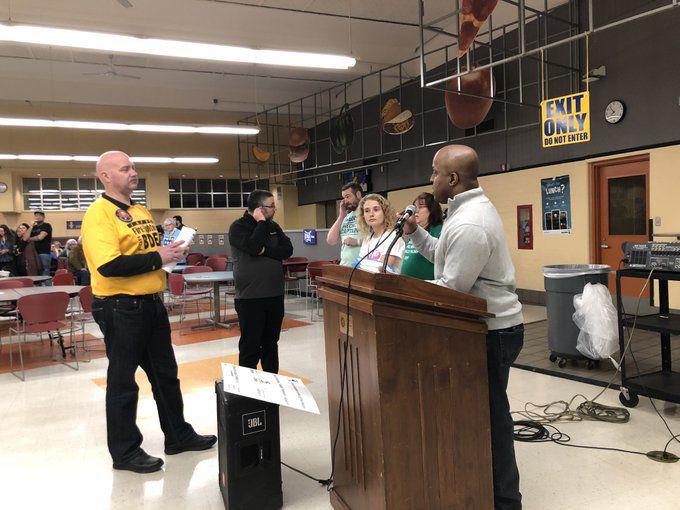 Elizabeth Warren's campaign bus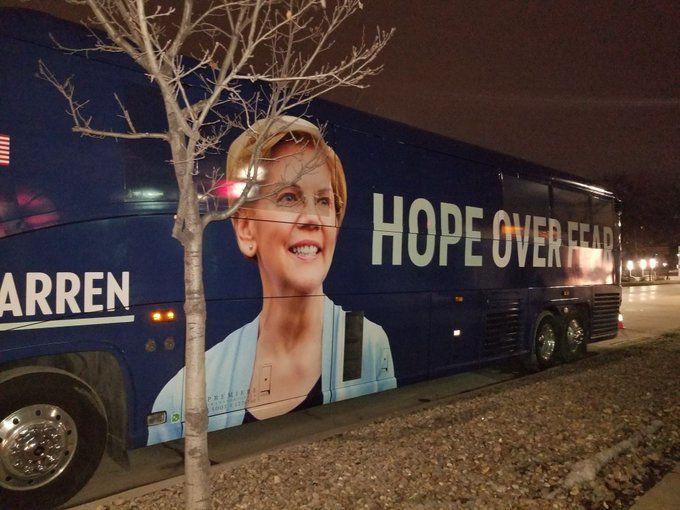 Cardboard Elizabeth Warren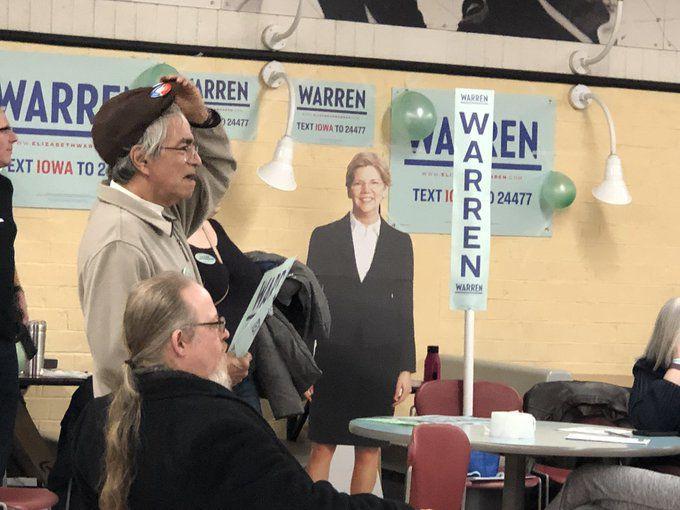 Make America Think Harder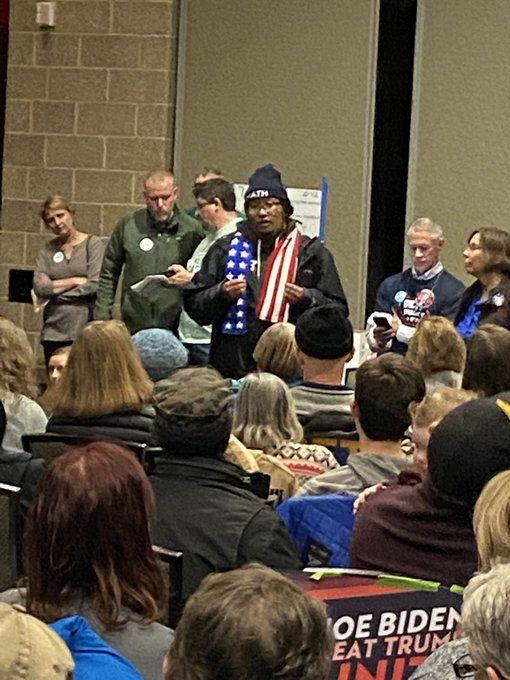 High-tech ops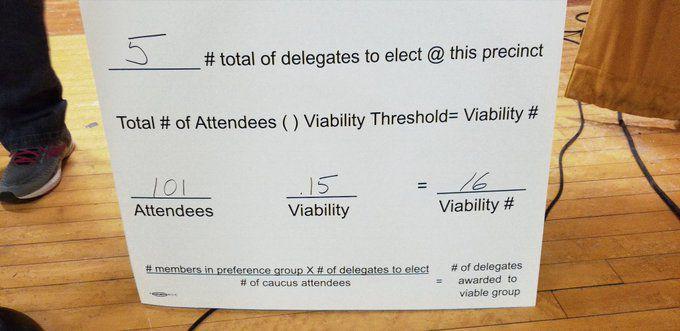 Second alignment results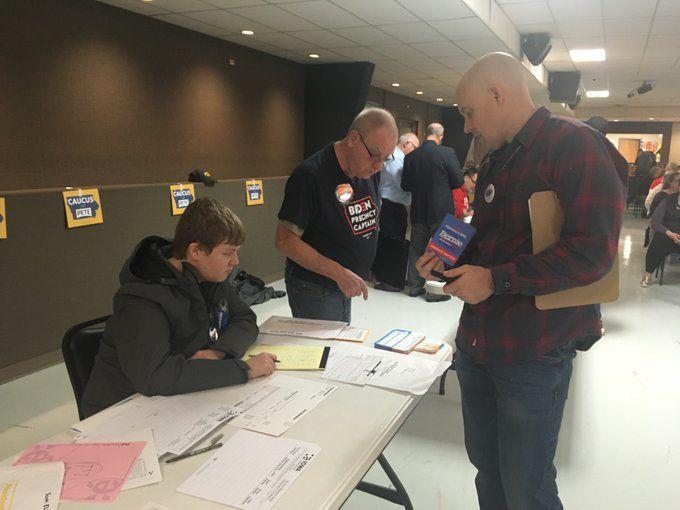 Second alignment begins at Davenport North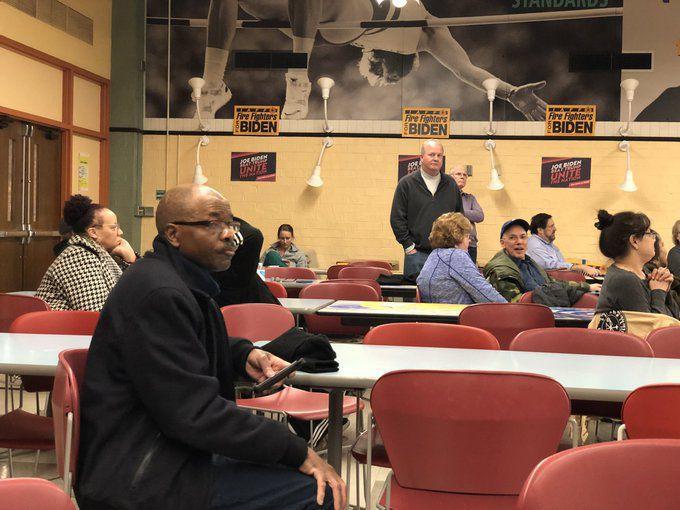 Lydia King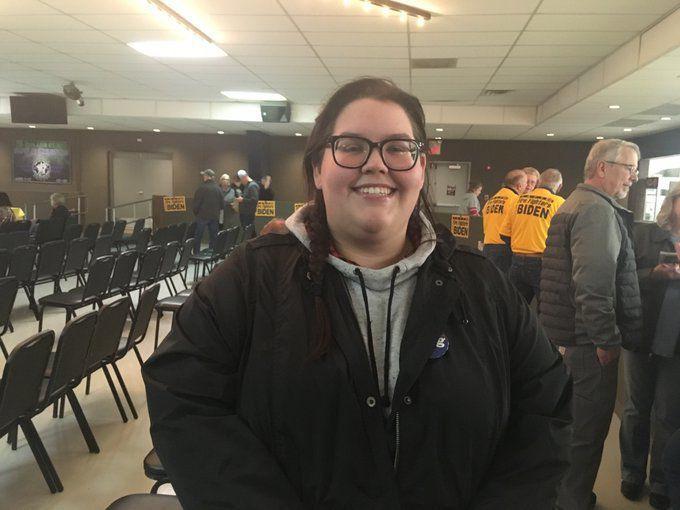 Precinct B51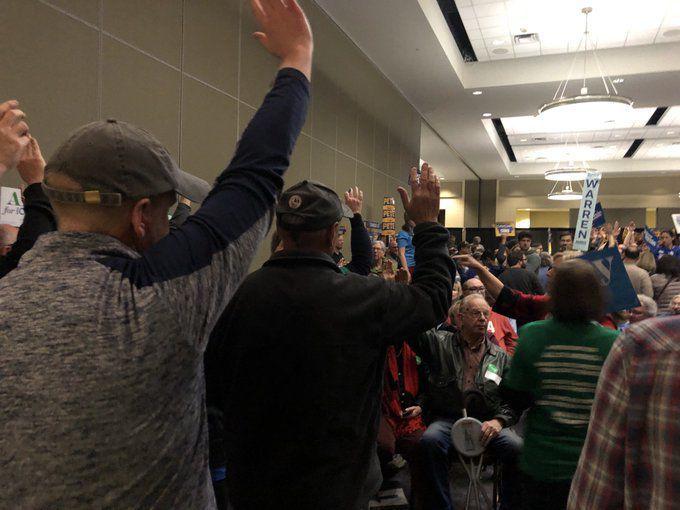 Final numbers at District 31, Davenport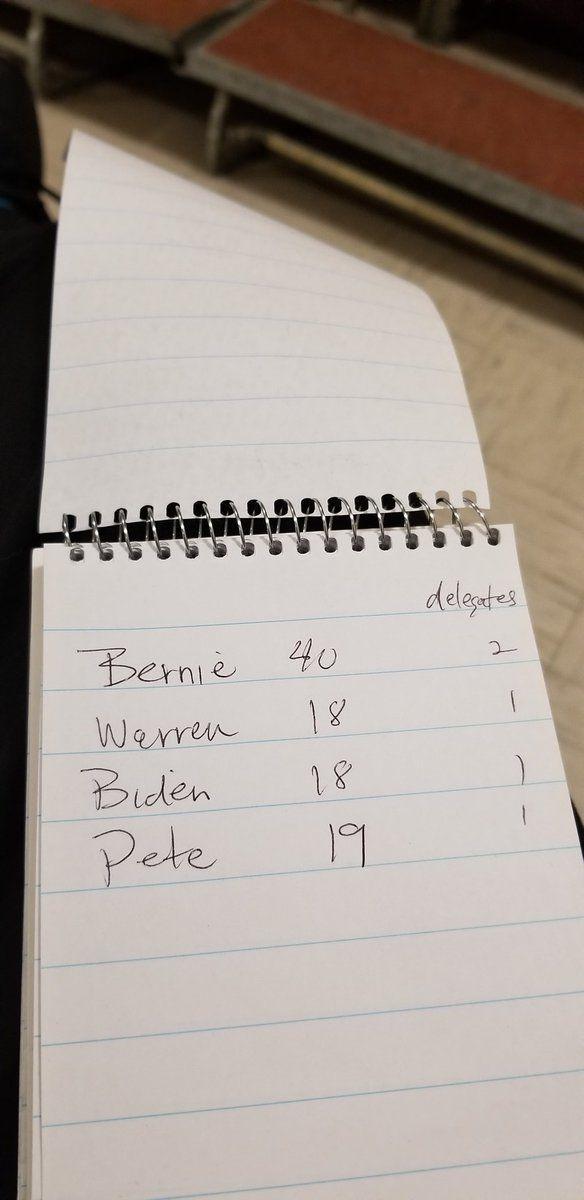 Standing on chairs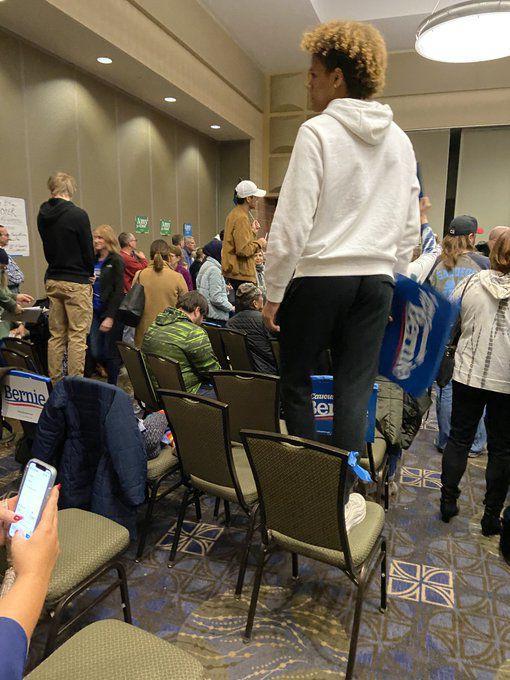 Second alignment results are in at North High School, Davenport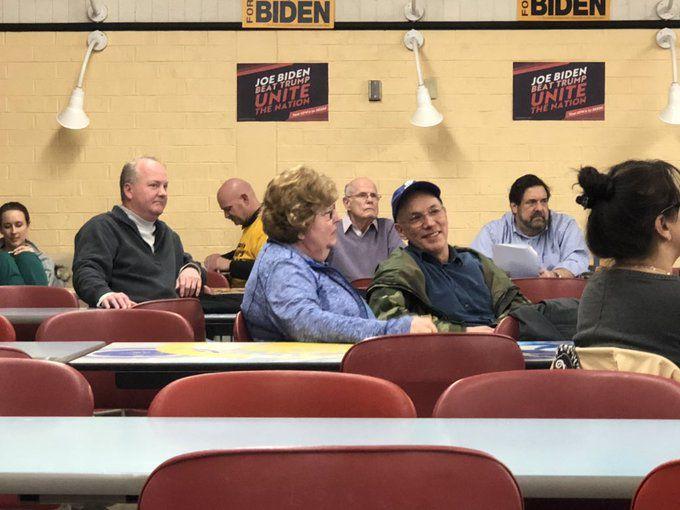 Supporter sway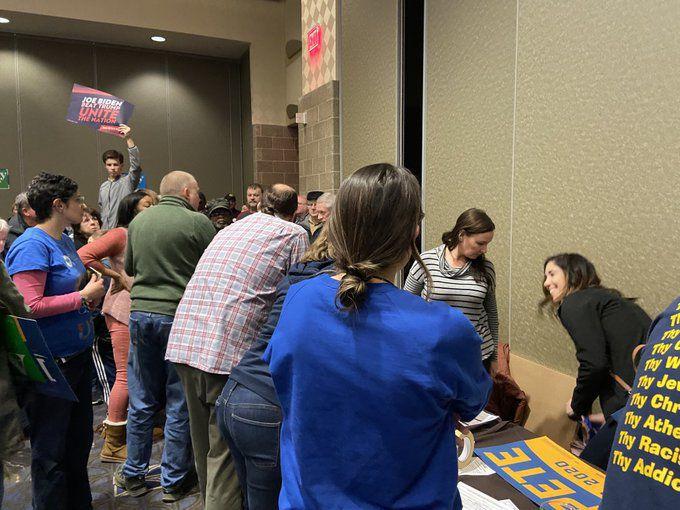 Results trickling in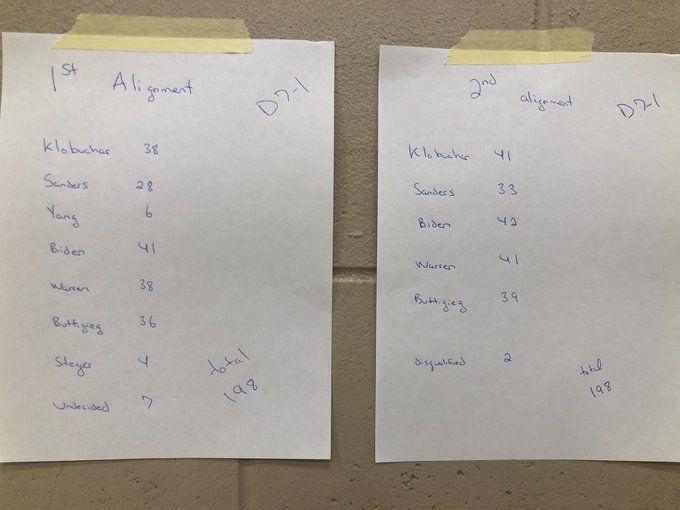 Waterfront Convention Center clears out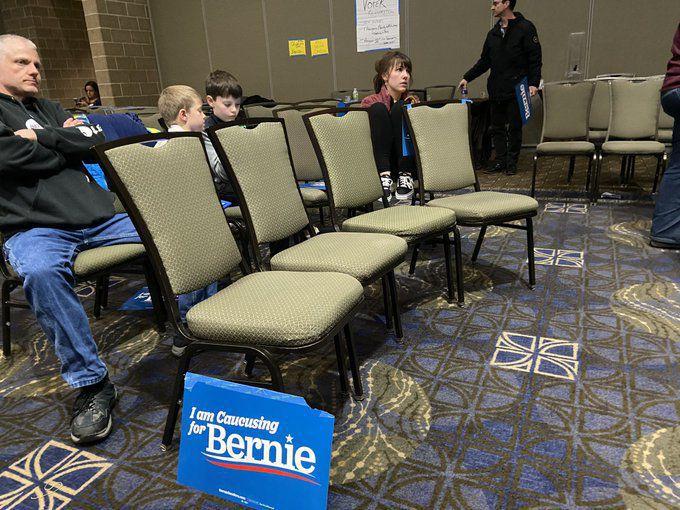 Long day at the Waterfront Convention Center
After party ready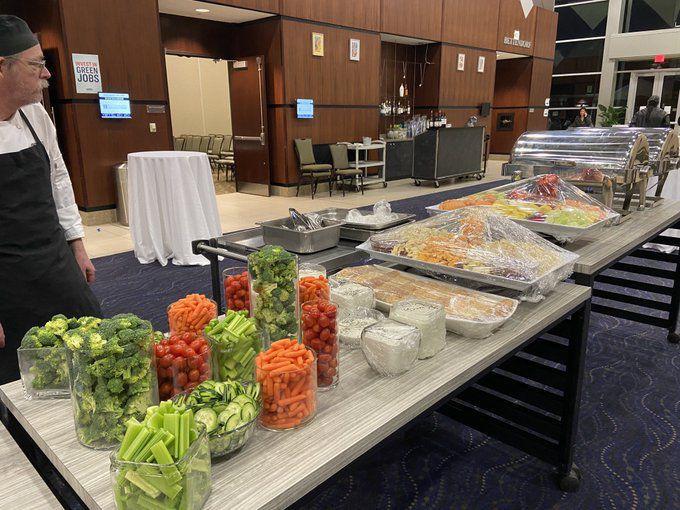 Podium is ready for Elizabeth Warren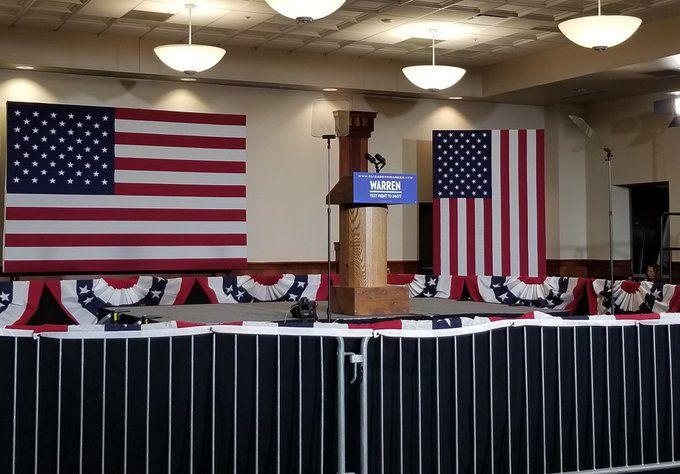 Crowd lining up for Warren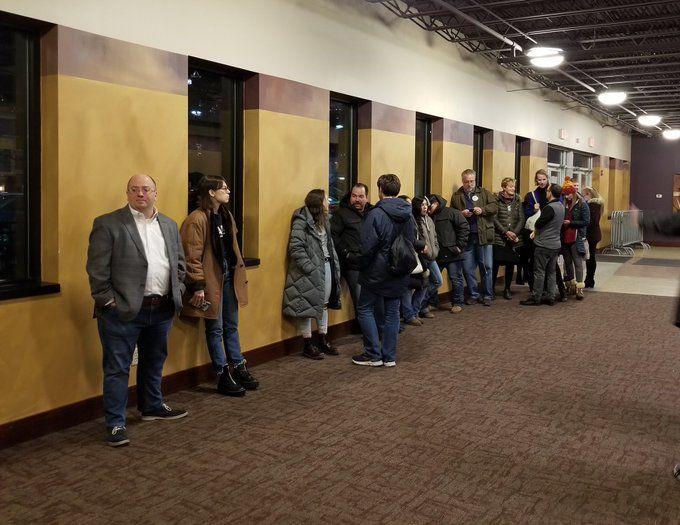 Biden supporters at Precinct B32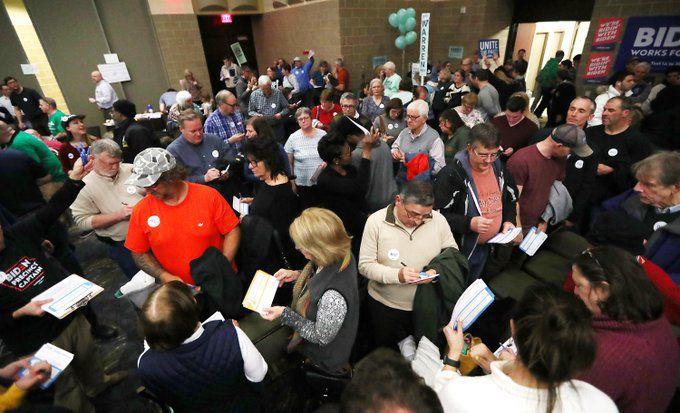 Jeanita McNulty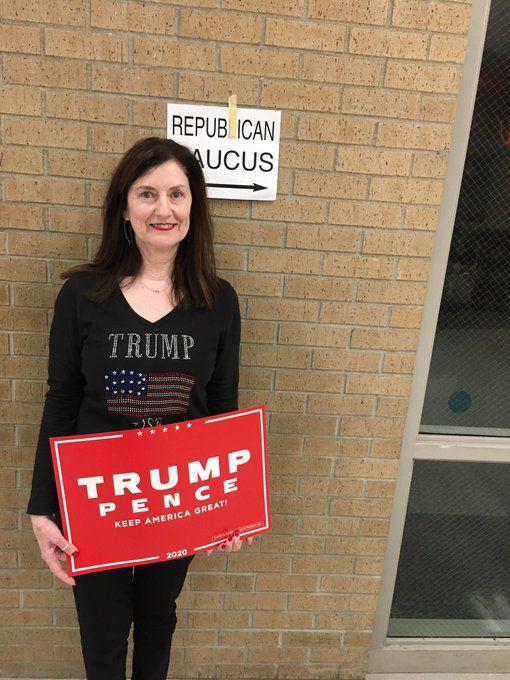 Kevin Smith and Rebecca Meeke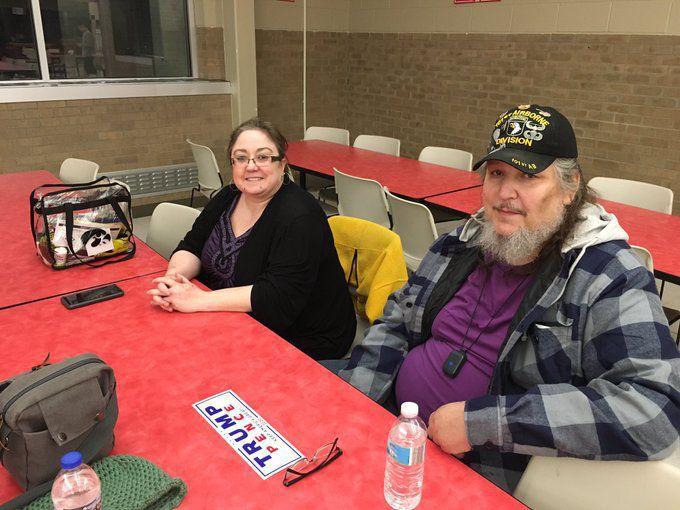 Trump 'earned my vote'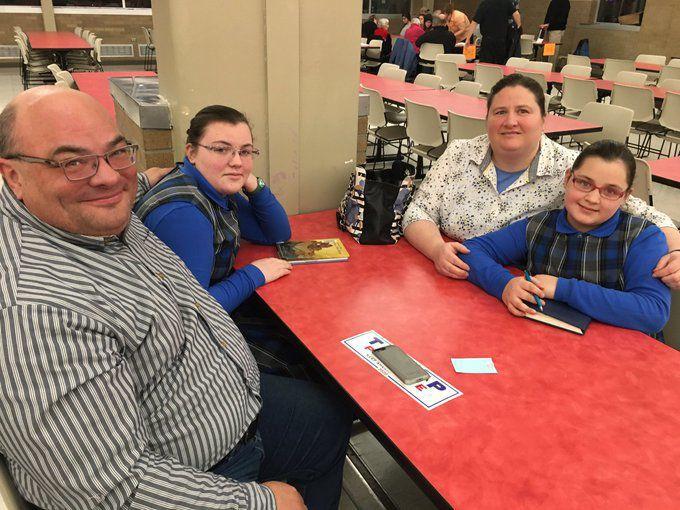 Ryan Eckstein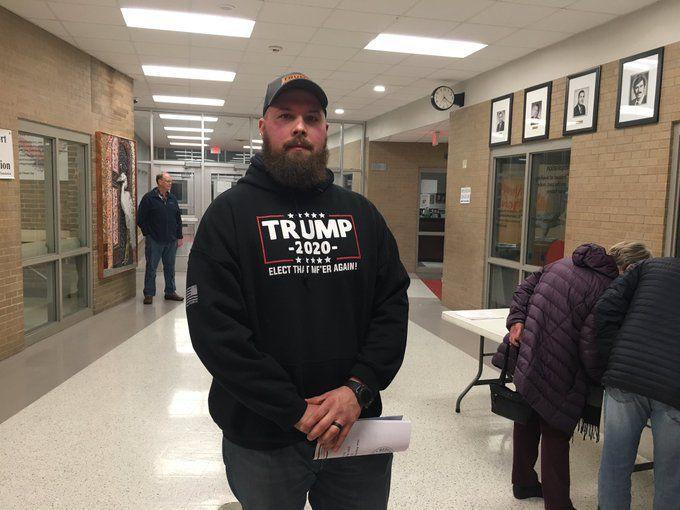 After the first round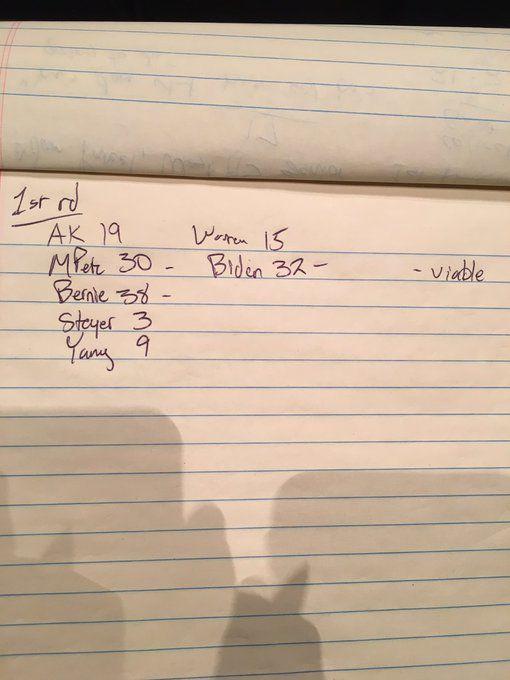 Lesa Hadley waves Caucus for Pete sign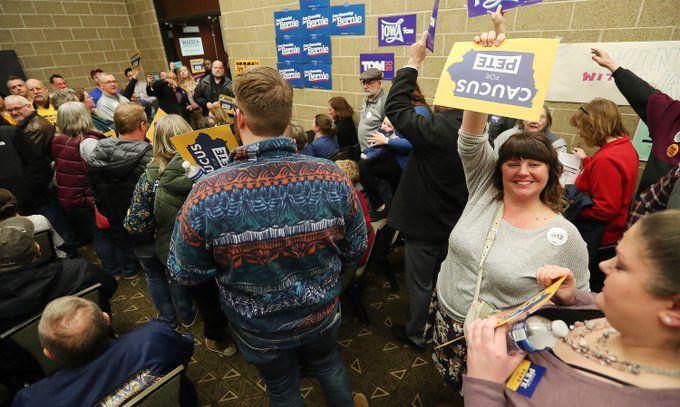 Liz Quinn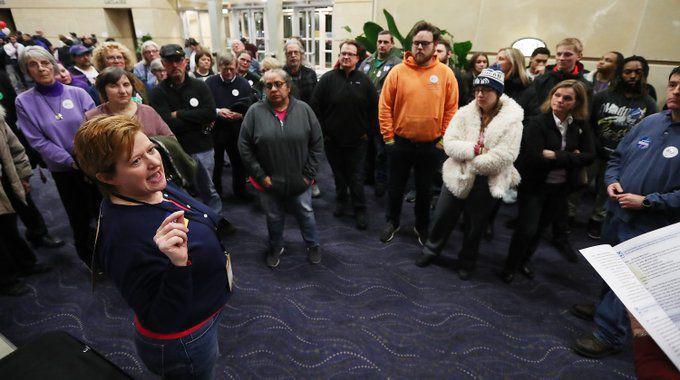 020420-ia-caucus-mm-001.jpg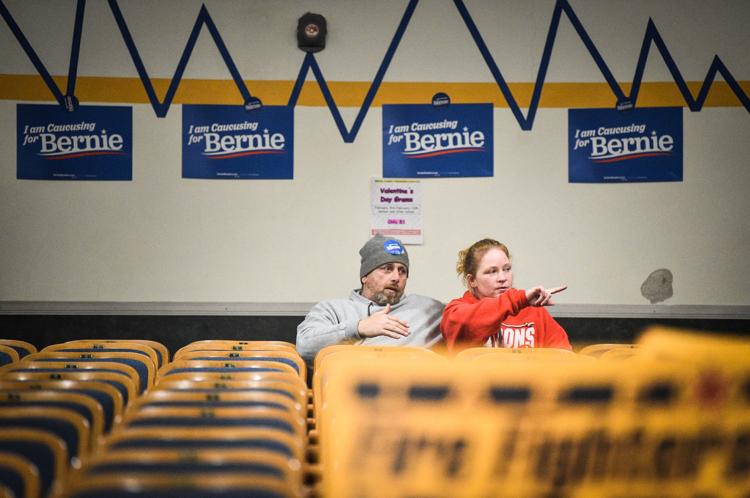 020420-ia-caucus-mm-002.jpg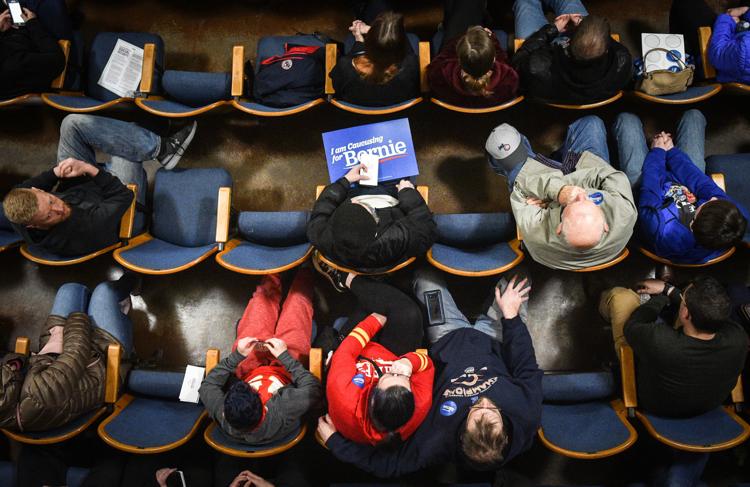 020420-ia-caucus-mm-003.jpg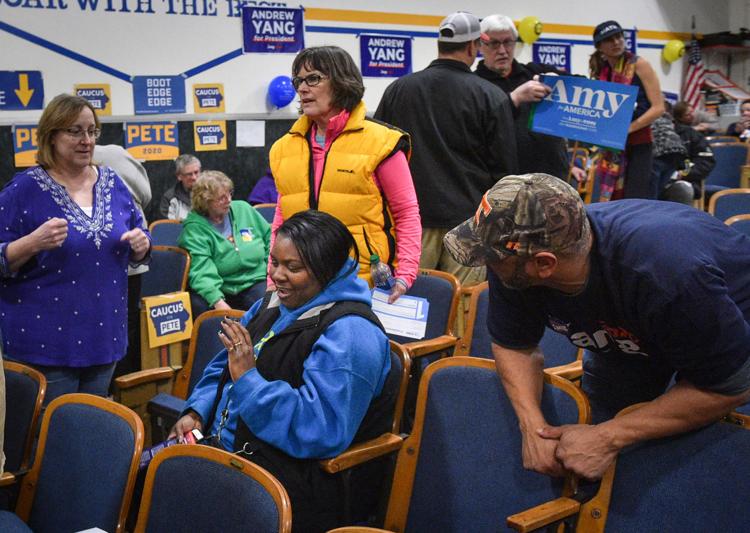 020420-ia-caucus-mm-004.jpg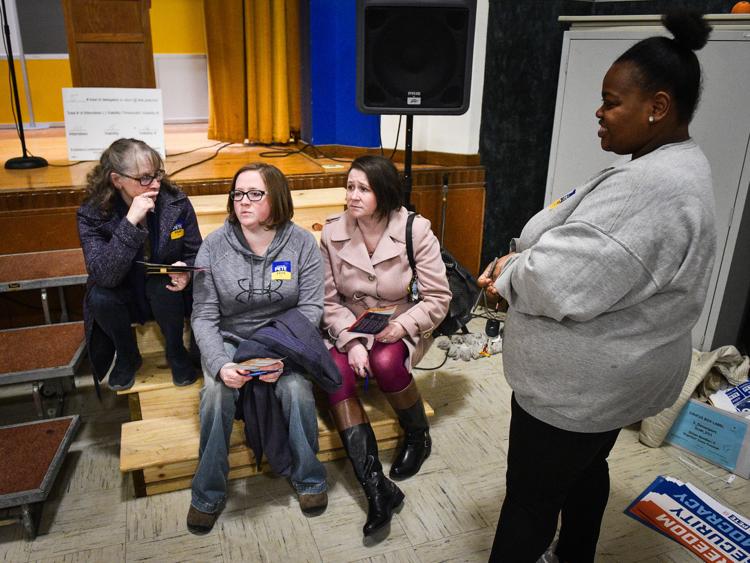 020420-ia-caucus-mm-005.jpg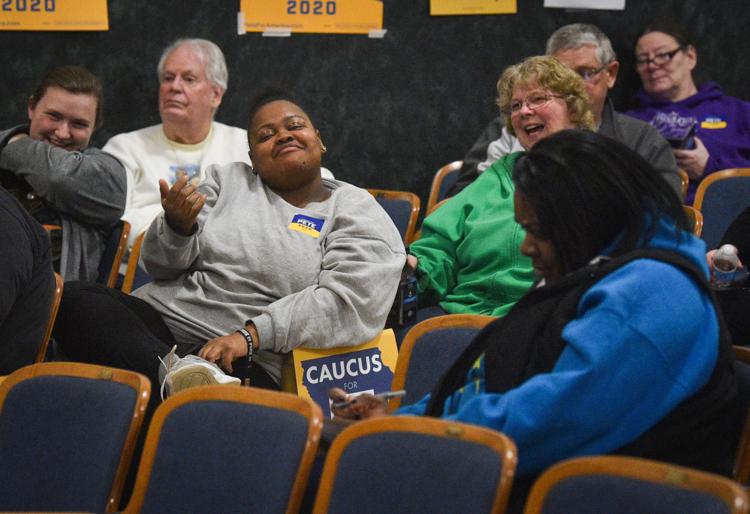 020420-ia-caucus-jg-01.JPG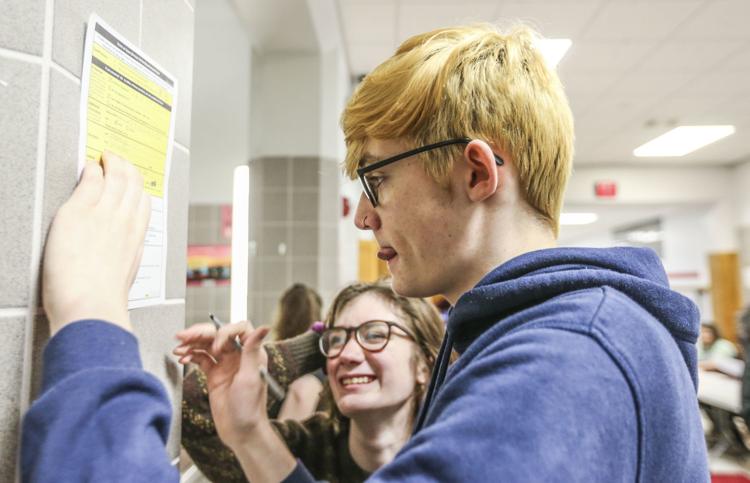 020420-ia-caucus-jg-02.JPG
020420-ia-caucus-jg-03.JPG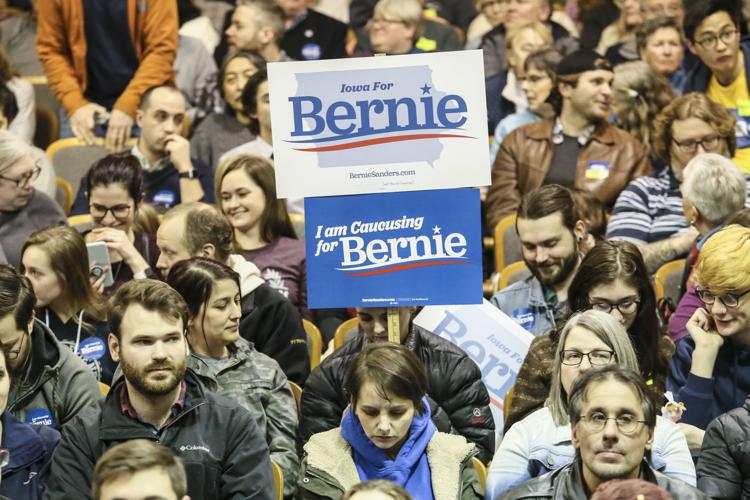 020420-ia-caucus-jg-04.JPG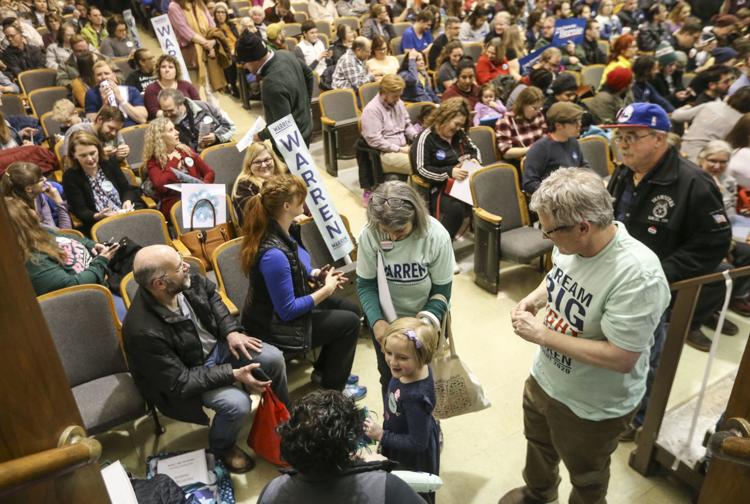 020420-ia-caucus-jg-05.JPG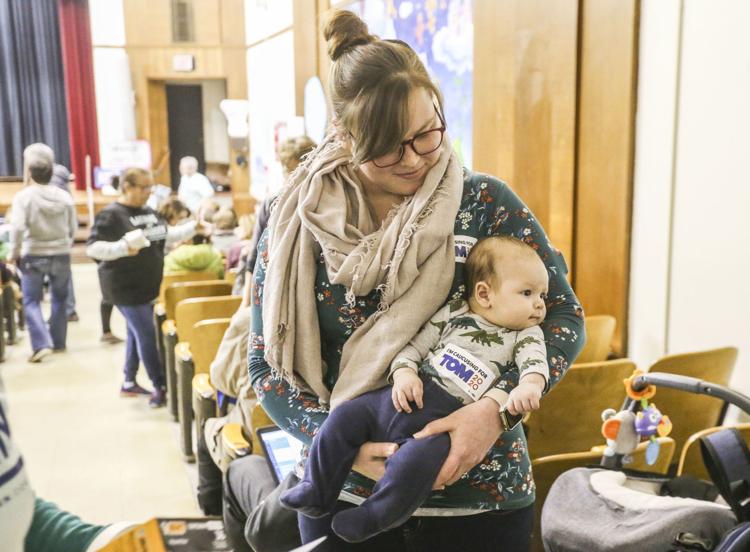 020420-ia-caucus-jg-06.JPG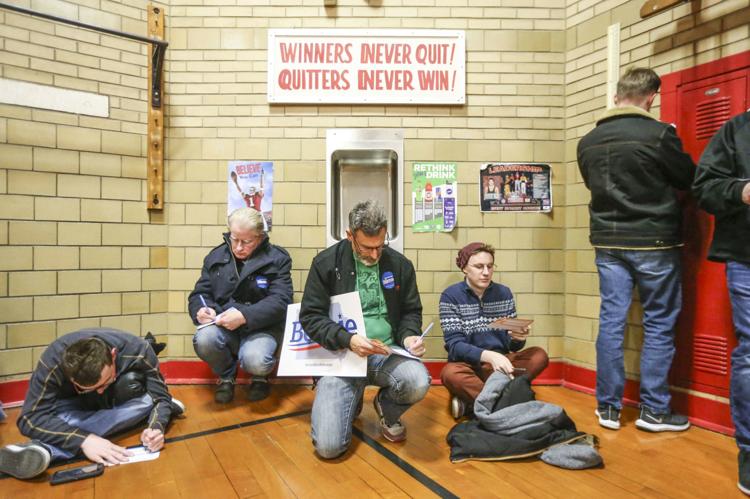 020420-ia-caucus-jg-08.1.JPG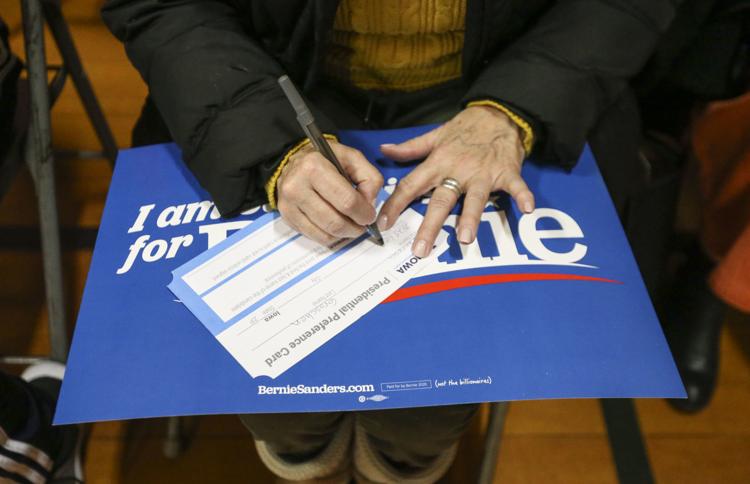 020420-ia-caucus-jg-09.JPG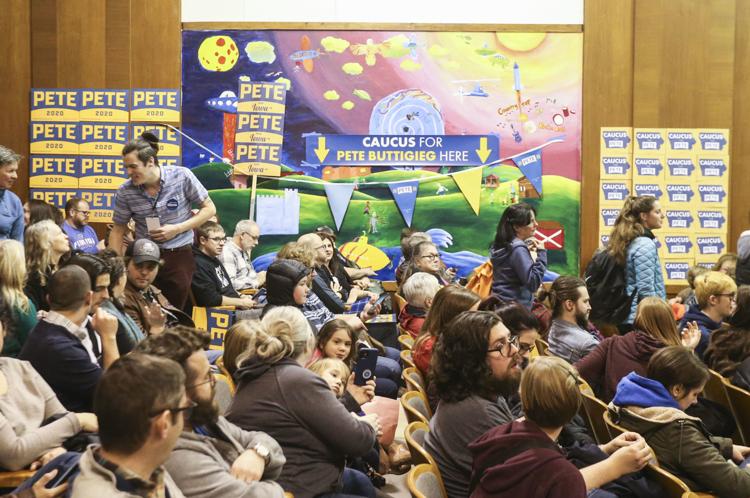 020420-ia-caucus-jg-10.JPG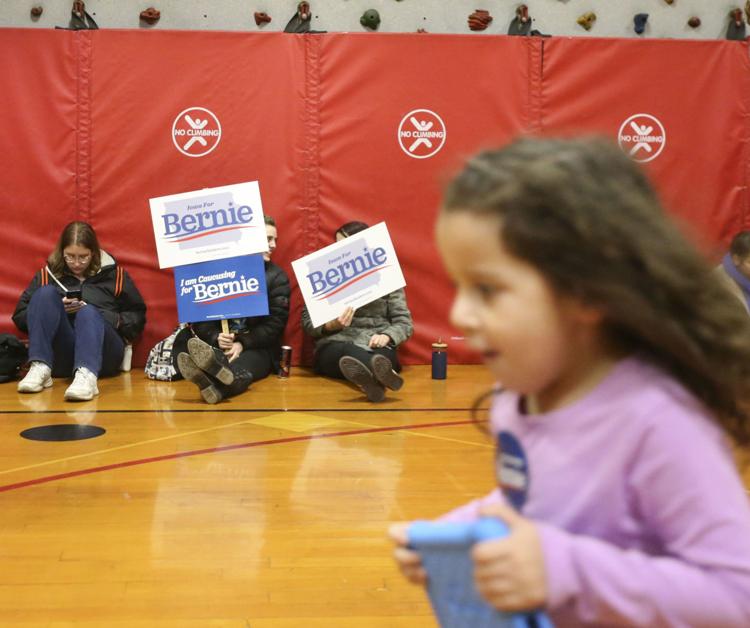 020420-ia-caucus-jg-11.JPG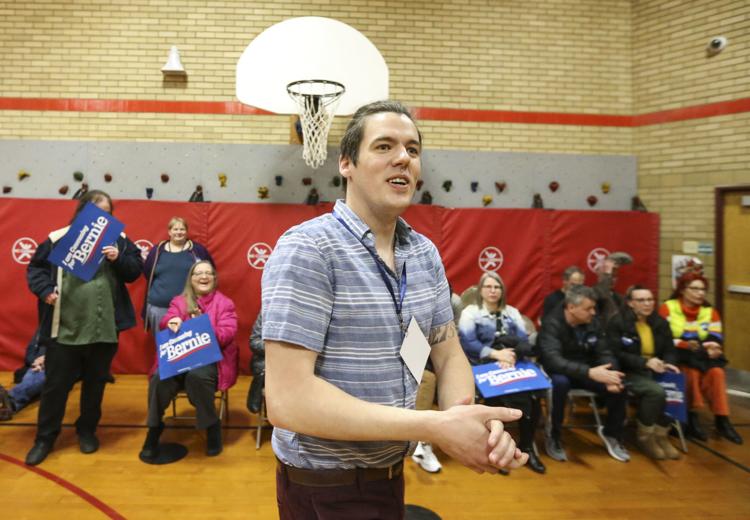 020420-ia-caucus-jg-12.JPG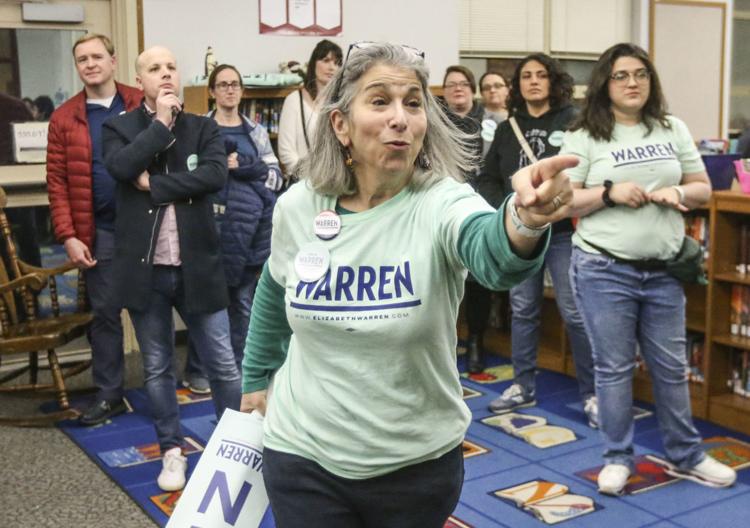 020420-ia-caucus-jg-13.JPG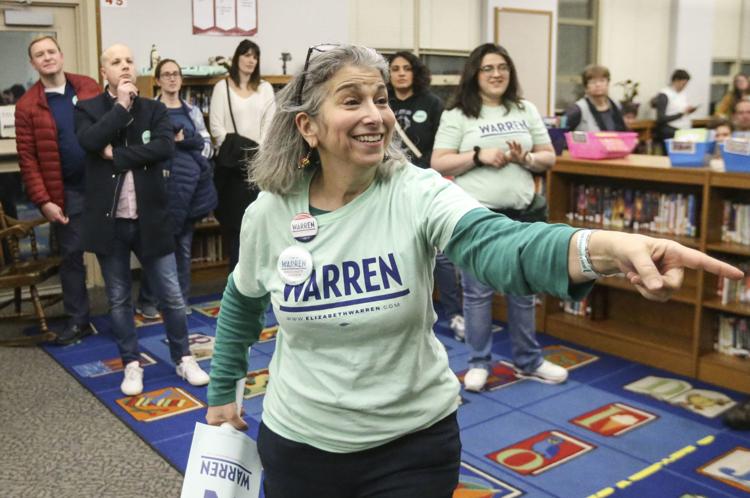 020420-ia-caucus-jg-14.JPG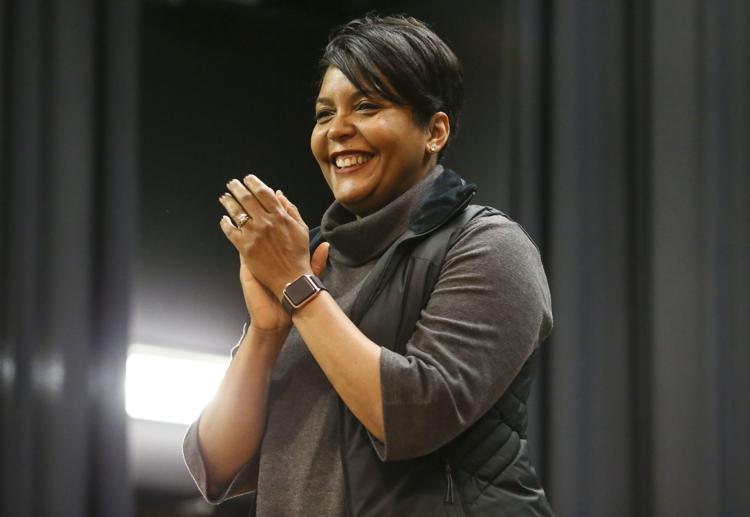 020420-ia-caucus-jg-15.JPG
020420-ia-caucus-jg-16.JPG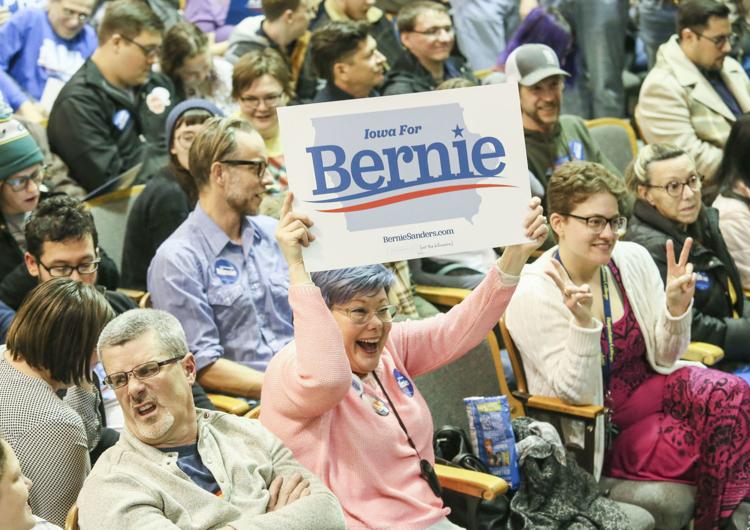 020420-ia-caucus-jg-17.JPG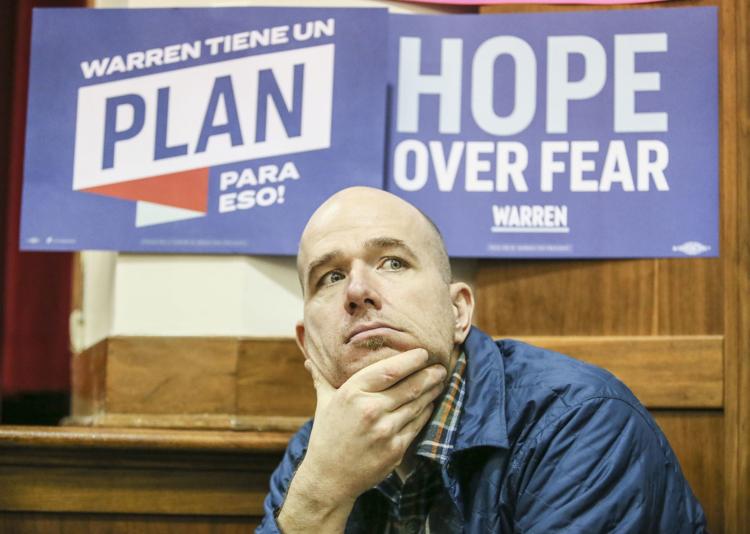 020420-ia-caucus-jg-18.JPG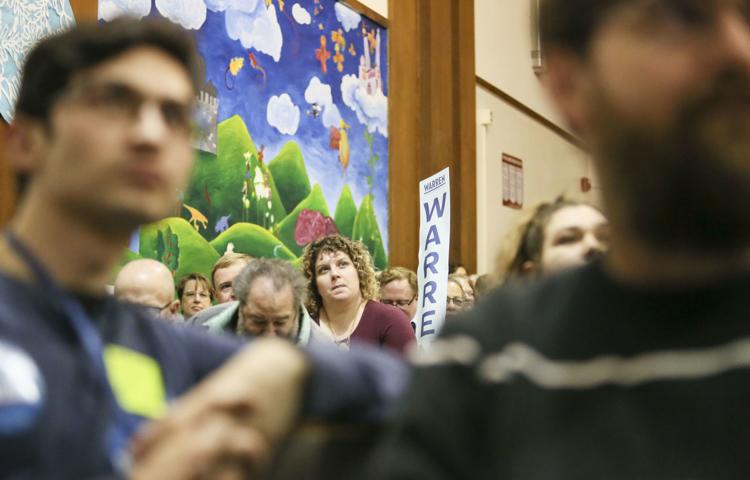 020420-ia-caucus-jg-19.JPG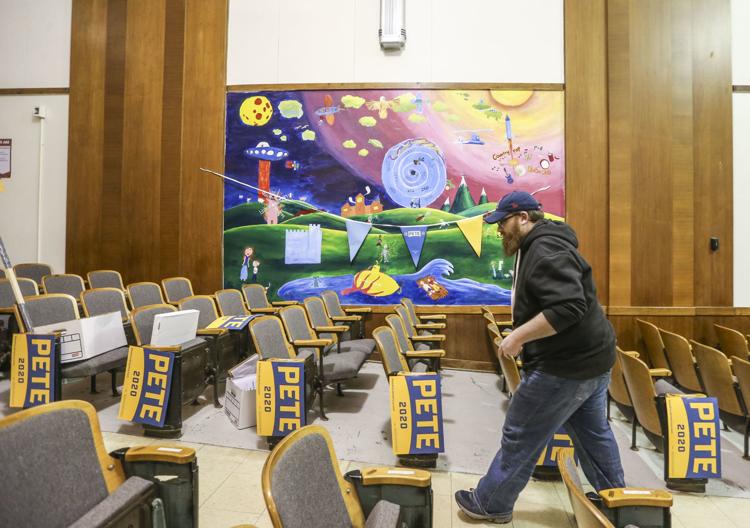 020420-ia-caucus-jg-20.JPG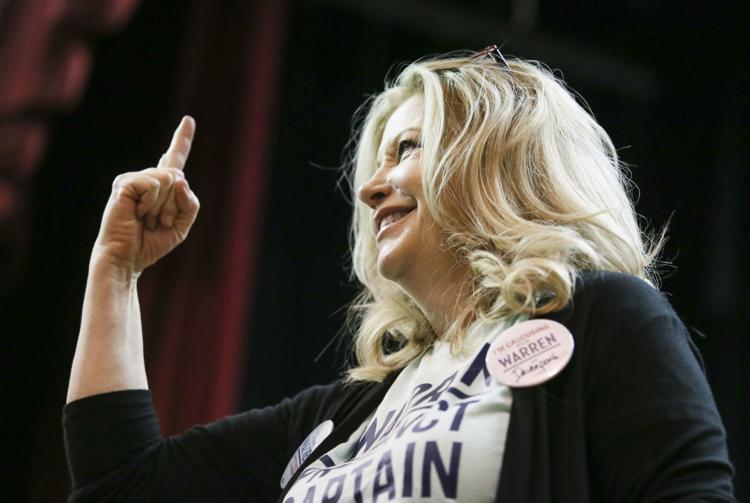 020420-ia-caucus-jg-21.JPG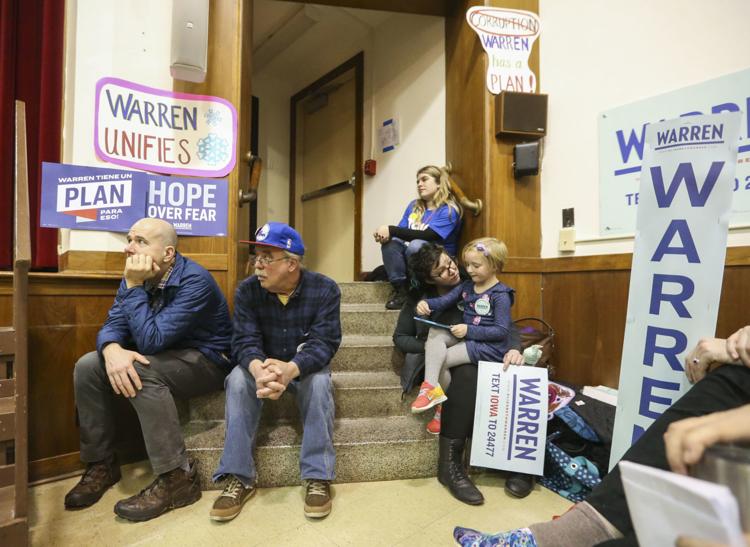 020420-ia-caucus-jg-22.JPG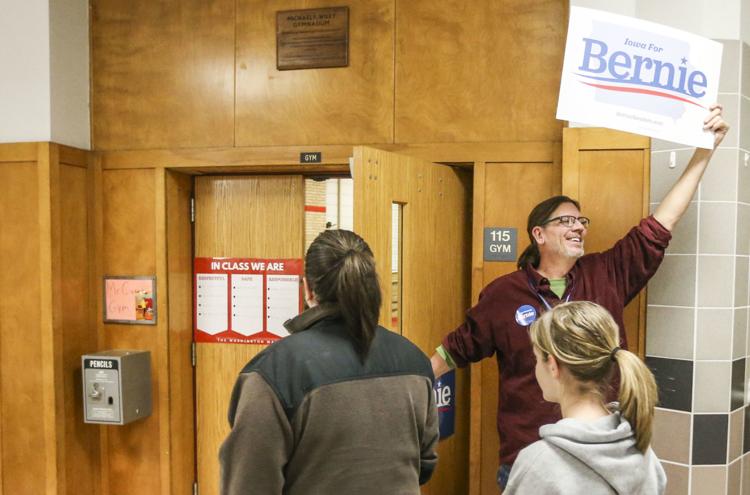 020420-ia-caucus-jg-23.JPG
020420-ia-caucus-jg-24.JPG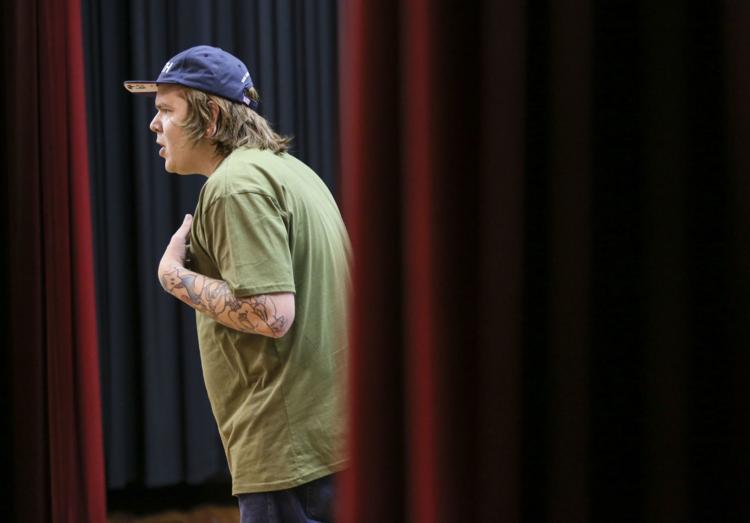 020420-ia-caucus-mm-006.jpg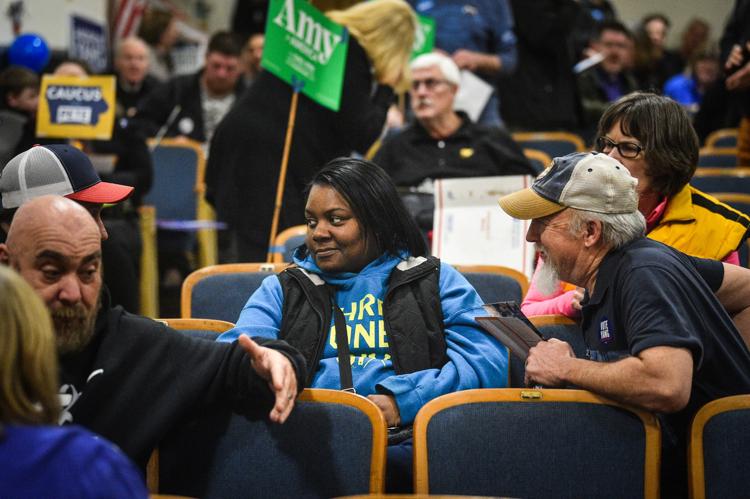 020420-ia-caucus-mm-007.jpg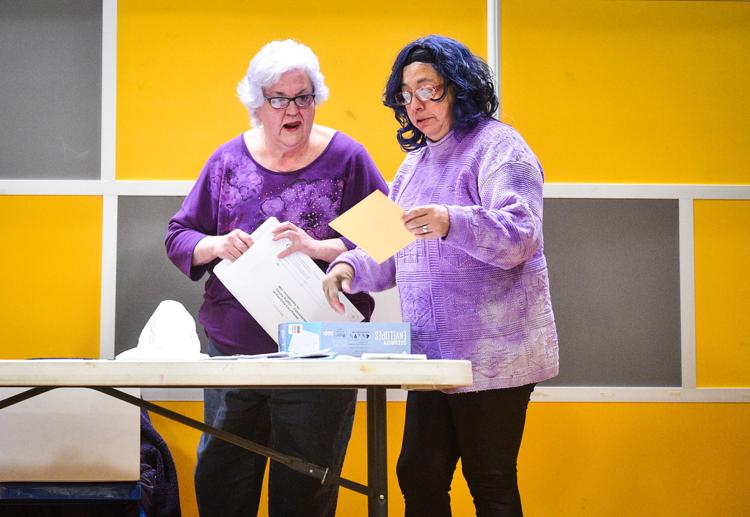 020420-ia-caucus-mm-008.jpg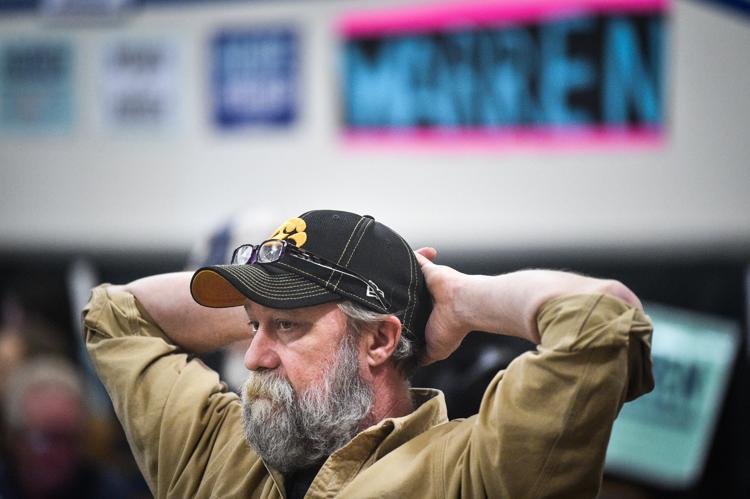 020320-qc-spt-ambrose-bkb-026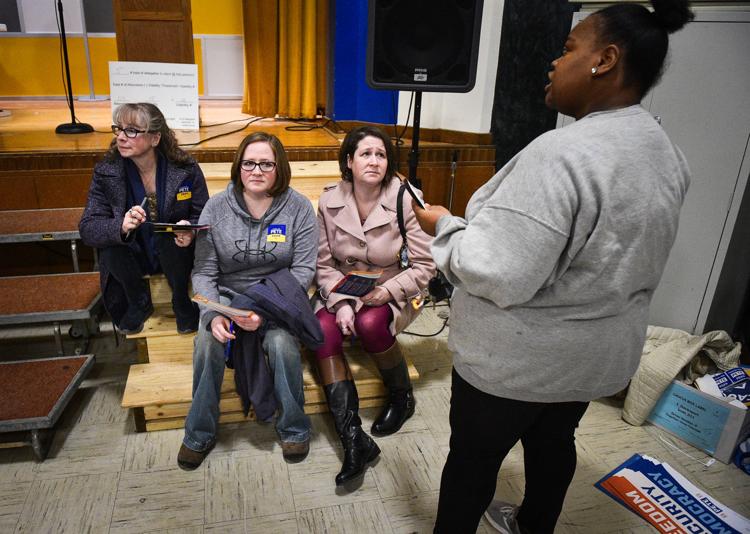 020420-ia-caucus-mm-010.jpg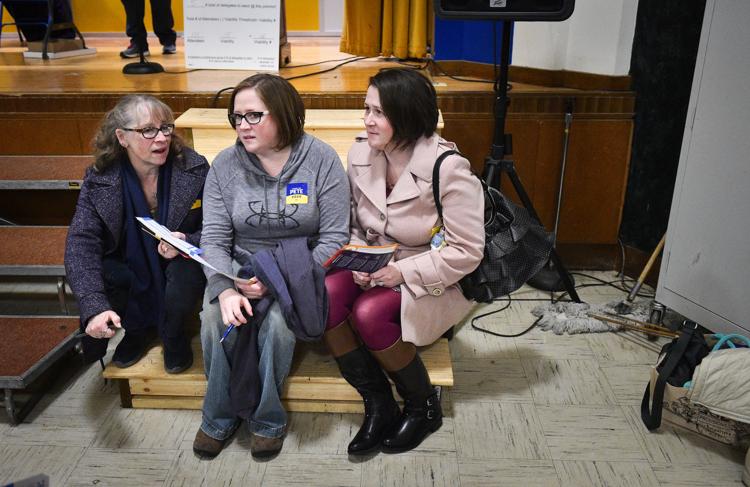 020320-qc-spt-ambrose-bkb-024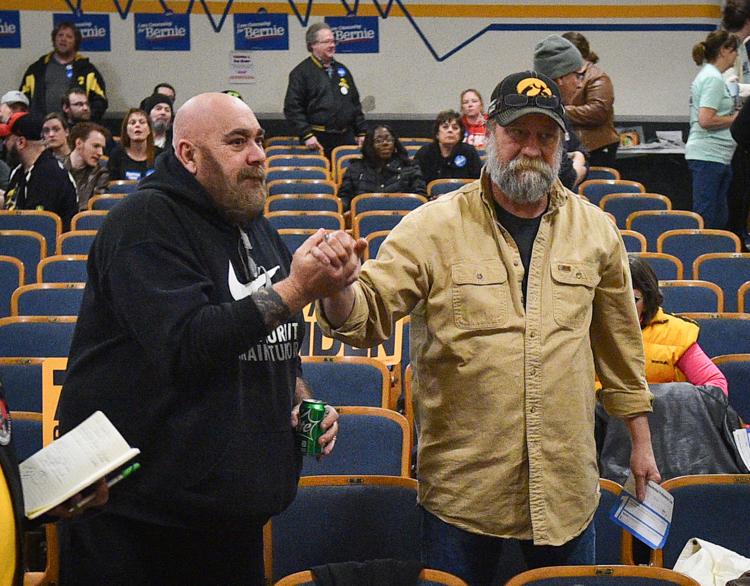 020420-ia-caucus-mm-012.jpg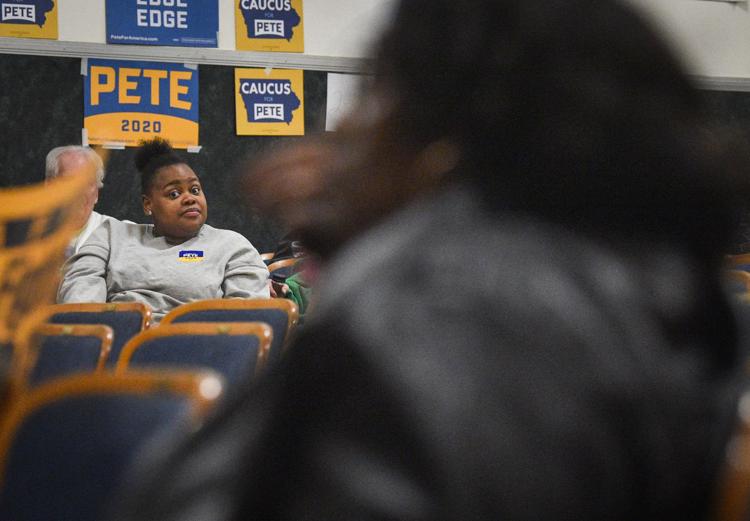 020420-ia-caucus-mm-013.jpg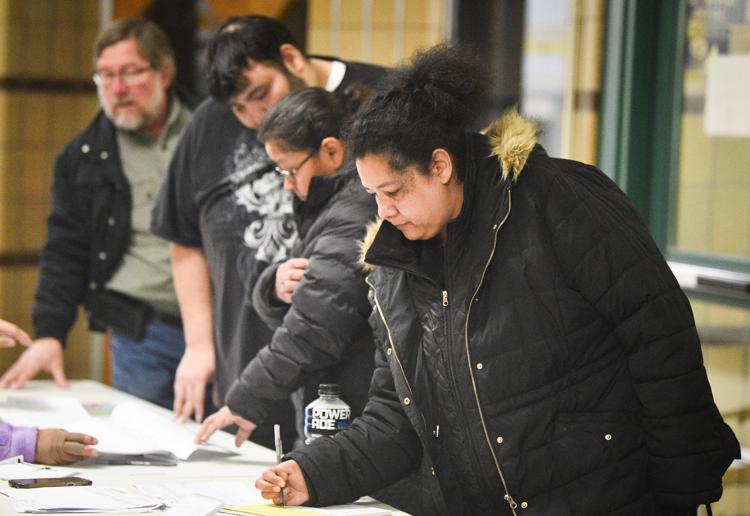 020420-ia-caucus-mm-014.jpg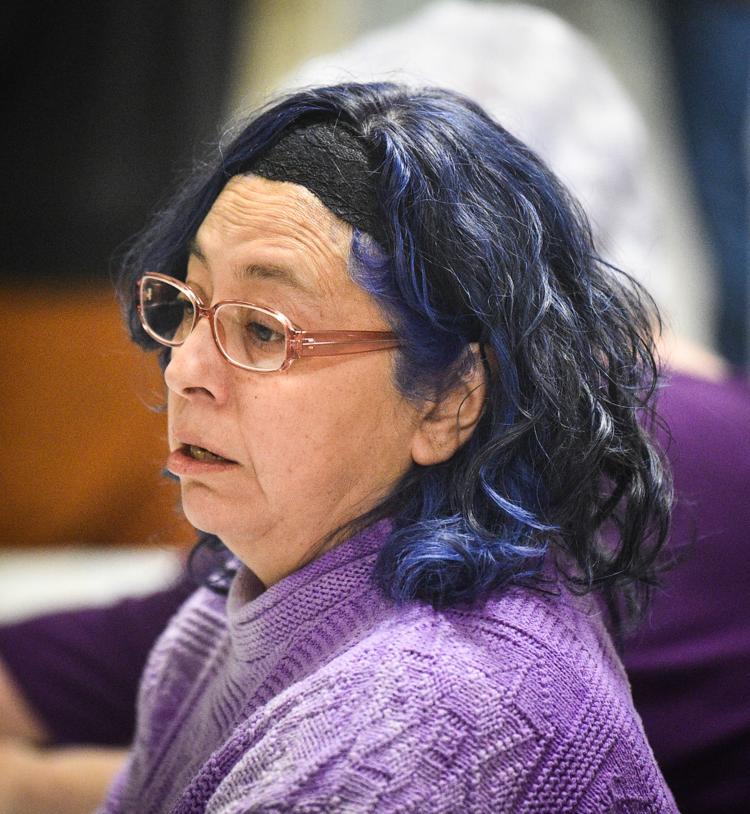 020420-ia-caucus-mm-015.jpg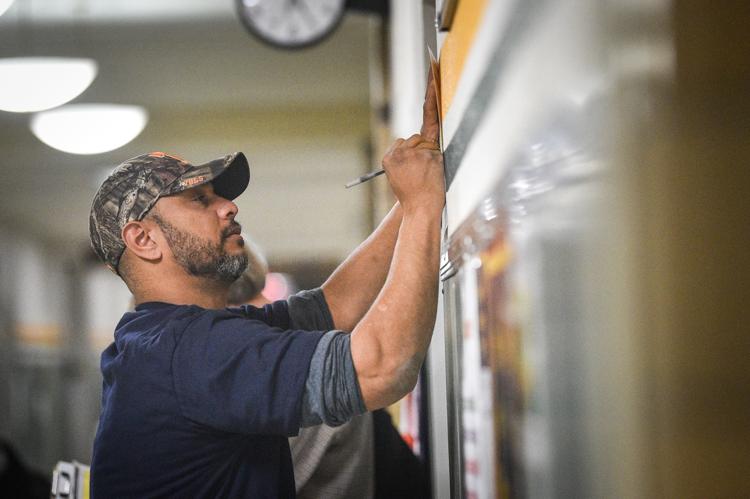 020420-ia-caucus-mm-016.jpg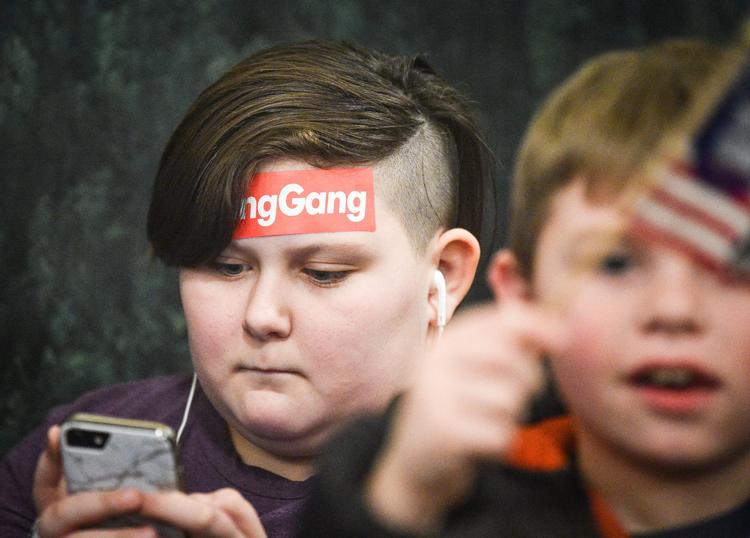 020420-ia-caucus-mm-017.jpg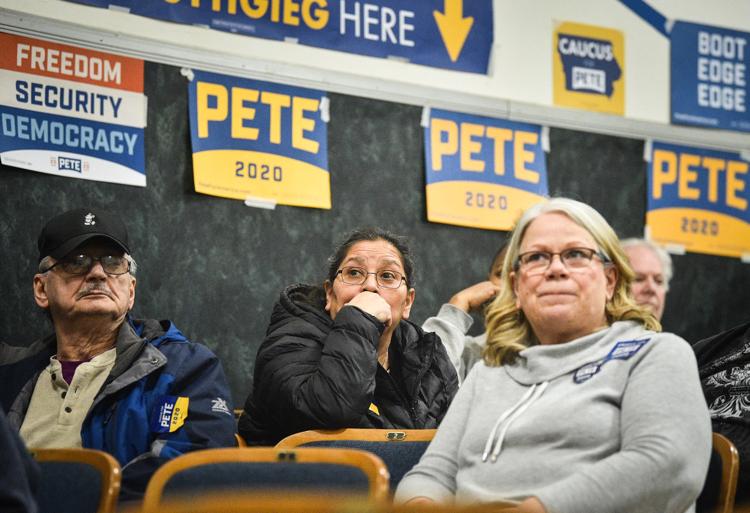 020420-ia-caucus-mm-018.jpg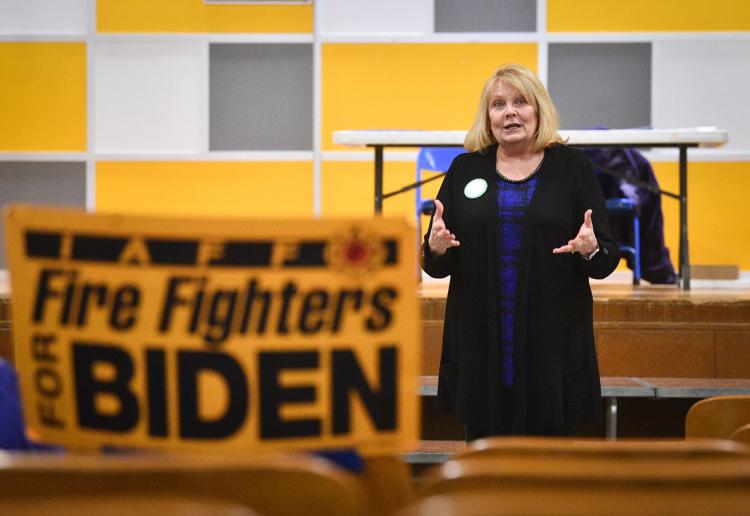 020420-ia-caucus-mm-019.jpg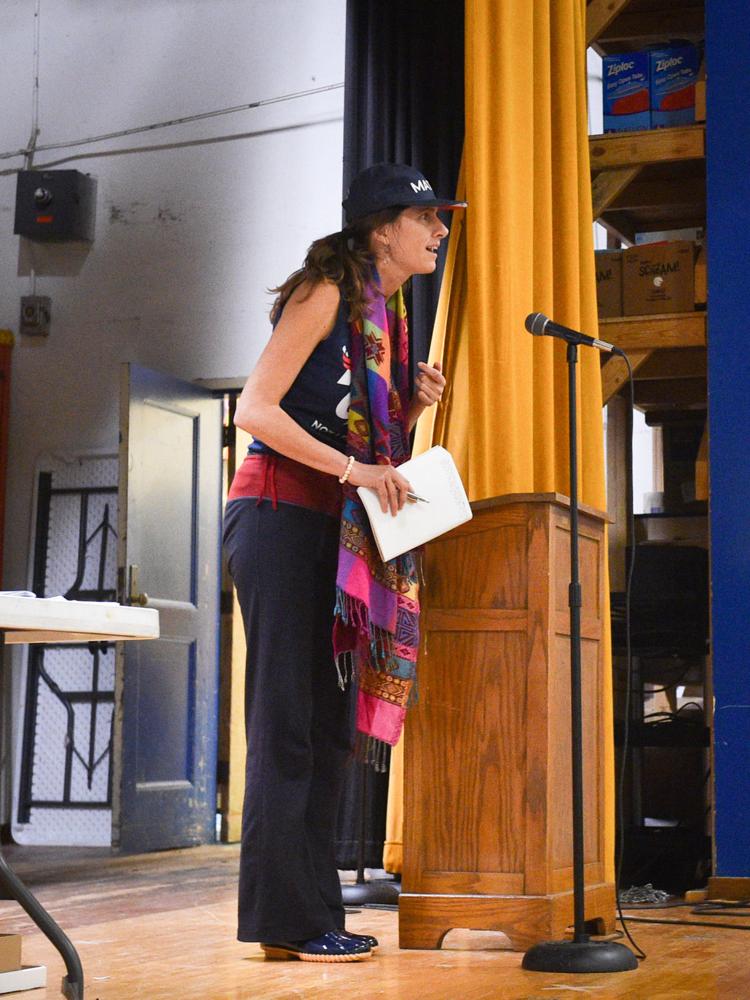 020420-ia-caucus-mm-020.jpg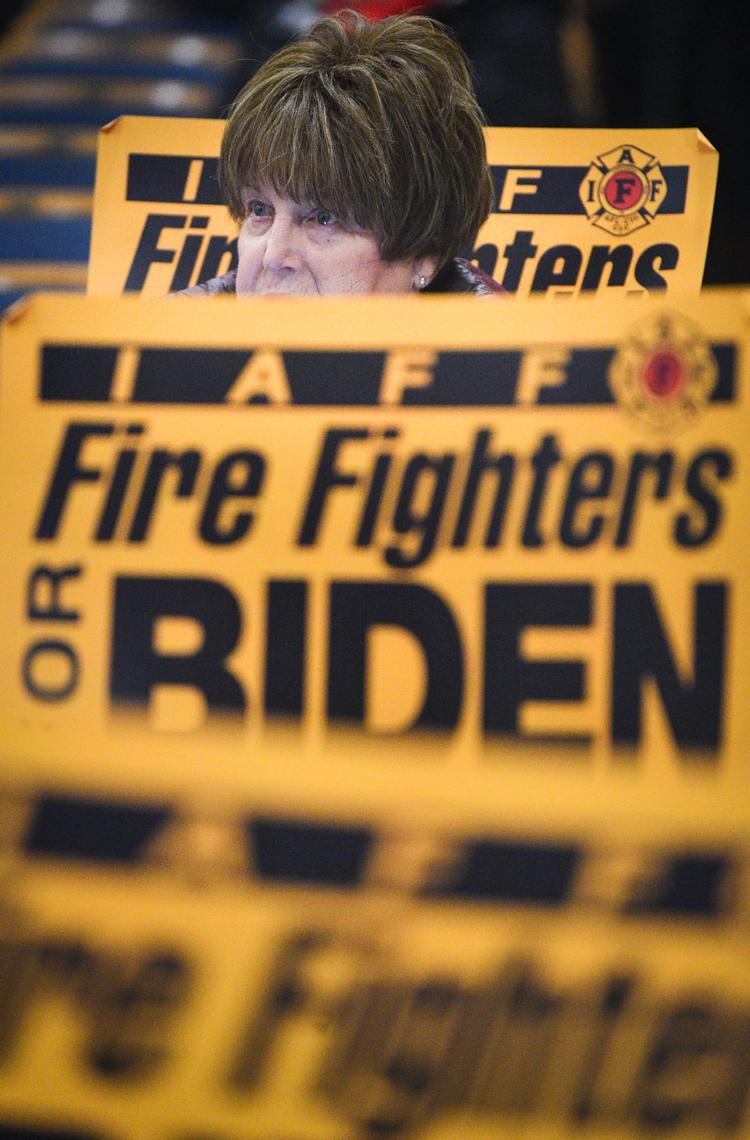 020420-ia-caucus-mm-021.jpg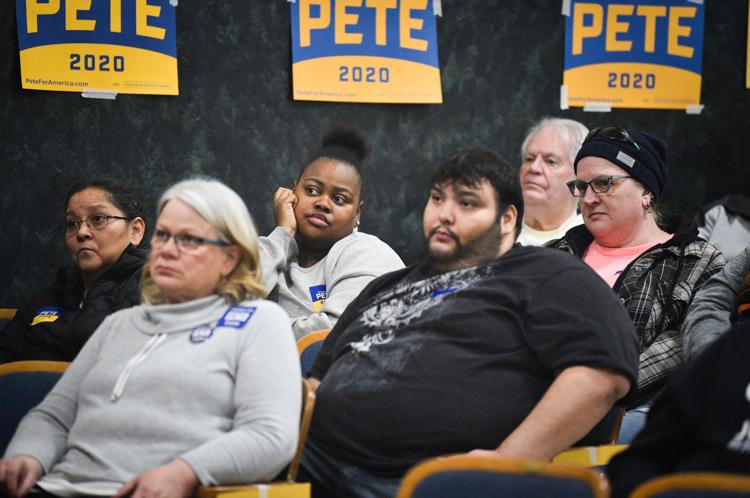 020420-ia-caucus-mm-022.jpg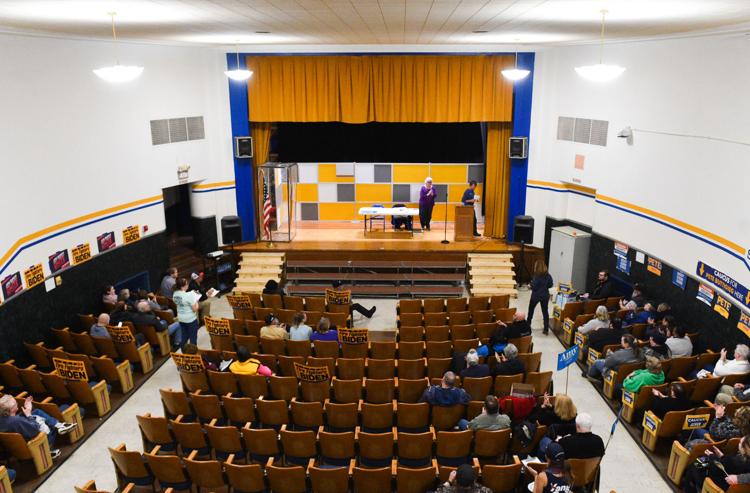 020420-ia-caucus-mm-023.jpg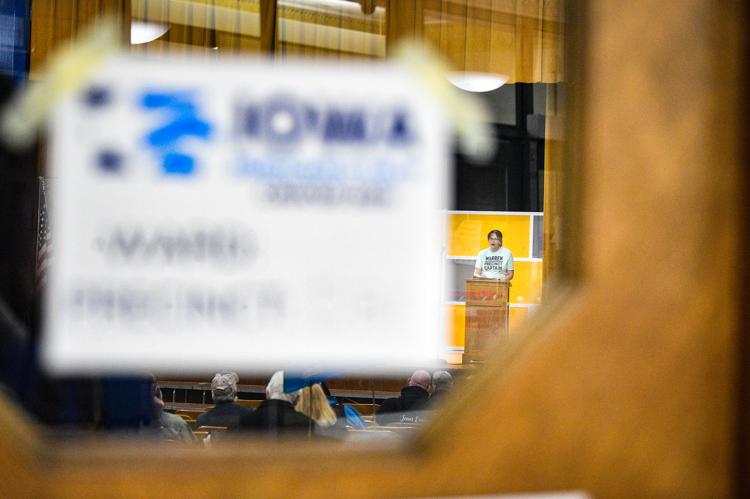 020420-ia-caucus-mm-024.jpg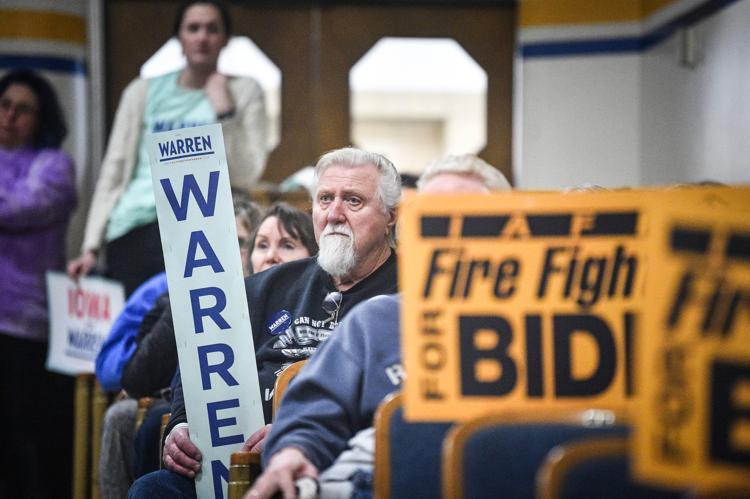 020420-ia-caucus-mm-025.jpg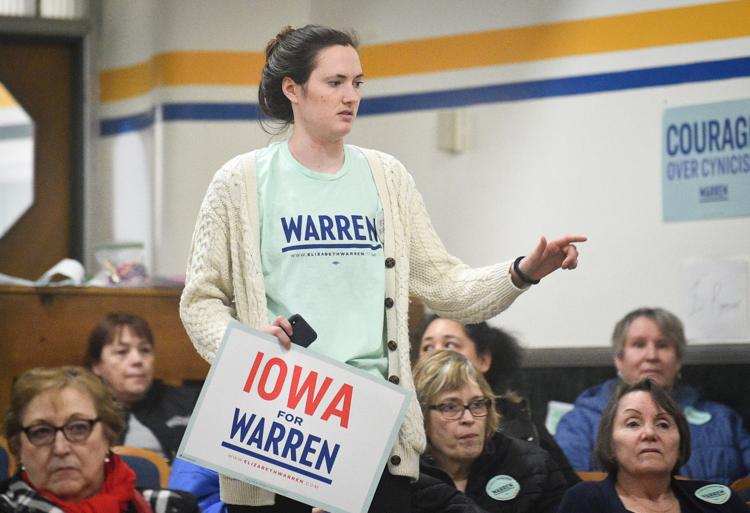 020420-ia-caucus-mm-026.jpg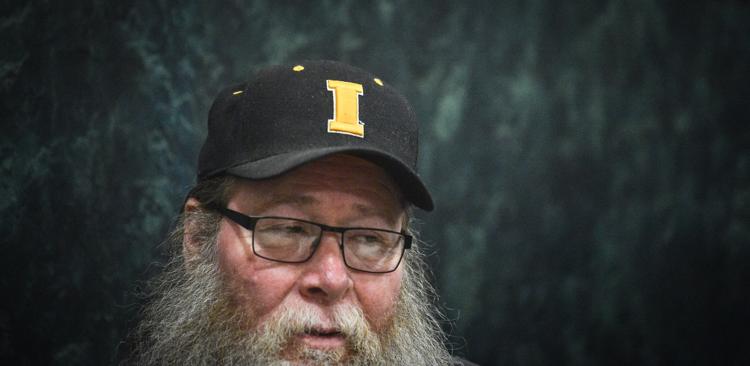 020420-ia-caucus-mm-027.jpg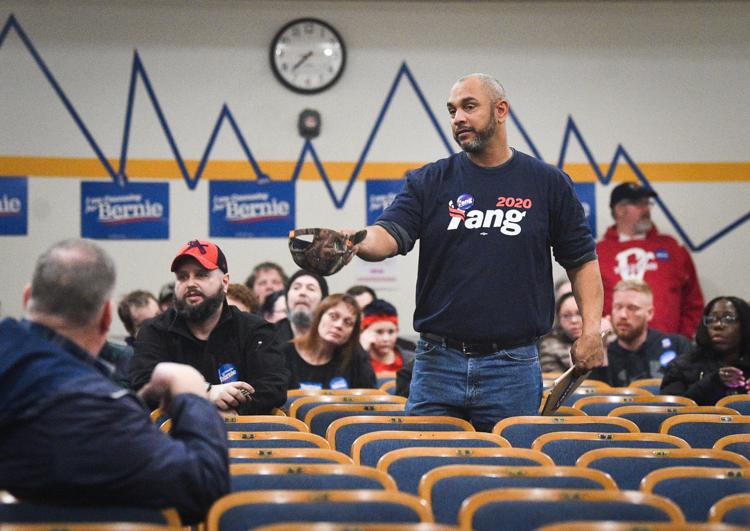 020420-ia-caucus-mm-028.jpg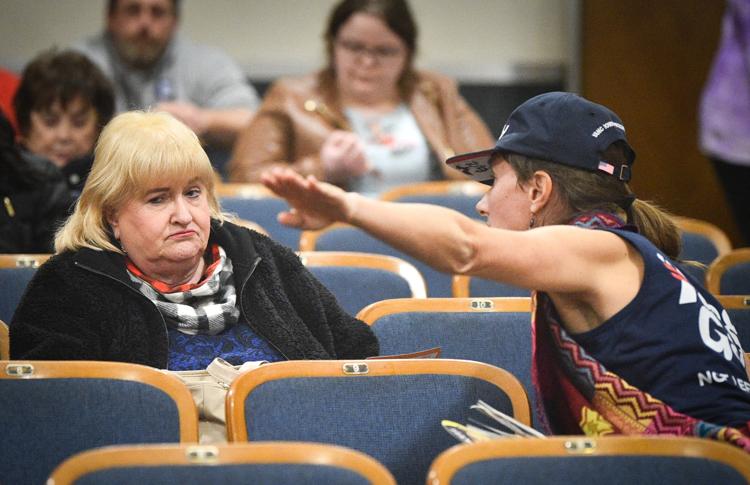 020420-ia-caucus-mm-029.jpg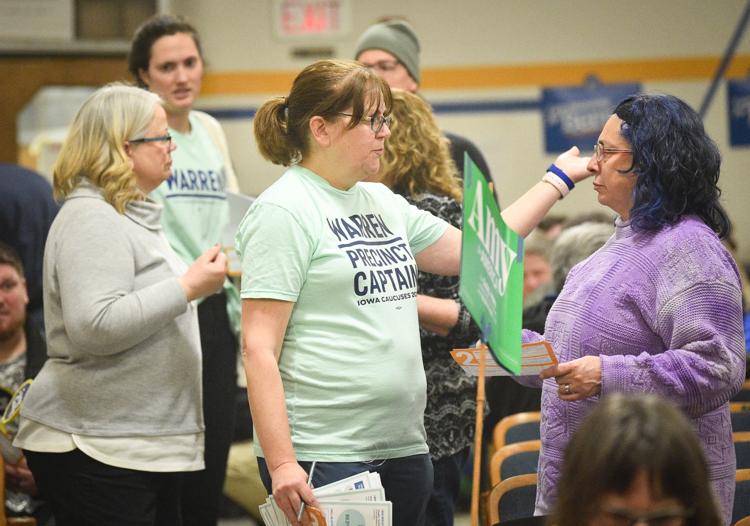 020420-ia-caucus-mm-030.jpg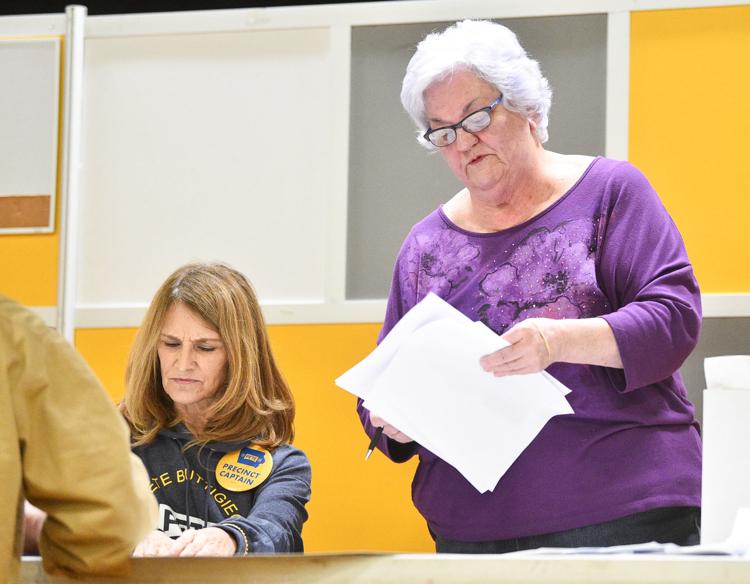 020420-ia-caucus-mm-031.jpg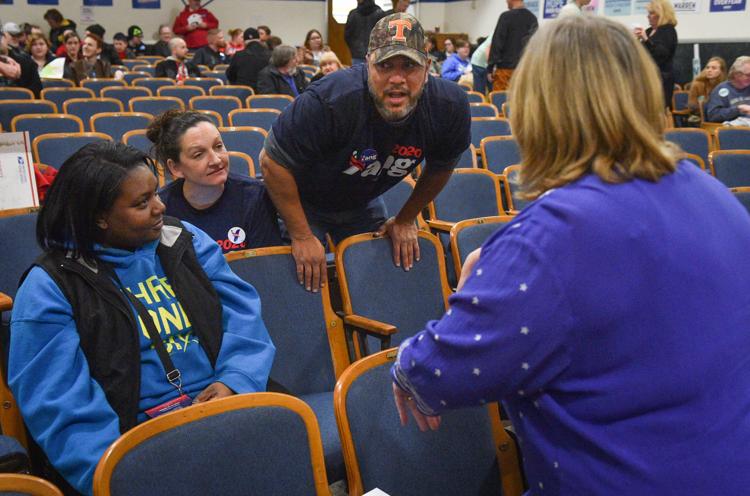 020420-ia-caucus-mm-032.jpg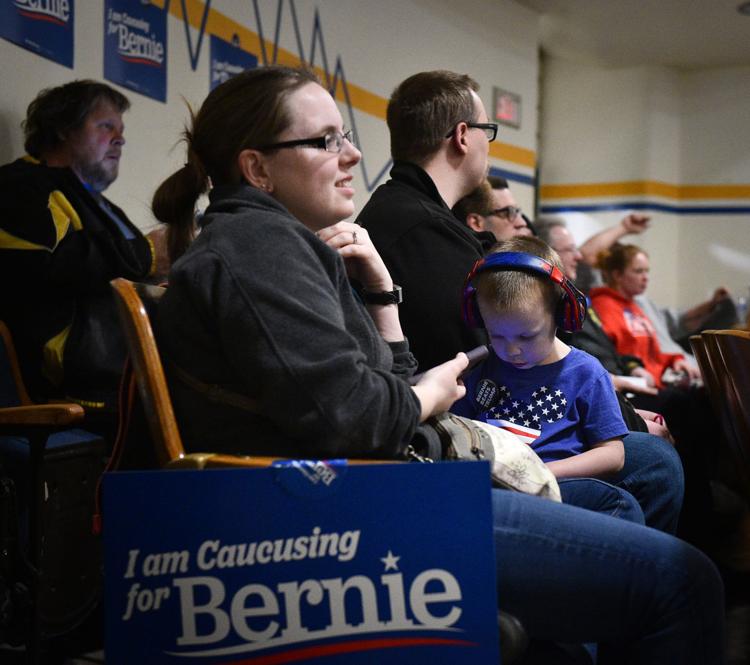 020420-ia-caucus-mm-033.jpg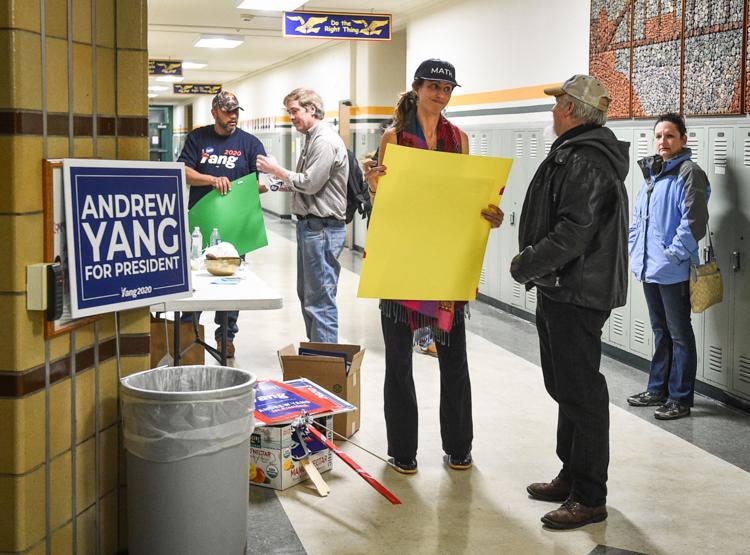 020420-ia-caucus-ks-016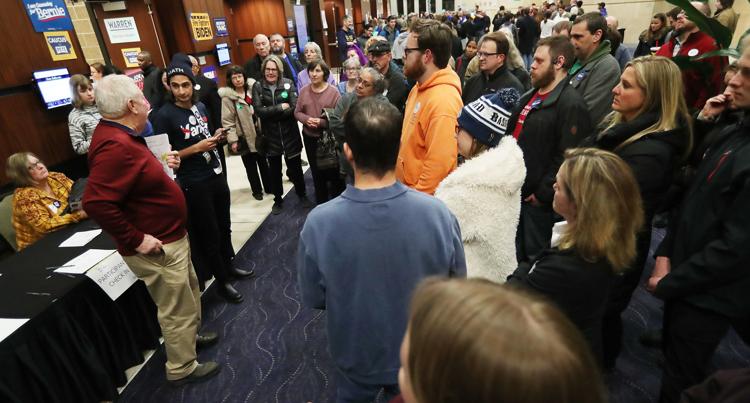 020420-ia-caucus-ks-015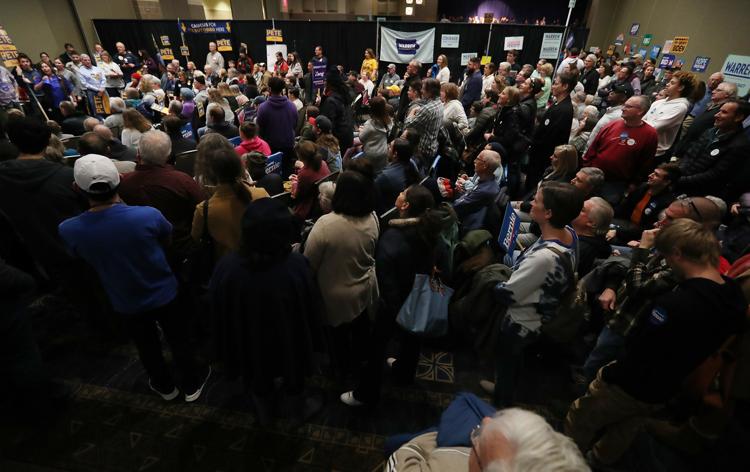 020420-ia-caucus-ks-017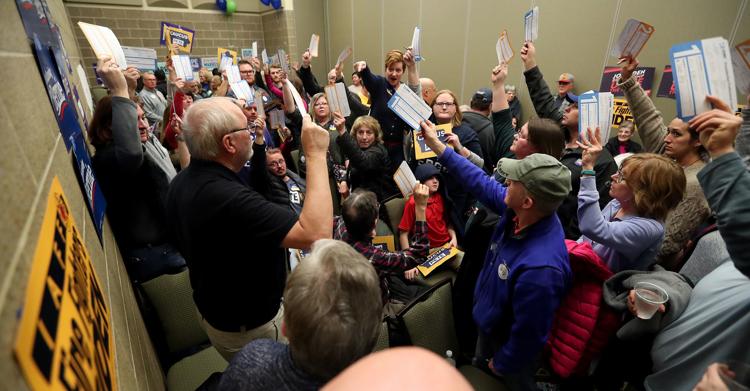 020420-ia-caucus-ks-014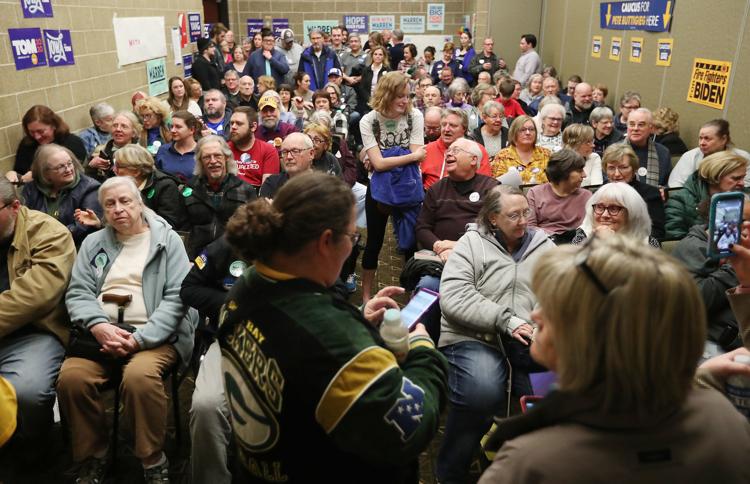 020420-ia-caucus-ks-012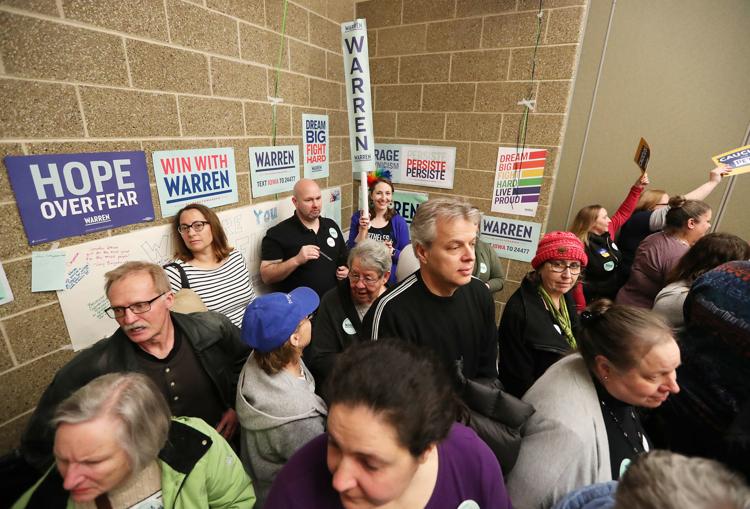 020420-ia-caucus-ks-013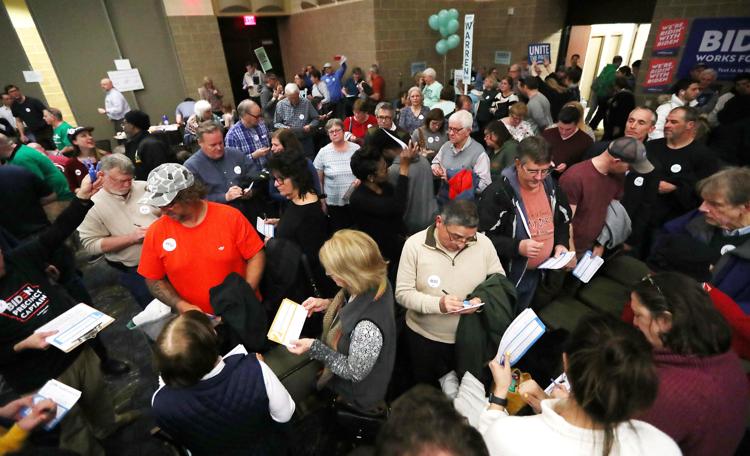 020420-ia-caucus-ks-008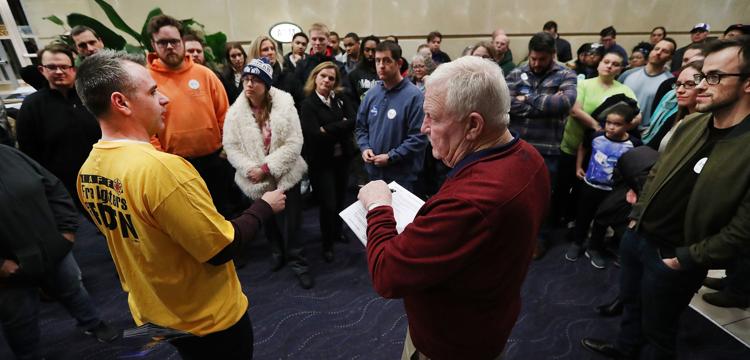 020420-ia-caucus-ks-010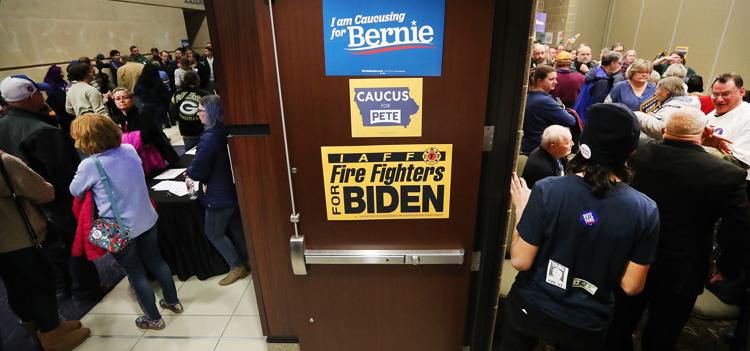 020420-ia-caucus-ks-011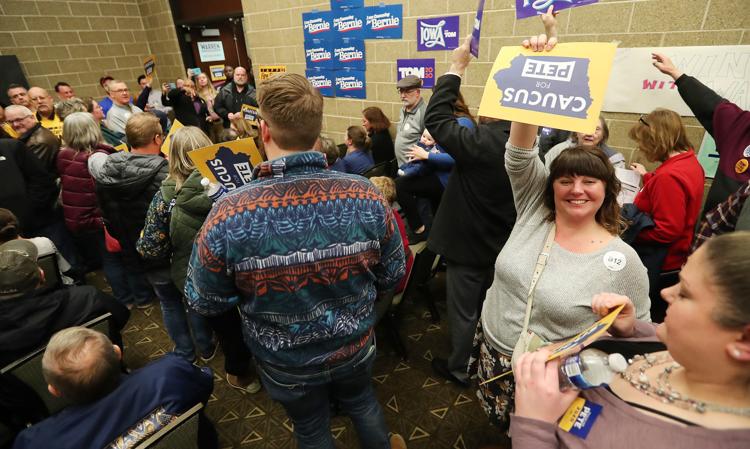 020420-ia-caucus-ks-006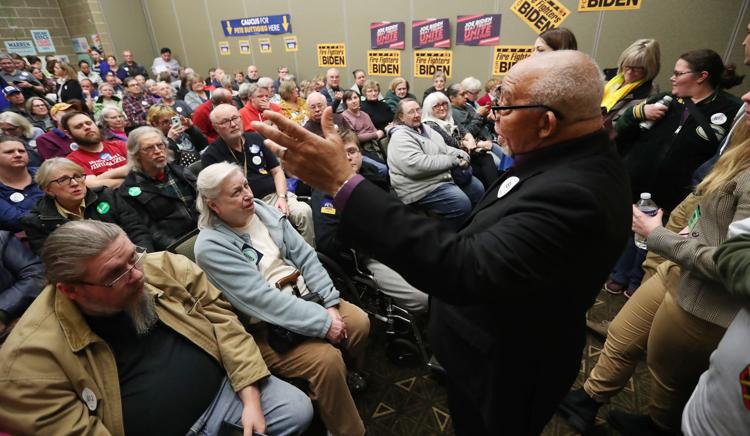 020420-ia-caucus-ks-007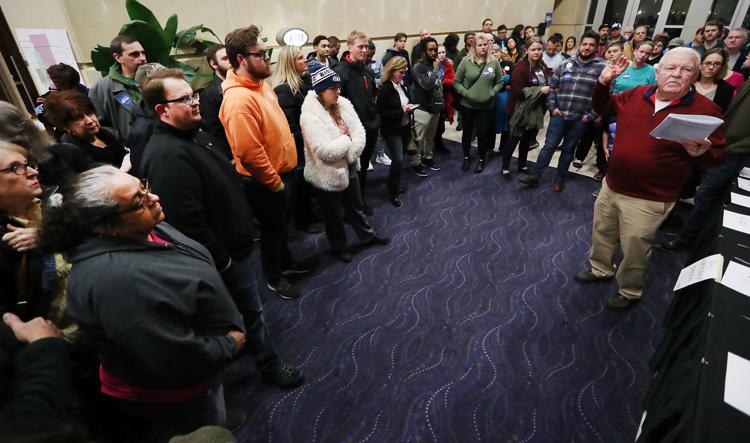 020420-ia-caucus-ks-009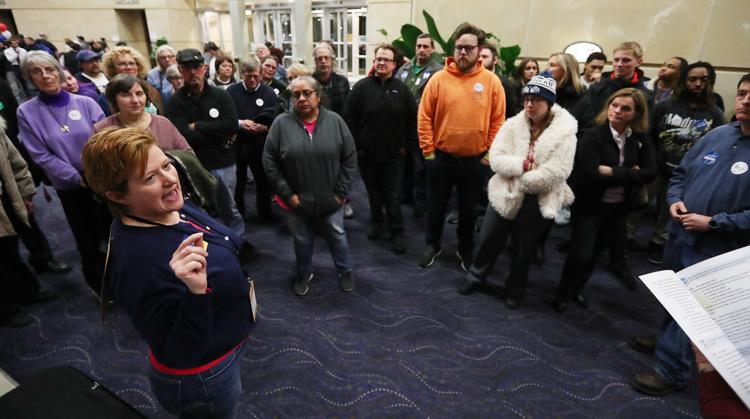 020420-ia-caucus-ks-005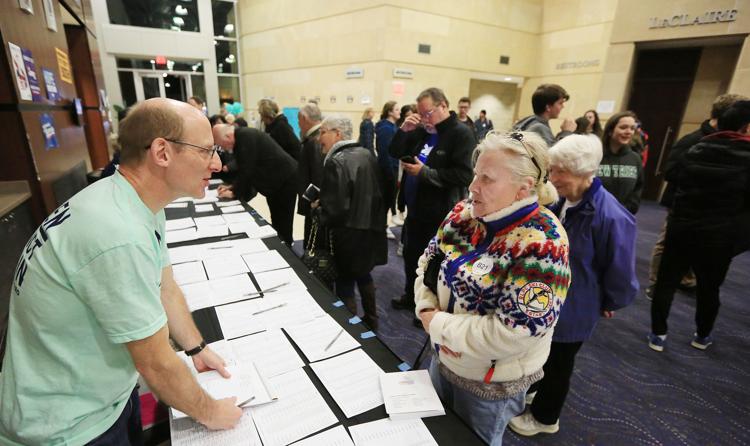 020420-ia-caucus-ks-003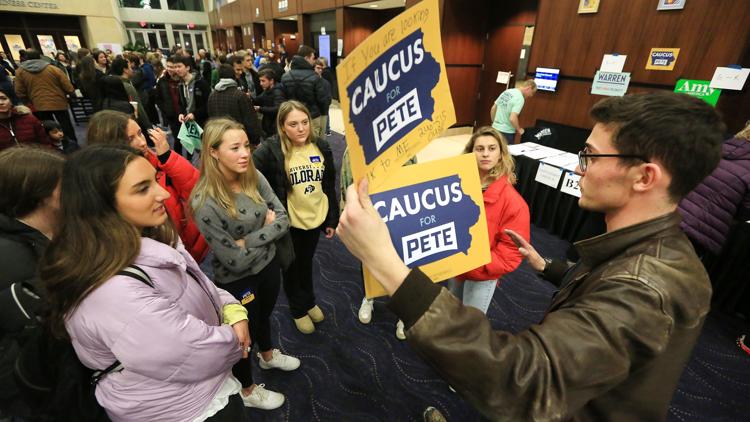 020420-ia-caucus-ks-004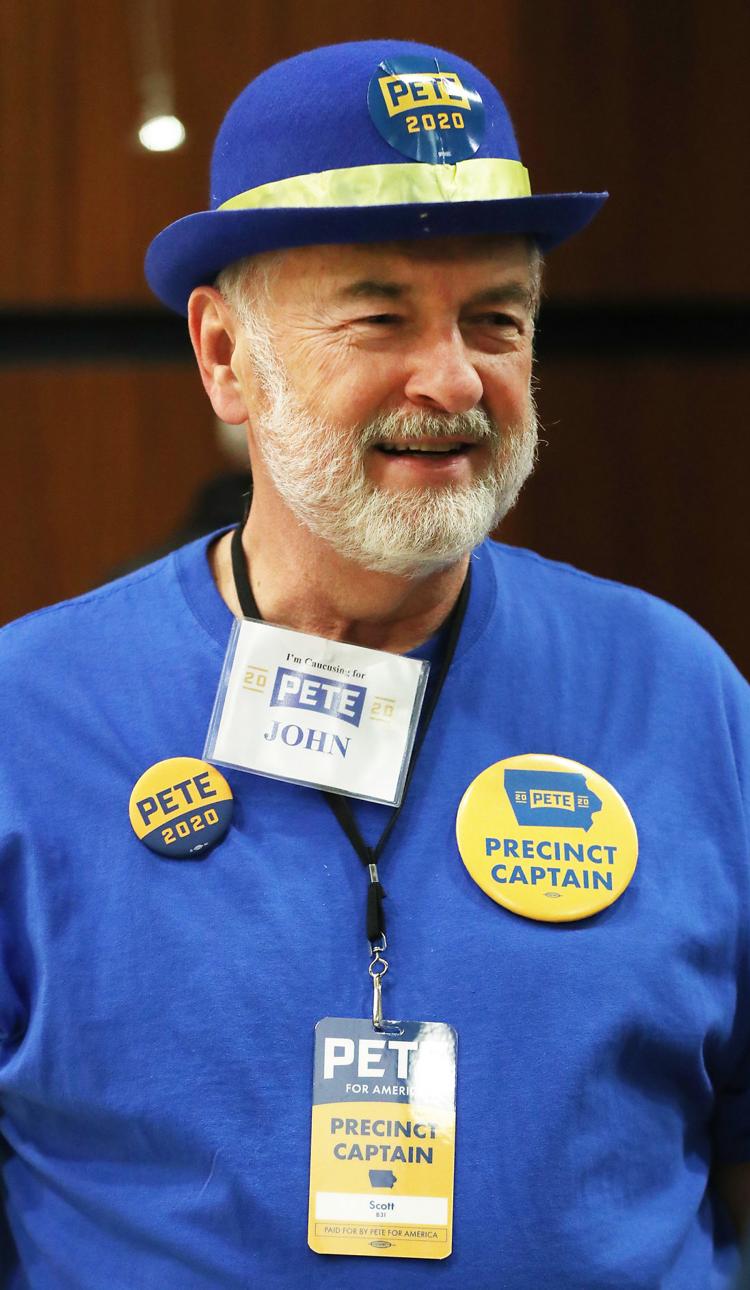 020420-ia-caucus-ks-002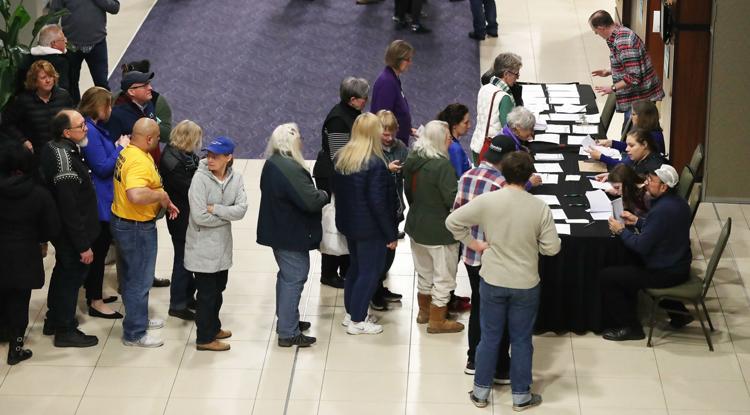 020420-ia-caucus-ks-001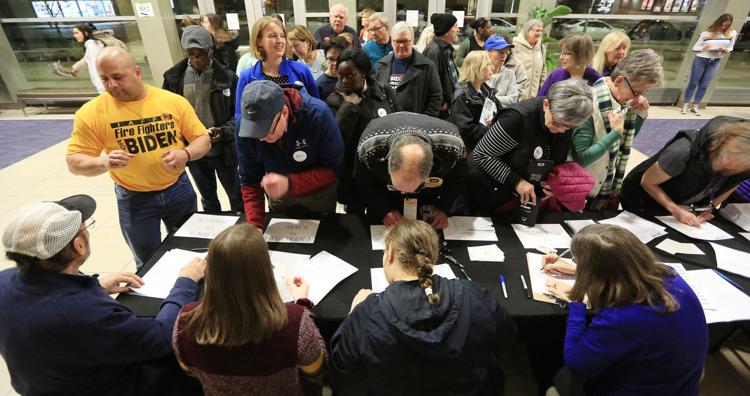 Election 2020 Iowa Caucus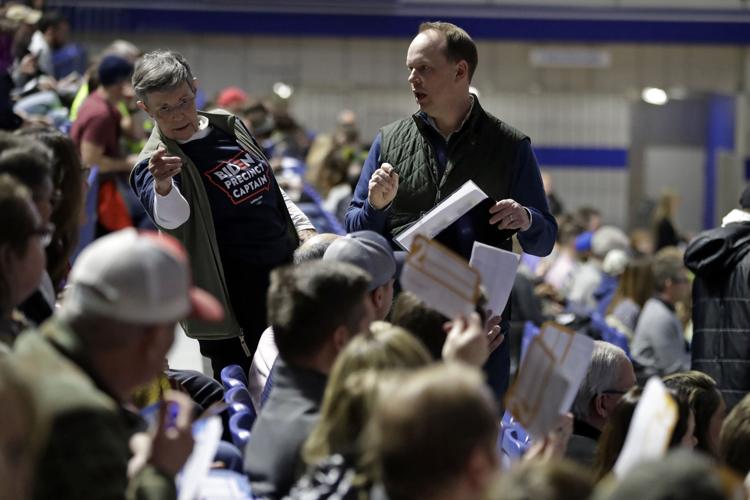 Election 2020 Iowa Caucus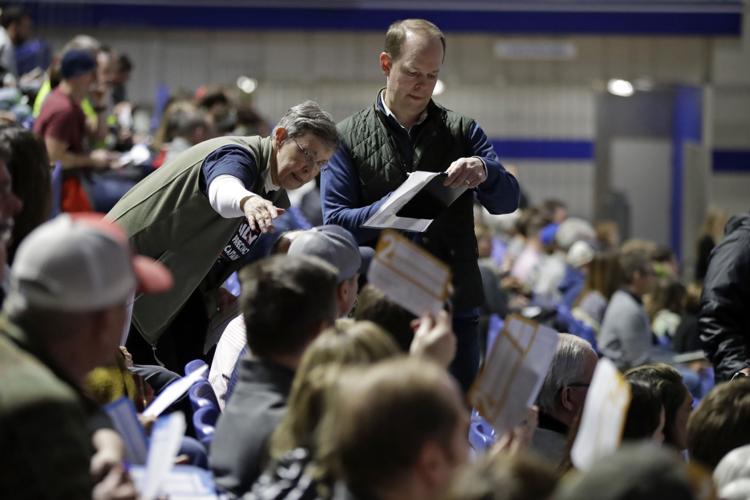 APTOPIX Election 2020 Iowa Caucus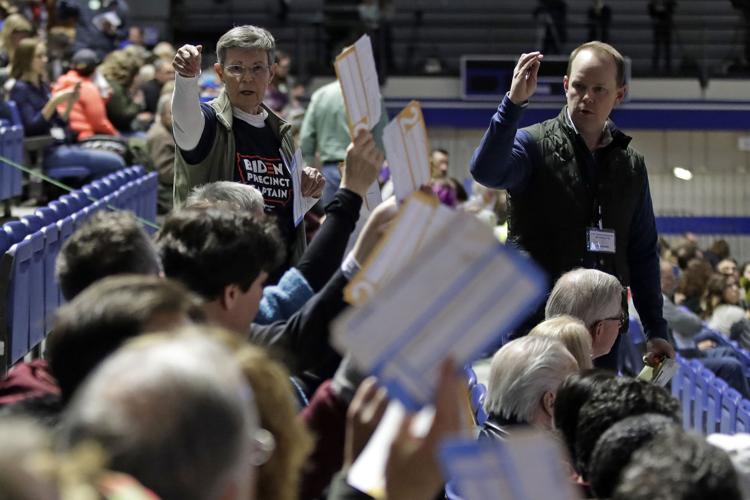 Election 2020 Iowa Caucus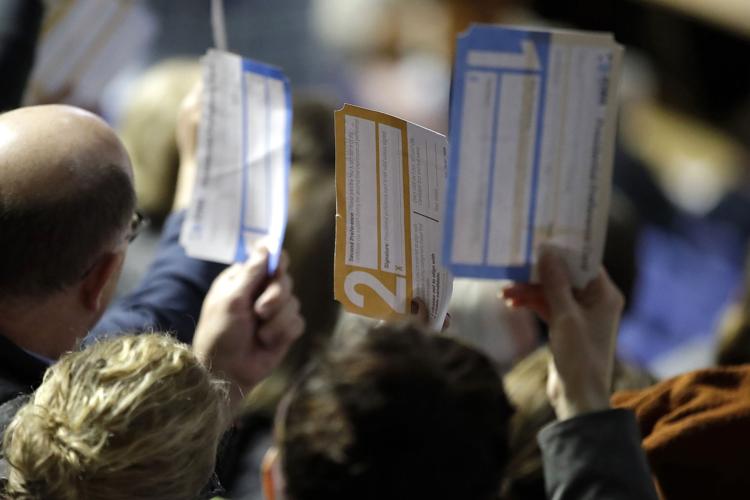 Election 2020 Iowa Caucus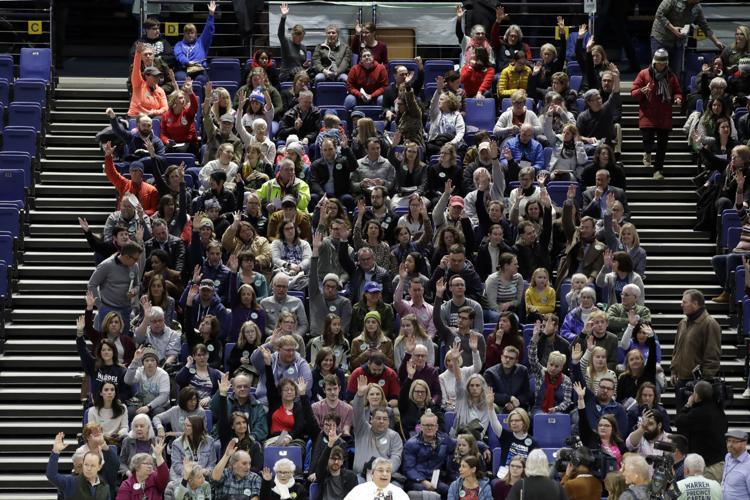 Election 2020 Iowa Caucus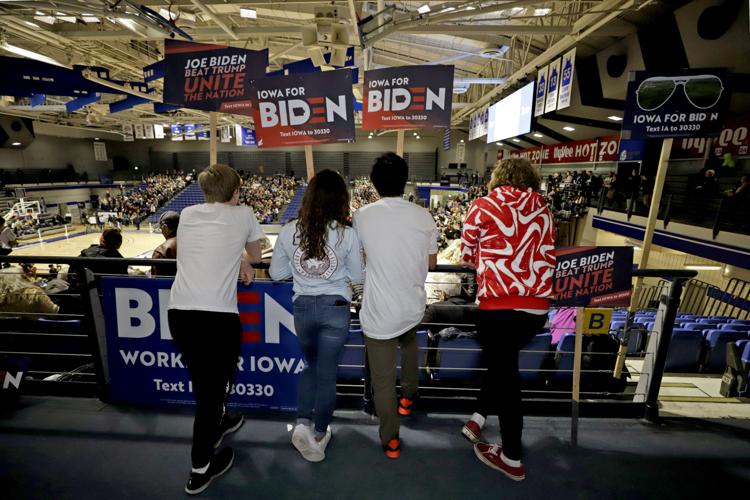 Election 2020 Iowa Caucus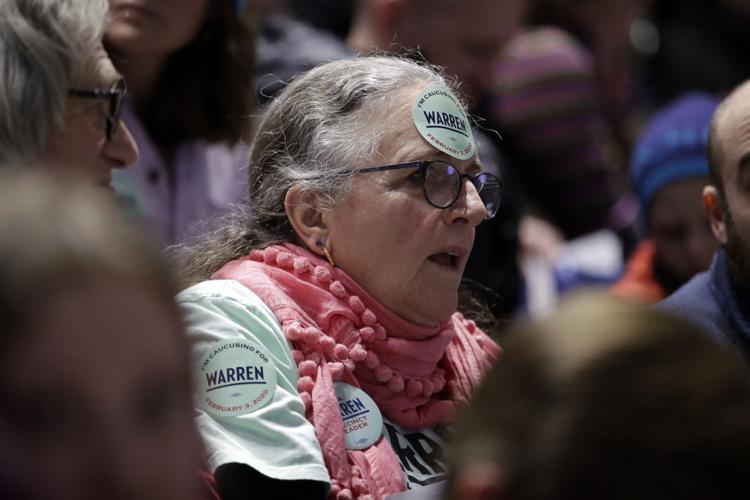 U.S. presidential race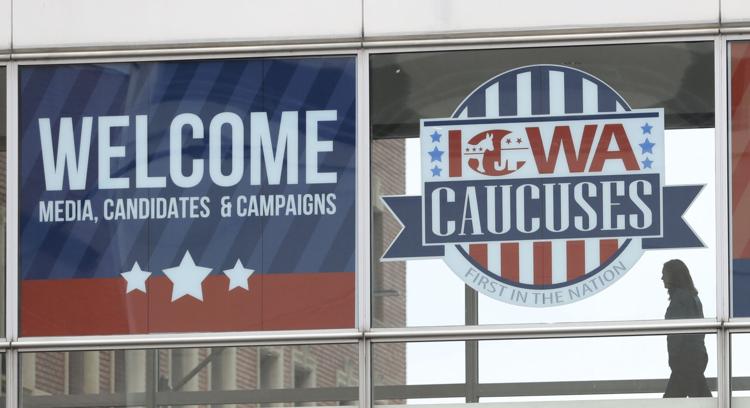 Election 2020 Iowa Caucus
Election 2020 Iowa Caucus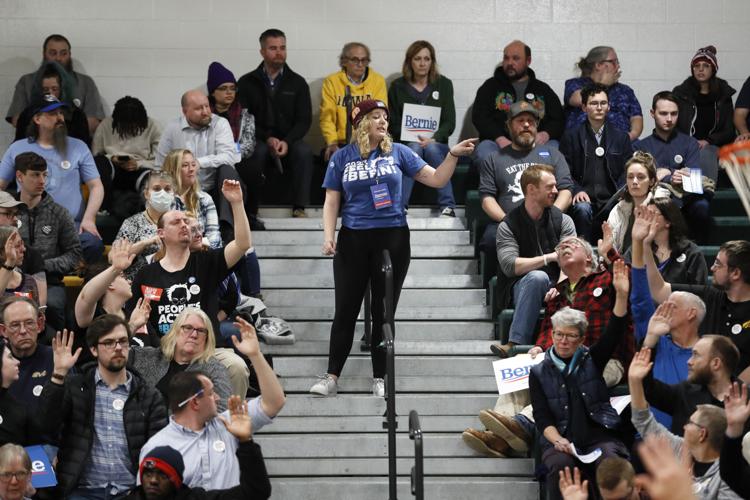 Election 2020 Iowa Caucus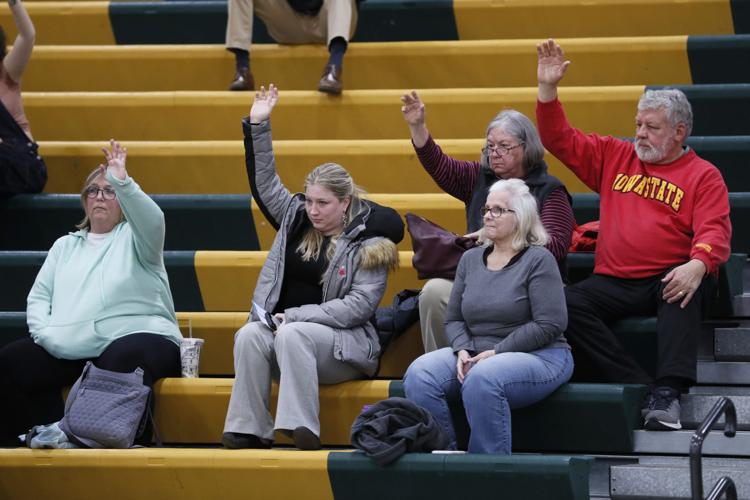 Election 2020 Iowa Caucus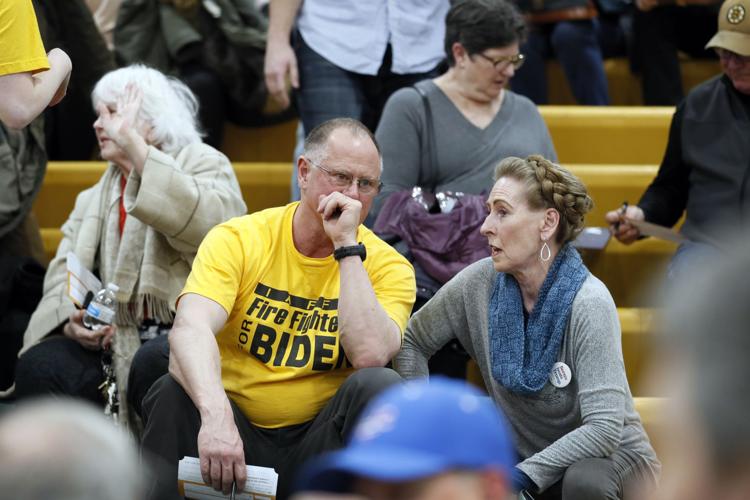 Election 2020 Iowa Caucus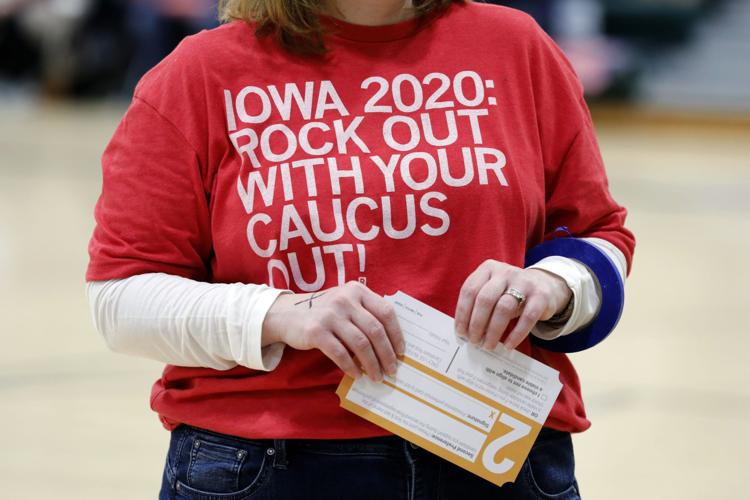 Election 2020 Iowa Caucus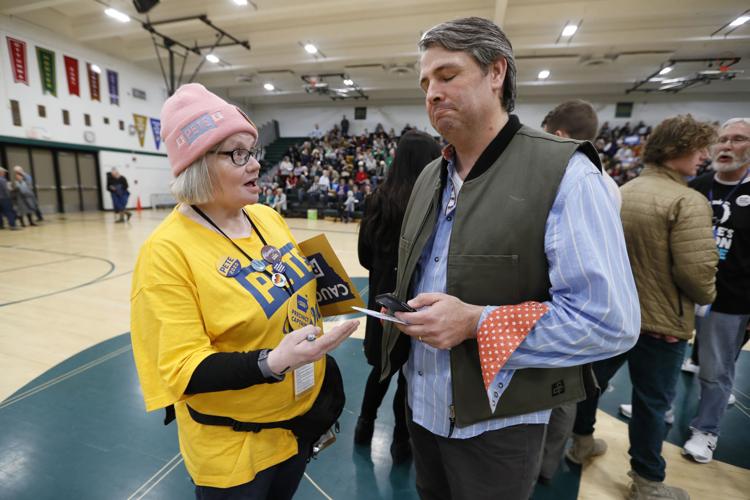 Election 2020 Iowa Caucus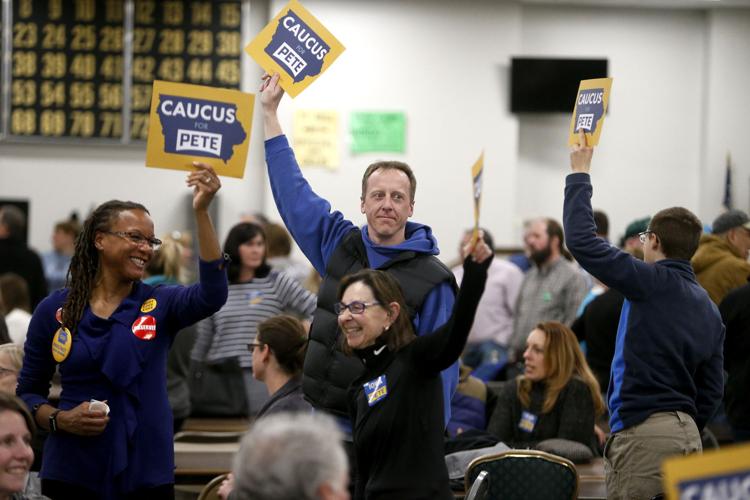 Election 2020 Iowa Caucus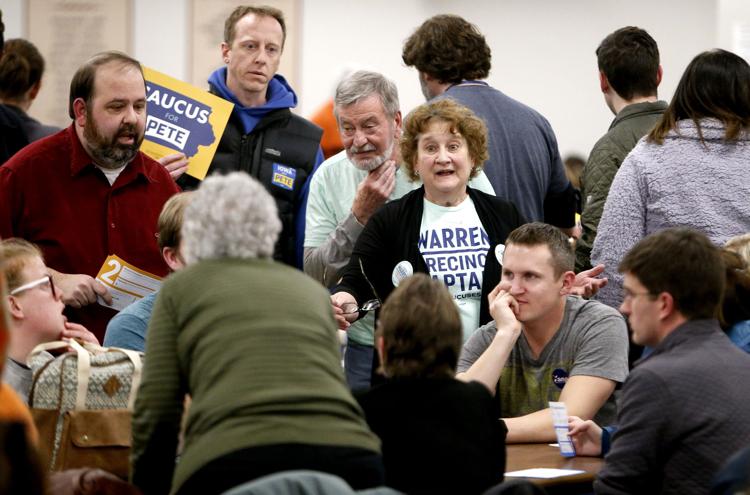 Election 2020 Iowa Caucus Multilingual