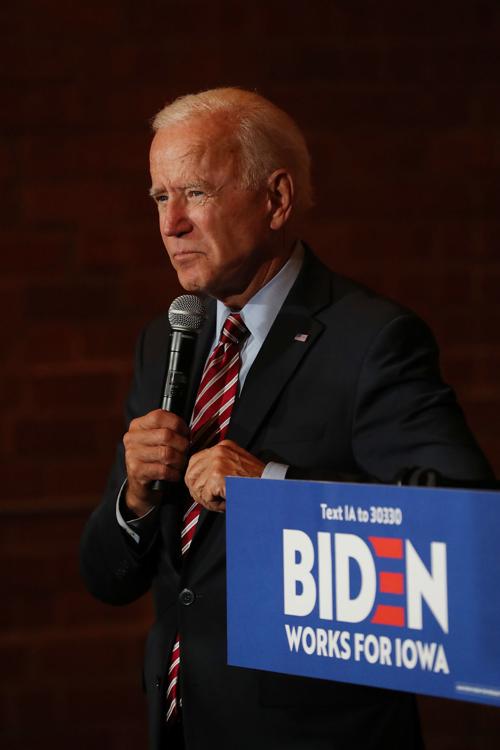 A roundup of campaign news items of interest for Tuesday, November 12, 2019:
RYAN ENDORSES BIDEN: Joe Biden secured the endorsement of a former fellow candidate.
Biden, the Democratic presidential candidate and former vice president, has been endorsed by Tim Ryan, the Ohio Congressman who dropped out of the race in late October.
In a statement, Ryan said Biden is the only candidate who can defeat Republican president Donald Trump in the Midwest.
"Biden is the candidate who can defeat Donald Trump and move our country forward. Joe will hit the ground running and repair the damage done by Trump's failed, reckless presidency," Ryan said. "(Biden) is a leader who will put working communities and the middle class first. ... I know that Joe will be a voice for the many who are being left behind --- workers losing their jobs to automation, unions fighting for fair wages, small business owners trying to get ahead. Joe knows that working communities built America, and I know that Joe will go to bat for them as an increasingly globalized economy threatens the very work they do."
BIDEN ADDS LEE COUNTY ENDORSERS: Five current and former Lee County officials have added their names to the list of Iowa endorsements for Biden.
"What's most important in this election is that we nominate a candidate who can beat Donald Trump — and Joe Biden is the only one who fits that bill," George Morgan, a former Lee County Supervisor, Keokuk Police Chief and Lee County Veterans Affairs Commission Chair, said in a statement provided by the Biden campaign. "Joe has a well-established understanding and interest in Iowa's ethanol industry and, as president, he'll invest in rural America to create jobs and grow our agricultural economy. We need a president who'll stand up for middle class folks again — and that's Joe Biden."
DELANEY GOES LONGFORM: Democratic presidential candidate John Delaney is going on the air in Iowa with not 30-second campaign ads, but 30-minute campaign infomercials.
You have free articles remaining.
The former Congressman from Maryland has purchased 30-minute blocks on TV stations across the state, including in the Quad-Cities, Sioux City, Cedar Rapids and Des Moines. Delaney's "Real Solutions" special was filmed at his home in Maryland and includes segments from Iowa and New Hampshire.
"Our campaign hasn't ever been about sound bites, so we're excited to be the first this cycle to offer a long-form program that goes in-depth with solutions and not just empty promises," Delaney said in a statement. "When Iowans have the time to listen to my personal story and message, they learn that I have real solutions to health care, the climate crisis, bringing jobs to rural Iowa and more. So I encourage folks to tune in and learn more about our unifying message which is based on facts --- not slogans or catchphrases."
CASTRO'S PLAN FOR AMERICANS WITH DISABILITIES: On the heels of a roundtable discussion in Iowa, Democratic presidential candidate Julian Castro proposed more than doubling federal funding for programs benefiting students with disabilities to $120 billion over 10 years, and an additional $150 billion to ensure all schools are equipped to serve students with disabilities.
The former U.S. housing secretary also pledged to address barriers that make it difficult for Americans with disabilities to vote, and invest $50 billion to ensure access to affordable and disability-compliant housing.
"There should be no second-class citizens in America. I'm fighting for a future where everyone counts, including people with disabilities," said Secretary Julián Castro. "But progress doesn't happen by accident. We have to be intentional with our policies so that everybody has the ability to prosper. That's what this People First Disability Plan is all about — connecting the dots between different issues to lift up people that have been left out."
BULLOCK'S IMMIGRATION PLAN: Ending family separation at the border, increasing the number of immigration judges hearing cases, and ending new construction of the U.S.-Mexico border wall are key elements of Democratic presidential candidate Steve Bullock's immigration plan.
The Montana governor also proposed refocusing federal immigration enforcement on "serious and violent criminals, drug traffickers, and cartel members," and restoring previous federal policy that allowed refugees to apply for asylum in their home countries or a third country, and restore previous levels of refugees allowed into the U.S. annually.
"From vindictively targeting DACA recipients to spewing racist rhetoric, the biggest problem with our immigration system is Donald Trump. But once he's gone, we still have a lot of work to fix our broken immigration system," Bullock said in a statement. "As president, I'll make it a priority to pass comprehensive immigration reform, end family separation, secure our border, and ensure our DREAMers have a fair shot at achieving the American Dream."