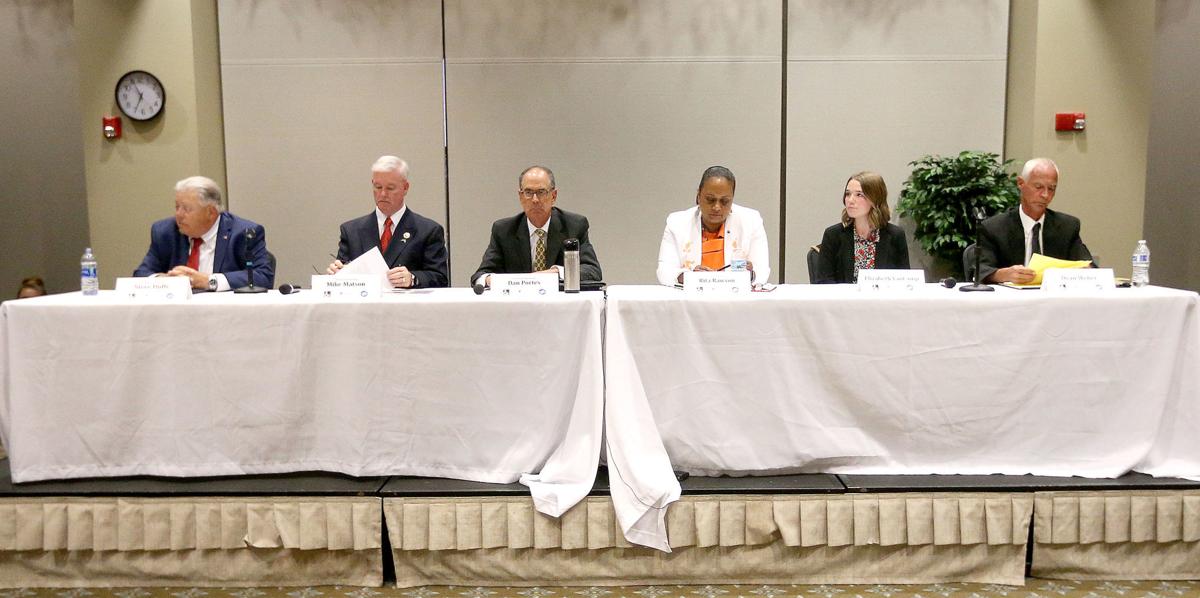 At least $100,500 has been raised and $66,127 spent so far this year as six candidates compete for an open seat to become Davenport's next mayor, marking what could become one of the more expensive mayor's races in recent memory.
Alderman Mike Matson, 7th Ward, has pulled in the highest dollar amount from outside donations so far with a grand total of $33,553.89.  His top donor is his half-brother Mark Thies, an executive with west-coast utility company Avista Corporation. Thies donated $15,000 to Matson, amounting to about 45% of the Matson campaign's bankroll.
Other big Matson donors are local organized labor leaders. Davenport's firefighters union gave him $5,000. He is also getting money from the ironworkers, food and commercial workers, and operating engineers.
Despite raising the most money, Matson has spent remarkably little compared to other well-financed rivals. Records show he spent roughly $6,547 on website fees, banking charges, campaign signs, fundraising, consulting, social media advertising and professional photography services. That figure also includes $600 he gave to the Iowa Democratic Party in May.
In second place with donor fundraising is CEO Dan Portes, the founder of a local talent management and hiring company called Management Resource Group. Portes raised $28,351 during this cycle and spent a little more than $22,600.
Portes' largest single donation of $1,500 came from Iowa Growth PAC, the political spending arm of the Quad Cities Chamber of Commerce. Portes was a member of the Chamber's board for 16 years and was previously the Iowa Growth PAC's chairman.
Much of Portes' additional financial support has come from a network of current and former business executives, lawyers, developers, doctors and others. Dollar amounts from individual contributors assisting Portes this cycle have ranged from $1,000 to $20.
You have free articles remaining.
Spending the most this season is Alderwoman Rita Rawson, 5th Ward. Her campaign has dropped $35,166 into the mayor's race so far, with $22,300 going to Davenport-based marketing agency TAG Communications. She's focused heavily on digital advertisements that have gone up on social media sites like Facebook as well as more traditional formats like mailers and yard signs.
Rawson has struggled to raise money from donors compared to Matson and Portes. She pulled together $8,500 in donations and loaned her campaign a total of $25,175.
The last time Davenport saw a competitive mayor's race was 2015. Nearly $140,000 was spent that year in a four-way contest as ex-Mayor Bill Gluba fought a losing battle to retain his seat. Gluba faced only one other opponent during his eight years in office after first winning the title in 2007.
Outgoing Mayor Frank Klipsch is not running for reelection. Open contests typically attract larger candidate fields and sometimes offer greater potential for campaign spending as candidates for local office try to introduce themselves to the whole city and stand out.
This year, four people will be cut from the mayoral candidate field after the upcoming primary election on Tuesday, and the top two vote-getters will face off in the general election Nov. 5. That means much more could be raised and spent over the coming weeks as two candidates race off to the finish line.
The other three candidates have raised and spent less than $7,000 combined.
Steve Duffy, a 71-year-old retired municipal insurance claims administrator, raised $3,793 and spent $3,049. Nearly all went toward local advertising.
Elizabeth VanCamp, a 29-year-old political newcomer whose campaign has centered on major issues of national concern like systemic racial injustice, poverty and climate change, brought in less than $2,200 and spent about $2,300. Her top expense was advertising through campaign signs, mailers and on social media.
Dean Weber, a longtime Davenport Public Works employee, has not formed a campaign fund and has said he is paying for everything himself to demonstrate that he is not beholden to anyone. Candidates who spend less than $1,000 on political campaigns are exempt from Iowa's financial disclosure laws.