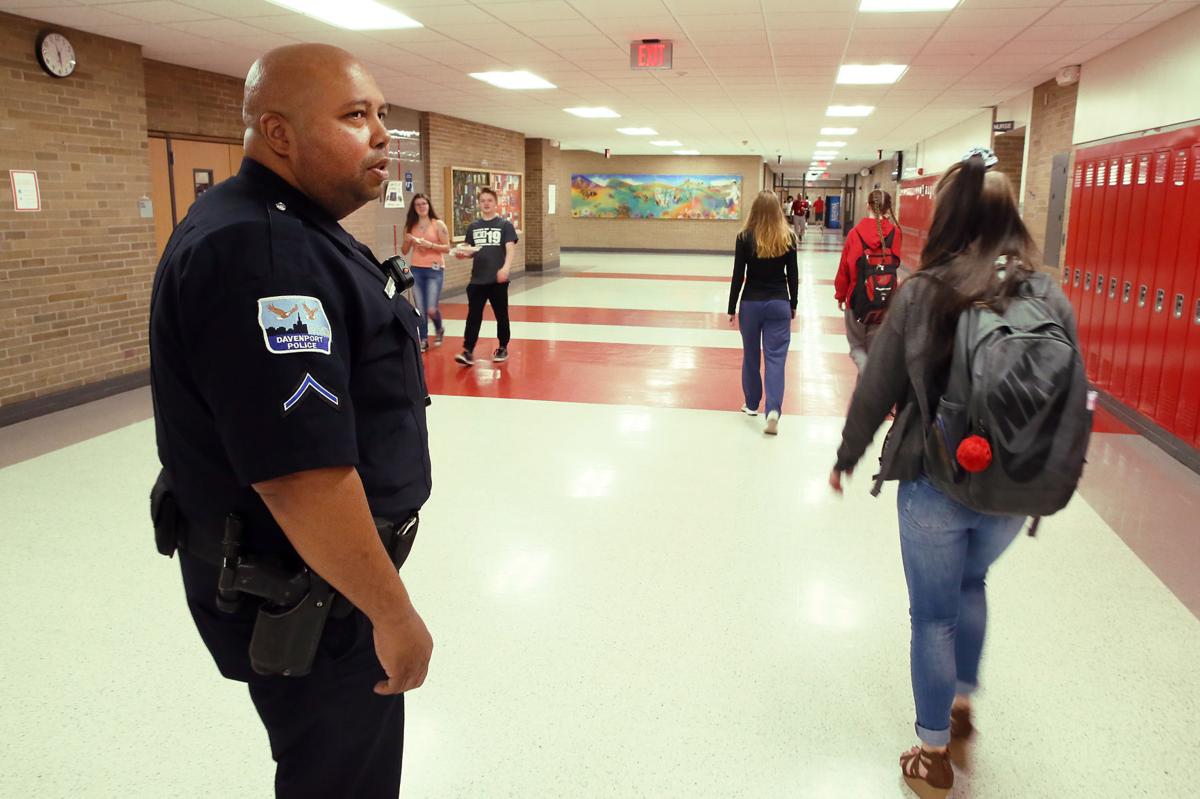 Some Davenport aldermen say more work and changes are needed to a proposed agreement on the use of police officers inside Davenport schools.
Particularly, when it pertains to clarifying and addressing discrepancies in allowable use of force between school staff and officers in restraining students, said Alderwoman Judith Lee, Ward 8.
Iowa Code allows police officers broader discretion in use of reasonable force on students compared to school staff, which Lee argues needs to be addressed in the proposed agreement.
"This program must also keep in mind that the students they work with every day are children in the process of developing their personalities, their perceptions, their social skills, their maturity," Lee said. "Every interaction with an SRO must always involve attempting to understand underlying issues to the presenting behavioral responses and de-escalating high emotions and difficult behavior, choosing the path of least force and knowing when to step back in favor of trained school staff and referrals to non-enforcement professionals."
Lee, too, argued for changes in wording of the agreement that behavioral issues "inside the classroom" remain the responsibility of district personnel and staff be changed to "school grounds."
"I believe in many ways the (agreement) does not sufficiently define the roles and responsibilities of the SROs in relation to district administration and staff," Lee said.
City and Davenport Community School District officials have been reviewing the school resource officer program since last summer, developing an agreement to refine and define the scope of work and expectations of the SRO program.
The proposed agreement, called a memorandum of understanding, seeks to establish a standardized program and expectations of both the city and school district that all SROs will be utilized in the same manner in each school building.
Officers would be specially trained and chosen based on their interest in community-oriented policing, past performance, decision making and their ability to work with students, according to the city and school district. Officers would be required to complete national certification courses by the National Association of School Resource Officers upon selection, and evaluated every year, with input from school staff, per the agreement.
The SROs would focus on building positive relationships with students, families and district staff — both in district buildings and at activities. Officers would also help provide various safety trainings to district staff and assist building principals in investigating possible school-related criminal activity. Classroom behavioral issues with students, however, would be left to district staff, according to the MOU.
Officers do not "proactively 'police' school buildings, but work with administrators to resolve criminal incidents as they arise and de-escalate whenever possible," according to city and school district documents.
Parents and the public would receive monthly reports on police officers' activity within Davenport public schools, and students and faculty would be asked to evaluate their level of comfort and safety in school buildings with officers present.
Officials would collect data on the program's performance and publish the results and monthly statistics online for public review.
"The takeaway from this should not be anything other than another flawed city in America takes a small step toward getting better, because that's what we are trying to do here," Alderman J.J. Condon, at-large, said. "And this MOU gives us the opportunity to put the information in the sunlight and continue to get better."
That data would include calls for service, arrests and citations within school buildings (including the type of charge desegregated by race, ethnicity and gender), referrals made to the diversion program, police tips handled that that come in through the schools, truancies filed, classes taught and involvement in outreach programs.
Davenport school board members, the Davenport mayor and city and school district staff would evaluate the SRO program every year, using data from the monthly statistics and annual survey of students.
"We've committed to transparency," Mayor Mike Matson said. "We've committed to evaluations. We've committed to a program that's comprehensive and unified. Committed to taking feedback from tons of different folks — more than 20 individuals not looking like me that work with youth both in the school and out."
The agreement was developed with input from the NAACP and the League of United Latin American Citizens, along with law enforcement, city leadership, educators and other community stakeholders.
Alderwoman Marion Meginnis, Ward 3, and Patrick Peacock, however, lamented not having more time to review amendments to the agreement and propose changes before the Davenport school board votes to approve the document on Monday.
Davenport aldermen are scheduled to vote to approve the agreement Wednesday, April 28, during which time aldermen can proposed amendments to be voted on.
"I am highly critical of this program," Peacock said. "It seems as though we are in a rush to push this through … and this is clearly not fleshed out. We have time."