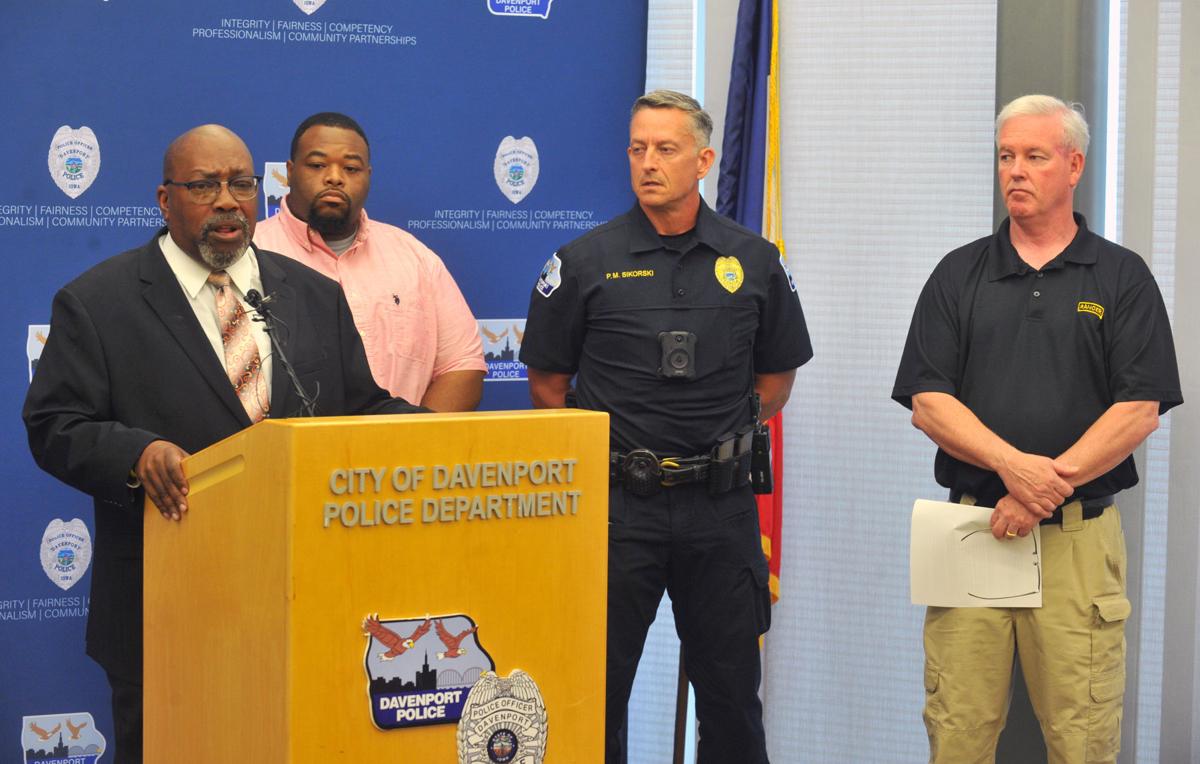 Members of a task force deliberating ways to address what is arguably the most pressing issue facing the Quad-Cities — persistent gun violence — will continue to do so without the public's involvement.
Matson said "it was unanimous by everybody there to not have it public.
Matson has expressed concerns that public meetings will squash candid discussion, saying he wanted to provide a "safe place" where task force members feel comfortable having direct and honest conversations about sensitive topics surrounding violence and trauma.
While the public will not be privy to the task force's discussion, Matson has stressed they will not be left out of the loop, and encouraged community members who aren't part of the task force to attend scheduled listening sessions during the coming months to hear updates about the group's work.
Matson added it's his objective to have the group draw up "some action items" for curbing violent crime.
"Certainly, the public will know those (recommendations)," he said.
Iowa law does not provide clear guidance on whether ad-hoc committees, task forces or other advisory groups are subject to the state's open meetings law.
Committees created by a government body are required to hold public meeting if they involve a majority of the members of the body itself and are formally and directly created by that body and exercise some policy- or decision-making authority.
The Iowa Supreme Court has said that policy-making "is more than recommending or advising what should be done. Policy-making is deciding with authority a course of action."
Two Davenport aldermen sit on the task force — Ben Jobgen, Ward 6, and Marion Meginnis, Ward 3 — which the Davenport City Council and Matson never formally created, whether by resolution or executive order.
Rather, Matson, with help of city staff, simply asked community organizations and individuals "who seemed interested in the subject" whether they would be willing to participate.
While the task force is not required by law to meet in public, nothing in Iowa law prevents its meetings from being open to concerned people, Randy Evans, executive director of the Iowa Freedom of Information Council, wrote in a guest column published by the Iowa Capital Dispatch.
"Davenport residents have been shocked this year by near-weekly shootings there. In one incident, scores of bullets were fired from a downtown parking ramp, breaking windows at the nearby Figge Art Museum and at the Skybridge, a downtown tourist attraction," Evans wrote. "But the committee meetings are not open to the public — even though police regularly plead for citizen help to fight crime."
Evans continued: "It is hard to imagine Davenport will be able to make headway against persistent gun violence by shutting the public out from the information-gathering process or the process of making recommendations to the city council or police department."
Task force member Tracy Singleton, executive director of the Lincoln Center in Davenport, said she felt it was premature to involve the public.
"What's going on in our community is a public health crisis," Singleton said. "There is a sense of urgency, and if there's a whole bunch of people in the room it's harder to get things done. We need to put together a plan before we go to the public" to get input and buy-in.
"We need more of a structure and a solid plan before the public becomes involved with it," she said. "Right now, we don't even know what's going on. It's a lot of talking and exploring options. It's just discussion at this point time. ... There is nothing suspicious going on, and I hope at the end of the day the community understands everyone wants to be safe."
Singleton added that the task force is comprised of a representative sampling of the community.
"All the entities that need to be involved are," she said, and noted individuals can still share their thoughts and ideas with task force members "who are accessible," notably the mayor and aldermen.
Asked whether she's concerned shutting the public out of task force deliberations will make it harder to secure needed community buy-in for solutions or recommendations it devises to address gun crimes, Singleton responded, "It's easier to ask for forgiveness than permission."
Fellow task force member the Very Rev. Rudolph T. Juarez, pastor at St. Anthony Catholic Church in downtown Davenport, echoed Singleton.
Juarez said it's important that task force members be allowed to "speak freely and not be on their guard" to share their "first thoughts and first insights" during initial discussions of the group.
"Our discussions and input will become public information, and there will be times where the community will be asked to participate more on a wider basis," Juarez said. "We want, at least as far as I'm concerned, we want and welcome more community input, but it's more important that we have unified front to address really some of these essential issues and the accessibility of guns.
"Because of the nature of the topic and concerns, we know there's a lot of push-buttons here being talked about and that's another reason (for closing discussions to the public). We want to shed more light than we want to shed heat on these questions," he said. "It's a matter process and format, and one that's more established, then we'll move on to bring in wider input from the community. I don't see that as a problem."
The Rev. Melvin Grimes of Churches United of the Quad-City Area and a member of the Davenport NAACP said he "stands in solidarity with members of the" task force to hold closed-door deliberations and declined further comment.