Gun violence, affordable housing and pay equity were main focuses of the first Davenport mayoral forum held Tuesday night, offering voters an early glimpse at the candidates and their positions as the Oct. 8 primary election draws near.
Six are running to replace Mayor Frank Klipsch, who has chosen not to seek a third term in office. They are Steve Duffy, a retired municipal insurance policy manager; Alderman Mike Matson, 7th Ward; CEO Dan Portes; Alderwoman Rita Rawson, 5th Ward; Elizabeth VanCamp, a University of Iowa Hospitals employee; and Dean Weber, a longtime Public Works employee.
The top two vote-getters from the October primary contest will advance to the general election Nov. 5.
Another stated theme of the event was civility in politics. And civil it was: No candidate was singled out or criticized by another throughout the hour-long discussion.
Roughly 100 people came out for the open public discussion organized by Iowa Women United along with several other community organizations in the Davenport Public Library downtown. Here's a look at what the candidates had to say:
Pay equity
Candidates were in agreement that pay should be equal regardless of gender, sex or race. But they offered different ideas about what the city can or should do to reach that goal.
Rawson, the only person of color running, said she has experienced pay discrimination firsthand. Since she joined city council, Rawson referenced the implementation of a pay matrix for city employees as a step toward ensuring the pay equity is met. She also pointed to the Civil Rights Commission as an avenue for those experiencing pay discrimination to find remedies and the influence she as mayor could have to work with area businesses.
"We need to have that conversation ongoing and make it more of a public discourse and hold people accountable to it."
VanCamp said the city should ensure women are represented in top administrative positions. And she said she would advocate for legislation that bans employers from acquiring any job candidate's salary history.
"When you're already underpaid your new salary is going to be underpaid as well," she said. "And that is something that needs to change."
Meanwhile, the men running offered vocal support for the concept but were light on details regarding how they would approach solving the issue.
Weber noted that the top paid position in the city is City Administrator Corri Spiegel, saying women are represented in other high-level city staff positions. He said he agrees with the concept of equal pay, but questioned whether the city could enact policies that regulate the private sector.
"As far as us trying to make someone else pay wages, some company that moves in here or not, I don't know how we'd be able to do that on the council."
Matson called himself a "strong advocate" for the cause and said he would continue to advocate for closing the pay gap as mayor. He also noted that he has a wife and two daughters, and that no one doing the same job as a white man should be paid less.
Duffy, the retired municipal insurance claims administrator, said "equal pay for equal work is the main goal. That's what I'm all about and that's what I would pursue."
Portes recalled marching for the passage of the Equal Rights Amendment to the U.S. Constitution during the early 1970s. He also noted the pay gap is broad for many occupations across all wage levels.
"If you don't think this is a problem, then you must have a mother, you must not have a sister or a daughter," he said.
Housing
Candidates were asked to offer a solution toward affordable housing in Davenport as some options have gone away in recent years.
VanCamp said affordable housing is a "human right" and a "win-win" for the city. She said she would like to see affordable housing built throughout Davenport instead of small pockets in the city, offering more access to essential needs for residents with lower incomes.
Matson agreed with the position that affordable housing is a human right. He also referenced his job as a teacher with Davenport Public Schools, saying he sees students that range from driving BMWs to others who don't have stable living situations.
"We have some, but we need more," Matson said of affordable housing. "And when we talk about where were moving, and what we're developing, and what we're doing, affordable housing has to be part of that discussion."
Rawson called housing a "personal passion" of hers, drawing on her experience growing up in government-assisted housing in Kansas City, Mo. She's made the issue a central part of her campaign. She also said Davenport has plenty of housing stock in the form of abandoned homes, saying the city should seek ways to get those properties restored.
"We don't have a housing problem. We have a planning problem," she said.
Duffy pointed to projects going on in the Hilltop neighborhood, saying the area has seen growing affordable housing availability and that momentum needs to be extended outward. He also said the city should focus on addressing homelessness.
You have free articles remaining.
"Everyone deserves a nice place to live," Duffy said.
Portes said the candidates are "on the same page" when it comes to the issue. But he said those sentiments are not reflected throughout the community, where some harbor "insensitive" ideas.
"You know when affordable housing is a problem for these people? When they get robbed, when they're assaulted, when their car is stolen, when their taxes go up for paying for more jails," Portes said. "We need to work the strength of existing programs that are in our older neighborhoods and we also need to not concentrate on putting everyone in one ward."
Weber noted that he has been a landlord for a few area rental properties for the past 25 years. He also said area residents likely would not be happy to see their taxes go up to prop up city-run housing programs, saying outside government funds and other organizational support should be sought. 
"You gotta find out where the money's gonna come from first," he said.
Gun control
Candidates were also asked to weigh in on how the city might deter gun violence through local policies.
Matson, who has made public safety a cornerstone of his campaign, pointed to upgraded police forensic technology in the Davenport Police Department as a stride toward that end. He also noted he was long on the city's public safety committee, saying he "will continue to put public safety first" and "continue to focus on gun safety." He also referenced a recent federal partnership aimed at gun offenders.
 "If you commit a crime in the city of Davenport, we are going to prosecute you federally so that the consequences put you in jail for a much longer time …," he said.
Rawson also pointed to other technical upgrades for the police department as positive steps, including new body cameras and license plate readers. She also said she would like to work on getting tighter restrictions for concealed carry firearm permits and look at a skills test for obtaining weapons.
"We have people take a test to drive a car yet we don't really test people to own a weapon. That's insane," she said.
Duffy also has also made public safety a top issue as he campaigns for mayor. He said something should be done about the high availability of guns to be purchased in the city, saying there are some areas where too many gun shops exist.
"When I grew up in the Five Points area … you had no idea where you could buy a gun," Duffy said. "Now you can buy a gun at about five different locations in Five Points. And this has to stop."
Portes pointed to gun violence being interconnected with housing, poverty and education. He presented the problem as an issue deeply tied to federal lawmakers in Washington.
"We need a common sense approach," he said, suggesting assault rifles and high-capacity magazines be eliminated from being sold.
Weber presented the issue of violent crime in Davenport as a problem of too little for younger people in the city to do also tied to family life and lack of education. He called for more programs aimed at youth to be put in place.
"The kids have virtually nothing to do in the Quad-Cities," he said.
VanCamp referenced national mass shootings as a major issue that causes her to fear for her daughter's safety when she goes to school. She said common-sense gun laws are needed to address a rising tide of gun violence, including greater background checks.
"When people say it's a D.C. or a state thing, it is. But you know what? (Sens.) Joni Ernst, Chuck Grassley and (Gov.) Kim Reynolds get calls from me on a regular basis already. Can you imagine how much I'd bug 'em as mayor?"
The three-hour marathon forum on Tuesday evening also featured introductions and audience question-and-answer sessions with other candidates eyeing city council. Conversations had during that portion centered more around issues specific to each ward.
Every elected city position operates on a two-year cycle in Davenport. The 3rd, 4th and 5th wards are all up for primary elections in October because each district has drawn more than two candidates. The 6th, 7th and 8th wards are also contested.
Three council seats will be filled by newly elected members next year. Matson and Rawson's seats are open because they are running for mayor and Alderwoman Kerri Tompkins, 8th Ward, is bowing out of city politics to spend more time with family.   
Four sitting council members face no challengers as they seek reelection. They are Alderman JJ Condon, at-large, Alderman Kyle Gripp, at-large, Alderwoman Maria Dickmann, 2nd Ward, and Alderman Rick Dunn, 1st Ward.
091119-qct-qca-forum-006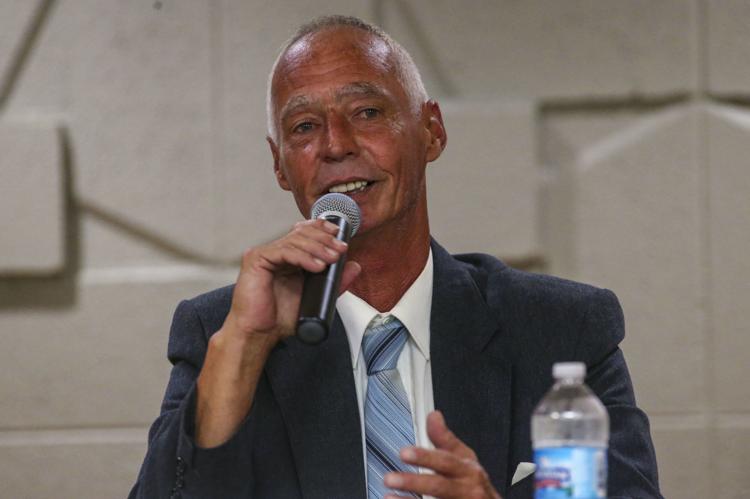 091119-qct-qca-forum-003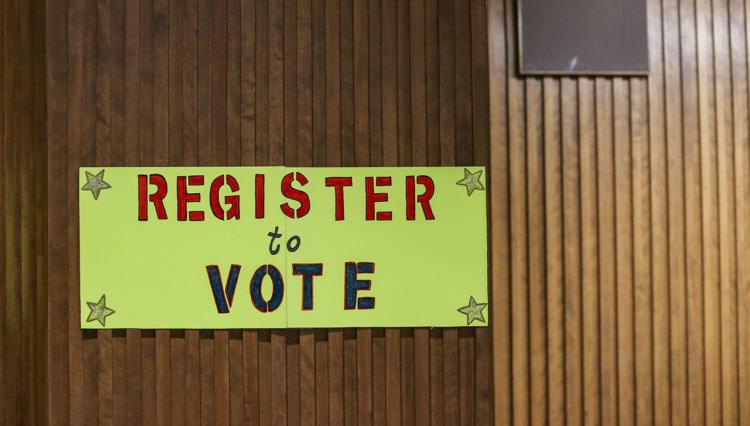 091119-qct-qca-forum-011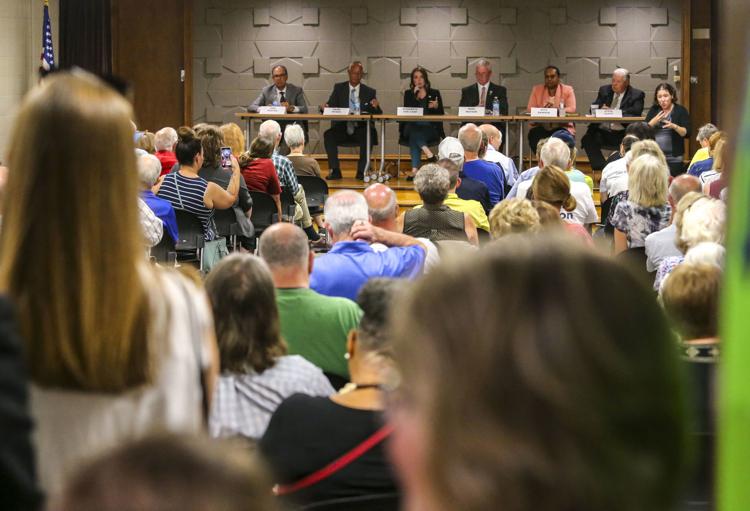 091119-qct-qca-forum-001
091119-qct-qca-forum-005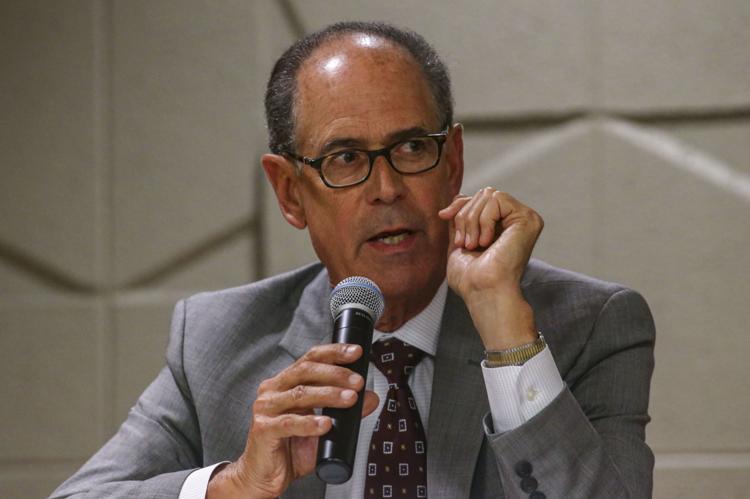 091119-qct-qca-forum-010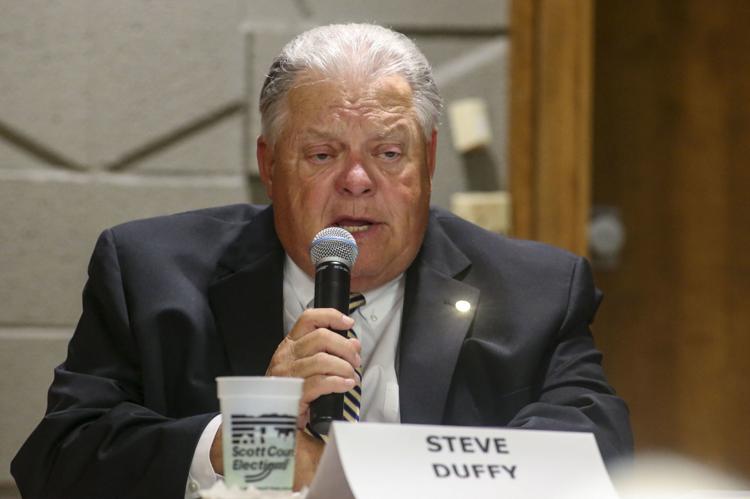 091119-qct-qca-forum-002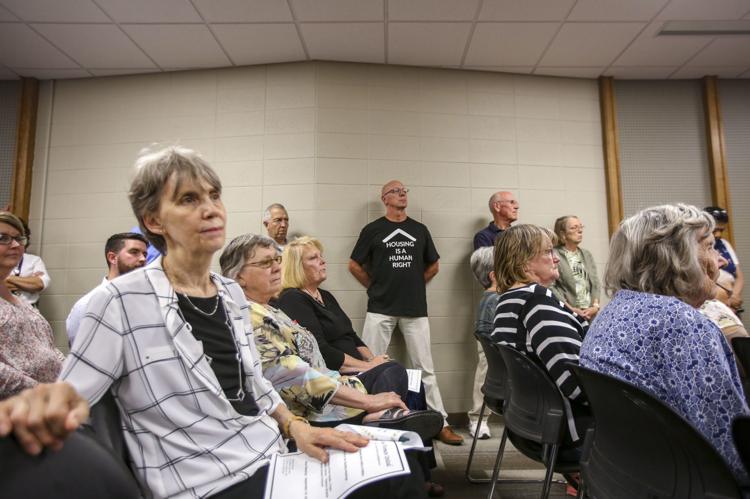 091119-qct-qca-forum-008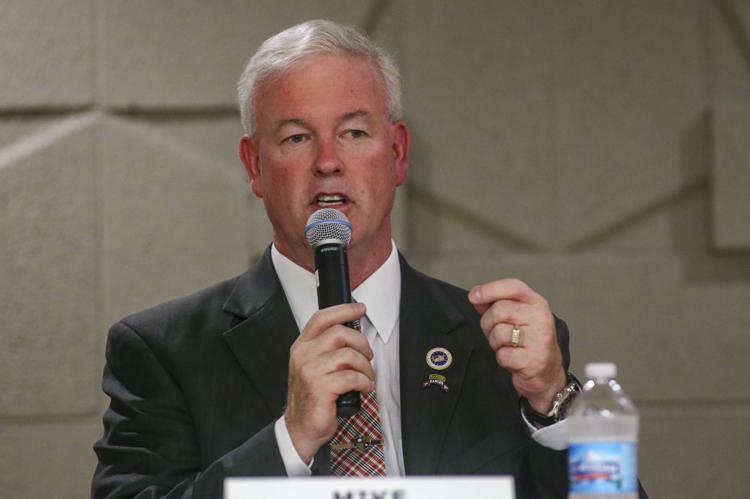 091119-qct-qca-forum-007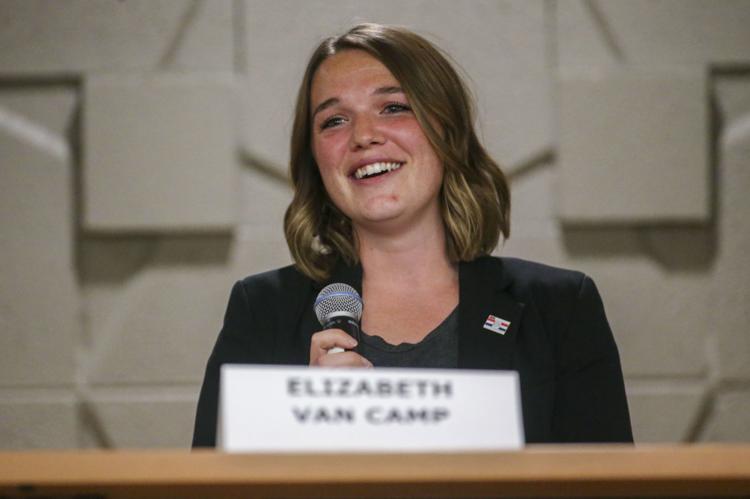 091119-qct-qca-forum-004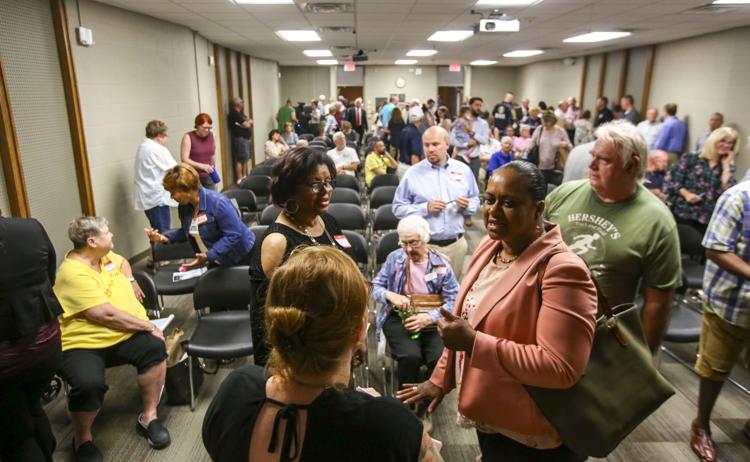 091119-qct-qca-forum-009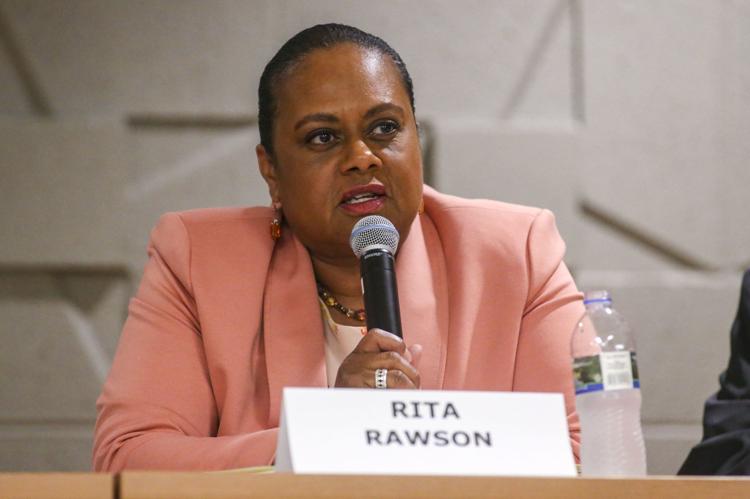 091119-qct-qca-forum-012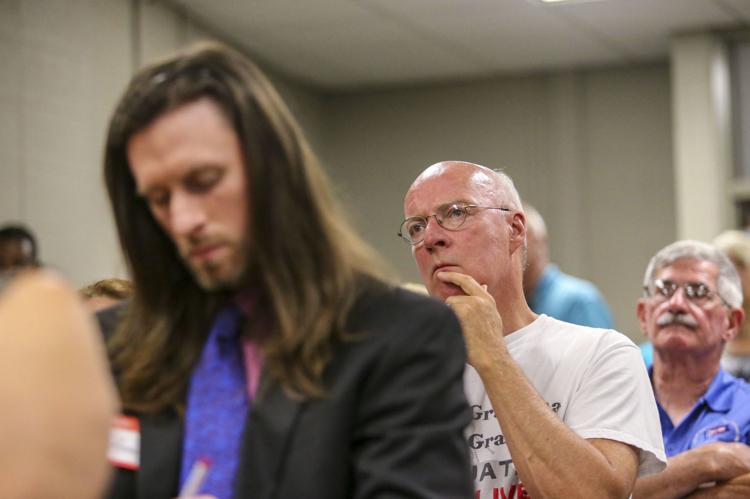 091119-qct-qca-forum-013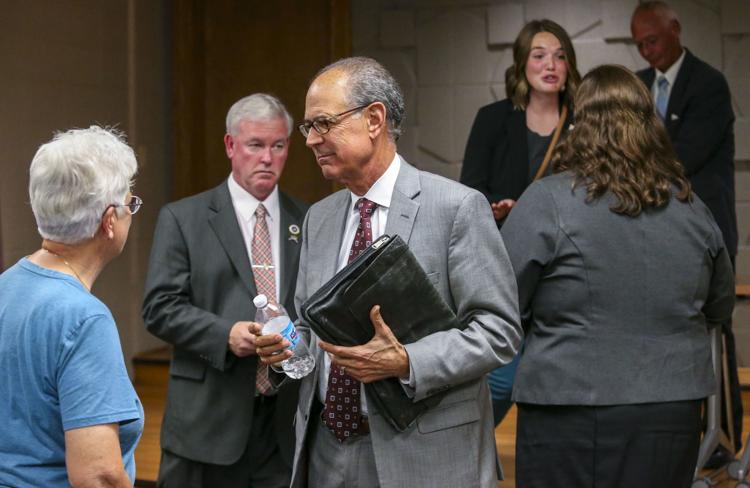 091119-qct-qca-forum-014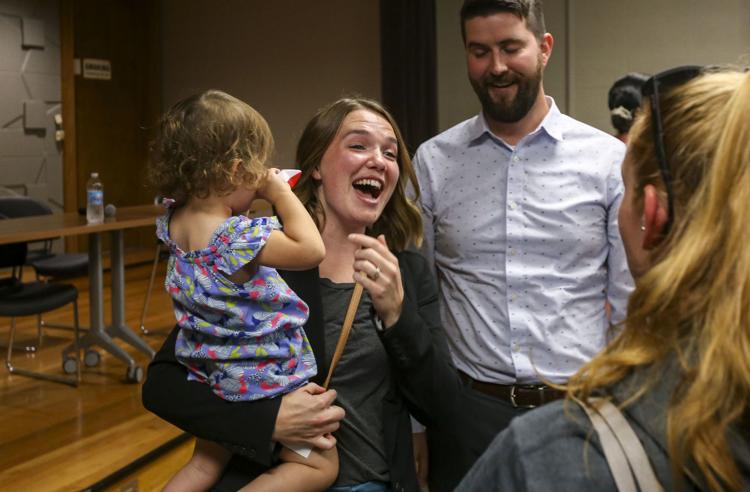 091119-qct-qca-forum-015