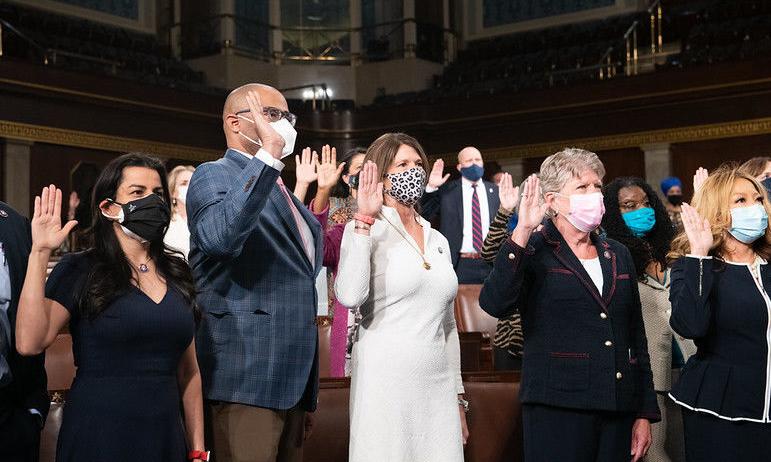 Durbin, the No. 2 Democrat in the Senate, defeated Republican Mark Curran in the Nov. 3 general election. Durbin was escorted to his swearing in on the Senate floor by U.S. Sen. Tammy Duckworth, D-Ill. at the U.S. Capitol building.  
"I am honored that the people of Illinois have given me the opportunity to represent them in Washington," Durbin said in a release. "During my time in the Senate, I have worked to create good-paying jobs, promote Illinois businesses, fight for marginalized communities, and ensure that our state is receiving its fair share of federal funding. I look forward to continue fighting for Illinoisans in this next term.
"The last four years did not break America, but revealed what was already broken," Durbin said. "In this new Congress, I call on my colleagues to come together to help heal some of the painful wounds of our nation's past, and together, create a better, more just, more prosperous America for all."
Durbin, 76, was first elected in 1996. He is the longest-serving U.S. senator from Illinois.
Bustos, 59, defeated Republican Esther Joy King. First elected in 2013, Bustos now serves on the House Appropriations Committee.
"This past year brought with it challenges that we never imagined we would face," Bustos said in a release. "But as we turned the corner on a new year just days ago, today I am excited and humbled to turn a page in the House of Representatives as a new session of Congress is called to order.
"For the past four terms, it has been my honor to represent the hardworking families of Illinois' 17th Congressional District. From Rockford to the Quad-Cities to Peoria and every community in between, I have always been dedicated to bringing the spirit of hard work, bipartisanship and Midwestern common sense to Congress.
"As we head into this new Congress, my office is always open — even if it must remain so virtually — and my commitment to those I serve remains unwavering," Bustos said. "I will listen first, lift up your voices and bring our shared fight for economic opportunity and a better future for all to everything I do."
Just one day after being sworn in, Bustos is already under attack for voting to re-elect Nancy Pelosi as Speaker of the House.
The Congressional Leadership Fund, a super PAC dedicated to electing Republicans to the House, released an ad Monday saying Bustos' support of Pelosi enables radical Democrats and "their liberal wish list."
Heather Sager, director of communications for Bustos, said Monday ​that the Congresswoman "has always put the Illinois families she serves front and center."
"Her long history of working across the aisle to get things done is why the Quad-City Times praised her for her 'moderate, common-sense approach' and impressive work ethic last year when endorsing her for re-election," Sager said. "This desperate attack by a Washington Super PAC is nothing more than a misleading attempt to smear her — Illinoisans won't fall for these partisan games."
Sager said nearly two-thirds of the bills Bustos introduced in 2020 had a bipartisan co-sponsor on Day One.