From "roads to racial justice," Scott County activist, small business owner and Davenport mayoral candidate Athena Gilbraith wants to build a more inclusive Davenport.
One, Gilbraith said, that is focused on improving the safety, livelihood and living conditions of those she argues city policies and investments have left behind.
"The election on Nov. 2 is a call to action," Gilbraith said. "We can build a more resilient, fair and prosperous Davenport. It just takes political will and the courage to see it through."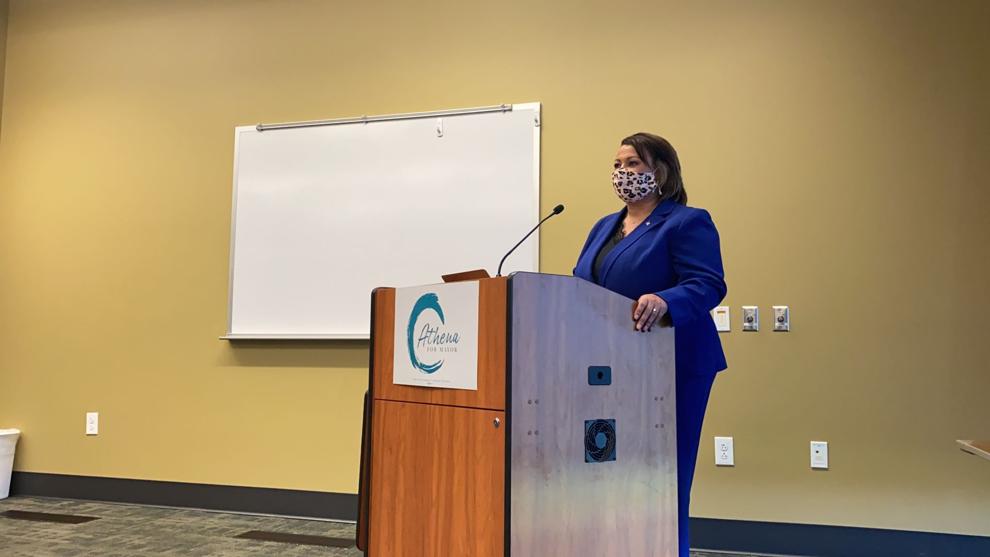 Gilbraith will challenge Davenport Mayor Mike Matson, who is seeking re-election to a second term, in next month's city election. Early voting begins next week in Iowa's Nov. 2 city and school elections.
Matson will talk about his campaign for reelection during an Iowa Woman United forum scheduled for 3 p.m. Oct. 21 at the Davenport Public Library's Eastern Avenue Branch, 6000 Eastern Ave.
If elected, Gilbraith would serve as the first Black mayor of Davenport and the second woman to serve as mayor. Gilbraith noted growing up in an interracial household. Her father grew up in Kewanee, Ill., to a Black family "who navigated their way from Tennessee" to the Midwest "during segregation." Gilbraith's mother, who is white, grew up Anchorage, Alaska.
"As a mixed-race Black woman, I've been told it is impossible to fight discrimination and be involved in politics at the same time. And, yet, here I am," Gilbraith said.
"The steady increase of crime in Davenport implores us to come together in unity," she said. "But, we need leadership that can look at the cause of violence and who is willing to re-invest in our disadvantaged neighborhoods, the infrastructure of our neglected schools."
If elected, Gilbraith said she would push for more expansive implicit bias training for city staff and seek to address racial disparities in police arrests and traffic stops.
"If we come together as a city, I believe we can solve these systemic challenges of our community," Gilbraith said. "As I've been out talking with voters, the re-occurring theme is a need for a safe, united and supported community. But, most voters are not optimistic, because when Davenport needs leadership most of our city government fails to show up."
Gilbraith criticized city officials for not moving more quickly to clamp down on "irresponsible renting practices of landlords" that led to dozens of low-income Davenport renters and their families this summer being forced to find new homes amid an affordable housing crisis and pandemic because their apartments had become unlivable.
"And housing inspections that are not implemented on time are rooted in the actions of poor leadership," Gilbraith said.
Matson has said city officials are working on developing an early-warning system to alert renters to substandard housing conditions. Matson also enlisted the help of Scott County, The Salvation Army and Humility Homes and Services to provide housing and relocation assistance to displaced low-income renters.
As mayor, Gilbraith said she would focus on pushing the city to expand affordable housing options across Davenport and increase public and private investment in the city's older, core neighborhoods. 
Davenport aldermen earlier this year approved $900,000 for a third round of funding through the city's DREAM Project. Launched in 2019, the project provides eligible homeowners in the city's older, historic neighborhoods up to $20,000 for exterior home restoration projects and to fix outstanding code violations.
And aldermen earlier this year budgeted $4 million of the nearly $41 million the city will receive in federal COVID-19 rescue funds to assist homeowners and developers with the purchase and rehab of vacant and abandoned homes and lots into single-family, owner-occupied houses in low-income areas of the city.
While aldermen voted to fund a range of initiatives, including investments in youth and gang violence reduction, flood mitigation and a community center at Fairmount Library, Gilbraith argues the spending plan short-changed affordable housing. The spending plan provides a $600,000 line item for transitional housing, which some housing advocates argue is insufficient to meet existing demand.
A report last year by the Quad-City Housing Cluster identified a gap of more than 6,600 affordable units for extremely low-income households earning 30% or less of area median income, or no more than $21,810 annually.
Gilbraith noted the city's approved spending plan includes $6 million to design and build an outdoor "Adventure Play & Event Lawn" included in city plans for the Main Street Landing project. Such a project, Gilbraith argued, is indicative of wasteful spending by the city to develop a flood-prone area ahead of a final report and recommendations expected next month from a city-hired consulting firm assessing of how best to protect Davenport's riverfront from flooding.
She also criticized the more than $862,600 renovation to Kaiserslautern Square across from the Adler Theatre.
"We should continue the relationship that we've built with downtown Davenport, but not at the expense of the citizens in other parts of town," she said. "We need to spend our money wisely, and I really do think we need to take care of our people first before we take care of these fun things."
Other priorities include investing city funds and federal grant dollars on practical, economical and sustainable road infrastructure solutions, Gilbraith said.
"Each year our roads are Band-Aided up and closed because they are in such poor condition," she said. "And, as a city, instead of wasting money on temporary fixes, I think that we should invest in environmentally sound solutions to permanently solve engineering problems. Our infrastructure grants should be used for infrastructure, which must include sustainable, pedestrian and cyclist development to keep everyone safe."
Gilbraith as well said if elected she would push the city to "embrace new technology that focuses on bio-diverse, regenerative flood mitigation and work with our river, rather than against it, to solve our flood problems."
Asked about mask mandates, Gilbraith said she favors mask mandates "until we are rid of this pandemic."
Gilbraith said she was hospitalized with COVID-19 in the spring and received monoclonal antibody treatment. She said she is vaccinated.
"I will be a mayor who mandates masks so that we can be as safe and healthy as possible," Gilbraith said.
Davenport resident Michael Hustedde, who attended Thursday's forum, said he shares Gilbraith's concerns over policing, equity and housing, but felt Gilbraith failed to lay out a clear vision.
"A mayor, ultimately, has to be a visionary to some degree — has to deal with the reality of what we have, but has to have a goal as to where we are moving," Hustedde said. "And I'm not sure she had an opportunity to fully explain how some of these things might be handled."
Hustedde, too, said he did not appreciate Gilbraith's criticism of the city's investment and plans for improving downtown and the riverfront, including Kaiserslautern Square, calling it a "shining diamond."
"Those sorts of amenities — parks, facilities throughout the city — are critical for people coming and staying," he said. "Downtown Davenport ... we were in the pits downtown. We've seen an amazing revival."
Hustedde said he has not made up his mind as to who he will vote for in the mayoral race, but said Gilbraith's "heart was in the right place."
"I love the idea of more bike trails, more walking trails," he said. "I'd love to see us (embrace) more alternative energy issues."