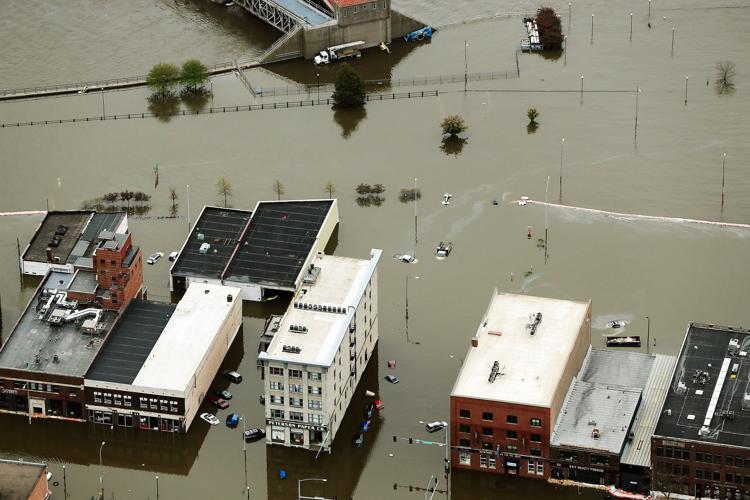 Gov. Kim Reynolds toured the disaster site that is downtown Davenport on Friday, calling the scene "devastating" and pledging continued state assistance to help rebuild areas ravaged by the city's worst flooding event in history.
Sporting a pair of yellow boots and a safety vest, the governor walked through the floodwaters to survey the damage alongside other elected officials, including Davenport Mayor Frank Klipsch and U.S. Rep. Dave Loebsack. Within her eyeline were nearly a dozen vehicles submerged by water and several closed-up businesses near the intersection of 2nd Street and Pershing Avenue.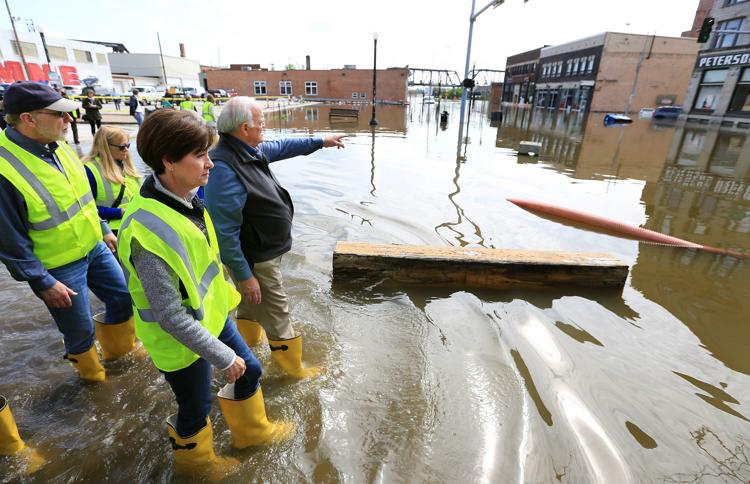 At the scene, the governor heard accounts from a handful of business owners, listening to their descriptions of how the water seemed to rush in all at once and overwhelm them. Among them was Scott Lehnert, one of the owners of Great River Brewery, where customers were still sipping beers at the bar when the temporary flood barriers broke, giving way to the mighty Mississippi River.
"We thought we'd finished preparing what we needed to do," said Lehnert, who'd placed sandbags around his business and those of his neighbors following a warning Tuesday from the city. "In hindsight, I mean I wish I would've gotten some of my equipment out of the building, gotten some of our … supplies up higher."
"It was just too late," he added.
Officials say the flooding in Davenport has surpassed the city's historic 1993 event in terms of height and duration. Earlier this week, temporary HESCO barriers that had held the river back for more than one month failed, prompting local officials to frantically begin evacuation of residences and businesses in the heart of downtown.
Speaking to reporters, the governor commended the "herculean effort" of local officials and emergency personnel who responded. And she pointed to Iowans as "resilient people."
"I've seen it over and over as I've been on the western side of the state, as I dealt with tornadoes early on and the devastation from them and now the impact over here," she said.
In March, President Donald Trump issued a disaster declaration for a number of Iowa counties, many on the western side of the state where flooding from the Missouri River caused catastrophic damage to towns and farmland. Reynolds said Friday that Scott County could still be added to that earlier disaster declaration because the door for federal resources had been intentionally left open at the state's request to be prepared for other flooding events along the Mississippi River.
"We have asked (the Federal Emergency Management Agency) over and over not to close down (the disaster declaration) because our state as a whole is really vulnerable right now as we head into the rainy part of the season and with the snow melts," she said.
Meanwhile, Iowa Homeland Security and Emergency Management officials say damage costs need to be tallied before federal assistance becomes available.
"For that to occur, there would have to be damage assessments, usually done by state, local and FEMA assessors to see what level of damage there is," said Lucinda Parker, a spokeswoman with the agency.
Parker said there are two programs available under those damage assessments. One is a public assistance program primarily for infrastructure repair, such as roads. The other is individual assistance program, which is assessed based on the number of houses and businesses totally destroyed or severely damaged.
A collection of all our photos, videos from the Flood of 2019