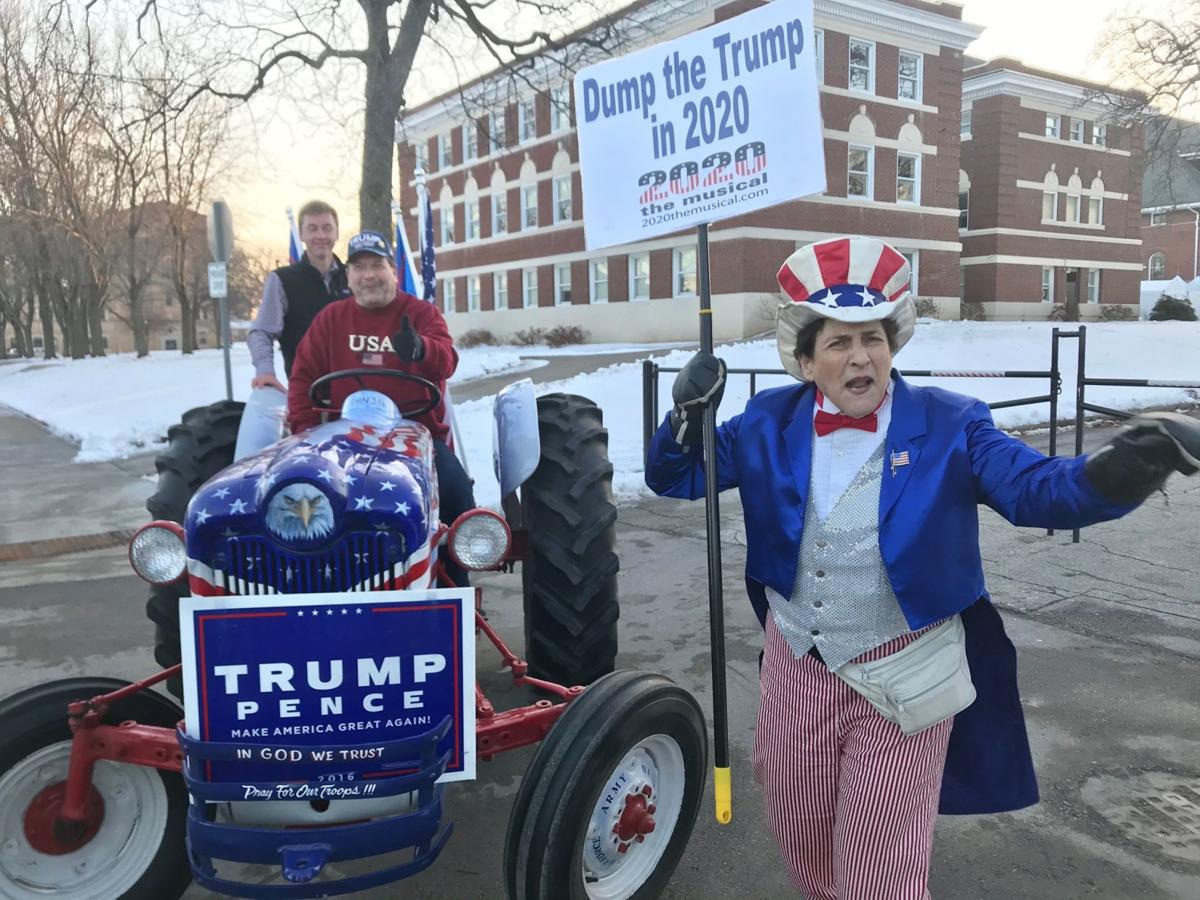 DES MOINES — The woman dressed as Uncle Sam was only a few bars into one of the songs she wrote for "2020: The Musical" when an Iowa man riding on his home-painted Trump-Pence tractor began heckling her. "Five more years of Trump!" he taunted. "God Bless America, and God bless your 401k's, too!"
On the opposite side of the street, a giant inflatable chicken with a Trumpian surf of orange hair loomed over a crowd rallying for Minn. Sen. Amy Klobuchar. "It's time, it's time," the animated throng chanted, "it's time for a woman in the White House!"
Overhead, a small plane had been circling the cerulean sky over Drake University with a large green banner: "TRUMP FIGHTS FOR IOWA FARMERS!"
If the pundits are to be believed, the Iowa caucuses have become "a mess," a made-for-TV show more spectacle than serious. That idea wasn't dispelled by Tuesday's nationally televised Democratic debate in Des Moines.
But American elections have always been about pageantry as much as politics, entertainment as much as education.
As a note on the wall of the university student center put it, caucusing is "the most entertaining form of democracy available."
In the empty hours before the 8 p.m. debate, Drake's campus enjoyed the false calm of a place about to be hit by a tornado.
Students milled about the open campus with a mix of awe and frustration. Nathan Trees, a Drake junior from Asheville, N.C., came to Drake to "see the political process in action." By his tally he's met every candidate two dozen times and is counting down the days to the caucuses, on Feb. 3.
Still, he was disappointed that so few seats in the university's cozy Sheslow Auditorium were reserved for students. "I don't know anyone who got a ticket," he said. "It's ridiculous. As a PoliSci student, I would've love to go."
He also could've used a seat: Trees hasn't settled on a candidate. His priority is beating Trump, and he leans toward former South Bend, Ind., Mayor Pete Buttigieg.
Erin Williams, a Drake junior from Minnesota, hasn't made up her mind, either. She was sure about one thing. "If it's between Donald Trump and any of the candidates on stage here," she said, "I'll pick one of the candidates."
Even at the momentary epicenter of the political universe, not everyone gets caught up in the gravity of the moment.
One woman was walking to her house a block from campus when a Times reporter asked who she was supporting for president. "I want the woman to win," she said. When asked which woman — the race includes multiple — the voter was surprised. "There's more than one running?" she asked. "Wow, that's awesome." (The woman asked not to use her name.)
You have free articles remaining.
InfoWars, an online outlet infamous for promoting unfounded conspiracy theories, also boasted a small contingent at Drake. Ruth Brassfield lives blocks from campus and walked over in her InfoWars.com hat. She supports Donald Trump and Alex Jones, who she insisted is "not crazy despite what many think."
The beating heart of the action
Ground zero of political demonstrating was a tiny intersection a few hundred feet from where campaigns for peace, child care and the candidates themselves engaged in a loud war of words.
In the late afternoon, Carol Dunitz, the woman dressed as Uncle Sam, sang songs she had composed for "2020: The Musical," a "provocative and interactive" musical she wrote about the election season madness. "My goal is to educate people more so they can use some good sense they vote," she said while waving a sign that read, "Dump Trump in 2020."
Later that evening, the intersection was even more congested — and contested. On one side were a scrum of Trump supporters mere feet away from supporters of entrepreneur Andrew Yang, who did not qualify for the debate, as well as a motley band of individuals advocating for action against climate change, war and for human rights worldwide.
Dressed in a full Grim Reaper costume, Bevan Trembly, of Lineville, Iowa, held a sign adorned with a massive "doomsday clock" warning of humanity's extinction. As protesters walked by, he whispered, "two minutes to midnight!"
"We face extinction," Trembly said. His three existential threats were nuclear war, climate change and what he called "info smog," or "fake news," which "prevents people from making rational, informed choices."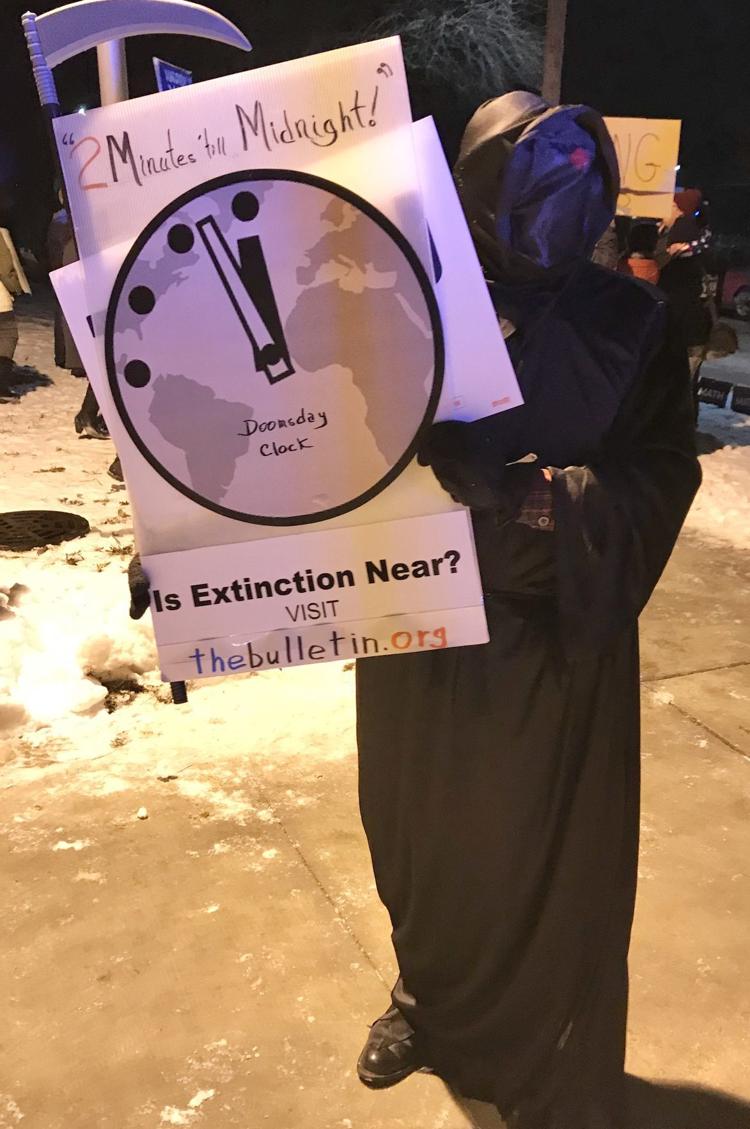 In a massive carpeted cavern dubbed the "press filing center," hundreds of journalists from around the globe were hunched over laptops, barking orders into cell phones and refreshing Twitter every few minutes for the latest dose of campaign gossip or conjecture. A nearby snack room contained potato chips, coffee, bottled water as well as Emergen-C drink mix and Advil.
Back at the campus student center, a wall bears political signs from near-every candidate in the field, from self-help guru Marianne Williamson ("Turn Love Into A Political Force") to Trump ("Keep America Great!"). Hand-written notes contain messages about why people caucus.
More than an hour before the start of the debate, hundreds were filing into three campaign watch parties at the student center.
In the basement, supporters of Buttigieg were sitting around a whiteboard where "Caucus 101" was written in large print. A staffer dressed in campaign buttons was explaining basics of Iowa's quirky caucus system. On the ground floor, a long line was snaking through the lobby to take selfies with Julian Castro, who endorsed Warren after ending his own bid for the White House. On the top floor, the Klobuchar campaign was holding a swanky watch party already packed an hour before the debate.
Star power, liquor, the gladiatorial spectacle of debate. Where does policy matter in every person's black box of how to choose the next leader of the free world? The Iowa caucuses will be decided by thousands of invisible decisions as much as by the hyper-visible debate held Tuesday night. The fact that's so obvious it remains baffling is that Iowans remain as patient and thoughtful before the caucuses as at any point in the last year of frenzied barnstorming across the first-in-nation voting state.
When asked how he'll choose his caucus candidate, Trees, the Drake junior, summed it up well: "Gosh, dude. I don't even know."
Graham Ambrose is the Iowa politics reporter for the Quad-City Times.