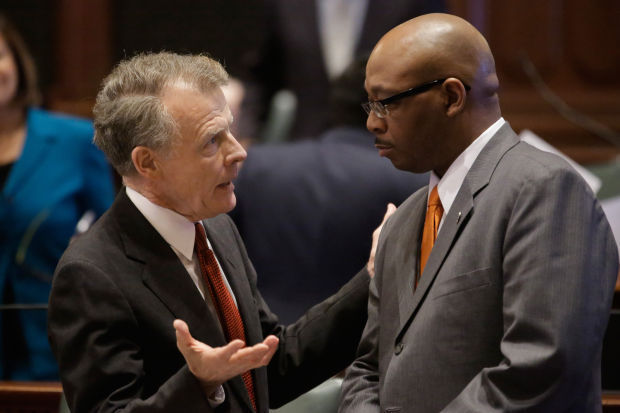 SPRINGFIELD — Illinoisans will begin seeing slightly bigger paychecks after the New Year thanks to the rollback of the state's temporary income tax increase.
By adjourning for the rest of the year on Wednesday, the Illinois House virtually guaranteed the tax rate would drop from its current level of 5 percent to 3.75 percent as was written into the controversial law that put the higher income tax on the books.
The departure by the House snuffs out talk of a lame-duck session in January in which the Democratic-controlled General Assembly could have extended the higher tax rate and sent it to Democratic Gov. Pat Quinn for his signature before he leaves office at noon Jan. 12.
The Senate was scheduled to conclude its business Thursday and was not expected return like it did in 2011 when Democrats approved the temporary tax increase using "yes" votes from lame-duck lawmakers who later got jobs in the Quinn administration.
For a family or individual earning $50,000 annually, the roll back means the estimated $2,500 paid in income taxes to the state each year would drop to $1,875.
But every dollar saved by taxpayers means fewer dollars for state programs. In this case, the Legislature and Gov.-elect Bruce Rauner will have to determine how to operate state programs with $2 billion less in revenue.
Although Quinn and some members of the Senate have said they want the General Assembly to return for a special session to address an increase in the minimum wage, there were physical signs the House was done until the Republican newcomer takes over.
Before adjournment, for example, the clerk of the House told all 118 members of the chamber to leave their laptops in Springfield, rather than take them home to their districts.
House Speaker Michael Madigan, D-Chicago, downplayed the unfinished business looming over the Capitol.
"This session is no different than others," he said. "There have been successes, and there has been a lack of success."