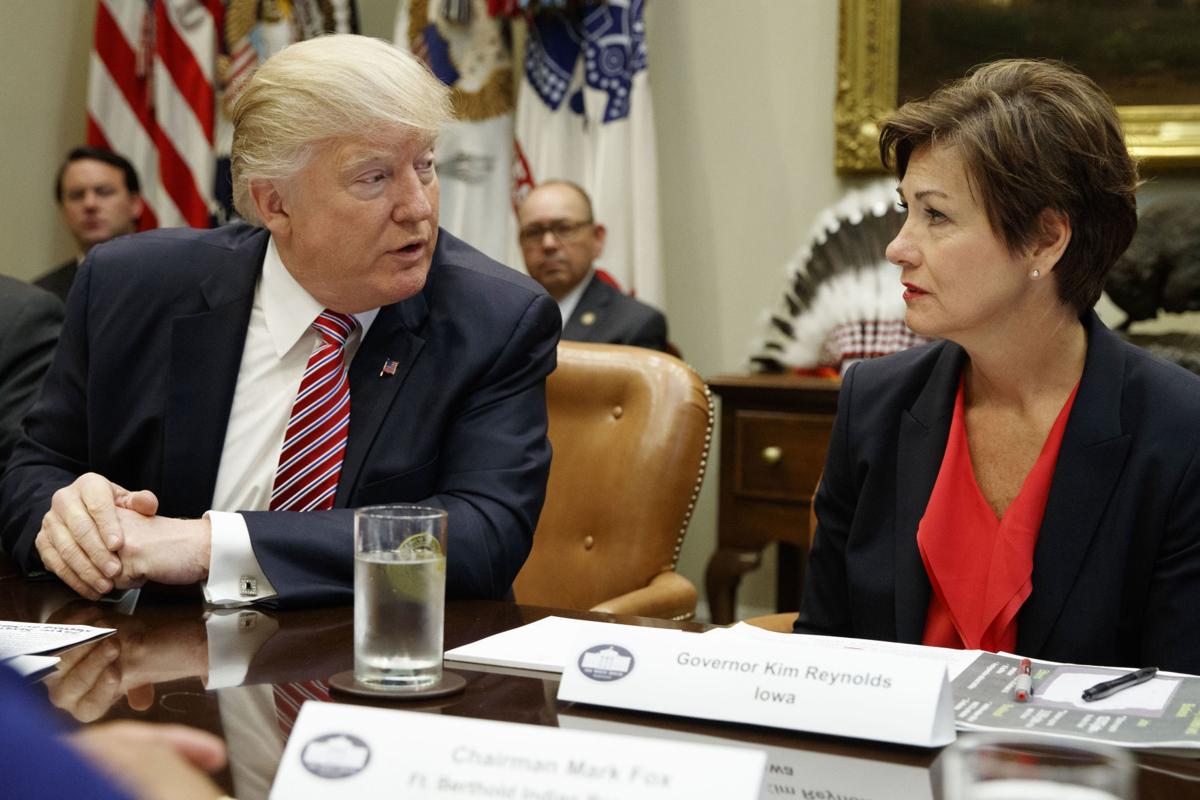 DES MOINES — Gov. Kim Reynolds plans to express concerns to Trump administration officials in Washington this week that talk of U.S. withdrawal from international trade agreements is hurting exports sales critical to agricultural and manufacturing interests in Iowa.
Reynolds, who will be among five U.S. governors slated to meet with Vice President Mike Pence and other administration representatives, told her weekly news conference Tuesday she doesn't have a problem with "modernizing" treaty language with Mexico and Canada, but she is worried how discussions will impact commodity prices and export markets going forward.
"We believe in fair and free trade, but that's our No. 1 and 2 trading partners, and it would have a tremendous impact if we were to withdraw from NAFTA," Reynolds told reporters. "I understand they are in negotiations and we need to let that play out, but we have very volatile commodity prices right now and so we need to be very conscientious of that."
On Monday, Debi Durham, director of the state Economic Development Authority, made a fiscal 2019 state budget presentation to the governor indicating Iowa exports declined from $15.1 billion in 2014 to $13.2 billion in 2015 and $12.1 billion in 2016. Her best-case guess for 2017 is that the figure would "flat-line" after Iowa managed to open some new markets.
Durham cited studies indicating Iowa would be among the top 10 U.S. states "most negatively impacted" if the United States pulls out of the North American Free Trade Agreement.
"It's concerning," Durham said regarding future exports to Mexico and Canada. "We need to figure this out. If we're going to do bilateral, then we need to get it done. If there's one thing that keeps me up at night, it's that. It's a huge part of our economy."
Durham said Iowa export numbers have been hurt by a strong U.S. dollar and emerging middle-class markets in some countries that have not met expectations in the demand for U.S. products.
"This whole conversation of trade agreements and America being left out of that," she said, "that's concerning for us going forward, particularly at a time when we're seeing such a robust interest in manufacturing."
'TALENT PIPELINE'
On a separate topic at the governor's news conference Tuesday, Ben McLean, chairman of the Iowa Business Council and chief executive officer of Ruan Transportation Management Systems, announced that the council's members have pledged to hire 30,000 interns, externs and apprentices by the year 2025 as part of its commitment to collaborate with state government to strengthen the "talent pipeline" in Iowa.
The council's commitment to double its annual base of about 2,100 entry-level positions was designed to tie into the Future Ready Iowa Initiative's goal of having 70 percent of Iowans ages 25 to 64 attain education or training beyond high school by the year 2025.
One of the Future Ready Iowa Alliance recommendations issued in October was to expand work-based learning in high-demand careers to all students, especially those who might be underserved.
McLean said the Iowa Business Council will track the hires internally through quarterly reporting by its members. The effort will begin in the first quarter of 2018.