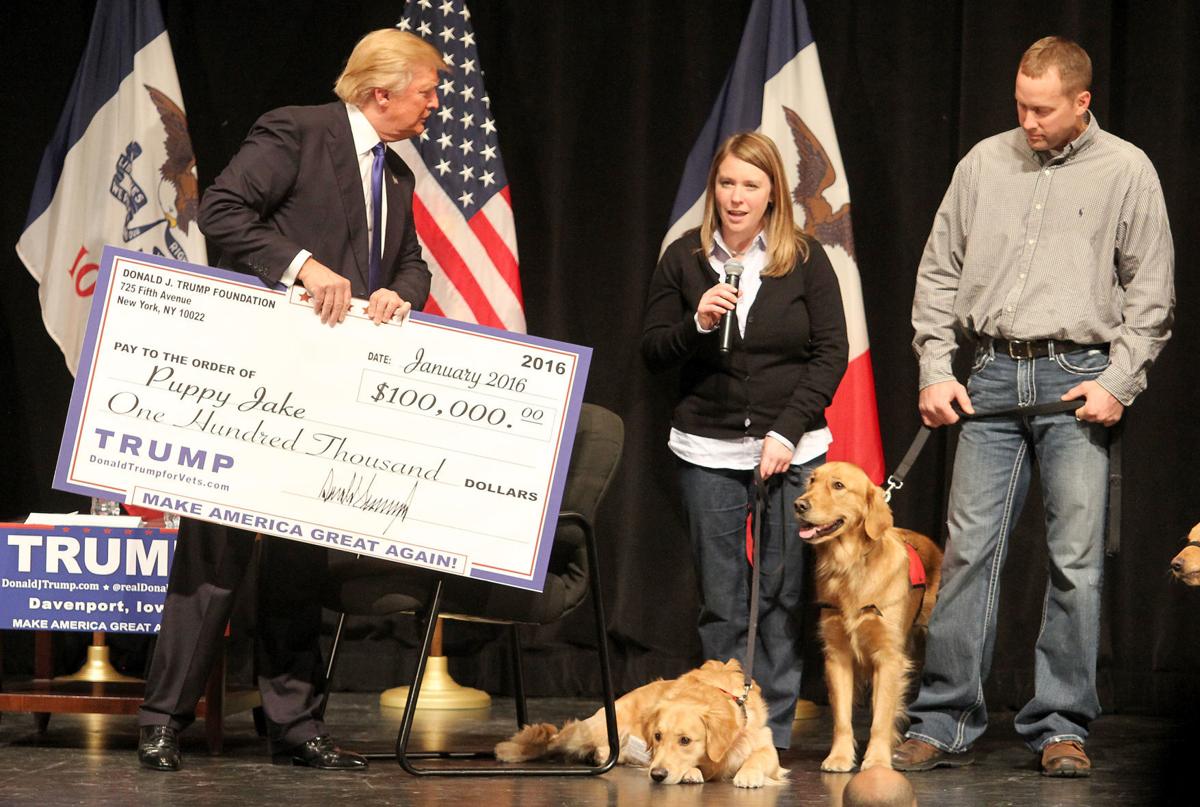 CEDAR RAPIDS — A $2.8 million Iowa fundraiser held less than a week before the 2016 Republican precinct caucuses forms the basis of the New York Attorney General's lawsuit against the Donald J. Trump Foundation. 
The lawsuit, filed Thursday, alleges unlawful coordination between the foundation and the Trump political campaign. It alleges "persistent illegal conduct" over more than a decade, including "repeated and willful self-dealing" transactions that benefit Trump's personal and business interests, and violations of basic legal obligations for nonprofit foundations.
The allegations stem from a Jan. 28, 2016, nationally televised fundraiser Trump held in Des Moines, rather than participating in a GOP forum with candidates competing in Iowa's first-in-the-nation caucuses. Among the donations in question is a $100,000 check given to Puppy Jake Foundation of Urbandale, during a January 30, 2016, event at the Adler Theatre in Davenport.
Attorney General Barbara Underwood is seeking to dissolve the Trump foundation and obtain restitution of the $2.8 million and additional penalties.
She also is asking the court to ban Trump from serving as a director of a nonprofit for 10 years and foundation board members Donald Trump Jr., Ivanka Trump and Eric Trump for one year.
Underwood said the funds were raised "in a manner designed to influence the 2016 presidential election at the direction and under the control of senior leadership of the Trump presidential campaign."
The Trump campaign violated state and federal law, the New York Attorney General's Office said.
The violations, according to the suit, included Trump campaign manager Corey Lewandowski dictating the timing, amounts and recipients of grants by the Trump Foundation to nonprofits.
Other grant recipients included Central Iowa Shelter and Services and Support Siouxland Soldiers, which also received $100,000 each.
On Twitter, the president vowed to fight the lawsuit:
"The sleazy New York Democrats, and their now disgraced (and run out of town) A.G. Eric Schneiderman, are doing everything they can to sue me on a foundation that took in $18,800,000 and gave out to charity more money than it took in, $19,200,000. I won't settle this case! ...
" ... Schneiderman, who ran the Clinton campaign in New York, never had the guts to bring this ridiculous case, which lingered in their office for almost 2 years. Now he resigned his office in disgrace, and his disciples brought it when we would not settle."