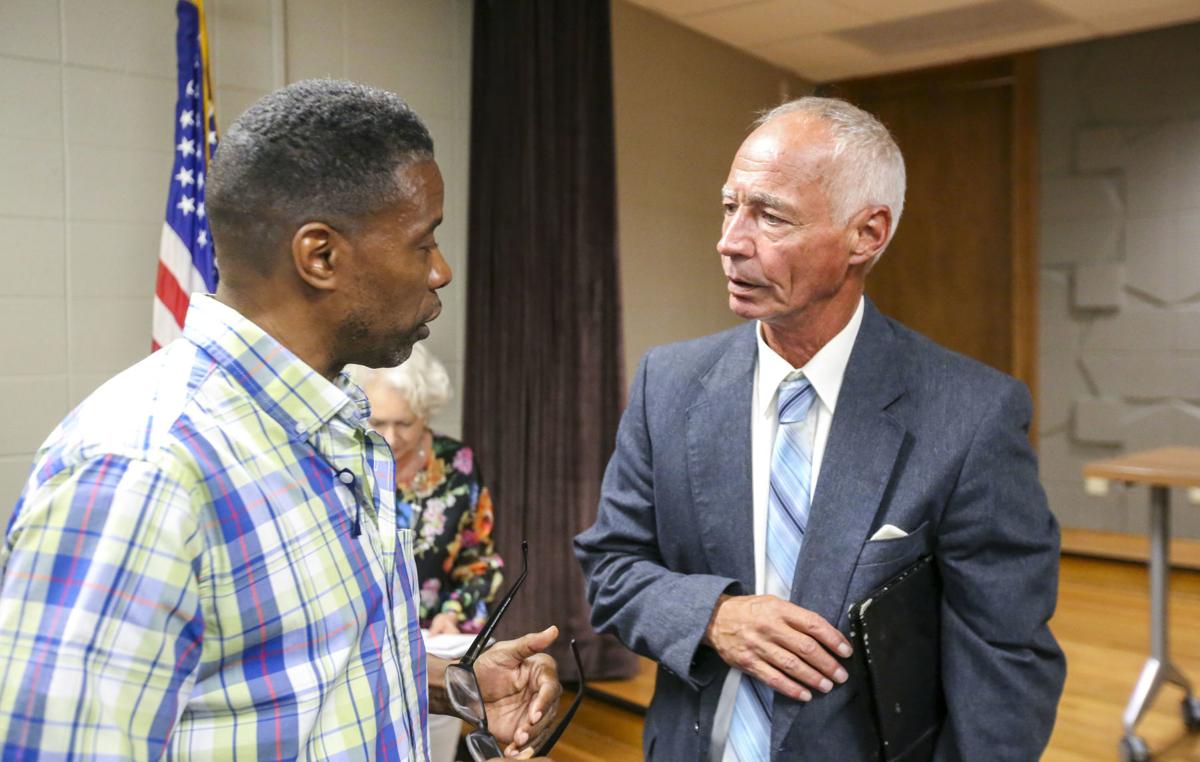 One of the first things Dean Weber did after deciding to make a second run for Davenport mayor was dig out a dozen or so leftover campaign signs that had been gathering dust in his garage for the past four years. 
Close friends and family got most of them. Another went out by Weber's duplex home on Farnam Street, advertising his candidacy from near a sculpture garden in his yard. Newer ones with the same design have popped up around town in recent weeks.
Weber's last try at the mayor's office cost nearly $1000 that he says came from his own pocket and ended with only 500 votes in his favor. But as he competes for the support of Davenport voters again — this time in a crowded field of six mayoral hopefuls vying for an open seat — he has a larger message for anyone who might dismiss the seriousness of his candidacy.
"Some people are just gonna say, 'Oh he's just a worker.' So I'm gonna have that probably against me," Weber, a 59-year-old city employee, said during a recent interview. "But there again it also works in my favor because you've got a lot of people out there that I've talked to that say, 'Hey, finally. One of us.'"
Mayor Frank Klipsch is not running for reelection. With the Oct. 8 primary election drawing near, Weber faces five opponents who range in political and professional experience. The top two primary performers will advance to the Nov. 5 election.
Davenport government works under a weak-mayor system. Mayors are only to directly act on policy in only two ways: by casting a tie-breaking vote whenever the city council is split 5-5 or vetoing council-approved legislation.
Both are examples of a rare event in City Hall.
But while top city staff are in charge of running the day-to-day tasks of delivering services, the next mayor will serve as the face of the city and be called upon to influence the direction taken on emerging and longstanding local issues ranging from flood protection to public safety.
Weber began working for the Davenport Public Works Department in 2002. His duties there have included road repair, snow removal, street sweeping and sewer maintenance. 
And as he courts voter support, Weber says working in that role has given him a front-row seat to several issues that are of top concern to local taxpayers, including decaying infrastructure and management of city dollars.
A native Davenporter
Weber is the second in his family to make a career as a city worker. His father drove a bus for Davenport's public transportation service until retirement. That inspired Weber to seek out a city government job, he says, that came with good health care, retirement and vacation benefits.
The youngest of four children, Weber grew up in Davenport. He has two daughters who live in the area and two grandchildren. His siblings — two brothers, one sister — still live in town too.
Fond memories Weber recalls from his own childhood include traveling in the back of a pickup truck to Credit Island, where he and his siblings would ride the trails with minibikes for hours at a time while his parents and grandparents went fishing or picnicked. He thinks the city can offer more through the Parks Department that would encourage more family-centric activities, improving other deep-seated issues like juvenile crime.
Weber married his wife in September of 2015, a few weeks before he experienced a stinging defeat at the ballot box. At the end of the day, he received only 513 votes in a four-way primary contest, or 7% of ballots cast.
Outside of his day job with Public Works, Weber manages area rental properties he owns. Scott County Property records show he has three lots in Davenport aside from his home.
Mayor is the only elected office Weber has sought. He never tried to run for alderman because that job — which comes with $15,000 annually — pays too little to live on, he said. Davenport's mayor gets nearly $48,000 per year plus access to city healthcare.
As mayor, Weber views the role as a continuation of public service for city residents. If he wins in November, he would take a leave of absence from Public Works and dedicate himself to being full time. 
"The city comes first," Weber said, "and it has for the last 17 years for me."
You have free articles remaining.
Streets, infrastructure top issues
Summertime for Weber in recent years has often meant driving a city street sweeper somewhere along Davenport's 500 miles of public roadway. Over the past decade, Weber says he's watched the streets deteriorate in real time.
"They're bad everywhere," said Weber, who's made fixing city infrastructure and streets a core part of his campaign. And it's an issue he often pitches to voters when he's knocking on doors around town. 
"That catches 'em every time," Weber added. "Pretty much that gets 'em right there every time, 'cause people are sick and tired of it."
Weber is not wrong. The condition of city streets, including major thoroughfares and residential ones, has been cited by locals as one of the worst things about living in Davenport, according to a community survey conducted in 2018.
But Weber is not entirely sure how to get enough money together for fixing the streets faster, though he thinks local taxes are high enough as is. But he contends plenty of taxpayer money goes toward things he finds "stupid," including some of the recent city-sponsored development along the riverfront and studies for projects that do not take form.
Flooding is another big one. To protect the city from the Mississippi River in times of flood, Weber likes a model employed at Modern Woodmen Park, the city-owned baseball stadium, which has a wall OF removable panels that keep the floodwaters out. He says putting a similar wall on critical parts of the riverfront could help solve a seasonal problem Davenport has had since its founding and preserve the iconic river view. 
Other options, he says, include crafting berms from recycled worksite dirt to create a patchwork of protection.
Weber has also cited some spikes in juvenile crime — namely a rash of car thefts that recently grasped the attention of police and juvenile prosecutors — as an issue he'd like to help tackle as mayor. He thinks children in the city have too little to do, suggesting additional recreational activities through the Parks Department could reduce youth crime.
One example, he said, would involve creating a citywide kickball tournament for Davenport kids.
"It's just one of those simple little ideas," Weber said, adding that the city could do more to create a greater sense of community and get people out of their houses more often.
A stronger hand in the mayor's office?
One approach to governing in which Weber differs somewhat from his rivals is his broad view of the mayor's veto power.
The last time a city council-approved item was vetoed by the mayor veto was under Mayor Bill Gluba, who was in office from 2008 until 2016. Gluba spiked two major development deals approved by council in 2014 that drew criticism from his fellow elected officials and became a controversy that likely contributed to Gluba's defeat in the following election year.  
Weber wonders if veto power is a tool past mayors have avoided because of the political consequences that they carry. But at the end of the day, Weber says he's ready and willing to use that if something comes up in City Hall that he believes is not in the best interest of the majority of taxpayers. 
"The only thing I got obligations to is the people that live here," said Weber, adding: "I don't have to worry about that."