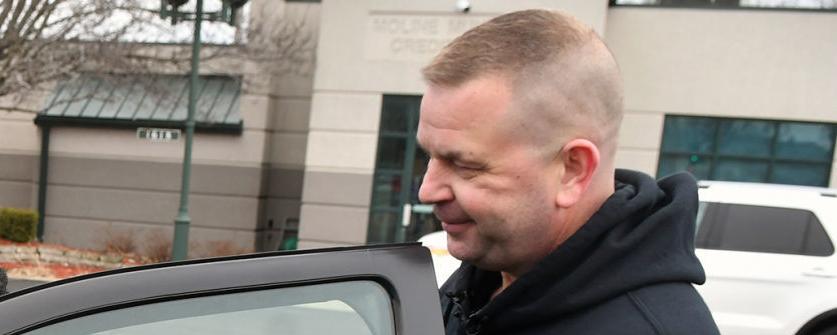 A Moline police officer is downplaying symptoms of the coronavirus after testing positive for the disease, saying he'd choose the virus over a chest cold any day.
Officer Pat Moody made the announcement Sunday on his Facebook page and said his mild symptoms are reason for opening the country back up.
"It was confirmed this morning that I have the coronavirus," Moody wrote all in caps. "I have practiced all safety measures at work and off duty but the virus still found its way through all the masks wear (sic), washing hands and hand sanitizer. I'm not sure what this means to the rest of my department but I hope it was just me that was infected. That's just it though, it's impossible to know how but I'm not upset about it because there are plenty of essential workers that take the same risk every day. It's life!
"I want everybody to know that I'm perfectly fine. I had minor back aches, minor sinus issues and was more tired than normal earlier in the week but that's it. I'm actually shocked I have it considering I don't feel sick whatsoever. That's the good news, I want people to have peace of mind knowing that this is actually the 'norm' for most who contract the virus. Symptoms are normally minor for most people and my personal experience convinces me even more that we need to get the country back to normal, minus the people who are 'at risk.' If you are 'at risk,' continue to practice social distancing and continue to be safe. For the rest of us, live your life without fear but maintain respect for thy neighbor.
"I hate to be that guy to downplay the coronavirus, but I personally would take the coronavirus any day over strep throat, chest cold or the flu."
Worldwide, 247,971 people have died of the disease, which has infected more than 3.5 million people. In the Quad-Cities, 679 people have been infected and 21 have died.
Moline Public Information Officer Travis Noyd said Monday he had not seen Moody's Facebook post. 
"I would hope that's not the way he's approaching it because it's very serious," Noyd said. "We hope his recovery is quick and that he gets well soon. The city is taking coronavirus very serious. We are making sure all of our employees are safe. I hope officer Moody is taking it very seriously also."
Several Moline city employees complained at the end of March that the city wasn't doing enough to protect them against the spread of coronavirus.
In a release Sunday, Noyd said the city has implemented its response plan "to ensure the safety of employees and those they serve." Noyd said the city would continue to monitor the health of employees on a daily basis while continuing to provide city services. 
Moody said he was tested Friday for coronavirus. 
"I had no symptoms, but I had some back pain several days before," Moody said on Monday. "I had some time off — four days — and then wore my bulletproof vest when I was back on duty and thought it was all vest-related; the minor ache in my back.
"I wore a mask on duty and I would wear the mask when I went to the grocery store. I had sinus and normal allergy issues, but really nothing out of the ordinary. Like everyone else on the department, I was following strict safety rules and policy, trying to keep the public — and myself — safe.
Moody said he had no idea how he contracted coronovirus and that he was the first officer on the Moline Police Department to become infected. He is currently self-isolating at home for 14 days.
"I feel fine; perfectly fine," he said. "I feel good. I don't have any symptoms."
Illinois recorded its highest single-day increase of COVID-19 on Friday, with 3,137 new cases. Rock Island County reported 22 additional cases and two more deaths on Monday, bringing the total to 491 cases and 14 deaths. 
Illinois remains under stay-at-home orders as the CDC reported 58,505 coronavirus cases in the state on Sunday — the fourth highest number in the country.
Concerned about COVID-19?
Sign up now to get the most recent coronavirus headlines and other important local and national news sent to your email inbox daily.