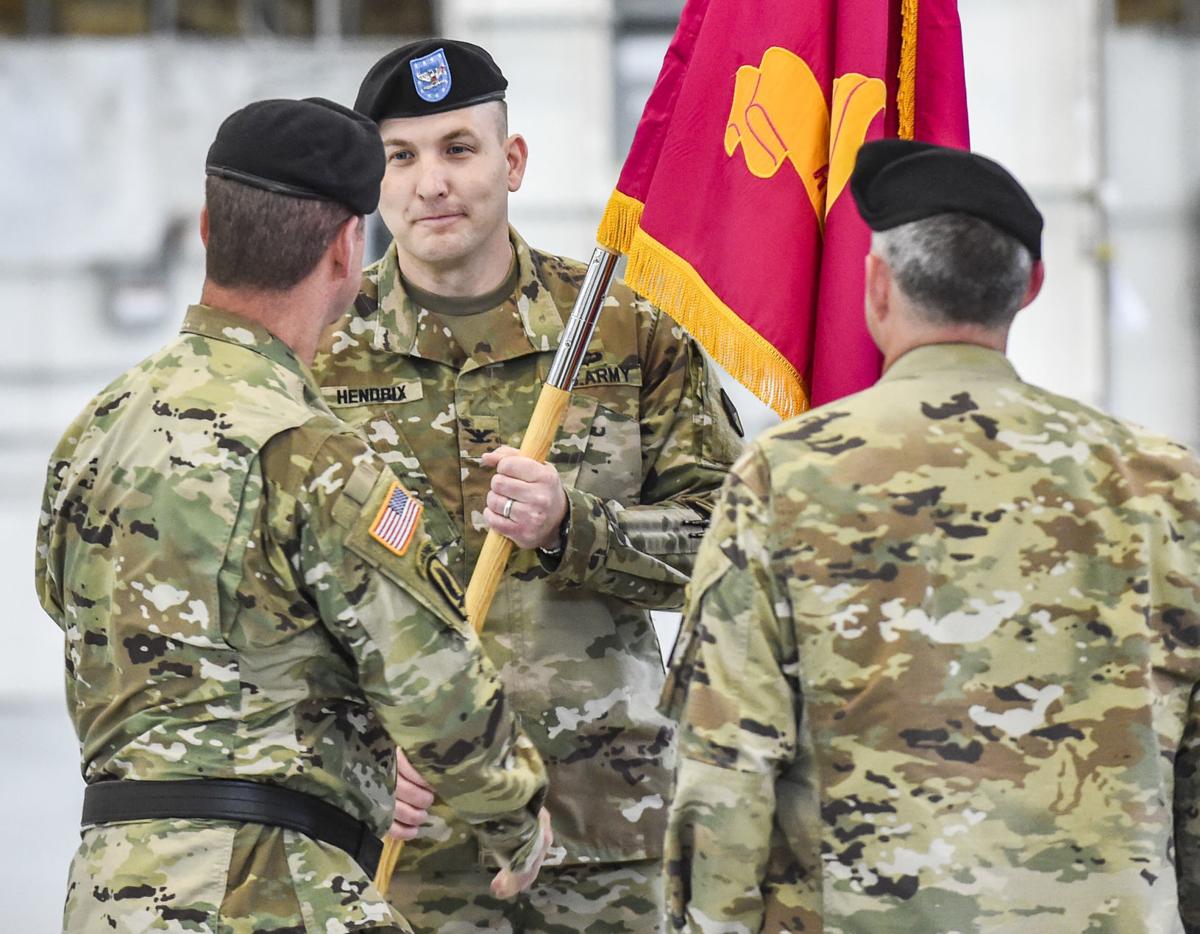 ROCK ISLAND — U.S. Army Col. Kenneth Letcher was sent on his way Wednesday morning from the Rock Island Arsenal with all the fanfare deserved by a commander who supervised more than 1,200 soldiers and civilian employees for the past two years at the Arsenal's Joint Manufacturing and Technology Center (JMTC). 
More than 200 soldiers, employees and family members came to bid farewell to Letcher and welcome his replacement, Col. Martin "Jimmy" Hendrix, who will be the 50th commander of the JMTC. 
The change of command ceremony, an Army tradition dating back more than 150 years at the Rock Island Arsenal, marks the official transfer of authority from one commanding officer to another. Wednesday's ceremony took place inside the Advanced Manufacturing Center, with a color guard present, in front of all 50 state flags, Army dignitaries, and local city officials. 
"This has been an exciting journey for me, and I really feel like I became part of this community," Letcher said. "Today I am part of a rich Army tradition, held here for the 50th time, at one of the most historic sites in the Army. 
"It has been a privilege to command an organization that traces its lineage in producing readiness in serving our nation back to the Civil War," Letcher said. "I'm proud of the accomplishments we have made as a team over the last two years. It was truly an honor and privilege to be your commander. You made it easy to lead."
Letcher praised advances made in technology during his tenure at the Arsenal. 
"We stand at the forefront of technology and are once again the driving force impacting readiness," Letcher said. "JMTC will fundamentally improve readiness for our Army in the near future. Our existence here at JMTC revolves around one priority — readiness.
"Each and every one of you have made an impact on me, Army readiness and modernization with your selfless service here at the Arsenal," Letcher said. 
Letcher will be stationed in Kabul, Afghanistan, where he will be chief of staff for the Combined Security Transition Command. 
Maj. General Daniel Mitchell, commander of the U.S. Army Tank Automotive and Armaments Command at the Arsenal, thanked Letcher for his service. 
"The goal of every commander is to leave a unit better than how you found it," Mitchell said. "JMTC is better today because of (Letcher's) leadership. Col. Letcher has done an outstanding job of caring for and maintaining his highly specialized workforce through challenging times with the budget and personnel."
You have free articles remaining.
Mitchell commended Letcher for his skill in running a 3 million-square-foot manufacturing facility with an annual operating budget of $177 million.
"As you can see here today, Col. Letcher is well-respected outside the confines of the Rock Island Arsenal," Mitchell said. "He did a fantastic job developing new partnerships with commercial industry, helping to preserve and provide logistical expertise needed to manufacture and maintain technologically advanced weapons systems into the future."
Letcher thanked his wife, Brig. General Michelle Letcher, and their three sons for their support through the years. 
"For the boys, as Michelle and I continue to command Army formations for the past eight years, we appreciate your resiliency and understand how hard it is to spend every two to three years in a new place and put up with Mom and Dad's ceremonies.
"If I had to live my life over, I'd still join the U.S. Army and I'd marry the same woman," Letcher said. 
Mitchell introduced Hendrix, saying, "When a great leader moves on, the Army works hard to replace that individual with yet another outstanding officer with the skill, experience and leadership qualities to elevate the organization to new heights. This is truly the case as we say farewell to Col. Letcher and welcome Col. Hendrix to JMTC."
Hendrix said he is looking forward to his new responsibilities and getting to know the area. 
"I'm very excited to be a part of this great community," Hendrix said. "Joining this historic organization is a once-in-a-lifetime opportunity. As you're all aware, the Arsenal has been delivering readiness for the United States Army for more than 150 years. This is the center of success in manufacturing.
"I'm going to stick to my formula for success in ceremonies and thank God, thank my wife and everybody else," Hendrix said. 
His wife is Tera Hendrix, and they have three children. Hendrix was formerly stationed at Fort Bragg, N.C., where he served as battalion commander of the Army Field Support Battalion. 
"I look forward to continuing the great work for our Army and for our nation," Hendrix said.