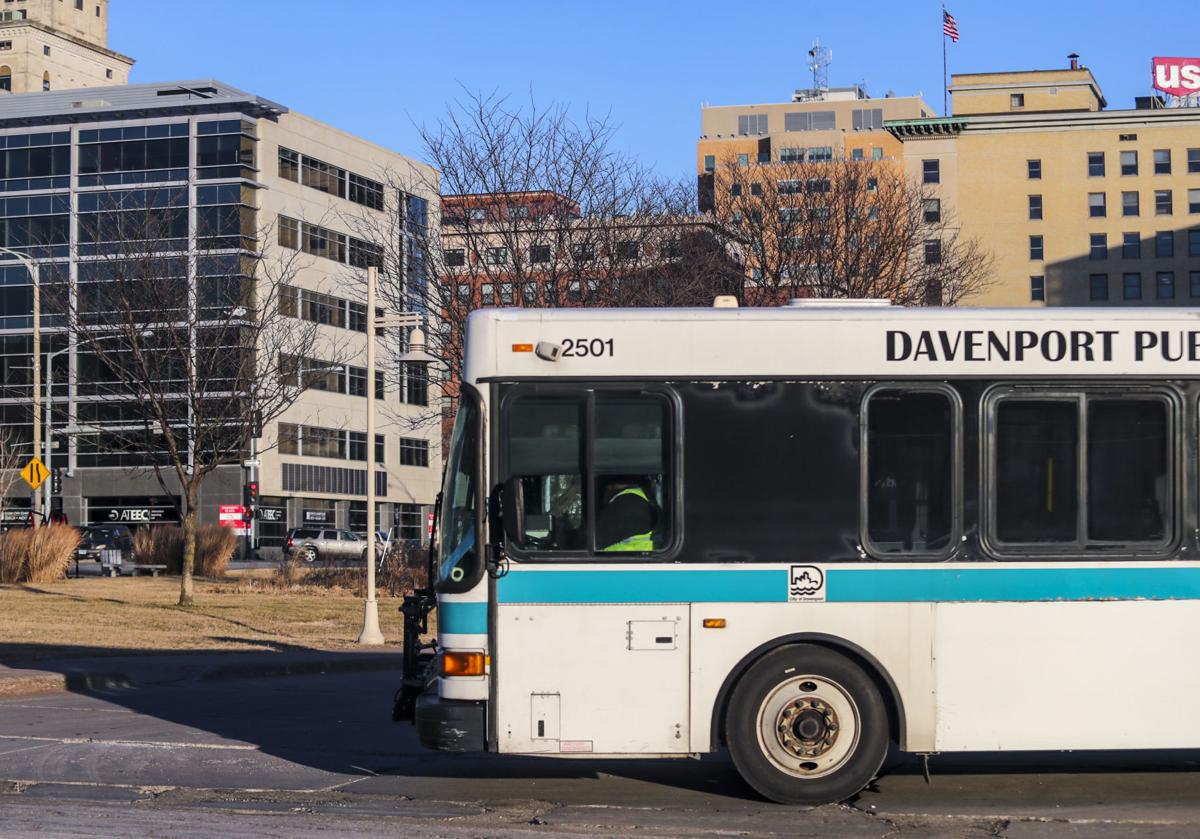 A paralyzed Davenport woman claims she was forced to operate her electric wheelchair more than a mile in 90-degree heat this summer after two Davenport CitiBus drivers would not help her get home.
Ronda Wilson, 58, has "part-quad" paraplegia resulting in the total or partial paralysis in both her arms and legs.
Wilson, who has filed a formal civil rights complaint with the Iowa Department of Transportation, said she was waiting on a city bus to take her home on June 15.
Wilson said she was waiting on the corner of West 15th and Gaines streets, hoping to catch one of the last buses running that evening, wanting to go south to Marycrest Senior Campus, an independent senior living community at West 12th and North Division streets. Wilson claims she was initially told she could not board because she was not wearing a face mask. 
All passengers are required to wear a mask or face covering when boarding and while riding the bus under a federal mask requirement for transit systems to mitigate the spread of COVID-19. 
After the face mask issue was resolved, with Wilson eventually finding a face covering, she said she was then told by the driver that she was not headed toward Marycrest and that Wilson needed to go two blocks over to be picked up at West 13th and Marquette streets. The driver, though, did not say when another bus would be by to pick her up or inquire if she needed assistance to get to that location, Wilson said.
The driver then drove off just as another CitiBus two cars behind drove up.
"The second bus driver pointed north and shooed me away and drove off," Wilson said. "He didn't even open his doors for me. I was surprised and shocked, and thinking, 'How am I going to get home?'"
Wilson claims she operated her electric wheelchair from West 15th and Gaines streets to West 12th and Division streets.
"It was 90-degree weather and I was in the street," Wilson said. "The sidewalks were broken and cracked so it was safer for me to be in the street. ... I was in the road and people were cussing at me and honking their horns."
She reached out to the Illinois/Iowa Center for Independent Living for assistance, hoping the transit authority would be willing to undergo training to address the lack of sensitivity displayed by Citibus drivers to individuals with disabilities.
"The training will be geared toward education of all employees of the transit authority to ensure the fair treatment of all riders of Davenport Citibus," Independent Living Advocate Coordinator Jeffrey T. Spencer wrote in an Oct. 25 letter to the Davenport transit authority. "The Illinois/Iowa Center for Independent Living can assist with this training as we have provided it to MetroLink in the past."
Spencer sent a follow-up email on Nov. 16 after not having received a response.
"(Wilson) originally requested to have disability awareness training for all transit drivers as she was treated unfavorably by two of the Transit Authority bus drivers," Spencer wrote in his email to transit officials. "This is a service that we are able to provide free of charge, if you are interested. I am sending this email in hopes that the Transit Authority will reach out to Ms. Wilson or our office and rectify this situation appropriately."
Assistant City Attorney Mallory Hoyt Bagby replied on Nov. 17 that Wilson has filed a formal civil rights complaint with the Iowa DOT regarding the incident, "and we are participating in that process.
"We will not be discussing an open case but appreciate your interest in this matter," the attorney wrote. "As a side note, all Transit staff are scheduled for disability awareness training in their next quarterly meeting."
Bagby did not return a message seeking comment Tuesday. 
Tonnette R. Harris, civil rights bureau director for the Iowa DOT, also did not return messages seeking comment.
"We are trying to be an advocate for Ms. Wilson," Spencer told the Quad-City Times and Dispatch-Argus. "We want to see some sort of resolution from (the city). They didn't provide her a service, which should have been done."
All Davenport transit buses are wheelchair accessible and capable of securing a wheelchair "in less than 25 seconds with the simple push of a button and minimal driver assistance," according to the city's website.
Liz Sherwin, executive director at the Illinois/Iowa Center for Independent Living, said she hoped by Wilson sharing her experience publicly that similar situations could be prevented in the future.
"They passed her twice," Sherwin said. "Just a whole bunch of things a person in a wheelchair should not have had to go through."