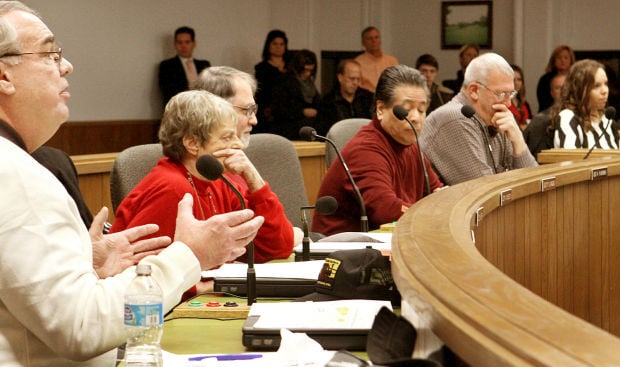 Rock Island County board member and Moline Township Supervisor Don Johnston has died. He was 73.
Johnston died Saturday at UnityPoint Health Trinity, Rock Island, after being hospitalized for a stroke he suffered July 26. 
Johnston was elected Moline Township supervisor in 2005. He was appointed to the county board in 2010 and elected that November, representing District 11. He was very active in the Democratic party and also served as the 17th Congressional Democratic state central committeeman. 
Johnston was known for his sense of humor, outspokenness, compassion and generosity to those in need. He was an advocate for veterans and senior citizens through his role with the Moline Township and organized a Thanksgiving dinner every year for the community. 
"He was a very warm, genuine, sincere person. He is going to be greatly missed," said county board member Drue Mielke. "I consider him a good friend and I'm sad he's gone. He was always a straight shooter. After every county board meeting, we'd go out to have a bite to eat and a beer or a drink and just unwind. 
"We became good friends; I really respected him and admired him. It's a sad day for Rock Island County to not have Don there anymore.
"When we worked on the board together, we did agree," Mielke said. "Working on common things we both believe in is how good government happens. Don was a Democrat and I'm a Republican but when we worked together, it wasn't about party or partisanship; it was about good government." 
Mielke credits Johnston with taking the first initiative to downsize the county board during the 2010 Census, but was met with resistance. 
"Don had the right idea; he was willing to downsize the board before it was fashionable," Mielke said. "You've got to give him credit, he was ahead of his time. I think it shows he was looking out for the county."
Johnston also was an outspoken advocate in preserving the historic county courthouse. He voted against its demolition in July 2018, pushed for protective tarps to be placed over holes punched in the roof from asbestos abatement and voted to allow the General Services Administration to tour the building in March so it could be considered as the next possible federal courthouse for the Central District of Illinois.
He was part of a minority of board members who voted in March to sell the courthouse to developer Joe Lemon so the building could be reused as a federal courthouse, but that vote failed. 
Rock Island County Board Chairman Richard "Quijas" Brunk said board members will honor Johnston and his years of service with a moment of silence at the Aug. 11 meeting. 
"I was very saddened to receive the news Saturday afternoon; his passing is a huge loss, and my prayers are with his family and other loved ones," Brunk said. "Don's service to our community, through the county, Moline Township and other efforts, will continue to have a positive impact for years to come. That will be his legacy."