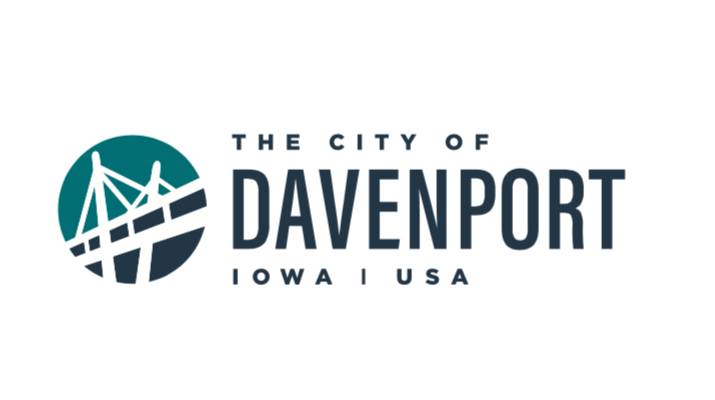 Davenport might be getting a new logo.
City Council members examined and discussed a proposed new brand on Tuesday afternoon during a meeting with staff and the design firm hired by the city. The new look features the iconic downtown Skybridge in blue, green and white.
Council members, some of whom offered earlier input during the drafting process, greeted the concept warmly. But some last-minute worries were expressed about how the logo might be received among some community critics who complain about the Skybridge.
Sometimes called "the bridge to nowhere," the Skybridge opened in 2005 and gives tourists and river-gazers a look across the Mississippi from a glass-enclosed walkway fitted on top of 99-foot-tall columns. It has kept the nickname over the years as some have questioned whether the project was a worthwhile addition to the riverfront.
Noting his recent return from a weekend with his wife in Detroit, Michigan, At-Large Alderman JJ Condon used the Motor City as an example of one "that doesn't apologize for puffing out its chest or punching you in the nose if it has to."
He encouraged the idea that Davenport should wear the Skybridge with pride, saying he often sees social media posts from people in Bettendorf and Pleasant Valley schools using the bridge for homecoming photos, among other things. Condon also offered an attitude that could come with the new brand: "You're welcome, Quad-Cities."
Guide Studio of Cleveland, Ohio, was paid $40,000 under the initial contract to create the design. Caroline Chaikin, the company's marketing director, told council members the process took input from a community survey, a steering committee and by visiting the town.
Approval is needed from the City Council to make the new logo official. That would happen as soon as Nov. 13 if a majority of council members accept it.
Afterward, city staff say the logo would immediately be presented on the web and on the city's social media pages followed by a print presence on letterheads, bills and business cards. Changing "hard assets" — such as buildings and vehicles — would be completed over time with money from the city's capital improvement budget.
You have free articles remaining.
City staff are unsure when the current design was first approved, but they think it's been around for decades. The proposed design also aims to replace an earlier logo that has been viewed somewhat critically by at least a few in City Hall.
The old design pictures a capital "D" underscored by wavy water. The letter is hollowed out by what appears to be a fistful of oddly shaped buildings that some say resembles a middle finger upon close observation.
"Once you see it, you can't unsee it," said Alderwoman Marion Meginnis, 3rd Ward, who only noticed the possibly offensive design flaw after it was pointed out to her.
Not everyone on council sees that fault, though.
Alderman Ray Ambrose, a 22-year City Hall member representing the 4th Ward, disagrees with that take. When he looks at the design, all he sees is "America's greatest city" and he does not understand how or why anyone would draw another conclusion. 
"Giving people the bird isn't something I've ever thought about," Ambrose said.