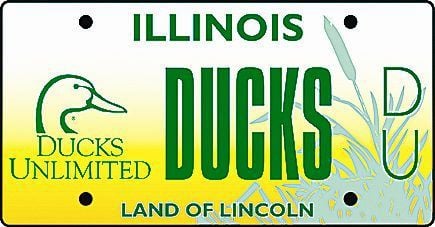 SPRINGFIELD — Illinois lawmakers are trying to put the brakes on specialty license plates.
The Illinois House voted 108-1 Monday to create a new way to stop the growth in the number of special plates by creating a universal license plate with a specialized sticker.
Rep. John D'Amico, D-Chicago, said the measure will help Illinois police keep track of what plates are on the roads.
"It takes away our specialty license plates and makes it one universal license plate because there's been so many problems with our police officers and law enforcement. There's so many plates on the street. This bill corrects some of those issues," said D'Amico, who sponsored the legislation.
Secretary of State spokesman Henry Haupt said there are 109 specialized plates on the roads.
Rep. William Davis, D-Homewood, cast the lone "no" vote.
"I guess I disagree with the fact that it's too difficult for law enforcement to keep track of the different types of plates that we have. People who are getting tickets who shouldn't get tickets. Chances are that means their information is being written incorrectly on the ticket to begin with," he said.
D'Amico said those who already have a specialized plate can keep their plates, and others can still get them. The new plates will all look the same, with a specialized sticker about 2½ inches in size depicting their interest.
Under current law, when a new plate is created, 1,500 people must sign up for the plate and pay fees before it will be made. This process will remain the same for the stickers.
On average, Haupt said the initial fee for a specialized plate is $40, and $15 goes to the Secretary of State's office to pay for the physical plates. The rest goes to the organization. Renewal plates cost an average of $27. Only $2 goes to the Secretary of State's office, and the remaining $25 is donated to the organization. Anytime there are less than 1,500 people with the specialized plate,universal or not, the Secretary of State's office can discontinue the plate.
Former Illinois Treasurer Dan Rutherford encouraged similar legislation while he was a state representative. His 1996 law ending special plates never went into effect.
Haupt suggested that wouldn't be the case this time around.
"We support the bill. There has been a proliferation of specialty plates, and law enforcement has expressed some concern that with so many specialty plates, it becomes difficult to differentiate sometimes one from the other," he said.