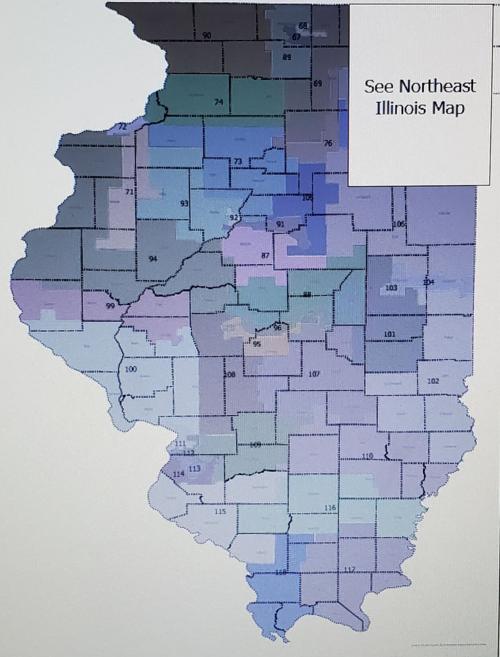 Proposed legislative maps for Illinois show major changes in districts for local Republican lawmakers.
The proposed maps were released Friday evening by the Democratically controlled General Assembly, and show new boundaries for state legislators, which will remain with 59 senators and 118 representatives.
The new map shows State Sen. Neil Anderson, R-Andalusia; State Rep. Tony McCombie, R-Savanna; and State Rep. Dan Swanson, R-Alpha, all drawn out of their current districts. But the 72nd District, represented by State Rep. Mike Halpin, D-Rock Island, remained mostly the same and appears to have been expanded. 
McCombie called the new maps "politically driven."
"If you don't think that in my district, you can certainly see it across the state when you have two or four (Republican) House seats drawn in together and then empty seats right next to them," she said. "I think the courts will tear them apart for two reasons: not using the U.S. Census, and for how blatantly politically they are drawn."
McCombie also took issue with the process of how the maps were redrawn, saying although there were public meetings, Democrats met behind closed doors and released the maps with no population or voter data to justify the new boundaries. 
"It was blatantly political, not transparent, and completely unethical how (Democrats) went about this. We have to have some ethics reform. If we had ethics reform and people were punished for behaving this way, we wouldn't have these issues."
The proposed 36th State Senate District, represented by Anderson, has similar — if not the same — boundaries as the proposed 71st House District represented by McCombie, including portions of Rock Island, Henry, Mercer, Knox, Warren and McDonough counties. 
Barring a change in residence for any candidates, this could lead to these possible matchups in the 2022 election.
If Anderson chooses to run for re-election in 2022, he will have to run in Senate District 47, currently represented by Republican Jil Tracy.
If McCombie runs for a fourth term, she will have to run in House District 74, which will then include Whiteside and Lee counties, northern Rock Island County, the northern portions of Henry and Bureau counties, and a small section of LaSalle County. The new district means McCombie will have to face State Rep. Andrew Chesney or State Rep. Tom Demmer in a Republican primary election if they also run. If she chooses to run for state Senate, she would have to run against Republicans Win Stoller or Brian Stewart in a primary election. 
"We're fine representing new people and meeting new people; that's certainly not the issue," McCombie said. "It's more about the process.
"Whether I am in the House, the Senate or in Congress, that's not going to stop me. I am going to continue to be that person and represent my district."
State maps are redrawn every 10 years, usually based on census numbers. However, this year they are using American Community Survey data, which is produced by the U.S. Census Bureau. This may be a basis for legal challenge down the road.
In addition, the proposed maps must be voted on for approval by June 30 to prevent the process from being thrown to an eight-member committee, evenly divided between Republicans and Democrats.
McCombie said she thinks there will be a vote by the end of May.
"It will pass on partisan lines; there will not be one Republican on it," she said. "I think it will go to the courts and we may come back again to vote on a second map. We are trying not to overreact too much."
Illinois Republican Party Chairman Don Tracy is accusing Democrats of gerrymandering in order to remain in power. 
"For months now, Democrat politicians have shown they would be willing to subvert the will of the people, go back on their word, and rig the system to their benefit by drawing partisan gerrymandered maps," Tracy said in a statement May 21. "Democrat politicians finally followed through in using the Madigan playbook to submit their final work after 7 p.m. on a Friday.
"This new state legislative map, drawn in secret by politicians, has been engineered to maximize the power of the Madigan Machine. The politicians' map degrades our democracy and fundamentally removes power from the people to fairly choose their representatives. I urge all legislators to vote against the proposed map and call on Governor Pritzker to keep his word by vetoing should it pass."