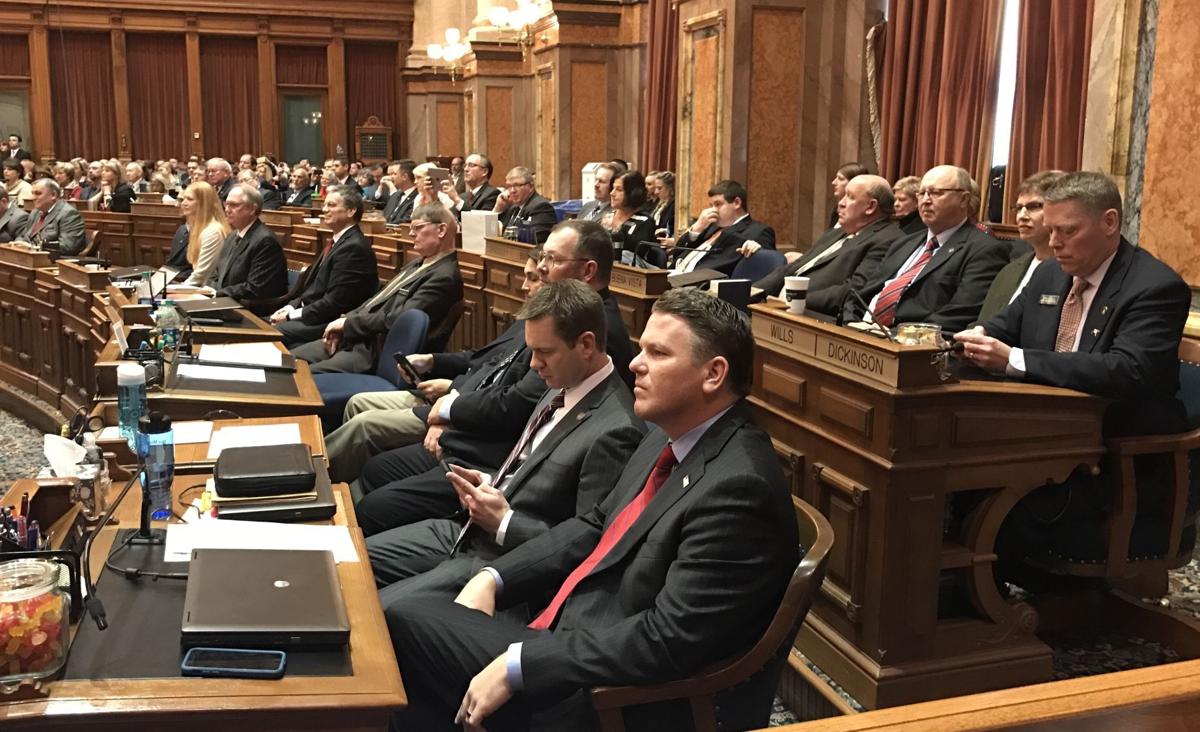 DES MOINES — Iowa lawmakers soon will debate whether to lower some state taxes.
That debate will likely include warning calls of attention to a nearby state and the rough road it has traveled since enacting tax cuts five years ago.
"I would like to work together with Republicans on true tax reform," said Pam Jochum, the top Democrat on the Iowa Senate tax policy committee. "However, I worry that legislative Republicans are more interested in repeating the failed tax experiment that took place in Kansas."
That is the rallying cry across the country for Democrats who warn against tax cuts they think go too far.
Kansas Republicans in 2012 reduced income taxes across the board and exempted many business owners from paying income tax.
The Kansas plan, spearheaded by Gov. Sam Brownback, was designed to stimulate economic growth and increase wages. But experts said it did neither, and it has left a hole in the state budget — almost $280 million.
So disappointing were the results that the Republican-led Kansas Legislature this year voted to roll back some of the cuts by increasing some income taxes and restoring some of the business income taxes. The Legislature even voted by two-thirds majority to over-rule Brownback's veto of the rollback.
Are Iowa Democrats right to sound the Kansas alarm? While Iowa Republicans have made clear their hope to enact some sort of tax policy changes in the legislative session that starts next month, they have not yet released a plan. So there is no way yet to compare Iowa Republicans' tax plan with Kansas tax cuts.
But experts in Kansas said warnings about the state's tax cuts are legitimate.
"If a state wants to try this, I would say be ready for this not to work," said Patrick Miller, a political scientist at Kansas University. "And if it doesn't work and you end up in the same place Kansas did, you have to think about what do you want to cut."
THE KANSAS EXPERIMENT
Kansas' 2012 tax cuts were significant in two ways:
The state reduced income taxes at all levels and eliminated the top bracket.
The state also exempted business income for roughly 190,000 businesses.
At that time, Brownback said the cuts would spur economic growth, that individual Kansans with more money in their pockets would spend it in the state economy, and business owners with a lighter tax bill would reinvest the money in their businesses and their employees. Businesses and individuals would flock to Kansas, the governor promised.
"My faith is in the people of Kansas, not its government," Brownback said in 2012 when the cuts were enacted, according to the Kansas City Star.
None of what was promised came to fruition.
Job growth has lagged behind neighboring states and gross domestic product growth has trailed the national average, according to state data. New businesses were not created; instead, many businesses changed their classification in order to take advantage of the new tax exemption, experts said. And the state budget was left with a $280 million deficit.
"If the objective is to grow the state's economy, then this is not the way to do it," said Wally Meyer, director of entrepreneurship programs in Kansas University's business school. "If that's the goal in Iowa, then the lesson learned in Kansas is that it didn't work. In fact, it created a significant budget gap that we will be paying off for years."
The mistake Kansas made, according to one conservative advocacy group, is that the state did not also reduce spending at the same time it lowered taxes.
"Kansas underscores the importance of controlling government spending, which they failed to do badly," said Drew Klein, Iowa director for Americans for Prosperity. "The economy undoubtedly improved — and revenue did grow — but their inability to control spending is what crushed their budget."
Experts in Kansas said that is not true. They said the state did reduce spending, just not enough to cover the cost of the tax cuts.
"That's absolutely false. That's a lie that's been promoted by certain groups," said Ken Kriz, a public affairs professor at Wichita State University.
Spending was cut "substantially" across the board and legislators tried to find ways to be more efficient with state spending, Miller said.
"This argument that Kansas just didn't cut (spending), it sounds nice but it makes no sense because we did. And politics got in the way," Miller said. "I think it's just a way to rationalize away the failure of the policy here, rather than to really accept that maybe it didn't work."
"Pretty much everything in the budget took a substantial hit," Miller added. "K-12 education, higher education, transportation, things like fixing roads, the foster care system. Practically everything took some kind of cut."
A DIFFERENT WAY
Klein said North Carolina may provide a better model for tax cuts. Klein said while the state lowered taxes several times over the past five years, it also kept spending growth below the rate of population growth and inflation.
"Not only has their economy boomed, but they've experienced several surpluses as well," Klein said.
North Carolina Republicans since 2011 have cut the state's personal and corporate income tax rates, eliminated the estate tax, and reduced or eliminated other business taxes, according to the Asheville Citizen-Times. Since then, state revenue generally has come in ahead of projections and the state has added to its budget surplus. But state economists cast doubt on whether the economic growth was a direct result of the tax cuts, the Citizen-Times reported.
"If you claim that North Carolina cut taxes and got more revenue out of it, you're looking at the wrong math," one economist told the Citizen-Times.
WHICH PATH FOR IOWA?
What remains unknown is what type of tax cuts Iowa Republicans will propose. State GOP leaders have not yet made public any plans, in part because they are waiting on potential Congressional action on federal tax policy changes.
One key Iowa state lawmaker said the Democrats' warnings of a Kansas repeat are unfounded.
"Frankly, I don't know what happened in Kansas. I understand they made some pretty dramatic tax cuts and later on ran out of revenue. We're not going to do that," said Guy Vander Linden, chairman of the Iowa House's tax policy committee. "We're not going to make severe cuts to revenue without understanding what we're doing."
A challenge facing Iowa Republicans is the state of the state's budget. Because revenue is expected to come in below projections, the state's nonpartisan revenue estimating panel on Monday estimated lawmakers will have to cut between $45 million and $90 million in state spending for the budget year already underway. That comes after the state was forced to make more than $250 million in budget adjustments during the previous year.
Any tax policy changes that create less revenue to the state will make crafting future state budgets more difficult.
"Spending and revenue go hand-in-hand and we're obsessed with not spending more than we take in," Vander Linden said. "It's a balancing act. We're going to have to see where we are."
Iowa Republicans have made tax policy changes a top priority since gaining complete lawmaking control after the 2016 elections. Their pitch likely will come during the 2018 legislative session that starts Jan. 8. Only then will it be known how much the Iowa Republicans' plan resembles the so-called Kansas experiment.
"There are certainly lessons to be learned from other states around the country, but Iowa will have its own long-term economic challenges if we fail to do something about our uncompetitive tax environment," Klein said.
Vander Linden also said Iowa must act on tax policy changes, and cast his own cautionary tale of a neighboring state: Illinois, which after years under Democratic control has lost the most residents in the nation for three consecutive years amid complaints of a state budget mess and high property taxes, according to the Chicago Tribune.
"They can throw Kansas in our way, but they seem to forget about our neighbors to the east," Vander Linden said. "It can go wrong in both ways."