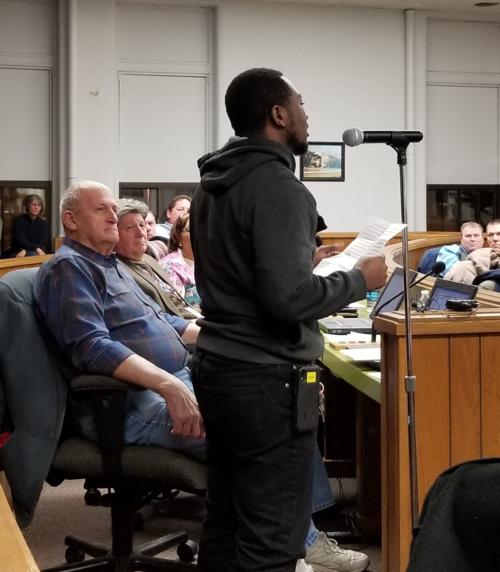 Rock Island County Board members on Tuesday approved sending a letter to U.S. Secretary of State Mike Pompeo to allow refugee resettlement to continue in the county. 
The move complies with an executive order, issued Sept. 26 by President Trump, declaring that unless states, counties and municipalities provide specific consent for resettlement, refugees will not be allowed to settle there.
Board member Kai Swanson said the executive order goes against the what the Statue of Liberty stands for and Emma Lazarus' poem "The New Colossus," attached to the statue's base.  
"This is absolutely unprecedented in the entire history of the Republic," Kai Swanson said. "Never has the federal government said that every local and state body of government has to affirm the spirit of Emma Lazarus that's inscribed on the Statue of Liberty in New York Harbor. If this has to be voted on every January, I'll be very happy to do it."
Jeff Deppe said the county does not have line items for refugees in the budget, meaning the county does not provide them financial support. 
"I think that's a misconception," Deppe said. "I anticipate full support in this. I would be stunned if it doesn't get a 25 to zero vote."
Rich Morthland was the only board member to oppose welcoming refugees, saying he was concerned about the financial burden they may put on the county. 
"I'm not anti-immigrant; my father-in-law came here at the age of 12 not speaking a single word of English," Morthland said. "I'm not opposed to refugees. My wife and I have long supported World Relief. I am concerned about encumbering the county, even potentially in any way.
"I am responding to the calls I've received from my constituents," Morthland said. "I cannot support this measure for those reasons."
Board Chair Richard Brunk said refugees were an overall benefit to the community, positively impacting the economy in a number of ways. 
You have free articles remaining.
Rod Simmer said although there is a cost to the school districts by children of refugees, "the cost would be greater if they weren't there," noting the number of different languages spoken and the diversity they bring. 
Luis Moreno asked board members to give their full support and not give in to xenophobia or pundits that call for "patriotism."
"I understand we get phone calls, we all get phone calls," Moreno said. "But to give in to some of these voices of hatred and voices of fear of the unknown is sad. Please don't hide behind those pundits who hide behind the name of patriotism. Please do the right thing. You know what is right."
"It is with honor and pride that I vote to support this," Lauren Boswell-Loftin said. 
Prior to the vote, nine people spoke during the public comments portion of the meeting for more than 30 minutes, expressing support for allowing refugees in Rock Island County. 
Brad Isbell said refugees are a "return on investment," noting they spend money on housing, food, gas and shopping. 
"It's a non-issue," Isbell said. "I hope we continue accepting refugees."
Rev. Richard Hendricks, pastor of the Metropolitan Community Church of the Quad Cities, encouraged board members to support the measure. 
"Have any of you ever lived in a city other than where you were born? Congratulations, you are all migrants," Hendricks said. "Accepting refugees is simply the right thing to do and the economically sound thing to do."
Rajabu Mmende, a native of Democratic Republic of the Congo, told board members he arrived in the United States eight years ago from a refugee camp in Mozambique. 
"Two years ago today I became a U.S. citizen and I voted in the midterm election. I felt really good about it," Mmende said, as the crowd applauded him.
"I wanted to thank the United States and World Relief for giving my family a chance for a better life. We are very proud to be members of this community. This (resettlement) resolution gave me the chance to be who I am, to get the education I need and to better myself. It would be great if this resolution continues."
Get Government & Politics updates in your inbox!
Stay up-to-date on the latest in local and national government and political topics with our newsletter.