HAMPTON, Ill. — Those who have traveled along the Great River Trail through this part of Rock Island County most likely have seen the Samuel Twining House; many onlookers, including me, have stopped and stared.
Built in 1844, the red brick home anchors a triangular piece of property across the street from the Mississippi River, about 12 miles upstream from the metro Quad-Cities.
It has become a talked-about landmark in recent years among cyclists and others who explore the popular route between Rock Island and Savanna.
On the edge of the tract, a brown sign with white lettering — resembling roadside markers for tourist attractions — garners a lot of attention.
"Artsy-Fartsy People Live Here," it reads.
"It's an invitation card for a conversation," said Ty Cutkomp, who purchased the estate in 1995 after the late and outspoken Carter LeBeau, an avid Quad-City bicyclist in his day, convinced him to do so. 
The sign, which Cutkomp installed years later on the outer boundary of his lot, draws a mix of reactions from "all walks of life."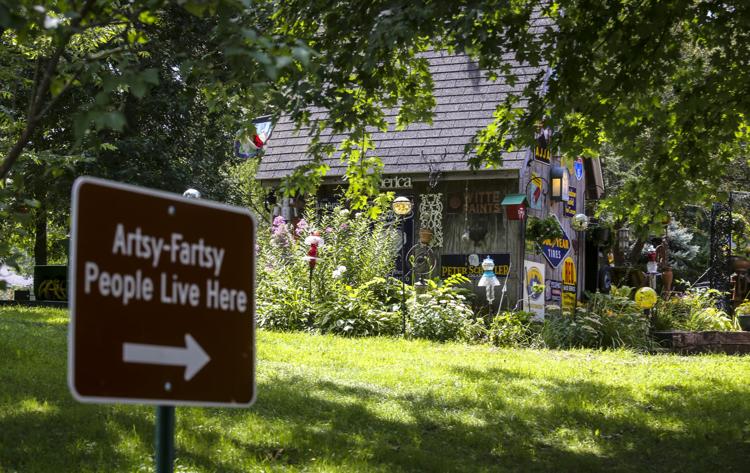 Curious passersby often take photos of the sign and the eclectic arrangement of surrounding lawn ornaments, said Anne Kuehl-Cutkomp, Ty's wife, who finds it rewarding to see that happen.
She wonders how many times their place has appeared on strangers' social media accounts.
"We've been together 11 years, so I came into his lifestyle here," said Kuehl-Cutkomp. "It's art that we like, but it may not be anybody else's taste."
History-inspired scenery 
In the eight years Moline resident Jeremiah Johnson has been cycling in the Quad-Cities, he estimates he has biked past the Samuel Twining House about 150 times on his way to and from Cordova.
"When I first started riding, that was an easy, fast and comfortable route," he said.
While he never has actually met the owners of the "iconic" river home, Johnson imagines them as pretty "eccentric" people, and he hopes to cross paths with them someday.
Paying homage to the area's rich agricultural past, their yard features a variety of antique farm equipment, mostly flea market finds.
Their collection includes cast-iron hog oilers, cream separators and corn-shelling machines. Farmers deployed the oilers in the early 1900s to treat lice on their animals. When a hog would rub up against one of the devices, it would dispense the thick substance onto their skin, smothering the insects.
A fleet of John Deere Gators and mowers also add to the shaded landscape, which the couple designed themselves, without the use of Pinterest or other inspiring resources.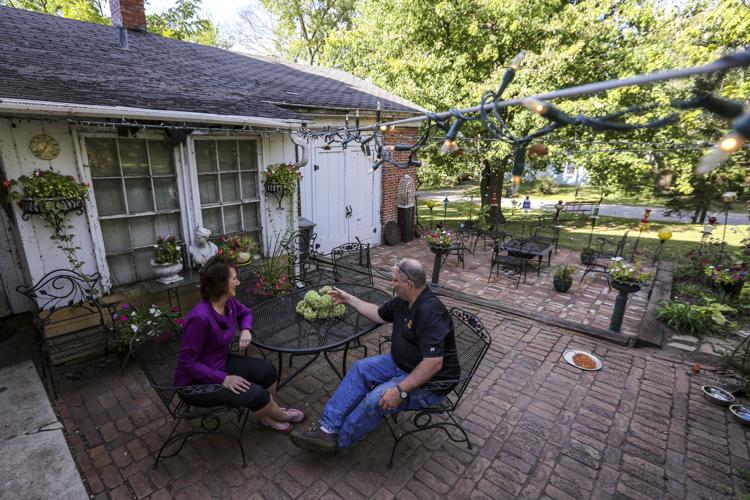 After he bought the land, Cutkomp planted 86 trees on site, not all of which have survived. Hanging from several branches are recycled glass lamps from the 1960s and '70s, which match the menagerie of multicolored glassware nearby.
"That's something you really never notice until you're looking for it," he said. "You wouldn't believe how many people stop by and want to take pictures of that because it's such a novel thing."
Fresh off retirement, Cutkomp, who worked for 31 years as a field representative with the American Federation of State, County and Municipal Employees union, hopes to devote more time to home-based projects in the future.
The history buff eventually wants to restore the interior of the home to mirror its original state.
Although nothing is set in stone, they fantasize about turning the space into a field-trip destination for school-aged children in the area.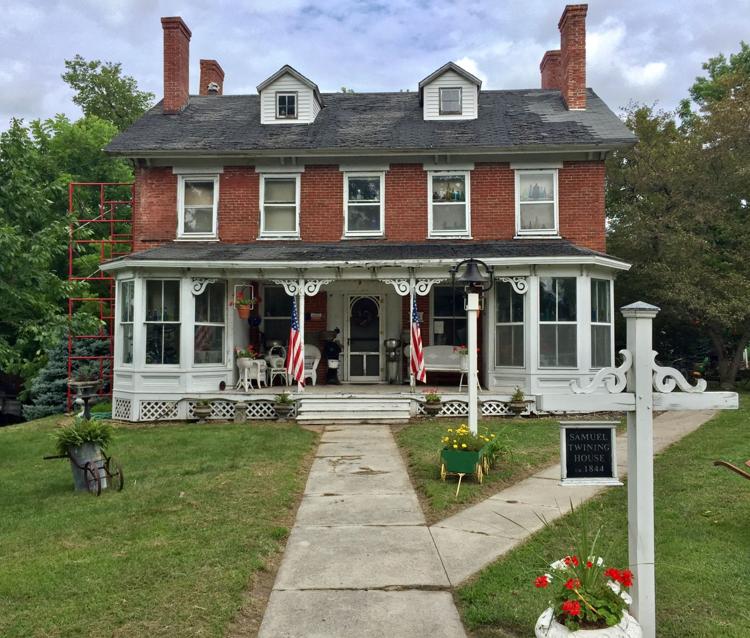 "We view this whole place as a canvas that we can expressively paint out," Cutkomp said, "and that's really our goal, to do it in a way that people can find pleasure in it."
So, if the couple is working in the yard or lounging on their patio next time you roll by, be sure to wave as you pedal past or stop and say hello.
Get local news delivered to your inbox!
Subscribe to our Daily Headlines newsletter.