NEW KINGDOM TRAILRIDERS
Healing with horsepower: Horses aid therapy at New Kingdom Trailriders
SHERRARD, Ill. — This time last year, Sonja Benavidez thought she never would get back on a horse.
The equestrian enthusiast from LeClaire, who now lives in Geneseo, Illinois, has battled chronic physical pain her entire life, stemming from the onset of encephalitis, or swelling of the brain, at 18 months. But an infection in her right foot about five years ago really set her back. It forced her into a wheelchair, further limiting her mobility.
Benavidez, 55, eventually grew tired of feeling like she was giving up on herself, so, at the end of last year, she hit the reset button.
With the help of a crew at New Kingdom Trailriders in Sherrard, a nonprofit organization that provides equine-assisted therapy, she got back on a horse last month for the first time in 10 years.
Trotting, cantering, improving
Gripping the reins of Conagher the Appoloosa horse on Tuesday, a smiling Benavidez rode with ease as the 1,200-pound animal trotted through the sandy indoor arena in Mercer County.
"Five weeks ago she was not doing this," equine manager Louise Ballanger said as she coached Benavidez through a series of restorative stretches and exercises. "She'll be cantering in two weeks, and in three weeks she'll be an instructor."
While Ballanger may have been kidding about the teaching part, it is not out of the realm of possibilities, judging by Benavidez's progress — mentally and physically — throughout the last month.
"Everything seems to be working better," said Benavidez. The physical workout, she said, works every muscle and joint in her body. "It hurts at first, but it gets better as you go because things are moving that I can't make move on a normal basis, and that's what I need."
She wants to walk around her house unaided, and she is well on her way to achieving that goal, said her husband, Pete, who cleaned at least one horse's stall during his wife's lesson. "She's up a lot more instead of being stuck to a chair," he said.
Benavidez knows she is exactly where she needs to be every time she steps foot on New Kingdom Trailriders' 25-acre property, about a mile-and-a-half north of Fyre Lake Golf Club. Surrounded by lush green pasture and forest, the former horse owner finds comfort in the familiar sights, smells and sounds of the bustling barn. The thought of it almost brings her to tears.
New director, new energy
Jodie Barton, executive director of New Kingdom Trailriders since February, felt similarly the first time she visited the barn in July 2015. Her daughter was suffering from severe mental health issues, and Barton needed an outlet to relieve stress.
Ten minutes into her first lesson, she "fell in love."
"I found that it was recharging me," Barton said. "If I could walk a horse through an obstacle without a lead rope, I could go home and deal with whatever was thrown at me that night."
The Sherrard woman volunteered at the barn several times a week and joined New Kingdom Trailriders' Board of Directors before jumping into her new role.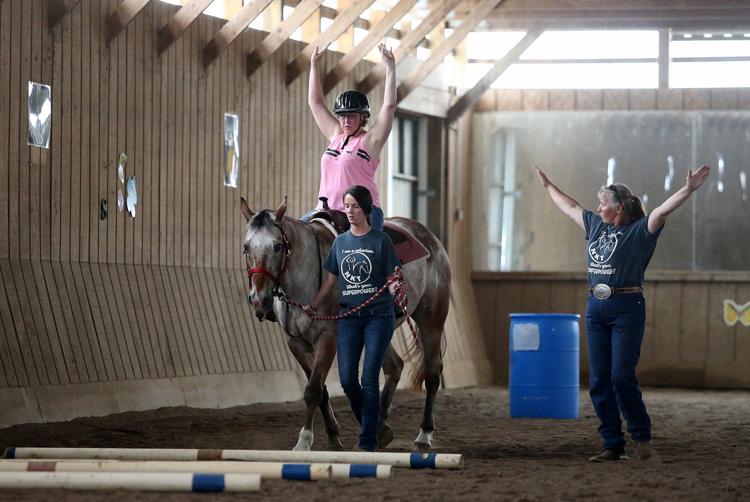 Barton, Ballanger, part-time instructor Monika Sauer and about 65 volunteers currently serve 40-plus adult and youth riders who face a variety of physical, mental, social and emotional challenges.
"People may think this is just for a child who can't walk or can't talk, but the reality is we see so many other people," Barton said. "I know what it can do, so I want to find as many people as I can to help."
She wants to expand their reach to those in the area who may not know they could benefit from therapeutic horseback riding, including caregivers and emergency first responders.
'Horses have this magic' 
New Kingdom Trailriders operates with a team of eight horses, including Bubba, Jazzy, Rainbow and Tank, and they soon will add two more, thanks to donors. Barton, who was busy applying for grants this week, wants to grow the size of her staff and volunteer force, too. New Kingdom Trailriders, which was founded in 1984, is accredited by Professional Association of Therapeutic Horsemanship International, or PATH. 
"Horses have this magic," Barton said, noting the animals help spur mental stimulation, physical strengthening, emotional development and social interaction.
The third six-week session of the season begins Monday. It costs $150 to participate in weekly 45-minute group lessons for an entire session and $180 for weekly 45-minute private lessons.
Some of their students ride on scholarships; most pay for their own lessons.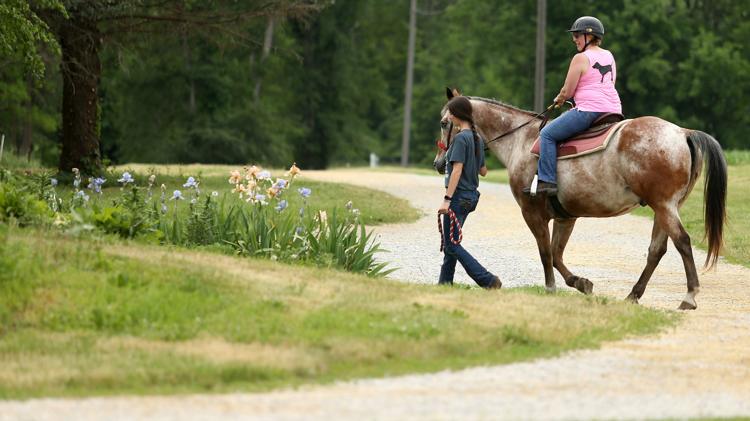 Ballanger commutes 43 minutes to work from her home in LeClaire, and while many of their riders also live in Scott County, she said, "The Quad-Cities doesn't even realize how great this place is."
Added Sauer: "A lot of people who receive therapy go to a sterile environment, whether it's a hospital or a counselor's office, but it's a whole different environment here." 
Sauer lives in DeWitt and works full-time as an employment coordinator at Transitions Mental Health Services in Moline. She does not consider her position with New Kingdom Trailriders a job because of how rewarding it is to help people connect with the animals.