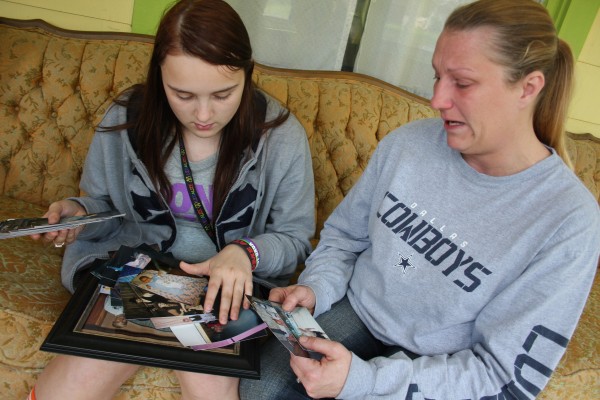 PRIMGHAR, Iowa — Jeannie Chambers broke down briefly on a recent shopping trip with daughter, Kayla Weishuhn. Kayla caught her mother looking for clothes in a different section of the store.
"I looked for clothes for K.J.," Chambers said.
K.J. is Kenneth James Weishuhn Jr., the 14-year-old son she lost April 14 when he committed suicide at their home in Primghar.
Police interviewed at least 16 teens in a follow-up investigation, but they charged no one in connection with K.J.'s death, a death that family members contend might have been avoided were in not for the bullying behavior from a faction of youth at South O'Brien High School, where K.J. was a freshman.
A month earlier, K.J. told people he was gay, a revelation that led to verbal slurs at school, and negative posts on Facebook and texts to his cellphone. The tragedy of his death coincided with the national release of a documentary called "Bully," parts of which were filmed in Sioux City schools.
Educators and political leaders reacted by calling for more stringent reporting methods on suspected bullying behavior in schools. Iowa Gov. Terry Branstad plans a bullying prevention summit in November to address a topic made more complex by instant and omnipresent communication tools.
In the months after his death, Weishuhn's mother worked, grieved, and reflected. She didn't eat for a time shortly after his death. Only after his burial did she seek nourishment.
"I have to survive for my daughter, my family," Chambers, 38, said.
Officials at South O'Brien reacted by offering seminars on bullying prevention and calling in grief counselors and local pastors. Security cameras since have been installed at the school, said Kayla, 17, who starts her junior year at the school on Tuesday.
Students created a slogan touted on the school's website and elsewhere in the community: "Coming Together As One: We Are South O'Brien."
"People asked me if I would transfer to another school," Kayla says. "I said, 'No. South O'Brien is a good school.' "
"I am OK with school administrators," Chambers said. "You cannot see everything that's going on with these kids all the time. I know they couldn't see what was bothering K.J. They said, 'He always smiled.'
"That was K.J.," she added.
When K.J. came to his mother last winter and told her he was gay, she said that was OK. She realizes now that she should have monitored his Facebook account and cellphone for disturbing or threatening messages.
She also admits that she made mistakes along the way. She missed a portion of her son's formative years while serving a federal prison sentence after pleading guilty to conspiracy to manufacture and distribute methamphetamine. A rehabilitation program she participates in has helped reinforce the family values she needs as a mother.
"K.J. and Kayla and I were always close," she said. "We'd sit and talk. It helps me now to talk about this."
Returning from prison 18 months ago, Chambers sat with her children and apologized for shaming them. Kayla, her mother said, looked up and said, "You came back a better mom."
Being sober, prayerful and committed to work, her husband and her daughter remain the rocks Chambers builds upon. She will not forget that her son was taunted, but she will not wallow in it, either. She knows others have forgiven her for past sins.
"I've been in trouble, but I'm a Christian," she said. "You need to forgive."
Parents also must recognize what is happening with their children, she said. Chambers advises parents and children on the pitfalls of bad behavior, be it drug abuse, bullying or the misuse of technology.
"I tried to stay off their Facebook," Chambers said, "but my sister-in-law said I needed to get on (it). I do pursue it now, even to the point where I'm over-protective."
She asks that others allow children the opportunity to express themselves as they grow. "Kids must be who they want to be," she said. "That's a major thing as a child."
She and Kayla participate in a group called Be Buddies Not Bullies that meets twice each month at a church in nearby Spencer. The group, which takes its name from a favorite quote of K.J.'s, conducted a candlelight vigil in his memory at Primghar City Park during the O'Brien County Fair. Members released balloons that night during the fair's popular figure-8 races.
As a new school year dawns, Chambers readies her daughter for the academic year. The two talk about the future. Kayla hopes to study psychiatry and live with her father in Arizona. Chambers plans one day to share stories about her failures and successes, taking strength from and building upon the memory of her son.
"I know K.J. doesn't want us to be sad," she says. "He wants us to talk to other kids, to help other kids."