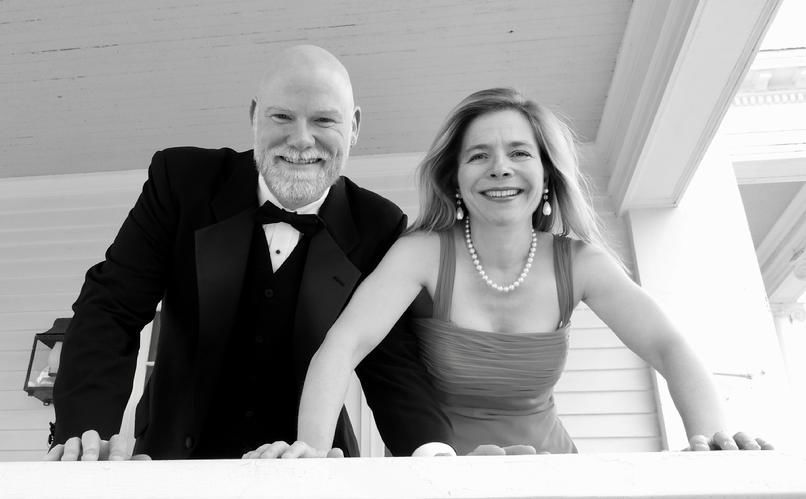 Jazz pianist Jeff Barnhart returns to the historic church for its 9:30 a.m. service Sunday, Jan. 26, to perform with his wife, flutist and vocalist Anne Barnhart, for a special morning of jazz music.
Jeff Barnhart played for the annual jazz liturgy during Bix fest weekends in August 2017-2019, and played a service here with his wife last winter, First Presbyterian music director Matt Bishop said Thursday.
"It's pretty similar to Bix Sunday -- Jeff and Anne have free rein of music, play the regular service music as well as lead the hymns," he said. "For the prelude, offertory, postlude, they do whatever they want to. It's kind of fun that way, and they often will have the congregation sing with them."
The Barnharts, based in Connecticut, perform as Ivory & Gold.
The theme for this church service is New Orleans-style Mardi Gras, complete with festive beads and an authentic Cajun meal to follow (Jambalaya, king cake and chicory coffee).
Ivory & Gold will be in eastern Iowa this weekend to play at the annual Eagles & Ivories Festival in Muscatine, Bishop said. As part of that, the duo will play Saturday at 7 p.m., with Carl Sonny Leyland, Steve Pikal, Benjain Loeb, and Josh Duffee at Wesley United Methodist Church, 400 Iowa Ave., Muscatine.
Tickets for that concert are $20, and Sunday at 2 p.m. Ivory & Gold will celebrate 500 years of music in America at Muscatine Art Center, 1314 Mulberry Ave. Admission to that is $15.
First Presbyterian was the home church of the Beiderbecke family. Bix (1903-1931) was a Davenport native, and legendary cornetist, pianist and composer. The church has hosted a jazz liturgy (often including piano, bass, drums and clarinet) during the Bix Beiderbecke Memorial Jazz Festival every year since 1998.
Get local news delivered to your inbox!
Subscribe to our Daily Headlines newsletter.