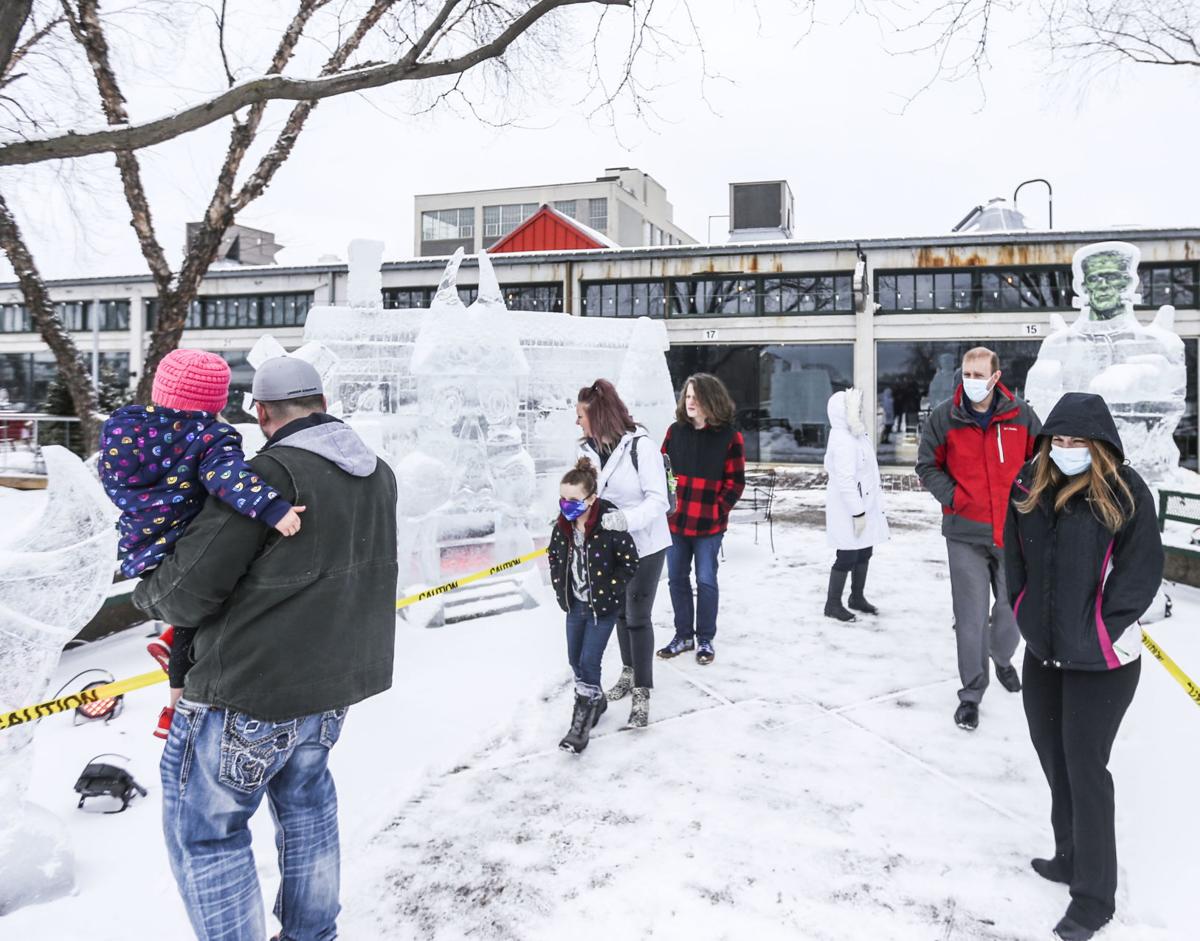 Ten years ago, Icestravaganza consisted of carvings from just a few blocks of ice. This year, the ice sculpture display event will utilize 126 blocks, expanding from the Freight House into LeClaire Park. 
Icestravaganza will take visitors through a wintry safari this year, filled with animals of all kinds carved from blocks of ice. Carvings will fill the Freight House and LeClaire Park from 5 p.m. Jan. 14 through 10 p.m. Jan. 16. The event is free to attend, and visitors are encouraged to socially distance and wear masks.
For those wanting to see ice sculptures come to life, there will be live ice carving demonstrations from 11 a.m.-noon and 1-2 p.m. Saturday. People can also watch the carving virtually at the Downtown Davenport Partnership Facebook page.
Family Credit Union will operate a warming station — stocked with hot cocoa and a fire pit — on the Freight House outdoor patio during the live ice carving sessions and from 5-6:30 p.m. Friday through Sunday. 
Carvers have been hard at work since Monday, making everything from lions to tigers to bears and other, more exotic creatures. Visitors will get to sit on an ice throne watched over by eagles for photos. Icestravaganza lead carver Matt Meadows said they're carving close to 40,000 pounds of ice. 
"There's a good selection of animals," Meadows said. 
Past years have seen displays with extraterrestrial, Halloween, and monument themes. 
New this year is the option to drive through the display on Beiderbecke Drive in LeClaire Park. Jason Gilliland, events director with the Downtown Davenport Partnership, said the organization implemented the drive-thru option last year at the Freight House as a response to the COVID-19 pandemic, and they received such a strong positive response from families with small children and people who have walking distances that they decided to keep it. 
"I'm excited for it," Gilliland said. "I think it'll be a good good thing, people loved it last year and I think this will be an even better drive-thru this year."
Half a dozen sculptures will still line the front of the Freight House, along with the ice bar at Front Street Brewery. 
When the sun sets, the sculptures will be professionally lit until 10 p.m., which Gilliland said really makes them come to life. Some winter weather will blow in on Friday, but Gilliland said temperatures should be good for viewing ice sculptures — under 32 degrees but not completely frigid. 
"We're going to be in the mid-to-upper 20s," Gilliland said. "Which is perfect."