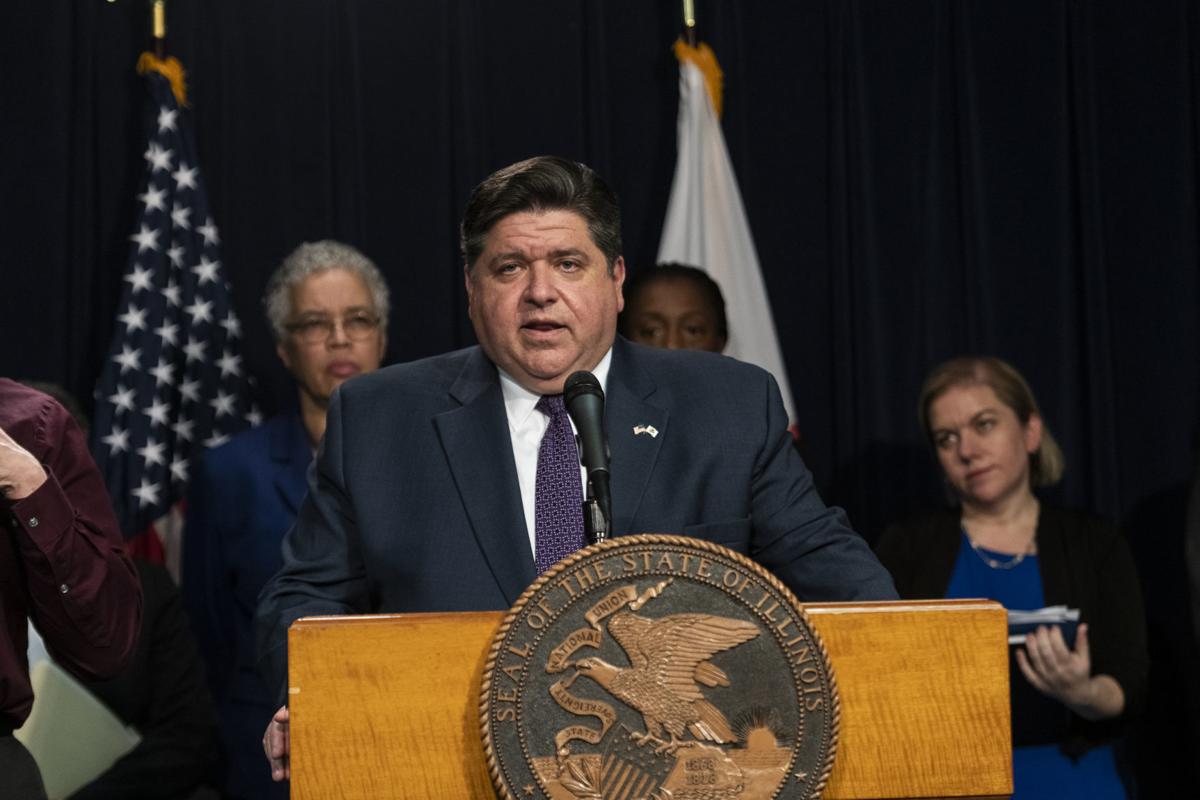 "Mortgages, card payments, credit cards, utilities all still need to be paid," Bad Boyz Pizza and Pub of Moline wrote in a now-deleted Facebook post Sunday night, explaining why it would remain open. The decision was walked back Monday when the Illinois-side restaurant said it would follow the state order and close for two weeks.
Other restaurants were more obstinate. Saint Giuseppe's Pizza, in Coal Valley and East Moline, wrote a Facebook post Sunday night saying the business will remain open "unless WE find reason to close."
"The dining room will not be open," owner Joe Schilling said by phone Monday. 'But the door will be unlocked, we will have a waitress, and we will have tables and chairs. We will do whatever it is we need to do to make sure people are adequately served."
The decision to temporarily shutter restaurants and bars is a frustration to customers and a massive hardship to small businesses that operate on thin margins. For some, the decision smacks of "government overreach."
"This is a situation where freedom overcomes everything," Schilling argued. "The government can't just go around shutting down any part of any business over a virus. We have viruses every year. This is out of hand."
As put by Bennett Morris, chair of the state Libertarian Party, "There's no way possible the governor has the right to legally shut down private businesses."
But legal experts said the decision is a legitimate measure squarely within the governor's authority.
"There's absolutely zero legal basis for any restaurant or bar in the state of Illinois to resist [the order]. Period," said Daniel Rodriguez, professor at Northwestern University's Pritzker School of Law. "Anyone who does not comply with that order is in violation of the law, and they will suffer the consequence of that violation."
According to the Rock Island County Health Department, Pritzker's directive will be enforced by the Environmental Health Department, a division within each county's health department. 
To protect public health the state can take a number of steps, including quarantines amid a public health emergency, according to legal experts.
Still, shutting down businesses is likely to have severe consequences. "We're talking tragic stuff here. People have put their lives into their businesses," said Martin Redish, Northwestern law professor. "They could be completely destroyed in this instance if this goes on long enough."
But Redish said he'd be "very shocked if there were any federal judge in the country under the present circumstances — where there's apparently a very serious threat to the public health and welfare — that would prevent a governor in the exercise of his or her governing power from shutting down businesses."
Though "freedom" is often synonymized with laissez-faire government policies, Rodriguez said the "Founding Fathers" designed the American constitutional system so that local governments could respond to crises "immediately when necessary."
"The police power lodged in the governor's office was designed by our Framers precisely to deal with emergencies like this," Rodriguez said. "The judgment that our Framers made was that the institutions that were best able to immediately respond to those crises were our state governments."
In Illinois, the state government's clampdown on restaurants and businesses is an attempt to "flatten the curve" — or slow the spread of disease to give the health care system a fighting chance to treat the thousands of people expected to need care.
Steve Lillybeck is co-owner of Donut Delite, in Moline. Most of the store's business is carryout food and beverages, which are believed to be allowed under the order.
Lillybeck called the governor's order "chaotic" for employees and "significant" for his bottom line. "From a business perspective, it's going to hurt," Lillybeck said.
Still, Donut Delite will follow the governor's order. Lillybeck understands the graveness of the coronavirus threat and that government has an interest in protecting public health and safety.
He said he's been disturbed by viral images of shoppers hoarding toilet paper, and of young people crowding bars by the hundreds for St. Patrick's Day celebrations.
"If the individual doesn't act responsibly," Lillybeck said, "somebody has to."
Graham Ambrose is the Iowa politics reporter for the Quad-City Times. 
Concerned about COVID-19?
Sign up now to get the most recent coronavirus headlines and other important local and national news sent to your email inbox daily.