Every seat and City Hall parking spot was filled for Wednesday night's Bettendorf Planning and Zoning Commission meeting.
After lengthy discussion, the commission voted 4-2 to recommend approving a subdivision plan in Bettendorf near Lincoln and Kimberly roads that neighbors have protested and questioned at public meetings.
The developer, Dolan Homes, is proposing 26 single-family attached homes geared toward seniors on 5.49 acres of land that is currently a wooded ravine-like area.
Neighbors spoke to commission members about their concerns for most of the 3 1/2-hour meeting.
The concerns and questions ranged from convoluted traffic at the intersection of Lincoln and Kimberly roads, whether existing storm water drainage and erosion residents experience would worsen with more homes, lost trees and wildlife, and that the character of the denser homes wouldn't match the larger-lotted neighborhood.
The chair of the commission, Roy Wennlund, said attendance likely was a record during his tenure.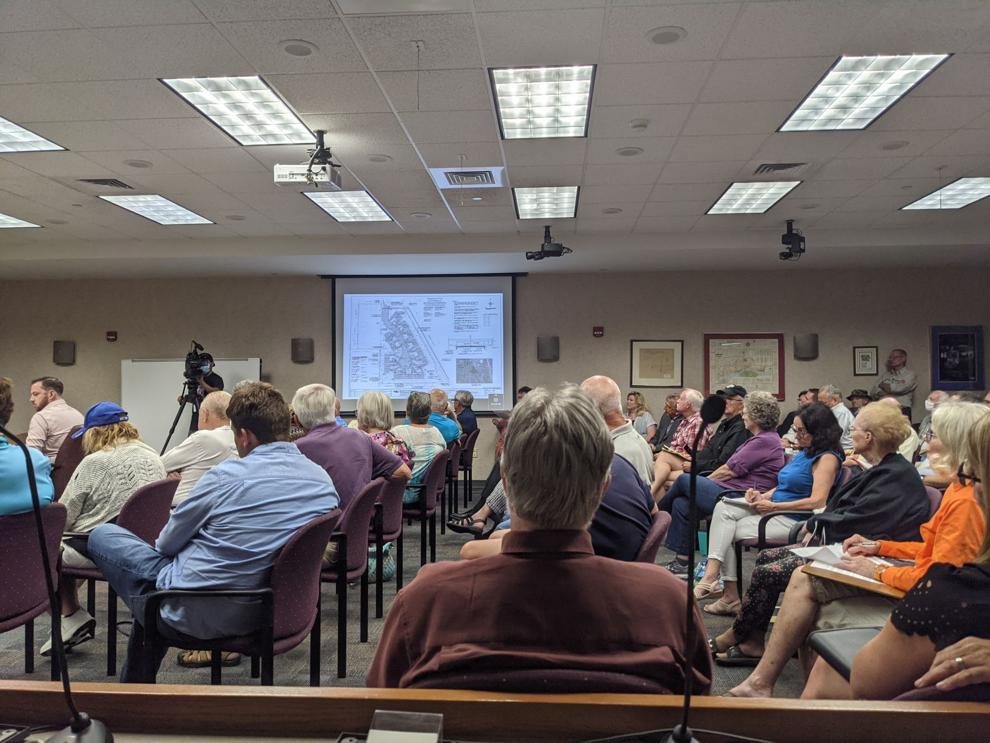 City staff, commissioners and the developer answered questions and concerns throughout the meeting. Last week, city staff issued a letter to the commission recommending the preliminary plat be approved because it fit into the city's Comprehensive Plan, which plans out land use for the next 5-10 years, and had met code specifications including for storm drainage and lot size.
The Bettendorf Planning and Zoning Commission is a recommending body. Bettendorf City Council will make the final decision.
Dolan Homes originally put forward a plan straddling the Davenport and Bettendorf border that extended Crestline Drive with 39 homes. Kevin Dolan said after the city of Davenport asked he revise lot lines, it reduced the number of homes in Davenport and made the Davenport part of the project no longer "economically viable."
Several residents queried about storm water drainage. One resident said water rushed through their property to the ravine below. About a dozen residents of the Manor, a condominium building next to Kimberly Road abutting the corner of the proposed subdivision, which would be where the storm water detention pond would be, attended the meeting, a few of which said they already experience problems related to runoff. 
City Engineer Brent Morlok said storm water drainage should actually improve, according to the plan, because storm sewers would pull in storm water, keep it in a wet-bottom detention pond and release the water at a slower rate than it is released currently.
Commissioner Scott Stoltenberg cited that reasoning when he issued his 'yes' vote.
"I'll back up from what a gentleman from earlier said: 'win, win, and another win' for the number of people out here. Each one of you is going to have a different win…." said Stoltenberg. "For those at [Manor] – we see this with numerous developments, where you have a new development that comes in. It takes care of your water problem... I anticipate this probably to be the same.... For those of you that are going to probably lose your nice view — you're going to win, in the sense that you're probably going to get some sort of retaining wall, or other method that the builders are going to use that's going to stabilize your backyards or streets, so you may lose one but may win another."
Brent Rouse, who lives in a property that is right next to the proposed entrance to the subdivision, said the proposed intersection's 160 feet from the stoplight on Kimberly already is backed up so he has to wait to turn onto his property.
Morlok said there would be stop signs at the north and south sides of the new T-intersection so traffic on Lincoln wouldn't be backed into the curved intersection.
But, Rouse said, there is still another sharp turn in the road that doesn't have a stop sign yet that cars could potentially be backed to.
Davenport resident Sean Liddell presented the city's comprehensive plan, which provides a map of drainage and areas reserved for flooding that development should avoided. When zoomed in, it appears some of the development is in a red, avoid-development area. 
Community Development Director Mark Hunt said the map wasn't meant to be a site-specific map and that there wasn't a more detailed map available. He said staff conducted a site analysis. The Army Corps of Engineers didn't require a permit because the area wasn't a jurisdictional wetlands, according to an email from the corps. 
For resident Haley Jones, who lives on a property abutting the proposed development, the denser similar houses wouldn't match the mature-tree, large-lot homes in other parts of the neighborhood. 
"Our neighborhood has a uniqueness to it, that the city should, I would think cherish," Jones said. "It contributes to our region by offering that unique standpoint, and I think it makes our neighborhood somewhere special. So why are we choosing to take away this special area that provides uniqueness to the city?"
She added that she thought it was misleading that seniors would live in the homes because they weren't age-restrictive and Bettendorf is an attractive area for young people with kids. 
Dan Dolan told the commission that in a "vast majority" of Dolan Homes senior-geared housing stock did house seniors, but he didn't have a specific percentage. He said the homes would be in the $400,000 price range. 
The proposed development sits on an R-3 mixed residential zoning designation, and has for years. Kevin Dolan noted the designation allows townhouses, and three times the amount of units that Dolan Homes is proposing on the lot. 
The two dissenting commission votes, Lynn Gibson and Janessa Ormsby, expressed that while they trusted expert staff opinion, they said concerns about traffic and matching the character of the neighborhood were valid and didn't feel like damage to homes or storm water drainage had been adequately addressed in the meeting.
"The traffic concerns are really valid, we can't, we can't touch the emotion of this ... ." Gibson said. "And I understand the structures would help the drainage and fix some of these problems, but we're adding more impermeable structures at the same time we're adding this, and I have complete and utter confidence in Brent if he says it will work, but as planned, just now, I don't have full faith and confidence in this."
Some residents stormed out of the council chambers, and the chair gaveled a few times to bring quiet after a few people had outbursts. 
First Ward Alderman Jerry Sechser attended the meeting and said he would wait until receiving more communication from the commission and city staff before reaching a final decision.
He said he'd take into consideration how the development fit into the character of the neighborhood and said sometimes with infill lot developments like this, "it's hard to fit a square peg in a round hole."
Other similar developments, like one considered at the same meeting, don't get the same attention.
"They're packed in there just as dense as this one, but there was nobody here to complain," he said. "There was no discussion, and it passed, but it's going into a cornfield."
Ultimately, he said, he would probably side with his constituents.
"This is my ward; I'm going to have to respect the citizens, especially in my ward. I'll probably vote 'no,' " he said.