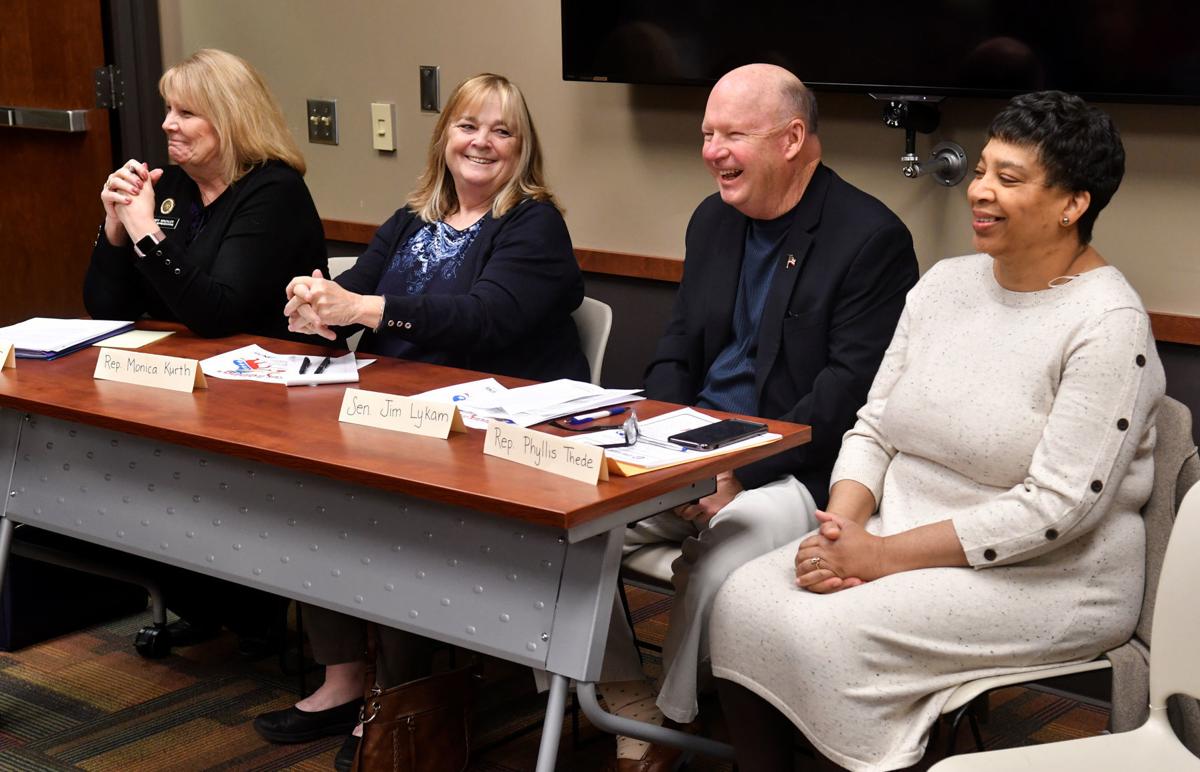 In the wake of budget cuts and layoffs at the Davenport Community School District, local legislators say they are exasperated that Iowa's public education funding formula has not been fixed.
"I'm going to be really blunt, but what needs to be done is that the voting public needs to vote out those people who do not support public education," said State Rep. Phyllis Thede, D-Bettendorf.
Thede was one of four local Democratic legislators who spoke Tuesday at a legislative forum held at the Davenport Public Library – Fairmount Street branch. 
Other attending legislators were Rep. Monica Kurth, D-Davenport, Cindy Winkler, D-Davenport, and State Sen. Jim Lykam, D-Davenport.
Statehouse Rep. Gary Mohr, R-Bettendorf, Rep. Ross Paustian, R-Walcott, and Sen. Roby Smith, R-Bettendorf, were invited to participate but did not attend.
The panel was asked several questions by the moderator and the 26 members of the audience. The panel was asked about several issues, but education stood out. 
Winkler said that Davenport Community School District is receiving about $165 per student less than other districts in the state, including Bettendorf and Pleasant Valley. That money is the money that districts have the authority to spend.
But Winkler said that funding inequities come in other forms, too.
There also is an inequity with inadequate supplemental aid, which was passed at 2.06%, which meant $144 per student more in supplemental aid, she said. But while the state passed a 2.06% increase, the costs to schools had already gone up about 3%.
"That still puts you in a deficit position," Winkler said.
You have free articles remaining.
The other inequity is in the number of students on free and reduced lunch. The Davenport School District has one of the highest numbers of students on free and reduced lunch. Those students do not pay full fees for books or any fees for activities that other students pay. "We give them those discounts because of the situation, which we absolutely should," Winkler said.
But that is revenue the district does not receive, and Iowa, she said, is one of three states that does not have an at-risk component in its regular student funding formula.
In contrast, she added, "Pleasant Valley is tied for the second-lowest number of students on free and reduced lunch, and it's within our own county that we have that kind of inequity."
Kurth said with only a 2% increase in funding, even school districts with solid enrollments that h"ave everything going for them had to lay off teachers." If those districts had financial problems, "What does that do to us in Davenport?"
Lykam said a few years ago, "it looked like we were going down the path and we were pretty close to fixing this problem. And then all of a sudden some of the rural legislators brought up that they wanted transportation equity too and there are a lot of rural districts and they have 10 times the miles driven than we do. It blew the whole thing up.
"So we're right back to where we were," Lykam said. With the current makeup of the legislature, especially in the Senate, he added, "I'm not real optimistic, but we will continue the fight."
The way to end poverty and inequity is through education and investing in students, she said, adding that the amount of money it costs to get a kid from kindergarten through high school is high, but if that person has the skills to get a job and make a career, that investment is paid right back within only four or five years.
"We want to invest in students so they'll be vested in the community," Thede said.
"If you want to win this fight for public education, I need to go out and talk to everybody," she said. "We need to change so we can make public education our priority.
On other issues, the four legislators said they support ending the right to work laws, support sanctuary cities and feel that felons who have served their time should be able to vote.
The event was sponsored by Quad-Cities Interfaith, Progressive Action for the Common Good, and the Davenport NAACP.