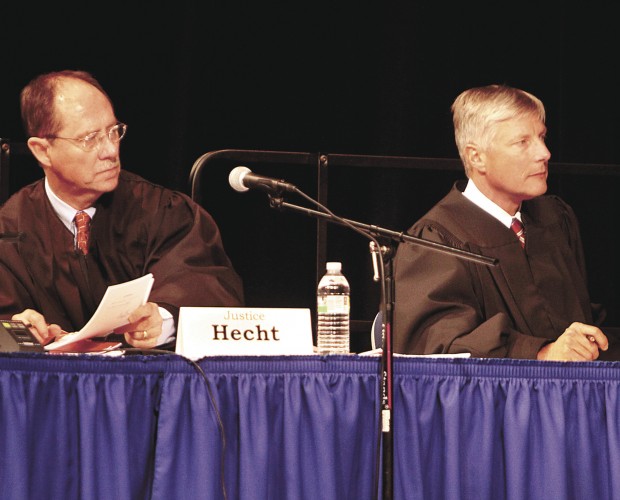 In a case heard at Pleasant Valley High School in Bettendorf, the Iowa Supreme Court has ruled that a Grundy County man can sue for paternity fraud.
The justices ruled unanimously to send the case back to Grundy County court for trial.
In the case, Dier v. Peters, Joseph Dier wants the return of child support he paid to Cassandra Jo Peters to care for her daughter, Olivia Jean.
Dier claims Peters fraudulently allowed him to believe that Olivia was his daughter — her last name is Dier — even though, he says, Peters says knew the child wasn't his.
The couple had never married, and Dier said he found out that Olivia wasn't his biological daughter only when paternity tests were done when he attempted to get full custody of the child.
Dier took Peters to court in Grundy County for reimbursement, but Iowa does not have a paternity fraud law and his case was dismissed.
But the Supreme Court said Dier's claim meets the common law standard for fraud, but the court also said Dier still has a hill to climb at trial.
"Also, alleging paternity fraud is not the same as proving it," according to the opinion written by Justice Edward Mansfield. "We have said that "[p]roving fraud is a difficult task." ... That is certainly true with paternity fraud where sufficient proof will have to be advanced as to both Peters' state of mind when she made the representation and Dier's justifiable reliance thereon."
The Supreme Court has been traveling the state this session, hearing cases in communities so that residents can see the court in action. Dier v. Peters was one of two cases that the justices heard arguments on during a session in April at Pleasant Valley High School.
A decision has not yet been released in the second case. In Lewis vs. City of Dubuque, the plaintiff appealed the decision of the Dubuque County District Court to dismiss her claim that she was illegally evicted from her apartment.