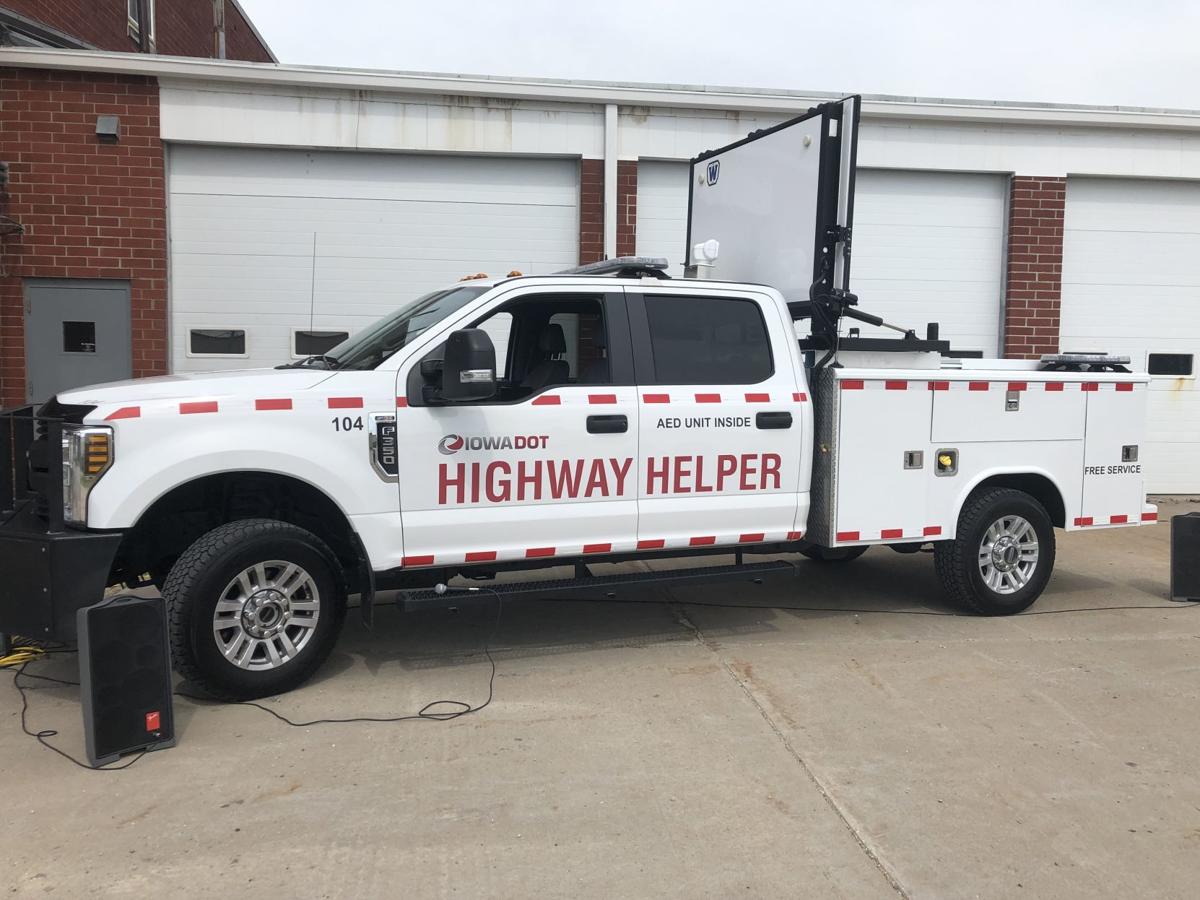 If you've ever been stranded along an interstate with a disabled car, a blown tire or the gas tank on "E," you know how helpless you feel out there.
To help drivers on Iowa's interstates encountering these and other situations, the Iowa Department of Transportation, or IDOT, has expanded its Highway Helper program to add the Iowa Quad-Cities to its service areas.
At a news conference Wednesday in Davenport, IDOT officials unveiled two new Highway Helper trucks that will be used to patrol the region's three interstates and assist stranded motorists.
Each truck carries a small supply of fuel, tire changing equipment, an air compressor, small repair tools and safety equipment such as safety cones and large dynamic message boards to alert others to a traffic incident. Trucks also have push-bumpers to move disabled vehicles of the road and drivers can give the stranded motorist a ride to a safe place. All services are provided free to the motorist.
The service, which rolled out Monday, is provided by safety service provider AutoBase. The company won the competitive bid to provide the $2.2 million program across Iowa.
Highway Helper also is expanding its hours in its existing service areas of Des Moines, Council Bluffs and Cedar Rapids/Iowa City. The Quad-City service is expected to cost the IDOT a total of $43,206.40 annually.
"Anytime you're on the side of the interstate we do consider it an emergency," Bonnie Castillo, IDOT's Traffic Management Center manager, said at IDOT's maintenance garage on Northwest Boulevard. "It's a very dangerous situation. We want to get you. We don't want you out of your vehicle. We want you in your vehicle and safe."
In the Quad-Cities, the Highway Helper trucks are patrolling Interstates 80, 280 and the I-74 construction zone from 5 a.m. to 9 p.m. weekdays.
Officials said Highway Helper also assists first responders at crash scenes by providing additional traffic control, which can help reduce secondary crashes.
Iowa DOT Director Mark Lowe said not only is the program one of the agency's most popular — based on the customer comments it receives, but it also has a 10-1 benefit-to-cost ratio. "For every dollar we spend on Highway Helper, we save $10 or more in terms of avoided delays and reducing secondary accidents." 
"In traffic incident management every minute counts," he added. "For every minute a lane is blocked, the risk of a secondary crash increased by 2.8%."
Lowe said traffic incidents "have real and negative impacts." "They cause delay and inconvenience for road users, they increase secondary crashes, and they increase the cost of transportation and create economic loss."
The state launched the program in 1995 in Des Moines, expanding it to CedarRapids/Iowa City and Council Bluffs in 2015. Highway Helpers also assist the Iowa State Patrol on game days at the University of Iowa and Iowa State University.
AutoBase, based in Amityville, New York, now is contracted for services in eight states, including New York, Pennsylvania, Maine, Florida, Kentucky, Ohio, Maryland and Iowa.
Tom Kimbro, AutoBase's program manager, said its nearly 300 operators work in custom-built patrol trucks and many have experience in safety services such as fire, EMS, military or transportation jobs.
Castillo said trucks will constantly patrol the routes looking for crashes, stalled vehicles, debris and other issues. The Traffic Management Center also uses hundreds of traffic cameras statewide to detect issues and will alert the trucks to the locations. Law enforcement also can call the center to dispatch a Highway Helper. A motorist in need can call local law enforcement or 911 for a Highway Helper.
Castillo said the program provides 1,500 to 2,000 service responses a month. It had a total of 16,365 responses in 2018 and expects the number to rise with the addition of the Quad-Cities.
Get local news delivered to your inbox!
Subscribe to our Daily Headlines newsletter.