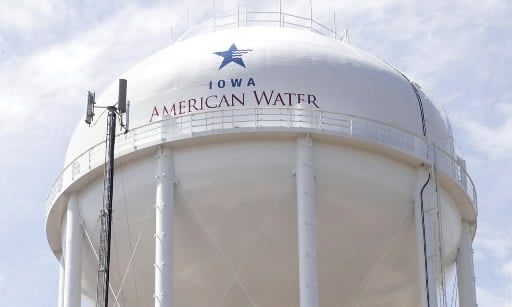 The Iowa Utilities Board on Monday granted Iowa American Water the authority to implement a 10.37 percent rate increase that will boost annual revenue by $3.9 million.
The decision comes almost 10 months after the company applied for a 13.7 percent rate increase that would have grown annual revenue by $5.15 million.  
However, customer rates will not be set until Iowa American develops and files a new rate design, which the state board must review and approve.
The final order amount includes the utility's previous temporary rate increase on May 9, 2016, that added $2.33 to the average monthly bill and expands its annual revenue by about $2.1 million.
The company's initial proposal would have added about $5.10 to the average residential customer water bill of $33.26 in Clinton and the Iowa Quad-Cities. In its application, Iowa American stated it needs $42.8 million to serve its 63,000 customers in Iowa, which its proposed rate increase would have produced.  
The rate increase primarily will help pay for the $38 million the company already invested in water treatment and delivery systems for the Quad-Cities and Clinton from 2013 through the end of 2016, according to a news release from Iowa American. 
The Iowa Utilities Board also approved the company's request to add costs related to future infrastructure improvements, including projects mandated by the Iowa Department of Transportation or other governmental agencies.
Iowa American plans to increase infrastructure spending from $5.6 million in 2016 to $7.4 million in 2020, which equates to annual increases in spending of about $500,000, according to the state board's order. 
Company spokeswoman Lisa Reisen said the ruling will allow Iowa American to continue to invest "proactively" in its water infrastructure throughout the state.
In 2013, the company asked for an 18 percent increase, or $6.4 million annually. The company was granted a 10.9 increase, or $3.9 million annually, by the Iowa Utilities Board in 2014.
Don Tormey, spokesperson for the Iowa Utilities Board, stressed that monthly bill increases ultimately will vary based on customer usage. New rates will become effective once the Iowa Utilities Board approves the company's rate design.