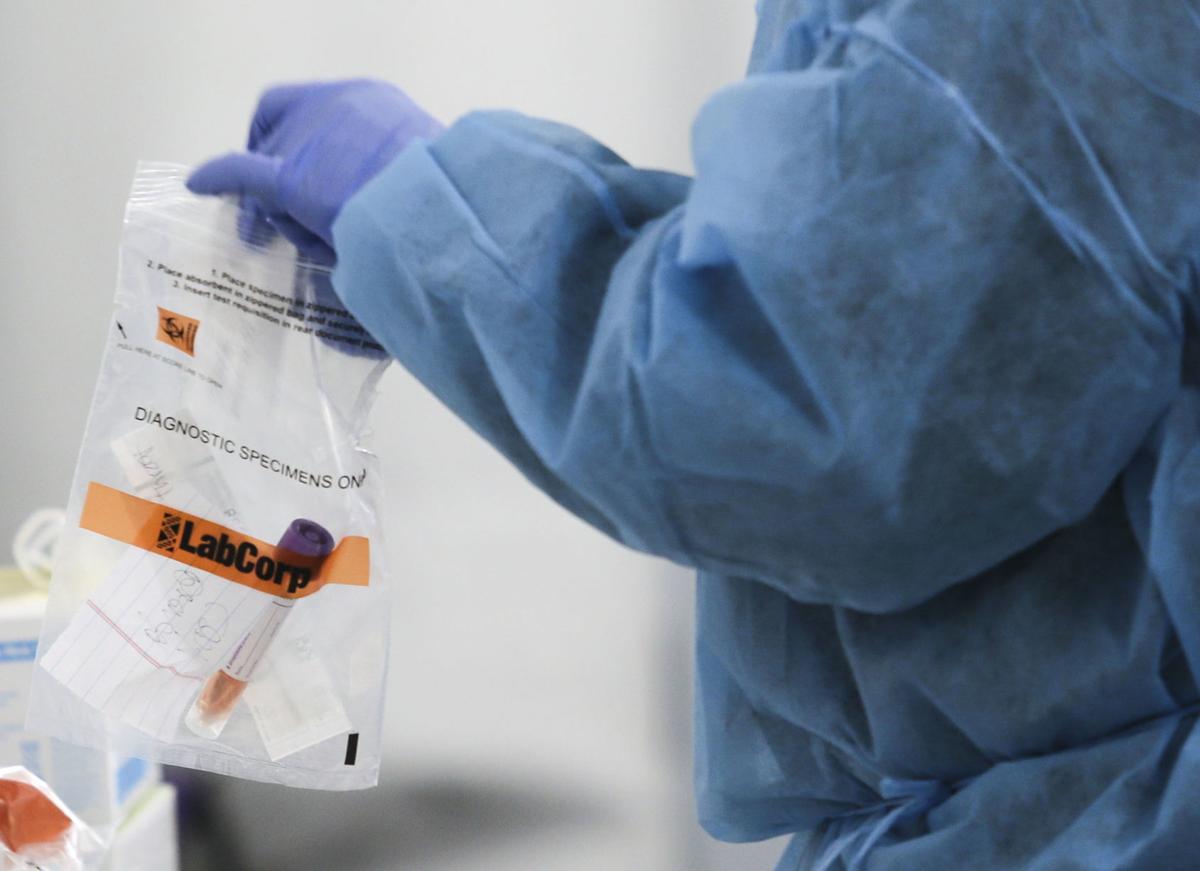 Testing for COVID-19 is ramping up nationwide. But that doesn't mean it's easy for Quad-Citians to get tested for COVID-19, the new coronavirus. Some locals say they're having a hard time getting tested, even with flu-like symptoms.
East Moline resident Damon Gray, a math teacher at United Township High School, is emerging from more than a week of flu-like symptoms, including fever, body aches and a dry cough. He's twice visited a drive-thru mobile collection site. He's been diagnosed with bronchitis, but he hasn't been tested for COVID-19. He assumes the tests are being rationed for more severe patients.
Gray doesn't begrudge the health care workers at the mobile site. But the uncertainty of whether he has a bad cold, the seasonal flu, COVID-19 or something else has caused anxiety in a household that includes his wife, Olivia Dorothy, who has a suppressed immune system, their two children, Dorothy's 66-year-old mother and her asthmatic brother. He's trying to keep his distance from them.
"To not have any kind of clarity is infuriating, and terrifying, given who lives in the house with us," Dorothy said. "How are members of Congress who are asymptomatic getting the tests when we've got a public school teacher here who actually has symptoms and can't get a test?"
It's unknown exactly how many people in the Quad-Cities have been tested for COVID-19. Illinois and Iowa only report positive cases by county. As of Tuesday afternoon, there were two positive cases in Rock Island County and one in Scott County. Nearby, there are five in Muscatine County and one in Whiteside County.
The second case in Rock Island, which was announced Tuesday afternoon, involves a man in his 70s, who is being treated an area hospital. No additional information was provided, due to federal privacy laws.
Nita Ludwig, administrator of the Rock Island County Health Department, said Tuesday the county health authority authorizes tests through the Illinois Department of Public Health Laboratory on two criteria: whether someone has signs of "severe acute lower respiratory illness," such as pneumonia; and if an individual comes from a vulnerable population, such as an assisted living facility or nursing homes.
Private labs do not need county authorizations, but their full testing data is not publicly available.
Health experts recommend people with flu-like symptoms should proceed as though they have COVID-19 — even if they have not been tested — and take precautions by isolating themselves and minimizing the risk of transmission. They also should call a doctor with questions and call ahead if they're planning to visit a health care facility so staff can prepare. 
According to the Iowa Department of Public Health, Iowa has 124 positive and 2,315 negative test results reported by the State Hygienic Lab and other labs. There have been one death in the state from the virus, a woman between the ages of 61-80, in Dubuque County. Scott County has around 5.5% of the state's 3.2 million residents.
Illinois has 1,535 cases and 16 deaths. On Tuesday, Gov. J.B. Pritzker said the state would have outstripped its capacity of hospital beds without the stay-at-home order. Iowa Gov. Kim Reynolds has not taken similar measures, though she has closed a number of businesses, including restaurants and bars to dine-in customers.
Rock Island Arsenal will limit access to the Arsenal, suspending all current year-long passes effective Wednesday. Although the Arsenal remains open for those conducting official business and to attend official meetings, one-year passes will no longer be issued until further notice. The change does not impact personnel with a CAC card, military ID card, AIE visitor pass for official business, retiree military ID card or family member ID card, according to a release.
Updated: The latest on the coronavirus in the Quad-Cities
Some news you can use. Check out the latest developments regarding coronavirus in the Quad-Cities.
Graham Ambrose is the Iowa politics reporter for the Quad-City Times. 
Concerned about COVID-19?
Sign up now to get the most recent coronavirus headlines and other important local and national news sent to your email inbox daily.