Some Quad-Citians may view the Mississippi River experience as an exclusive privilege reserved only for wealthy yacht owners, but one Davenport woman wants to break that stigma.
"We want to share it with other people," said Christy Ellenberg, the new head of Lindsay Park Yacht Club, located at the foot of Mound Street in Davenport. "People don't know it exists."
Elected this spring as the club's first female commodore, or director, in the organization's 131-year history, Ellenberg wants to see new faces this summer at the "little hidden jewel" of a destination.
She encourages non-boaters to join the club for access to the casual riverfront clubhouse, which includes a bar and restaurant, a close-knit social network and an occasional ride on a fellow member's boat. A yearlong junior membership for people under 30 costs $192.50 and a regular annual membership costs $385.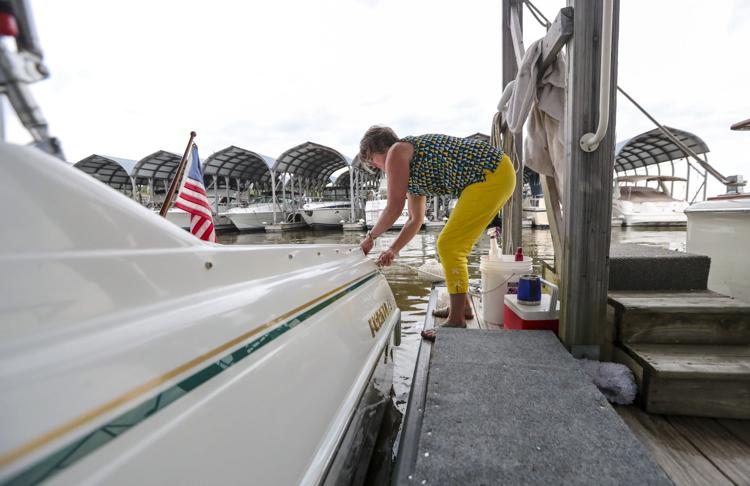 The clubhouse, east of Lake Davenport Sailing Club, is open for lunch and dinner seven days a week this season, and prospective members may visit for a drink or a meal at any time.
"It's a neat place to watch the river go by," said Ellenberg's husband, Terry, who served as commodore from 2010-2013 and currently sits on the nine-member board.
Three of the board members are women, proving the "old boys' club" has made progress in the last 30 years since welcoming its first female member in 1988, said Ellenberg, who joined in 2002.
"I think they're ready for a little change," she said of the club's nearly 200 members. "If we can make money to keep the doors open and provide a fun place to meet your friends, then I think we're a success."
About 90 percent of the club supports the new leadership, Terry said. One of Ellenberg's allies is Pat McClung, a member since 1960, when it cost $25 and backing from two sponsors to join the group, then called Lindsay Park Boat Club.
"It's a big change, but what the heck?" said McClung, who encouraged his friend to run for commodore. "I think it's great."
Ellenberg, who has five children and 10 grandchildren, also works a full-time job in the civil division of the Scott County Sheriff's Office. She did not realize the amount of time her role as commodore would consume, but she credited a team of volunteers that help run the club and maintain its facilities. 
"There's a family atmosphere down here," Ellenberg said.
"We just look out for each other," added Terry, who repairs worn infrastructure on site.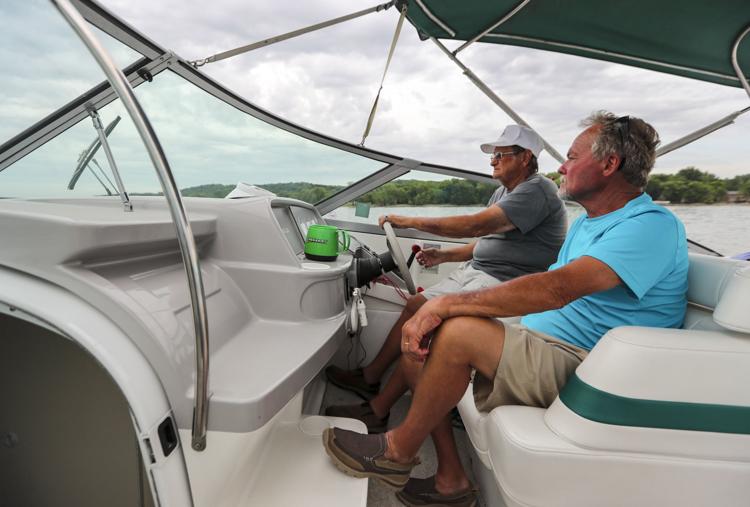 The city-owned/independently-operated harbor is home to 121 slips, almost all of which are being leased, Ellenberg said.
The couple accompanied McClung last Wednesday for their favorite pastime, an evening outing on their beloved Mississippi River. They boarded his 33-foot Formula cruiser and ventured upriver past construction on the new Interstate 74 bridge between Bettendorf and Moline.
"It (construction) will completely change the way we navigate the river," Ellenberg said as she sat relaxed, pointing out the red and green buoys that guide boaters through the main channel.
It was her maiden voyage on McClung's new yacht. He bought it last month, marking his 47th purchase of a boat, a few of which he has owned multiple times. The used 2001 Formula he acquired in May originally sold new for $140,000.
"Some people say I'm not too smart," McClung said. "But I just like the boating lifestyle."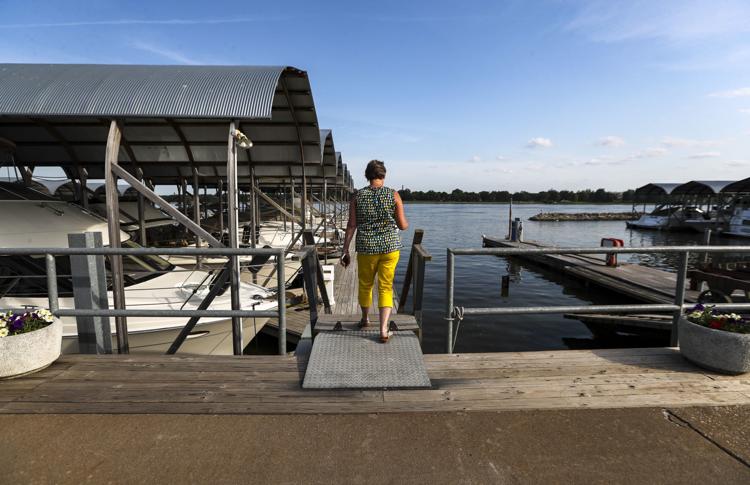 The Ellenbergs purchased their 31-foot boat, an unused Sea Ray 280 Sundanacer, for $110,000 in 2007. Equipped with two beds, a TV, a full bathroom, a microwave as well as heating and air conditioning, "It's just like a little hotel," said Terry, who takes special care of it. "They don't really wear out."
Last summer they traveled up the Mississippi to Lock & Dam 3 and then up the St. Croix River to Stillwater, Minnesota, before returning to the Quad-Cities, a 10-day journey.
"It's a very expensive toy, but to us it's worth it," Terry said.
Ellenberg enjoys driving fast, but she has a "healthy fear" of the Mississippi she thinks every recreational boater needs to stay safe on the water.
They plan to spend several weekends this summer near the Cordova Sand Pits and the TaxSlayer Center in Moline.
The commodore appreciates leisurely cruises with wine and snacks on weeknights, too.
"It's just so relaxing," Ellenberg said. "The minute we leave the mouth of the marina my blood pressure drops."