Halloween of 1994 was less of a coming-out for Kerry Wells, and more of a confirmation. The persona Wells, 20 at the time, put on that night out at JR's Nightclub was Whitney Houston — her first time in full-drag.
"That was probably one of my best Halloweens, it was really, really fun," she said. "It was so totally different than how I thought it would be. I can remember being scared of being who I was. I can remember not knowing exactly who I was, but that night, I could express it." 
Wells, 47, described Halloween for people she knows as getting the chance to take off the mask, rather than put one on. During the '90s in the Quad-Cities, Wells, a trans woman, wasn't able to express herself in daily life. It was Halloween that gave her time to be herself in public.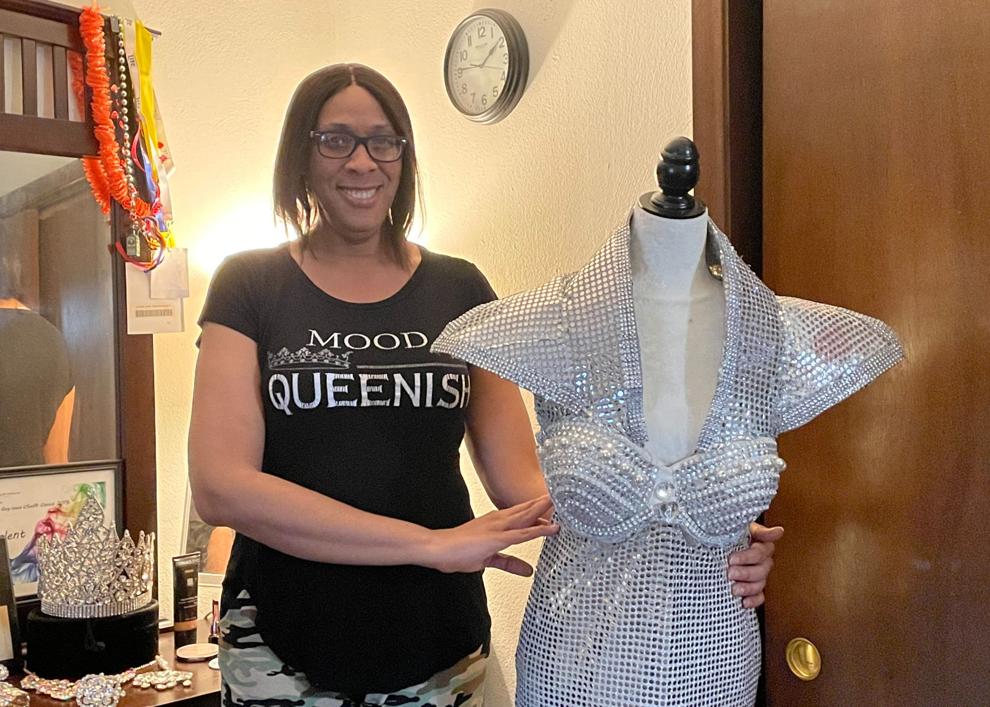 Halloween has long been held dear in the hearts of the LGBTQ+ community. Called "Gay Christmas" by some, it's a time of year that has traditionally allowed people to dress and act however they want, giving gender-nonconforming people the chance to dress how they feel most comfortable. 
The holiday has become more commercialized and popular over the past couple of decades, but the core idea of exploring new ways of being or presenting oneself in a way society wouldn't accept during the rest of the year hasn't changed. 
"I just think it's a time to just really be yourself in all the different ways because even if you're not trans, maybe as a gay guy, you want to paint your nails, or put a skirt on or just experiment with the way that you appear to the world and appear to society," said Project of the Quad-Cities Marketing and Communications Director Tyler Mitchell. 
Clock Inc. Executive Director Chase Norris said costumes have become more fun and involved all year round, especially for young people.
With social media making costume tutorials easy to find and more opportunities to dress up in cosplay for conventions throughout the year, LGBTQ+ youth have more opportunities and means to dress up how they want. 
Things have become more inclusive since Wells was young, she said, and there's more knowledge about different sexualities. For example, in the past different sexualities were labeled as mental disorders, and now are no longer treated that way. 
Orion Olsen, 17, said Halloween is a time for him to be himself. 
"It's like a second Pride for me," Olsen said. "I can be whoever I want and everyone will accept me, my fashion also becomes socially acceptable for a month and it really gives me a moment to feel comfortable and enjoy myself." 
The Project of the Quad Cities held a "Spooky, Queer Mixer" at Rozz-Tox this past weekend, inviting members of the LGBTQ+ community to dress up and hang out in the shop's courtyard. The organization saw there weren't any events in October geared towards the LGBTQ+ community specifically, so it decided to set one up. 
Mitchell said many people celebrate Halloween in the Quad-Cities with small groups, so bringing people together, especially after the height of the COVID-19 pandemic kept people isolated during 2020's spooky season. 
Many people in the LGBTQ+ community already feel social isolation, Mitchell said, and it's incredibly important to connect with others in the community. The pandemic has stopped much of that connection, so to have any sort of event during a time where people are more comfortable wearing what's most comfortable for them was amazing. 
This isolation was difficult for all LGBTQ+ generations. Norris said the kids he works with — who were already dealing with being kept away from their support systems and friends — had to deal with the extra burden of not getting to celebrate most of their favorite holiday.
Wells' sister's birthday is on Halloween, and on the day the family would gather at her grandmother's house to celebrate. They weren't able to see each other last year, just one of many things Wells missed last year. 
After being crowned Miss Iowa Classic USofA in 2019, Wells wasn't able to perform for a year and a half. She's retired and performs as a hobby, and is excited to get back to performing. She said many others she knows are both excited and scared, since COVID-19 is still spreading. 
This year her costume is of Shug Avery, the lounge singer from "The Color Purple." She redid a gold dress for the costume, and it's ready and waiting for her to dance with her friends and loved ones again. 
"I think that the times change, and these times changed for the better for the LGBT community," Wells said.