Mechelle Williams was manning the booth for her and her children's business at a recent farmers' market when a customer came up, looking at the various candles and other products on display.
As Williams rung up her purchase, the customer timidly told her that she was making an effort to shop at more Black-owned businesses such as her family's, MJ's Creative Candles. There was no need for her to be timid for acknowledging that, Williams said.
"It was very refreshing," she said.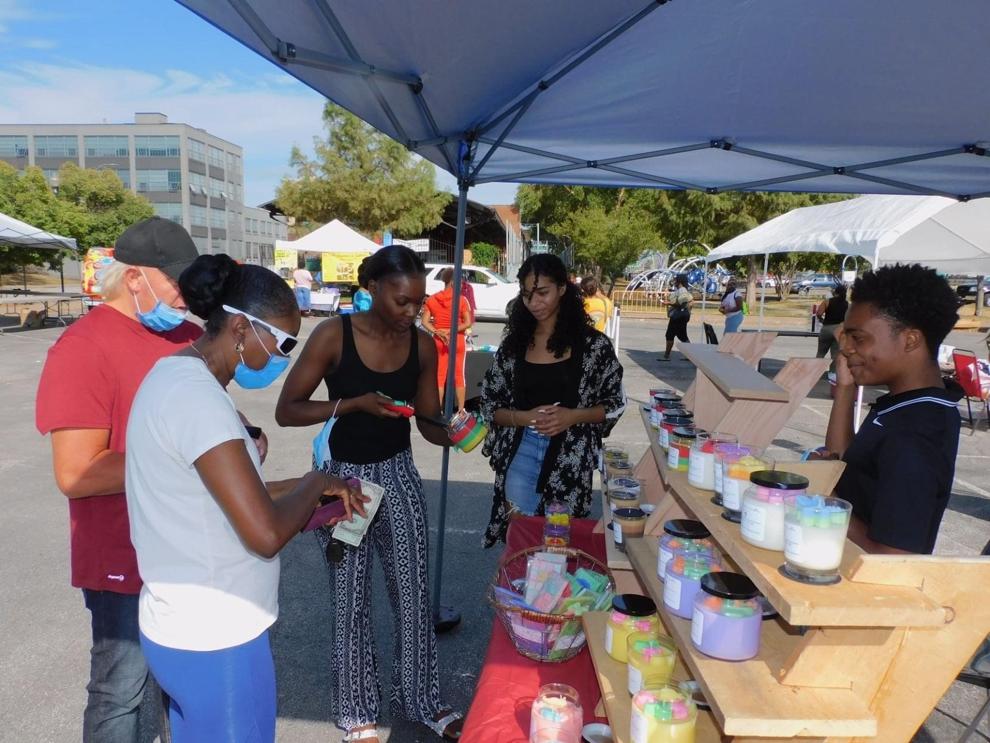 In the summer of 2020 after the murder of George Floyd, social media exploded with calls to support Black-owned businesses. A year later, local Black business owners are still feeling that support. 
People and publications put out lists of local Black-owned businesses and other ways to support during that time, including the QC Empowerment Network. The collaborative initiative also held a series of open-air markets that hosted Black business owners.
QC Empowerment Network COO Tracy Singleton said these markets and the other efforts that summer bridged a gap that had existed between customers and Black-owned businesses. This gap was created in part by a lack of knowledge.
"People are looking to support and a lot of times you don't know how to help until you know how to help, like you may want to, but you don't know how to get there," Singleton said.
Isaiah "Zay" Williams has had a busy week.
There is also a misconception that Black-owned businesses only have Black consumers, which the network is working to correct by making these businesses accessible to the entire community.
In addition to seeing more support for Black-owned business, customers have also been more intentional in their support. Singleton said she's received messages from people looking for Black roofers and photographers to work with. 
Shardae McGowan, the owner of sno-cone business Sweet Shardae, said she's seen posts online from people who made sure to work with Black-owned businesses for every aspect of their event, from decorations to food to clothes. 
Sweet Shardae struggled last year during the bulk of the COVID-19 pandemic, but McGowan said they've been doing much better this year, with a lot of people reaching out to her. While she can't say with certainty why this intentional support has risen so much over these past months, she does know that it's important for her business and others. 
"It's like they've been trying to give Black people a chance to make it," she said. 
She emphasized that supporting all local business is important, not just Black-owned. 
Supporting Black-owned businesses helps more than just the business itself, Singleton said. When people invest funds in businesses, that investment in turn goes into the community. 
MJ's Creative Candles started out as a family hobby, Williams said. She and her two children, Jazden, 17, and Marteze, 14, had been making candles for a little while before the pandemic began, and decided to turn it into a business while they were stuck at home.
Now Jazden is set to become an official co-owner when she turns 18 with Marteze not too far behind, and Williams is seeing them learn lessons that they can profit from throughout their lives. 
They're passing some their profits forward as well. Some MJ's Creative Candles products, such as the Pride and breast cancer support candles, have a portion of revenue go to charities. 
Flourishing businesses are able to expand and hire more employees, providing people with income and helping them bring more money and opportunities back to the community. This can contribute to people staying in school and breaking cycles of poverty.
According to data compiled by the United Way of the Quad-Cities, the per-person average income for whites is $32,734, compared to $16,944 for Blacks. Black people living in the Quad-Cities are also three times more likely to live in poverty than whites. 
"At the end of the day, when Black businesses succeed the Black community succeeds, because they're able to hire, they're able to invest, they're able to give back," Singleton said. 
In every meaningful way, white Quad-Citians fare better than Blacks — income, academics and resulting quality of life.
A few days after Williams spoke to the customer at the farmers' market, that same woman came across her booth in NorthPark Mall. She made another purchase, which Williams said is always encouraging. 
It's phenomenal to have any purchase, but a return customer means the business will be sustained. If businesses are sustainable, it does nothing but help the community as a whole. 
"In order to give back to the community, we first need that community support," Williams said.