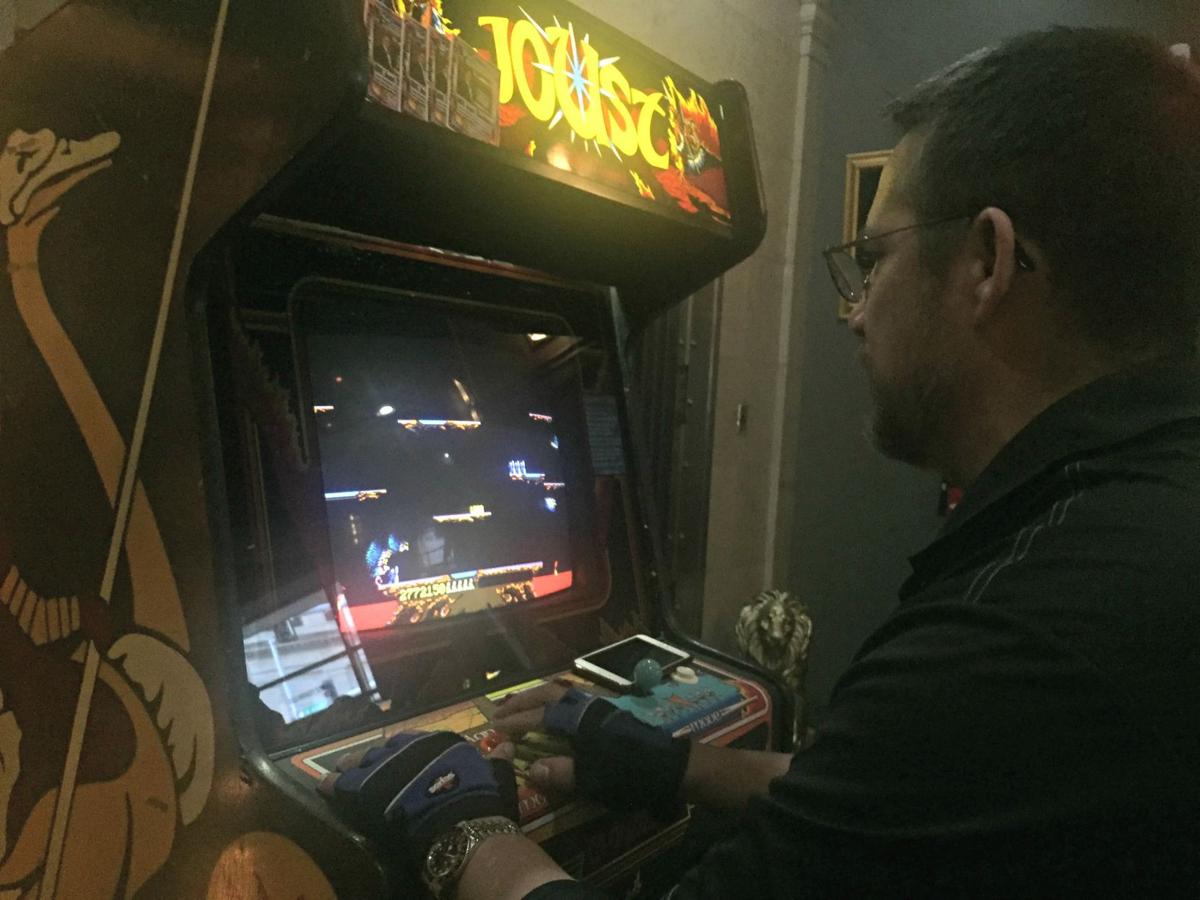 Andrew Arnold walked a few blocks over to Analog Arcade Bar Tuesday for his favorite routine: Beers and video games. 
But this night, Arnold, 39, wasn't there to play. He was there to watch a "gaming legend."
That legend was Lonnie McDonald, the world champion, world record holder and "master" player of Joust, a classic stand-up arcade game. 
"This is like watching Michael Jordan play basketball in your neighborhood," Arnold said. "This is old-school. I've never even seen this level of the game."
McDonald, who lives in Kansas City, stopped by Analog, 302 Brady St., Davenport, while on a world-record attempt trek across the country.
His goal is to score 10 million points on Joust machines in all 50 states. Only Maine and Rhode Island remain on his list. At 10 million points, the scores rolls over to zero on the game. 
"It's the combination of chess and physics and I like both of those," McDonald said about an hour into his five-hour session on Tuesday. "This is probably one of the toughest games ever made." 
Sporting his gamer-gloves, he can casually talk as long as his hands stay on the buttons and joystick, but he'll go silent if "things gets dicey."
"I've been playing it for so long," he said. "I've only had a couple of machines that didn't like me." 
In 2011, McDonald, returned to gaming after a 27-year hiatus and began a "Joust Tour" where he played 100 machines in 100 weeks. Since then, while on breaks from his full-time job, he's been traveling to arcades and "bar-cades."
"It was kind of like a mid-life crisis," he said. "My scores were good when I was younger, but I never set the records on paper, so I thought, 'I'm going to go after this.'"
Kyle Carter, co-owner of Analog Arcade Bar, was familiar with McDonald's records and invited him to Davenport. 
"It's like watching a surgeon," Kyle Carter said. "He's precise in a way I can't imagine." 
Carter and a crew of fans watched Tuesday as McDonald added to his scorecard — McDonald smashed out a new J-ROK world record of 11,013,000 in five hours. J-ROK is the type of Joust platform that Analog owns. 
"It's this really funky subculture that the Quad-Cities can be part of," Carter said. "This has never happened before. He set a record, and we saw it happen."