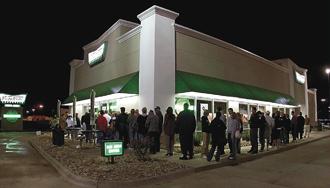 Krispy Kreme Doughnuts, 2945 E. 53rd St. in Davenport, will close soon, a store assistant manager confirmed Thursday.
But another food vendor, Chick-fil-a, will renovate the building and move in within a year, according to a representative of the store located at NorthPark Mall in Davenport.  
Krispy Kreme's closing likely will come in late February or by March 1, assistant manager Andrea Dunsworth said. But she said the company will stop delivering to grocery stores and convenience stores through its wholesale business on Jan. 31.
Company officials did not return phone calls Thursday afternoon seeking comment. However, the Davenport store closing comes on the heels of recent published reports concerning the health of the parent company.
The Winston-Salem, N.C.-based doughnut chain announced this week that Chief Executive Daryl Brewster has resigned and will be replaced with the company's chairman, James H. Morgan.
Brewster's departure comes amid a sputtering turnaround effort, after years of mismanagement and stronger competition from larger rival Dunkin' Donuts.
You have free articles remaining.
In March 2006, Brewster was named CEO to help Krispy Kreme get back on track. But the company, which has posted weak sales and persistent losses under Brewster's leadership, has continued to struggle. In December, Krispy Kreme said its quarterly sales tumbled and it expected more franchised store closures ahead. In the first nine months of fiscal 2008, franchisees closed 25 stores, the company said.
Dunsworth said the Davenport store has 51 employees, including management, and more than half work full-time. That includes 13 full-time drivers who deliver the doughnuts in eastern Iowa, western Illinois, and portions of Missouri and Wisconsin.
"It really upsets me. I just bought a house last February, and now I have to figure out how to make house payments. Plus, I have two little kids," she said.
A member of the management team at Chick-fil-a at NorthPark Mall, who declined to be identified, confirmed the addition of the second store.
"It is true. I know it is going to happen," he said. "I was told it will be late this year or early next year. I know we were looking for a freestanding store. We will keep NorthPark. This is expansion."
Chick-fil-a also operates a store at SouthPark Mall in Moline.
(The Associated Press contributed to this story.)